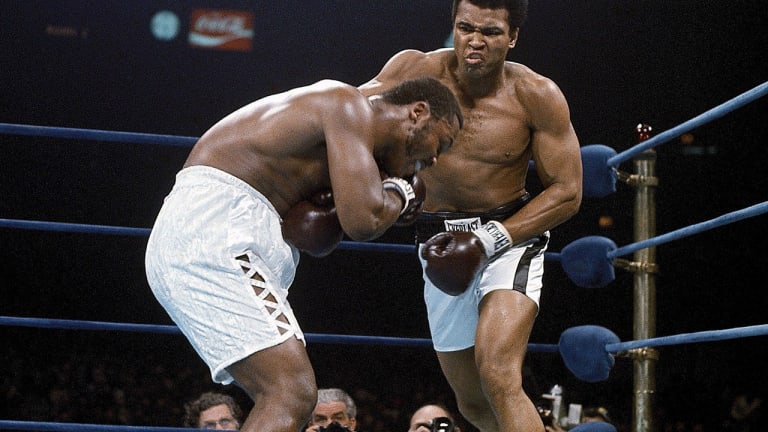 Crafty Win For Muhammad
There were no bombs in his fists, but with artfulness ripened through the years Ali took on all that Joe Frazier could offer and easily won their rematch
It is the same way with a man with a horn; when the lip goes bad so does the trumpet and the music that he alone made special. He is never the same again, but he can rise to a moment, catch a riff and carry it enough to make the world feel special for having heard him do it. So it was Monday night as Muhammad Ali suddenly erased all the doubts that had accompanied his self-created fantasies. The universe does indeed hold its breath for Ali, and then he gives it air.
He was an artist in search of an art against Joe Frazier before a crowd of 20,788 at Madison Square Garden and millions of others who are moved by him in incomprehensible ways. He did not find what he was looking for, the touch that few men ever have to begin with—age, exile and his playful nature have taken that—but what he did find over 12 steaming rounds was what no man can give another, an understanding of his craft. It is the one thing that separates the ring from absolute bestiality, this mostly invisible side of a fighter who takes it—the last thing he learns and the last thing that leaves him—and makes it a trenchant, if not dramatic, weapon. That is what Ali did against Frazier, his most persistent adversary over the years, a glorious laborer who came with both pick and shovel, but had neither at the same time.
In the end, it was a unanimous decision for Ali: ring generalship over a one-man army fighting a war of attrition. If the fight ever seemed close, it was only because of Frazier's incessant pursuit, which cannot fail to impress even those who may consider it plug ugly, and the occasional bursts—spaced far too far apart—of his left hook. For years it had been sudden evil, yet now it seemed only a moderately bad dream to Ali. For Ali knew what he was about on this night, recalling all the little things that make one a survivor: tying an opponent up, clever volleying when it would count the most, skirting sure trouble like a bank robber.
From the opening bell, Ali took command, much in the way he did in their first fight, except that this time his firepower was lower in volume. Yet there was an economy to his moves, a smooth fluidity to his dancing. He was making every move count. His offense was busy, built on flash attacks of hooks and uppercuts. When he did not work, he made sure Frazier did not either, artfully tying him up time and time again. In the second round Ali stopped Joe with a right hand. Frazier winced, momentarily reflected that he was still on his feet and continued his assault. The first four rounds were clearly Ali's, leaving Frazier only eight in which to salvage a fight that would turn out to be a severe blow to his career.
Joe never did find all his weapons. He appeared frustrated, unable to sustain an attack. He groped, floundering as Ali slipped most of his best shots. Then in the seventh and eighth rounds he appeared to generate something striking. Ali was slapping. His arms appeared heavy, like tree limbs weighted with Spanish moss. He was even reverting to his old habit of straying aimlessly into corners, a sign of a tired fighter. In the ninth, it looked as if Ali would lose another round, until suddenly he retrieved it with some solid work.
After that moment of Ali's command, the affair seemed hopeless for Frazier. Points would not win the match; Frazier would need a knockout. It never did come, and soon Ali was sitting on a platform in a chair in the interviewing room eating ice cream on a stick—the eternal child. His eyes bounced along the faces of the press and television, and they seemed to be saying that this can go on forever. "Answer me," he prodded. "Do I look like I'm 32 years old? Did I fight like a 32-year-old?" The answer is yes and no—depending on what was expected from the fight.
Even Ali's oldest enemy, the white working man, who could never abide his mouth, let alone his beliefs, seemed to ignore him as something not worthy of their squabbling. Frazier was not terribly meaningful to them, either—losers never are. As for Ali's hard core of brethren, those with the Borsalino hats and peacock flounces who hang on his every word and draw fire and strength from him, none of them seemed beside themselves with anticipation as they had been in Fight I.
Yet they knew that the show, the bombast, the theatrical tempest that only Ali can provide would come—and it did. No one has changed prefight atmosphere more than Ali. It used to be a static thing: contrived news from training camps (spies in gyms, phony knockdowns, manufactured angers), all of it enough to gag a goat, if not the columnists who were paid by the promoters. Ali changed the script with his souffléd hysterias that time and again left his vast audience, detractors as well as supporters, in genuine awe.
Ali probably never had, nor will he ever again have, a more perfect foil before a fight than Joe Frazier. Everything about Frazier is a source of material to Ali: his style as a fighter, suggesting a wild beast tangled in a thicket; that head that catches so many punches, leaving Ali to conclude that he is an utter fool; Frazier's simplicity as a man, his lack of expression, his belief of live and let live. These are aspects of Frazier that Ali cannot abide, even if he does not despise them, for they are alien, abrasive to a man in desperate pursuit of immortality.
Ali finally got to Frazier, thus igniting the flame that gave Fight II a character of its own: pure enmity. Up to several days before the fight, it promised to be a match that would provide nothing more than a wistful reminder of the past, a bout between two men with bankrupt talents. Then, as Frazier and Ali met in a television studio to review films of their first bout, the lid came off, and beneath it was the raw torment of Frazier. Joe seemed to be handling the constant racial slurs well enough. "You went to the hospital," he said to Ali.
"I went to the hospital for 10 minutes and you went to the hospital for 10 months," Ali countered.
"Just for a rest," said Joe. "In and out."
"That shows how dumb you are," said Ali. The exchange went on, and Ali said again, "That shows how ignorant...."
With that, Frazier got up and reached down to pull Ali out of his chair. Ali got a headlock on him, and the two, with the ear plugs falling out of their ears, tumbled off the stage. Not since Benny Paret insulted the manhood of Emile Griffith and was mortally wounded in the ring had anyone seen such open contempt between two fighters. It is true that Ali, as always, had an eye on the closed-circuit receipts, or needed a psychological stimulant, but no doubt can exist about the intent of Frazier. He was genuinely weary of being the victim. They both were fined $5,000 for behavior "demeaning the sport of boxing," and that has to be one of the superb lines of our time.
In the ring, neither Frazier nor Ali could or did insult their business. For they are a special pair, and even with what they have left they were able to light up the night, the whole week in New York. Ali's critics wanted a crucifixion, but what they saw was a big man enter the ring and a bigger man leave it. On the opposite side, Frazier's detractors wanted to see him beaten with bloody conviction, humiliated because he had so rudely throttled the myth of Ali the first time. Instead, they saw a wonderful foot soldier who has simply climbed out of too many trenches.
"How old those two fellas?" a lady in a gold fur asked, leaving the Garden.
"Thirty-two and 30," said a man next to her. "Frazier's 30."
"My, myyyyy, he looks sooooo old."
So he does. And there is a French phrase that tells a lot about what many thought after seeing him: "To say good-by is to die a little."
He was a singular man—and also a fighter.
PHOTO
NEIL
LEIFERPHOTOTONYTRIOLOIn a second-round mixup, referee prematurely separates Ali from a floundering Frazier.PHOTOHERBSCHARFMANGetting back at his tormentor, Frazier rocks Ali, one of the few times he was able to connect.