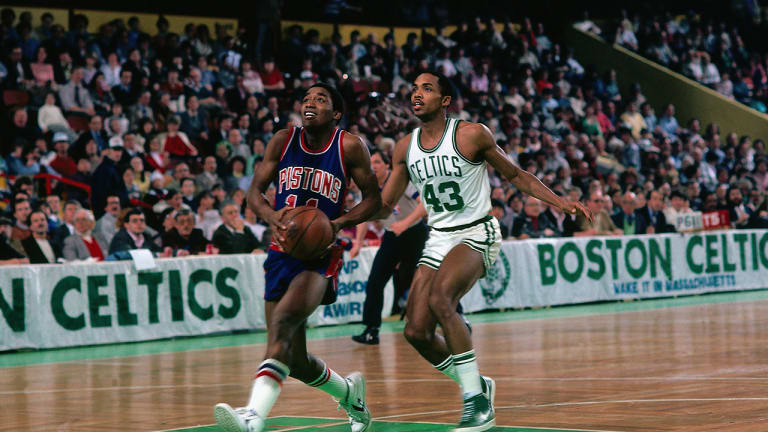 Publish date:
Finding a Profit in Isiah
Indiana sensation Isiah Thomas is leading the Pistons to respectability
The Detroit Pistons are clinging to a 99-94 lead against the New Jersey Nets in the Silverdome with 3:30 to play. Isiah Thomas, loitering deep in a corner, grabs a loose ball that's careering out of bounds and bounces it between his legs, while leaning over the end line and standing on one foot. He barely regains his balance when a Net player knocks him into the Detroit bench. Piston Coach Scotty Robertson asks anxiously, "Are you all right?" A grin lights up Thomas' face. "I'm fine, Coach, how are you?"
Scotty and the rest of the Pistons will be just fine if Thomas can continue his inspired play. Averaging 23 points, 5.6 assists and a score of smiles per game, he had led Detroit to a 3-2 record at week's end. That kind of start wouldn't mean much in a lot of places, but for perennially deprived Detroit it's hot stuff. There were victories over New Jersey and the two clubs generally considered the Central Division's best, Milwaukee and Chicago. By defeating those teams the Pistons won their first three games for the first time in 11 years; last season they lost 12 before winning three.
The 20-year-old Thomas doesn't quite reach the 6'1" listed in the program and, while he packs close to 180 pounds—playing weight for some heavy-hitting NFL defensive backs—he will never be mistaken for Lester Hayes. At first sight, in fact, there doesn't appear to be much more to Thomas than his dominating grin, which starts with a pair of deeply set dimples and sneaks up each side of his face to his shining, almost sparkling eyes. The grin is omnipresent, even on the basketball court, no matter the situation, which has led one observer to comment, "Maybe he can't help it, like when a baby has gas."
It's impossible to say how many scouts and opponents have misjudged Thomas because of that exceptional grin or that unexceptional frame. You would think they would have learned. At St. Joseph's High School in Westchester, Ill., five miles from his home on Chicago's West Side, his teams were 73-15. At Indiana, Thomas, as a sophomore, contributed mightily to winning last spring's NCAA championship, which in turn created just the "right" conditions for him to turn pro.
That "Angel with the Dirty Face" look is the reason why women, young and old, want to cuddle Thomas, who says he has "about 12 mothers." It's why Converse is paying him an estimated $100,000 to wear its shoes this year and, perhaps most important, why his Detroit teammates aren't jealous of his four-year, $1 million contract or the publicity that has already made him the second coming of Magic Johnson. Not that Thomas doesn't eat it up. "All the great ones have a little bull in them," Robertson says. "The other day he was standing around when the Lions walked by, going to practice in the Silverdome. All of a sudden there's Isiah going through his legs and behind his back."
Stuff like that may have impressed the Lions, but it sure didn't impress Bobby Knight. When Indiana was struggling at 7-5 last December, Knight was none too pleased with Thomas' freelance game. And, even though the Hoosiers went all the way, Knight wasn't notably shaken when Thomas decided to cast his lot with the NBA.
Unquestionably Thomas—along with the Pistons' other first-round pick in last June's draft, Notre Dame's Kelly Tripucka, who's averaging 12.4 points a game—has given the Pistons a big lift. The club's publicity people say "Piston Fever" is sweeping the town, but the at-first unconvinced fans, burned by 21 losing seasons in 24 years, were treating it like malaria. Chicago and New Jersey drew only a little more than 14,000 combined, but 15,035 showed for what turned out to be a 129-88 trouncing by world-champion Boston last Saturday, in which Thomas had 21 points. Tripucka, who—honest Injun—starts every day with a bowl of Wheaties, thinks things are turning around. "Isiah and I aren't used to losing," he says. "We'd like to create an atmosphere here like we had in school. When we won our first game this year, I was jumping up and down and screaming, looking for someone's hand to shake. But everyone kept on walking like it was just another game we won."
Either they knew something Tripucka didn't or they were fearful it couldn't last. A contender in the early '70s (coaches Bill van Breda Kolff, Ray Scott and Herb Brown each had one winning season), the Detroit franchise fell on hard times because of a series of inept front-office decisions, the most recent being the trade of M.L. Carr and two No. 1 draft choices to Boston for Bob McAdoo in 1979. McAdoo didn't pan out in Detroit and was waived last March 11, while Carr has been an integral player for the Celtics. The Celtic draft choices became Kevin McHale and Robert Parish, the latter acquired in a deal with Golden State, which took Joe Barry Carroll and Rickey Brown.
This year's draft, however, is another matter. When the ball is in Isiah's hands, all the other Pistons seem to become smarter. They know each cut to the basket represents a potential two points, so moving without the ball—not normally a high priority here—has become most desirable. At least that's the way Piston General Manager Jack McCloskey sees it. "If a player does something especially well, the others pick up on it," McCloskey says. "When I get into position," says Forward John Long, the team's leading scorer last season, "I know I'm going to get the ball. I can't be double-teamed now like I was last year, and neither can Thomas, because he'll dish it off to me." Will Robinson, McCloskey's administrative assistant, agrees. "I believe God made people to perform certain arts," he says. "Sinatra was made to sing, Jesse Owens was made to run and Isiah Thomas was made to play basketball."
Despite that engaging grin, Thomas can play rough, elbowing and cheating for an edge. "Isiah is going to do whatever needs to be done to get the job done," Robertson said after Thomas' 31-point, 11-assist performance against Milwaukee on opening night. "I'm not saying he's going to out-jump Kareem, but Kareem's gonna have to jump."
But that's one match-up Thomas admits he's not ready for. "The only person I've been surprised by has been Kareem," says Thomas, who played against Abdul-Jabbar's Lakers in the preseason. "Everyone calls him the dominant center, but he's much better than that. The things he does, the plays he makes...You look at him and you can tell he's been taught very well."
So was Thomas. Given his fascination with fundamentals, there was little doubt why he chose Indiana and its taskmaster, Knight, despite pressure from what seemed like the entire city of Chicago, including his mother, to stay at home and attend DePaul. Choosing Indiana may have been one of the few things he's done exactly as he wanted to.
As Thomas relates that story in a Washington hotel room, there's a knock on the door and he opens it to find a sportscaster and camera crew from a local station. Thomas begs off because of fatigue, but the sportscaster is insistent. They talk several minutes more before a compromise is reached: Thomas will see them a few hours later. Thomas isn't upset about the ambush, but rather because "that man is probably thinking I'm a jerk for not talking to him." Robertson says Thomas would like to be everything for everybody, and Thomas doesn't disagree.
"He got that from me," says his mother, Mary Thomas. "The minute someone looks at us with sad eyes, we're over there trying to help." Isiah's father left the family when he was four, leaving Mary, a retired Chicago Housing Authority worker, to raise nine children. The youngest, Isiah, has always been a favorite. "Even now I'll wake up at midnight or one in the morning and give him a call," Mary Thomas says. "I was kind of like his first coach. I'd always talk to him and wherever I went, he went. We walked and talked many a day together when he was younger. He probably didn't understand what I was saying, but he looked up at me like he did."
Thomas says he wasn't a bad kid, "just hardheaded," but before he could prove it on the streets, his brothers directed him to the local Boys' Club.
"There were people who got shot and stabbed and all that stuff, but we enjoyed the West Side," says Thomas. "I appreciate it even more now. Take something like shoes: You take care of them better because when you were young and got a pair they had to last for a year or two. Or three meals a day. I know everybody doesn't get that.
"You can't take things for granted. I think about where I am and it's awesome, it's crazy. One day you're not able to get anything and the next day you can have whatever you want."
Except respite from the rigors of the NBA life-style. "People have no idea how difficult it is playing in the league, how tiring the travel can be," he said before last Friday's game with the Bullets, in which he found out firsthand: John Lucas blew past a fatigued Thomas for a couple of easy buckets. Late in the game Thomas was fouled while shooting and went to the line for a pair of important free throws. Up for the first, Thomas toed the line, took a deep breath, bent his knees—and shot an airball. Later, he would say, "My mind said yes but my legs said no." Nevertheless, when the ball hit the floor, the biggest smile in the Capital Centre belonged to Isiah Thomas.
PHOTO
"Sinatra was made to sing, Jesse Owens to run and Isiah Thomas to play basketball."
TWO
PHOTOS
Thomas wants to be everything to everybody, but especially to mom Mary, his first "coach" and biggest fan.