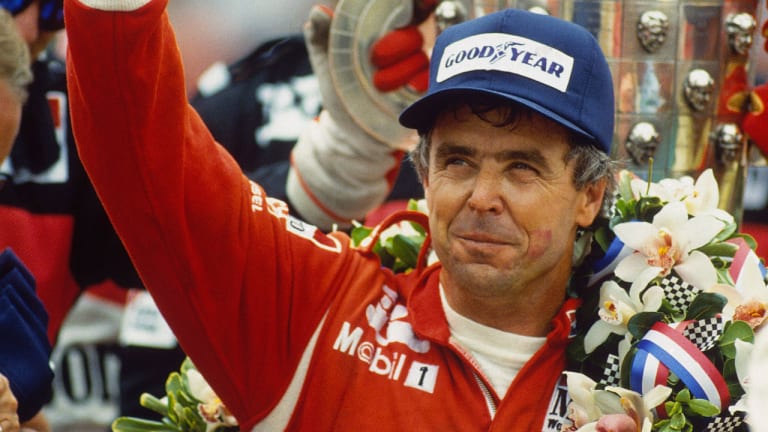 Mears to the Four
Rick Mears won his fourth Indy 500 by making a daring pass and then dropping the hammer
Minutes before the rain-delayed start of the Indianapolis 500, Rick Mears slouched against the rear wing of his Penske-Chevy as it sat in the pole position on the grid. He was so relaxed that, had the car rolled forward a few inches, Mears, a three-time Indy winner, probably would have fallen to the track on his elbow. With the eyes of more than 400,000 spectators about to be focused on him as he led the field to the start of the 75th Indy race, Mears chatted amiably about what he figured would happen on the opening lap. You might have thought it was any old Sunday afternoon, and he was about to go fishing.
The clouds scudding overhead meant that the drivers of the other 32 cars would be even more eager to get in front, lest the race was cut short by more showers. And lined up outside Mears on the front row of the grid were two of the hardest chargers in Indy history, A.J. Foyt and Mario Andretti. "Mario is probably going to be the most aggressive at the start," said Mears. "But you never know about A.J. If this is going to be his going-away party, you got to believe he might want to go out in grand style by leading the first lap. But it mostly depends on who gets the jump. I'm going to try to hold back, hold back, and then at the last instant, wham, drop the hammer."
When the race started, Mears, almost despite himself, did beat Andretti and Foyt into the first turn. Soon thereafter, as planned, he dropped off the lead, but at the finish, 200 laps and two hours and 50 minutes later, there he was again, having left those 32 other cars all chased out. Thus, Mears joined Al Unser Sr., who did not compete this year, and Foyt, who had announced that this would be his last year at Indy, as the race's only four-time winners. And Mears did it by precisely following his plan: He held back, held back and, wham, dropped the hammer.
Roger Penske put it another way shortly after winning his eighth 500 as a car owner. "The other drivers never knew what we had in our pocket," he said, champagne in hand. "We never let them know all day we had a .44 in there."
As Mears held his lead on the first lap, with Andretti and Foyt tucking in behind as they headed out of Turn 2 and onto the back straight, Gary Bettenhausen got his Lola-Buick crossed up in the middle of Turn 1, sending the youngest driver in the field, 23-year-old rookie Buddy Lazier, into the wall without injury. Bettenhausen's car was virtually unscathed, but Lazier's Lola-Buick was not so lucky. Its nose cone and front wings were destroyed, which meant Lazier's work for the day was finished.
When the debris was removed and the race resumed, Mears went into his holdback mode. Mario Andretti, who was being chased by his son Michael, passed Mears on Lap 13. Soon the Andrettis were behaving in a manner that must have scared the stockings off Dee Ann Andretti, wife of Mario and mother of Michael. (Her youngest son, Jeff, and her nephew John were farther back in the field, behaving themselves.) It's well known that the Andrettis often mistake each other for the enemy when a checkered flag stands before them, but really: The way that Mario and Michael were thrusting and parrying at 220 mph was enough to make a wife and mother faint, or at least give them a piece of her mind.
Actually, race officials took care of Mario for her. Later in the race he was black-flagged, meaning he had to come into the pits for "consultation." The subject of the chat—and the reason for a one-lap penalty assessed to Mario—was his having driven below the yellow line at the pit entrance while passing other cars. He would eventually finish seventh, three laps down, and hotter than the Chevy engine in his Lola. His pique was understandable. Dipping under that yellow line is something every driver does when he has to.
Foyt, 56, bade his farewell to the Brickyard early, when Kevin Cogan and Roberto Guerrero tangled and slammed into the Turn 4 wall. Foyt's black Lola-Chevy clipped a big chunk of the flying flotsam from the accident, breaking its left front suspension. Only 26 laps into the race, Foyt, whose legs were still mending after a shattering crash in a race last September, drove his limping car around the Speedway one final time, waving goodbye to the fans, whose cheers showed that they love him like no other. "I just felt like I owed them a salute," said Foyt, who was driving in his 34th consecutive Indy.
As Michael Andretti ran hard out front and Mears wrestled with his car's poor handling and dropped steadily back, Bobby Rahal and Al Unser Jr. moved into contention. Meanwhile, some of the potent Buick engines powering the 10 cars that were considered the only serious rivals to the 12 Chevy-powered racers in this 500 were dying loud deaths. The one owned by Derrick Walker and driven by Willy T. Ribbs was the first to bite the dust, on Lap 6. All told, three of the Buick V-6's—which pack more than 800 horsepower, as opposed to about 720 for the Chevys—burst. Just before the race, Walker had said, "When those beauties go, they go big time. Stand back—the valves come spitting out the exhaust pipes like machine-gun bullets."
Then again, it's not fair to pick on the Buicks; this wasn't the best of Indys for the Chevy V-8's, either. Unser, who would finish fourth with a faulty turbo, lost four engines in practice, and on Lap 130, Rahal, Unser's teammate, would watch his engine go up in smoke in his rearview mirrors. Fifteen laps later Scott Brayton's Chevy would overheat and steam his buns.
By Lap 105, just past the halfway mark, Mears had sunk to sixth place as he continued to struggle with a stubborn case of understeer, which would flare up when he got the nose of his Penske close to another car and the turbulence caused his front end to get light. "I almost bounced off the fence a couple of times when I couldn't find any clean air," said Mears after the race.
At that point Michael Andretti, the leader, was a mere four seconds from lapping Mears. Was Rick worried? Nah. The Mears approach to 500-mile races is simple: "You use the first half of the race to get to the second half." In other words, he was right on target.
So was his teammate, Emerson Fittipaldi, the 1989 Indy champ. He had started 13th and, contrary to his normal driving style, had moved up patiently rather than explosively. "My car was beautiful," Fittipaldi would say afterward with a forlorn expression. He led all but two of the laps from 108 through 151 before Michael Andretti regained command. But at Lap 165, Fittipaldi stormed back into the lead, which he held until 170, when he had to come in for fuel. By then Fittipaldi's car was not quite the beauty it had been—its clutch had turned ugly. For him to reenter the race, his crew had to push his car down pit road until Fittipaldi dropped it into gear. But Fittipaldi didn't pull off this delicate deed quite right, and one lap later his gearbox failed. Fittipaldi coasted back into the pits. When he saw Mears after the race, he shrugged, smiled, pointed a finger to his own head and fired. The unspoken message: "That's racing."
Michael Andretti got a giant break when Danny Sullivan's Alfa Romeo engine made like a mosquito sprayer—big cloud, smelly white smoke—and brought out the yellow flag on Lap 184. Michael led Mears by about 12 seconds at the time, but he needed fuel and Mears didn't, so the caution period enabled Michael to make that stop for a "splash and dash" to the finish. He came back onto the track right behind Mears, whose car was now handling better after a race-long series of deft adjustments to its wings and tire pressures. The green flag flew again on Lap 188. What followed were 10 of the best laps in recent Indy history.
John Andretti, who would wind up in fifth place, was immediately ahead of Mears (though actually three laps down in the standings) as Mears pulled back onto the track. Michael Andretti was right behind Mears. Just as Mears was setting up to pass John, he had to feather his throttle to keep from hitting John's bright yellow Lola-Chevy. "When I did that, I knew Michael was on his way," Mears said later. Sure enough, as Mears swung by John, Michael shot between their cars and passed them both.
Mears's mind flashed back to 1982, when he finished second to Gordon Johncock in the closest Indy 500 in history. Johncock won that race because Mears backed off as they went side by side into Turn 1 on the final lap. This time, Mears told himself, things would be different.
The understeer to Mears's chassis was not totally cured, but he knew that his tires had cooled during the just completed caution period and that, therefore, his car could hold an outside line this one time. So he came back at Michael, moving up on him on the outside of Turn 1 as they entered Lap 189 and staying there. Four hundred thousand jaws dropped, releasing ecstatic whoops as Mears did the almost impossible and blew past Michael in the short chute between Turns 1 and 2. You might recall—as Mears certainly did—that the wall he was now skimming was the same one he had crashed into during practice 16 days earlier.
"That kid, I'll tell you, that kid has more nerve than Michael Andretti, Mario, all of them put together," said Penske after the race.
Finally it was time for Mears to drop the hammer. His car was equipped with a six-speed transmission, with sixth being like overdrive. Until this point in the race, he had been using sixth to save fuel and reduce stress on the engine. Now there would be no holding back. Mears stayed in fifth gear and let his engine rev a few hundred more rpm. The .44 had been fired.
When Mario Andretti's Lola suspiciously conked out at the entrance to the pit road on Lap 191, another yellow flag came out, giving Michael a second chance to get by on a restart. Mears, however, was not worried. "We were stronger," he said. "I knew we had the car."
The green came out for the final time on Lap 195, and Penske coaxed Mears home over the radio—"Nice and smooth, nice and smooth," he said about 100 times. Mears steadily pulled away to win by 3.1 seconds. "I love it! I love it! Number four! Yaaayyy!" shouted Penske, his voice cracking with excitement.
"Not bad" was the calm reply from Mears, who at 39 is the youngest driver to get four wins at the Brickyard. "Not bad."
PHOTO
HEINZ
KLUETMEIER
With 12 laps to go, Mears (left) took the lead for good by blowing by Michael Andretti, who had done the same to him on the previous lap.
PHOTO
HEINZ
KLUETMEIER
Mario Andretti (far left) and Foyt (center) were with Mears at the start—but not at the finish.
PHOTO
JOHN
BIEVER
Foyt had high hopes as he got into his car, but his 34th Indy ended with a melancholy wave.
PHOTO
GEORGE
TIEDEMANN
[See caption above.]
PHOTO
HEINZ
KLUETMEIER
Had Fittipaldi, who needed a push to reenter the race on Lap 170, not blown out his gearbox, he, not Mears, might have returned to Victory Lane.
PHOTO
GEORGE TIEDEMANN
[See caption above.]