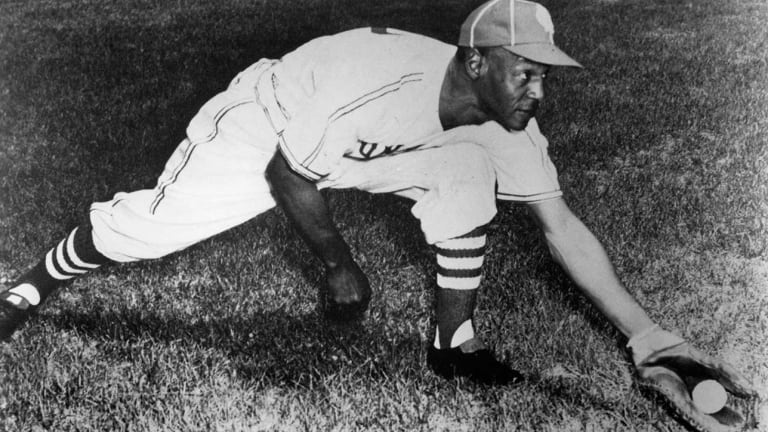 The Guiding Light
Buck O'Neil bears witness to the glory and not just the shame of the Negro leagues
There's nothing greater for a human being than to get his body to react to all the things one does on a ball field. It's as good as sex; it's as good as music. It fills you up. Waste no tears for me. I didn't come along too early. I was right on time.
—BUCK O'NEIL
Buck stuck, but he was Foots first. He has also been called Country and Cap and just plain Jay, and while Satchel Paige was alive, he was a man called Nancy.
John Jordan O'Neil, born Nov. 13, 1911, in Carrabelle, Fla., has collected almost as many nicknames during his seven decades in the game as all of the current major leaguers combined. But then he has led so many different baseball lives, and with the exception of that month back in 1937 when he played in a straw skirt for the Zulu Cannibal Giants, all of them have been distinguished.
As a smooth-fielding first baseman for the Kansas City Monarchs from 1938 to '54, O'Neil won a Negro American League batting title (hitting .350 in '46) and played in three Negro League East-West All-Star Games and three Negro World Series. As the manager of the Monarchs from '48 until '55 he won five half-season pennants and shepherded 14 of his players, including Ernie Banks and Elston Howard, into the majors. As a scout for the Chicago Cubs he signed four elected or near-certain Hall of Famers: Banks, Lou Brock, Lee Smith and Joe Carter. In 1962 the Cubs made him the first black coach in the major leagues.
At 82, the still-graceful, still-handsome O'Neil still scouts for the Kansas City Royals. When he's not doing that, or shooting his age over 18 holes, he champions the players and memories of the Negro leagues. But O'Neil is most impressive not for what he does or what he did, but for what he is. Banks, who knew O'Neil when, says, "He is a role model, a father, a mentor, a teacher, a sensei, a hero, a gentleman, a man. Who do you think I got my let's-play-two attitude from? From Buck O'Neil, that's who."
Hal McRae, the Royals' manager, says, "Buck just makes you feel good. You might be blue, you might be in a slump, but a few minutes with Buck and the world is a wonderful place. Do you know what he is? He's the guiding light."
It's a light that shines on the past as well as the present. The Negro leagues were born because organized baseball wanted nothing to do with integration, and O'Neil and his teammates encountered prejudice daily. But the Negro leagues were also a glorious enterprise well worth celebrating, and that's where O'Neil comes in. He takes particular pride in the Monarchs, and he harbors no bitterness over the fact that he was past his prime when Jackie Robinson finally broke the color line, in 1947. "Buck never curses his fate," says Banks. "He knows that what he did as a player and manager paved the way for the rest of us."
And O'Neil's light shines often in Baseball, the nine-inning, nine-night documentary that airs on PBS starting Sept. 18. The film, by Ken Burns of Civil War renown, presents a sweeping panorama of the national pastime, and while Baseball has much to recommend it, its best moments come while O'Neil is on the screen.
He is at the heart of Baseball's "Fifth Inning," subtitled "Shadow Ball." On one level, shadow ball was the amazingly realistic pantomime of baseball—without the ball—often performed by Negro leaguers before their games. But it is also a metaphor for the black baseball that shadowed the segregated major leagues. O'Neil illuminates those shadows, bringing the Negro leagues to life in all their glory and pain, jazz and blues.
As an eyewitness he links Babe Ruth to Josh Gibson to Bo Jackson. As a confidant of Paige's he reveals a new side to the great pitcher. As a singer...well, if you can't watch all 18½ hours of the show, be sure to catch O'Neil during the "Seventh Inning Stretch." He'll take you out to the game.
FOOTS
"How old is this ballpark?" someone asks Jordan Kobritz, the principal owner of the Daytona Cubs.
"As near as anyone can document," says Kobritz, "it's 55 years old."
"Sixty," says Buck O'Neil. "It's at least 60 years old. I played here in 1934 for the Miami Giants, on our way up to face the Jacksonville Red Caps, a good team made up of railroad porters. Over there, that's where the Jim Crow section of the bleachers was."
The field in question is now known as Jackie Robinson Ballpark because this is where Robinson played his first integrated game in organized ball, as a member of the 1946 Montreal Royals. O'Neil has come to Daytona to rekindle some memories and visit his niece, Sally Griffin.
There's nobody on the field on this June afternoon, but O'Neil can still see the Giants: "That's me over there on first base. 22-year-old Foots O'Neil from Sarasota [Fla.]. On second, Winky James from Key West. Our shortstop is Bill Riggins, who played for the New York Black Yankees, and at third base is Oliver Marcelle. Ollie was a Creole from New Orleans, a fine-looking man. But he got part of his nose bit off in a fight in Cuba, and he had to play with a piece of tape on the nose. He'd been so proud of his looks, so he was never the same after that."
Griffin has brought along some mementos, one a 70-year-old report card from a school in Sarasota for sixth-grader John O'Neil. He earned excellent grades, including an A in personal hygiene, which will come as no surprise to people who know how meticulously he dresses.
Back then he was known as Foots because he had size-11 feet, pretty big dogs for a 12-year-old. He was also a pretty good first baseman, and one day the manager of the semipro Sarasota Tigers asked Emma Booker, the principal-teacher at Foots's small school, if he could borrow the kid for a game. She said yes, and soon Foots, not yet in his teens, was traveling all over the state playing baseball. He also got to see a lot of the white man's game during spring training: John McGraw's New York Giants trained in Sarasota. Babe Ruth and Lou Gehrig were based in Tampa, and Connie Mack's Philadelphia Athletics were in Fort Myers.
But there was work to be done, and because his father, John Sr., was a foreman in the celery fields, Foots became a box boy, carrying the crates of celery. "I was considered a good box boy because, while most of the box boys could only carry two crates at a time, I was big and strong enough to carry four," O'Neil says, "I did that for about three years, at $1.25 a day. One day I was having lunch by myself next to a big stack of boxes, and it was so hot, I said out loud. 'Damn, there has got to be something better than this.'
"It turns out my father and some of the older men were on the other side of the stack having their lunch. That night my father told me, 'I heard what you said today.' I thought he was going to reprimand me for swearing, but he said, "You're right. There is something better than this. But you can't find it here. You're going to have to go out and get it.' "
In those days there were no high schools for blacks in Sarasota, but thanks to the eighth-grade education Booker gave him. Foots was able to get an athletic scholarship to Edward Waters College, a Methodist school in Jacksonville. There they called him Country, and they made him the first baseman on the baseball team and a lineman on the football team. The baseball coach, Ox demons, schooled O'Neil so well that the Miami Giants, a Negro semipro team, stole him away in 1934, by which time O'Neil had earned his high school diploma but was still two years short of a college degree. It just so happened that one of the owners of the Giants was a man named Buck O'Neal, although it would be a while before Country became Buck.
In 1935 Marcelle, the third baseman with the taped-up nose, invited O'Neil to join him on a team he played for called the New York Tigers. "We started out in Sarasota, mind you, and we had nothing to do with New York," says O'Neil. "Thai was just a way to get the people to come to the games. Out where we were headed, nobody was going to know the difference." They were also headed into the Depression, and the Tigers spent the summer and fall chasing after ball games in Louisiana, Texas, Kansas and Colorado, living hand to mouth, hopping freight trains, sometimes relying on O'Neil's pool-playing abilities for money.
O'Neil and Doby Major, another player from Sarasota, decided to go home from Wichita, Kans., that October, and O'Neil's father wired them train tickets. But they had only 75 cents between them for the three-day trip, and used it to buy day-old bread in Chattanooga. By the time they got home, O'Neil says, "our day-old bread was two days gone. When I got home I ate so much, my mama cried."
Up in the stands at Jackie Robinson Ballpark, O'Neil recalls another adventure from that summer of '35: "One night we had to sneak out of a boardinghouse in Shreveport without paying our bills. But a few months after that, I sent the landlady a check for what we owed her, which wasn't much, maybe $50.
"Many years later I'm passing through Shreveport on my way to scout a player, and I decide to stay at this same boarding-house. I inquire after the landlady, and a woman says, 'That was my mother. She passed away a few years ago. Did you know her?' I tell the woman my name, and she smiles and leads me into one of the rooms. There on the wall, framed like a picture, is my check. I guess I had restored her mother's faith in us."
BUCK
A hand comes down hard on the shoulder of Ken Burns.
"Can we have Buck back now?"
Burns, who is sitting in the press dining room at Kauffman Stadium on the night of Aug. 3, turns around to see that the hand belongs to the Kansas City vice president for baseball operations, George Brett. "Actually," says Brett, "we don't need him now that we've won 11 in a row. It's when we start losing that we'll need him."
The Royals have given O'Neil time off this summer to help promote Baseball, but don't think for a moment that his role with the club is ceremonial. "I depend on him," says McRae. "Whether it be for advice or for information, he's a big help around here." Indeed, when O'Neil walks into the Royals' clubhouse, the room gets a little warmer. He'll do ball nicks with one of the kills, swap stories with K.C. first base coach Lee May or quietly advise a player in a slump.
This night also happens to be Monarchs Night, and the Royals are about to play the Oakland A's while wearing replica uniforms of the 1924 Kansas City Monarchs, who were the first "world champions" of the Negro leagues. This unprecedented homage to a Negro league team by a major league team is a wonderful—albeit overdue—gesture that bridges time, culture, race and spirit.
On the mound to throw the ceremonial first pitch is Burns, dressed in a Monarch jersey. But as he goes into his windup, his catcher, every inch a Monarch, every inch a ballplayer, waves him off. Much to the delight of the crowd, O'Neil takes off his glasses and puts them on Bob Motley, a former Negro league umpire standing behind him. Only then does O'Neil signal for his batterymate to throw the ball.
O'Neil didn't actually become a Monarch until 1938, when he was 26. He had played the '36 season with the Shreveport Acme Giants and most of the '37 season with the Memphis Red Sox. He did spend one month in '37 playing in that straw skirt for the barnstorming Zulu Cannibal Giants. "I was making $100 a month with the Red Sox, and the Giants offered me a lot more, so I jumped," says O'Neil. "Abe Saperstein owned the team, and we didn't think that much about wearing the costume. This was show business. At least I didn't have to put on the war paint like some of the guys. Besides, we had trunks on underneath our skirts. A first baseman in a stretch would have been pretty vulnerable without those trunks."
His stay with the Cannibal Giants was memorable for another reason. The promoter for the team, Syd Pollock, had also worked for the Miami Giants when O'Neil played for them, and Pollock somehow confused this O'Neil with that club's co-owner, Buck O'Neal. So he started hilling the Giants" first baseman as Buck O'Neil, and the name stuck.
The next year, J. Leslie Wilkinson brought O'Neil to Kansas City. Wilkie, who was the only white owner in the Negro leagues, had had his eye on O'Neil for quite some time, and O'Neil immediately became the Monarchs' starting first baseman and number six hitter, "it hit me my first week with the Monarchs," says O'Neil. "I caught a routine throw from the second baseman, and as I was trotting off the field, I thought, Damn! I just caught a throw from Newt Allen. Newt was one of the greatest players in the Negro leagues back when I was a child."
From 1939 to '42 the Monarchs won four straight Negro American League pennants. They had a number of stars: pitcher Hilton Smith; shortstop and right-fielder Ted Strong, who also starred for the Harlem Globetrotters; and outfielder Turkey Stearnes, a peculiar man who liked to talk to his bats. And in '39 Paige joined them, but that's another two dozen stories.
"We were like the New York Yankees," says O'Neil. "We had that winning tradition, and we were proud. We had a strict dress code—coat and tie, no baseball jackets. We stayed in the best hotels in the world. They just happened to be owned by black people. We ate in the best restaurants in the world. They just happened to be run by blacks. And when we were in Kansas City, well, 18th and Vine was the center of the universe. We'd come to breakfast at Street's Hotel, and there might be Count Basic or Joe Louis or Billie Holiday or Lionel Hampton."
World War II broke up the Monarchs" dynasty, at least temporarily. One of O'Neil's few regrets is that he didn't get to play for Kansas City in 1945, the year Jackie Robinson was a Monarch. O'Neil was then in the Navy, stationed with a black stevedore battalion at Subic Bay in the Philippines. Recalls O'Neil, "We loaded and unloaded ships. I was a bosun with 18 or so men under me. One night at about 11 o'clock the commanding officer gets on the horn and says, 'John O'Neil, please report to my office immediately."
"I didn't know what he could want. But when I got to his office, this white man said to me, 'I just thought you should know that the Brooklyn Dodgers have just signed Jackie Robinson to a minor league contract.' Well. I got on the horn and said, 'Now hear this! Now hear this! The Dodgers have signed Jackie Robinson." You should have heard the celebration. Halfway around the world from Brooklyn, we were hollering and tiring our guns into the air."
After the war O'Neil returned home to Kansas City and married Ora Lee Owen, a schoolteacher from Memphis whom he had met a few years before.
As she did then, Ora is waiting patiently on this Aug. 3 night for John—as she calls him—to return. She is sitting in a private box at Kauffman Stadium while Buck and some of the other Monarch alumni sign autographs outside the stands. The demand for the signatures of these once-forgotten players has been so great that they are still signing an hour and a half after the first pitch of the game.
Finally, after about six innings, the men come back from their grueling autograph session. Rather than looking tired, however, the Monarchs, in their uniforms, actually seem younger than they did a few hours earlier. Is it possible, O'Neil is asked, that a little time spent in a baseball uniform can take years off your age?
"You got that right."
NANCY
Standin' in a corner, 18th and Vine.
Those aren't exactly the lyrics to Kansas City, but on the morning of Aug. 4 they're close enough. Standing in a corner of the Negro Leagues Museum at 18th and Vine are the now familiar team of Buck and Burns. In their own ways they arc eloquent preachers, and they are here to address the audience at a benefit breakfast for the museum. Burns introduces O'Neil as the most remarkable man he has ever interviewed and then adds, "Buck is 82. I'm 41.1 guess that makes me half a Buck."
O'Neil tells a story about his 80th-birthday celebration at his church: "There was all this babbling about Buck O'Neil this and Buck O'Neil that. Just in case any of it went to my head, a young boy I knew came up and introduced his friend to me. He said, 'I want you to meet Buck O'Neil. He's an old relic from the Negro leagues.' I said, 'Son, you are so right.' "
As he almost always does before such an audience. O'Neil tells a Satchel Paige story. He has a lot of them, always making sure that the absent Paige addresses him as Nancy. There was the time Paige heard an opposing player in Denver call him an "overrated darkie." He told Nancy to bring in the infielders and outfielders and had the seven of them kneel around him as he struck out the side on nine pitches.
But as O'Neil points out in the "Fifth Inning" of Baseball, Paige was more than a clown, more than a great pitcher. "A part of Satchel that no one ever hears about," says O'Neil, "is this part of Satchel. We're going up to Charleston, but the rooms weren't ready yet. So he says, 'Nancy, c'mon with me. We're gonna take a ride....' We went to Drum Island [S.C.]. Drum Island was where they had auctioned off the slaves.... We stood there, he and I, maybe 10 minutes, not saying a word, just thinking.
" 'You know what, Nancy?' he says.
" 'What's that, Satchel?"
" 'Seems like I been here before."
"I said, 'Me, too.' "
At the breakfast at 18th and Vine, someone in the audience asks the question everybody wants O'Neil to be asked: "Why did Satchel call you Nancy?" O'Neil smiles the wav he must have smiled at a hanging curveball in 1946.
"We were playing near an Indian reservation in Sioux Falls, South Dakota, on our way to Chicago to play the Chicago American Giants." he says. "Satchel met a beautiful Indian maiden named Nancy, and he asked her if she'd like to visit him in Chicago, and she said sure, so Satchel gave her the name of our hotel. Well, now we're in Chicago, and I'm sitting in the coffee shop of the hotel when I see a cab pull up, and out steps Nancy. I greet her and tell her that Satchel is upstairs, and the bellhop carries her bags to his room.
"A few minutes pass, and another cab pulls up, and out steps Satchel's fiancèe, Lahoma. I jump up and say. 'Lahoma, so good to see you. Satchel's not here right now, but he should be along shortly. Why don't you sit here with me, and I'll have the bellman take your bags up.' I go over to the bellman, explain the situation to him and tell him to move Nancy's bags into the room next to mine, which is next door to Satchel's. A few minutes later he comes down and gives me the sign that everything is O.K. In the meantime, Satchel has climbed down the fire escape, and lo and behold, here he comes walking down the street. I say, "Look, Lahoma, here's old Satch now,' and Satchel gives her a big greeting and takes her upstairs.
"That should've ended the trouble, but when we were turning in that night I heard Satchel's door open and close. Then I heard him knock on Nancy's door. I know he wanted to give her some money and apologize. But while he's whispering kind of loud, 'Nancy! Nancy!' I hear his door open again, and I knew it was Lahoma coming out to see what was going on. I jumped out of bed, opened my door and said, 'Yeah, Satch. What do you want?' And he said, 'Oh, Nancy. There you are. I was looking for you.'
"And from that day on, Satchel called me Nancy."
CAP
"Hello, Cap," says the former first base coach for the Monarchs.
"Hello, Hamp," says O'Neil.
At a New York screening of the "Seventh Inning" of Baseball, the two octogenarians greet each other like long-lost friends. It has been a while since O'Neil has seen Lionel Hampton.
"I loved to watch the Monarchs play," says Hampton, the great bandleader and vibraphonist. "One day in 1948 Cap—that's what the players called Buck—said to me, 'You're around here so much, I might as well put you to work. So Cap let me coach first base for one game, and then he gave me the jersey. It was one of the great thrills of my life."
As strong as jazz and black baseball were in Kansas City in the 1930s and '40s, by the early '50s they had begun to diminish. Nightclubs closed, and the Monarchs, like all the other Negro league franchises, began to suffer because of the integration of the big leagues. O'Neil's job as manager was no longer to win but rather to prepare young black players for their chance at the majors: Banks, Howard, Gene Baker, Pancho Herrera. Sweet Lou Johnson, Hank Thompson.
Before the day-old bread was two days gone again, O'Neil quit the Monarchs after the 1955 season to scout for the Cubs. His job was to find black players in the South, and he put 40,000 miles a year on his car. He discovered Brock when he was a skinny outfielder at Southern University. He tracked down 17-year-old Oscar Gamble in Montgomery, Ala. He also found trouble one night in Jackson, Miss.
O'Neil and Piper Davis, the black scout who signed Lee May, were in Jackson looking for a high school game. They saw the lights of a ballpark, pulled into the parking lot and asked the two men at the entrance if this was where the game was. "Oh, yeah, this is where it is, all right," said one. O'Neil and Davis got out of their car and walked to the field. On the mound, though, was not a pitcher but a member of the Ku Klux Klan. The ballpark was filled with men in sheets, and the two scouts made a hasty exit.
In May 1962 the Cubs made O'Neil the first black coach in the major leagues. Although Ebony did a big feature on him, the predominantly white media largely ignored his appointment. (SPORTS ILLUSTRATED did O'Neil as a FACE IN THE CROWD.) At the time, the Cubs were in their College of Coaches stage, rotating several different coaches as the head coach (i.e., manager), and John Holland, the Chicago general manager, paid lip service to the idea that O'Neil might one day be the manager.
But the Cubs were never serious about that; they didn't even want him on the coaching lines. Perhaps the one man in this world for whom O'Neil holds any animosity is Charlie (Jolly Cholly) Grimm, the old Chicago first baseman and manager who occupied a front-office position while the college was in session. During a 1962 game with the Houston Colt .45s, both head coach Charlie Metro and third base coach El Tappe were ejected. O'Neil was the logical choice to take over third base, but Fred Martin, the pitching coach, was brought in from the bullpen to man the box. "After 40 years in baseball and 10 years of managing, I was pretty sure I knew when to wave somebody home and when to have him put on the brakes." says O'Neil. "Later I found out that Grimm had ordered the other coaches never to let me coach on the lines."
It wasn't until 1975 that the Cleveland Indians made Frank Robinson the first black manager. In the meantime, O'Neil returned to scouting, signing Smith and Carter, among others. It's no coincidence that O'Neil's four Hall of Fame-quality players—Banks, Brock, Smith, Carter—all share his positive outlook on life. "The measure of a man," says Banks, "is in the lives he's touched."
And, in O'Neil's case, the lives he has preserved. "Sometimes," he says, "I think the Lord has kept me on this earth as long as He has so I can bear witness to the Negro leagues." As a member of the Baseball Hall of Fame veterans committee, O'Neil fulfills that responsibility. He says there are still 10 Negro Leaguers worthy of the Hall. For now, he will settle for just one: Leon Day, an outstanding pitcher and outfielder for the Newark Eagles who's still alive and well at 78 in Baltimore. O'Neil also wants to correct the impression of the Negro leagues left by the movie The Bingo Long Traveling All-Stars & Motor Kings. "We weren't a minstrel show," he says. "We didn't just pile into a Cadillac and pick up a game here and there. We had a schedule. We had spring training. We had an all-star game. Most years, we had a World Series. We were professional ballplayers."
Over the years, O'Neil has been a strong force behind many Negro league reunions. In fact, it was at such a reunion, in Ashland, Ky., in 1981, that he spoke those life-affirming, baseball-affirming words: Waste no tears for me. I didn't come along too early. I was right on time.
He has also been raising funds for an expanded Negro Leagues Museum, to be built across the street from the current one and next to a new Jazz Hall of Fame. "Wouldn't that be something?" he says. "To see folks flocking to the corner of 18th and Vine again."
JOHN
O'Neil is leading a small caravan to Forest Hill Cemetery in South Kansas City. That's where Paige is buried. It's also where Confederate General John Shelby put up Shelby's Last Stand, and the irony certainly isn't lost on Burns, who visited the cemetery for his Civil War research: "One of the reasons I decided to do Baseball after The Civil War was that the first real progress in racial integration in this country after Reconstruction didn't come until the Dodgers signed Jackie Robinson."
Paige's gravesite, which he shares with Lahoma, whom he married in 1947, is extraordinary. For one thing, it's on an island of grass in the middle of the cemetery's main road. "Satchel was buried someplace else in the cemetery, but they moved him here so that more people could find him," says O'Neil. "Even after he died, Satchel was on the run."
For another thing, there are portraits of Satchel, who died on June 8, 1982, and Lahoma, who passed away four years later. And on the tombstone are inscribed his famous Rules for Longevity: AVOID FRIED MEATS WHICH ANGRY UP THE BLOOD, etc.
We have to know: "Did Lahoma know why Satchel called you Nancy?"
"Oh, yes," says O'Neil. "She loved the story. She knew Satchel. I never would have told the story if she hadn't heard it from him first."
When Paige was buried, O'Neil delivered the eulogy. "People say it's a shame he never pitched against the best," O'Neil said at the time. "But who's to say he didn't?"
It's funny that John Jordan O'Neil is only now being discovered, at the age of 82. But in an age when the racial divide seems to be widening, at a time when baseball is being torn apart, along comes this man to repair some of the damage.
Yes, Buck O'Neil is right on time.
PHOTO ILLUSTRATION
DAVID WALBERG; NATIONAL LIBRARY
Content in his role as a pioneer, O'Neil reflects on his playing days without rancor.
PHOTO
COURTESY OF BUCK O'NEIL
In 1946, O'Neil (fourth from right) was on Paige's All-Star team, which played 32 games in 26 days.
PHOTO
LEE BALTERMAN
In 1962 the Cubs made O'Neil the majors' first black coach, but he soon fell victim to racial bias.
PHOTO
DAVID WALBERG
Even in 1994, Monarch blue suits O'Neil just fine.
PHOTO
DAVID WALBERG
Buck and Ora have been married for 49 years.