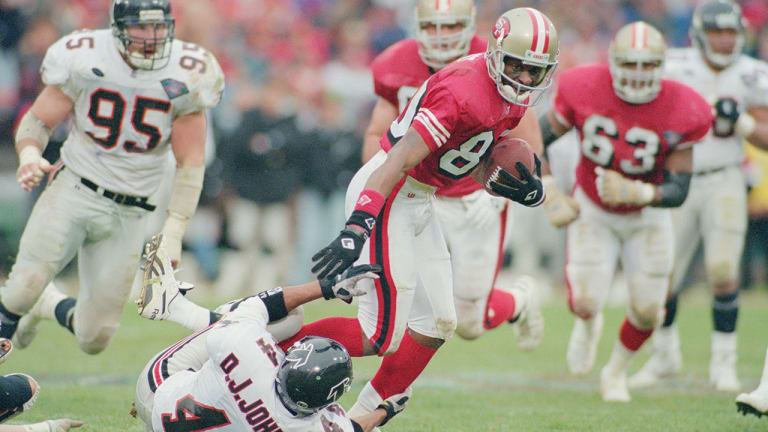 Let's Hand It To Him
Jerry Rice's dedication to his craft has made him the finest receiver in the game's history
The best?
He's here, in blue lights and red windbreaker, bitchy as a diva with a headache.
The best ever?
He's right here, sitting at his locker, taking off his rain gear after practice, edgy as a cat in a sawmill.
Around him swirls the clamor of big men winding down, messing around, acting like fools. Two bare-chested linemen lock up and start to grapple, rasslin' each other and snorting like trash-talking sumos. Other players laugh, but not the best ever.
"Guys," he says irritably. "Hey, guys!" Someone could get hurt.
The two wrestlers slowly come apart, his voice bringing them to their senses. They've heard the voice before; it's their fourth-grade teacher scolding them for rolling spitballs. It's the voice of San Francisco 49er Jerry Rice, the best wide receiver ever to play football. The 6'2", tightly braided coil of nerves, fast-twitch fibers, delicate grasping skills and unadulterated want-to is setting such high standards for the position that they will probably never be approached again, and he can't stand distractions while he works.
Rice does not fool around. Ever. He works so hard at his conditioning that during the off-season he virtually exits his body and studies his physical package the way a potter studies clay. "I mess with it," he says. "I like to do different things to motivate myself. I set goals and go after them."
As a rookie in 1985 he came to the 49ers at a muscular 208 pounds, but now he weighs 196. He is so lean that you wonder if he's sick. He likes to mess with his body fat, wants it to know that he is its master. For Rice, fat is a cornerback in man coverage with no safety in sight, a minor and ultimately irrelevant nuisance. Eschewing dietary fat, he got down to 189 a year or so ago, but the weight loss was too much. His starved body was literally eating up his muscles. His trainer ordered him to start eating things like ice cream.
"Under four percent body fat and I don't feel good," Rice states. "I'm a health-food fanatic, but getting that low really hurt my performance. I'm at 4.8 percent now, and I feel good."
Well, not really good. Not the way you or I might feel good if we knew that not only were we certifiably the best receiver in the history of football but, perhaps, the greatest, offensive player ever. That argument can be made. Rice already has more receiving touchdowns (130) and more total touchdowns (138) than anyone in NFL history. He has more 1,000-yard seasons (nine) than any other receiver, more touchdown catches in a Super Bowl (three) than anyone and more consecutive games with a touchdown reception (13) than anyone.
Was he this good in college? Imagine, for a moment, that it's September 1984, and you are in sweltering Itta Bena, Miss., watching Mississippi Valley State coach Archie (Gunslinger) Cooley direct his Satellite Express offense, with quarterback Willie Totten flinging passes to a senior wideout named Rice, who races out of a stacked receiver formation that looks something like a Motown chorus line. In the first four games of that season Rice caught 64 passes for 917 yards and 12 touchdowns. As a junior he caught 24 passes in one game, an all-division record. He left school with 18 NCAA I-AA records. Yes, he was good.
Rice never missed a game in college, nor has he missed one as a pro. Since he joined the 49ers the team has gone 126-45-1 (the best record in the NFL during that period) and won two Super Bowls. And at the seemingly advanced age of 32, he is still in his prime. On Nov. 20, in a 31-27 win over the Los Angeles Rams, Rice snagged 16 passes for 165 yards and three touchdowns. Three weeks later he caught 12 passes for 144 yards in a 38-15 win against the San Diego Chargers. Heading into the final game of the regular season, Monday night against the Minnesota Vikings, he has 108 catches for 1,446 yards and 12 touchdowns, plus 93 yards and two more touchdowns on seven rushing attempts. "He's in his 10th year," says 49er player personnel director Dwight Clark, a former star receiver himself, "and he's better than he was in his first."
On a Wednesday one might expect Rice to be civil, but in this case he's already badly game-faced. Usually that doesn't happen until Thursday, but here's the reason: The 49ers are playing the Denver Broncos on Saturday. Rice's schedule has been moved ahead 24 hours.
The gold earring sparkles in his left ear; the gold-flecked tattoo of a 49er helmet on his right deltoid flashes. Rice is miserable. "I'm so grouchy," he says with a tight grin, "my wife is going to move out."
He showers. Earlier in the season he had talked about his compulsion to prove himself, to never let up even for an instant out of fear that everything might come apart. He had started at the bottom, and he could be back there in a heartbeat; people would forget him, and if that happened...would he even exist?
"There's always doubt about me," he says. "I was disappointed coming out of college that Al Toon and Eddie Brown were drafted ahead of me, but they went to major colleges. You would think that in my 10th season there wouldn't be any doubt, but it's still out there." It is? Both Toon, who played with the New York Jets, and Brown, who played with the Cincinnati Bengals, are long gone.
There was an article last year, he explains, in a magazine, that ranked him as the third-best receiver in the league at the time, behind Michael Irvin of the Dallas Cowboys and Sterling Sharpe of the Green Bay Packers. "I read that," he says. "You have to have confidence, and guys like that, they're prolonging my career."
Rodney Knox, the 49er publicist, remembers the article, too. "After that," Knox says, "Jerry just exploded."
Rice felt he had stumbled into Oz when he arrived in San Francisco. "I stepped off the plane, and I wanted to turn right around and go home," he says. "I'm still trying to deal with it. There were guys who felt like they were gods at Mississippi Valley State, but it never went to my head. I've never put myself above anyone else. I can get the job done, but I don't see myself as a natural. I'm shy. The pressure is every second. I have to perform."
Afield, as in life, Rice is evasive. He almost never takes a direct, crushing blow after catching a pass. He controls his body like a master puppeteer working a marionette. A one-handed grab here, a tiptoe up the sideline there, an unscathed sprint through two closing safeties when it seems decapitation is imminent.
"I don't think I've ever seen him all stretched out," says 49er quarterback Steve Young of Rice's ability to avoid big hits. Rice jumps only when he has to, and unlike almost all other receivers, he catches passes in mid-stride and effortlessly continues running, the ball like a sprinter's baton in his hand. It's almost certain that no one has run for more yardage after catching the ball than Rice. Though he's not particularly fast, Rice has a fluid stride and a sudden burst that, as Young says, "is a speed you can't clock."
And the hands. Clad in gloves, the hands are so supple and sure that last year they snared a touchdown pass by latching onto the tail end of a fading ball. "That was not giving up on the ball," explains Rice. Sounds simple. In reality it's like grabbing the back end of a greased pig.
Rice's hands and agility allow him to catch the ball comfortably no matter where it's thrown. "He makes a lot of catches around his ankles," says Young. At a practice before the 1992 Pro Bowl, Cowboy quarterback Troy Aikman saw from a different perspective just what he and his teammates are up against when they play the 49ers. "We were running a quick out," says Aikman, "and I guess at San Francisco they run it different than we do, which is I drop back five steps and fire it. My arm was strong because I hadn't thrown in a while, and the ball was in the air, and I was sure I was going to kill him. He was still making moves, and the ball was almost at his head, and it wasn't so much that he just reached up and caught it. It was that he didn't even flinch."
Rice's dad, Joe Nathan, was a bricklayer, and much has been made of the fact that as a teenager Jerry worked eight-hour shifts with his dad and his brothers on scorching summer days back in Starkville, Miss., hoisting mortar and catching the bricks tossed up to him on the scaffold. This repetitive action, it has been written, is what forged Rice into the greatest pass catcher ever. The story is nice but probably not true. At least not in the way people would believe. After all, catching bricks is to catching footballs as sawing logs is to slicing sushi. "Catching bricks," says Rice, "taught me the meaning of hard work."
His dad was "very strict and demanding," Rice explains in a way that leaves one with the sense that his father was considerably more than that. Still, after work Rice would jog to the high school football field and exercise for two hours, then jog home—in his work clothes. "I didn't know anything about workout gear," he says.
After he got to the NFL, Rice had difficulty turning down his competitive flame when it wasn't needed. "My first five years I had a hard time turning it off," he says. "If things didn't go right for me in football, I'd find myself not turning it off at home." His wife, Jackie, is a strong woman, but even she had had enough of his intensity. Rice forced himself to let up as best he could. "You hear about stereotypes, about football players being very abusive off the field," he says. "I'd seen things when I was growing up, and I decided I wouldn't be like that."
What had he seen?
"I really don't want to go into that."
Now it is the rainy season in San Francisco, and Rice has limited opportunity to hit golf balls or ride his Harley—the two things he does to keep from coming apart at the seams. It's pouring on this Wednesday, adding to the pressure of the buildup to Saturday's game. He'll watch TV at home and play with his two children, seven-year-old Jaqui and three-year-old Jerry Jr., but he won't be at ease.
"People come up to me and say, 'I'd love to be in your shoes,' " he says with a sigh. "I say, 'No, you wouldn't.' They don't know what it's like. The pressure. Before games I can't sleep. Before Super Bowl XXIII I woke up at 4 a.m. and just paced. I can't relax. I should be able to enjoy it, but I can't. The table can turn."
Someday Rice will probably-score his 200th touchdown, which will be 74 more than his closest competitor, Jim Brown, who has been retired for almost 30 years. It's a figure so high, it's crazy. But it may not be enough for this most graceful and obsessive of men.
"It's a lot of wear and tear on me," he says needlessly of his intensity down the stretch. Don't forget the playoffs coming up, or the Super Bowl itself. Or years to come. "I might not survive," he grimaces.
Constant vigilance is required. The table must not move.
PHOTO
PAUL SPINELLI/NFL PHOTOS
PHOTO
SCOTT CUNNINGHAM
PHOTO
G.B. ROSE/NFL PHOTOS
Not especially fast, Rice has a quick burst and the ability to catch the ball without breaking stride.
PHOTO
MICKEY PFLEGER
On Sept. 5 Rice scored the 127th touchdown of his career, breaking Jim Brown's 29-year-old record.