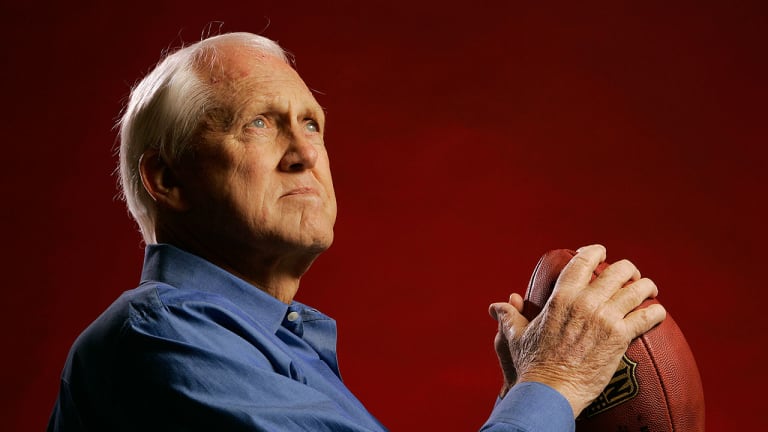 The Top of His Game
If to ask 'what might have been' is the price of genius, Bill Walsh has paid his dues. But as he battles leukemia, the greatest football mind of his era is coming to terms with his considerable legacy.
Bill Walsh sits at a lacquered wooden table, the 18th hole of the pristine Sharon Heights Golf and Country Club behind him, another blood transfusion and another long, draining day at Stanford Hospital in his immediate future. The Hall of Fame coach is talking about the end of his life—the "final stage," as he calls it—and, at 75, sounds as prepared and unruffled as a man battling leukemia can be. But is he completely without regret? Walsh closes his eyes and furrows his brow, the wrinkles on his prominent forehead becoming more pronounced. Something is bothering him, something apart from the disease that has left him so vulnerable: a decision he made 18 years ago that he wishes he could take back.
"I should have continued to coach," Walsh says, his words hanging in the air of the country club's nearly deserted dining room. "If I could've taken a month off, or something, to get away ... but I had all the other jobs. I couldn't leave. The draft was coming, and I was the general manager. So I didn't see any place to go. I should've turned it over to other guys and taken off. It would've been all right. Of course it would have. But I didn't do it." He sighs and shakes his head.
In January 1989 Walsh—burned out after a decade as coach of the San Francisco 49ers—stepped away from the NFL sideline, never to return. The franchise he'd raised from rubble had just won its third Super Bowl in eight years and was positioned to win more. Under Walsh's coaching successor, George Seifert, the Niners would win their fourth Super Bowl the following year, go to three more NFC title games in the next four years, and win their fifth Super Bowl in January '95. Had Walsh remained as coach, with future Hall of Fame quarterbacks Joe Montana and Steve Young running his avant-garde offense, the man who had been dubbed the Genius knows he could have won four, five, maybe even six Super Bowls. Six! There's a record that might have stood forever. Instead the most influential football man of his era allowed others to bask in the afterglow of his accomplishments.
So now Walsh squints into the descending sun on a clear January afternoon in Menlo Park, Calif., lost in silence, and ponders what might have been. How, after drawing up all those spellbinding game plans, after all that bold draft day wheeling and dealing, could he have so badly botched that one, crucial call?
Eddie Debartolo Jr. is enjoying Montana—the state where he owns a vacation home, not the quarterback whose excellence helped him become the most successful NFL owner of his era—when the mention of Walsh brings him out of his reverie. A few days earlier, a writer from the Bay Area had called DeBartolo's secretary seeking a phone interview for a story on Walsh. Recounting the writer's message sends DeBartolo into one of his infamous tirades. "He wanted me to give him quotes for an obituary," DeBartolo screams. "A f------ obituary! I said to my secretary, 'Amy, read that to me again because I can't f------ believe what I'm hearing!'"
After DeBartolo calms down, he reminisces about the December 1978 dinner at the Doral hotel in Miami Beach, where he offered Walsh, then the Stanford coach, the job of turning around the franchise DeBartolo had purchased two years earlier. Coming off a 2–14 season that ended the brutal two-year reign of autocratic general manager Joe Thomas, the organization was, in the words of Montana, a third-round draft pick in '79, "a small circus."
After years of being mentored by legendary football men such as franchise builder Paul Brown and offensive guru Sid Gillman, Walsh proved to be a transcendent ringmaster. Hired as coach and G.M., Walsh instituted a system that would revolutionize the game. From his meticulously crafted organization and cerebral practice regimens to his daring personnel decisions and his visionary offensive schemes, he created an enduring model.
But the heavy lifting over those 10 years with the Niners—he was also G.M. from 1979 to '82 and team president from '83 to '87—left Walsh drained, and he chose to walkaway. That Walsh now questions the move doesn't surprise his former boss. "Bill was such a competitor, but he was going through such an emotionally tough time," DeBartolo says. "[Quitting] was going through his mind after the fifth or sixth game [in '88], and he held it together."
The two men's relationship had been strained since the 49ers were upset by the Minnesota Vikings in a 1987 divisional-round playoff; afterward DeBartolo stripped Walsh of his title as team president, appointing himself as the replacement. But as early as '82—the season after San Francisco's first Super Bowl victory—Walsh was wearying of the grind and contemplating resigning as coach. The subject was broached to his assistants on a semi regular basis. "There were times we'd be told, 'Go to the East-West [Shrine Game] practices and find a job because Bill's quitting,'" recalls Bill McPherson, a longtime friend of Walsh's who was a 49ers assistant from 1979 through '98. "Then two days later he'd be in his office and we'd say, 'Maybe we still have jobs.'"
In '88 Walsh saw the team through a full-blown quarterback controversy of his own making, angering Montana by inserting Young into the lineup for parts or all of numerous regular-season games. In early November the Niners blew a 23–0 lead at Phoenix and lost to the Cardinals, a game in which Walsh also suffered bruised ribs when he was plowed over during a punt return near the sideline. That evening he was so emotionally and physically sapped that he could barely board the team plane. The next week San Francisco endured a humiliating 9–3 defeat to the Los Angeles Raiders to drop to 6–5. Though Montana rallied the Niners to a 10–6 finish and an improbable Super Bowl title, it didn't improve Walsh's outlook. He was exhausted and disillusioned with coaching.
As furious as Montana was at his coach in the months before Walsh's resignation, he thought the decision to leave was a huge mistake. "I was in shock," Montana remembers. "With the team we had and where we were going, I think he gave up at the wrong time. I know there was a lot of pressure, but he handed over a team that arguably should have won three Super Bowls in a row and might have won who knows how many."
Even as Walsh was making his announcement at a press conference, DeBartolo could sense the coach was having second thoughts. "Bill got better in the next five or six days after the Super Bowl, and then he went to Hawaii and healed even more,"DeBartolo says. "But you can't renege on a commitment. He never said to me, 'You know what, I blew it. I shouldn't have resigned.'"
When Walsh acquired Young from the Tampa Bay Buccaneers for second- and fourth-round draft picks before the 1987 season, the left-handed quarterback was the NFL's version of a wild mustang—swift and untamed. It took years for Young's coaches, including Walsh and future offensive coordinators Mike Holmgren, Marc Trestman and Mike Shanahan, to mold him into the precise passer and methodical decision-maker the 49ers' offense demanded. More than seven years removed from his last NFL game, Young now believes that for all the credit Walsh receives, his genius is nonetheless underrated.
"I get the sense that East Coasters don't see the impact [West Coasters] do," Young says. "I don't know if people realize the innovation he has brought to this game on so many levels. From a business perspective, I'd compare it to Silicon Valley—where Andy Grove, Steve Jobs and some of the other pioneers really changed business. Bill Walsh, around that same time, brought the same kind of mentality to football. In terms of how you deal with people and the kind of environment you create, his was a very enlightened approach."
It's not that Walsh wasn't tough on his employees; tales of his authoritarian antics are numerous. "There was the cardboard-box story," says Walsh, smiling at the recollection. Early in his tenure an offensive lineman had become a problem in the locker room. When the player's agent showed up at the Niners' facility demanding a large pay raise for his client, Walsh had enough. "I said, 'Get his stuff, put it in a cardboard box and put it on his doorstep,'" he recalls. "Word got around."
Once, after a rookie defensive lineman smacked Montana during a training-camp drill, Walsh cut the player on the spot. As the newly unemployed behemoth was led off by a team official, in full view of 100 players and thousands of fans at Sierra Community College in Rocklin, Calif., Walsh paced behind them, screaming, "Don't even let him f------ shower!"
Says McPherson,"One time he fired a guy at training camp—I think it was a kicker—because the guy had a dog. Bill was playing tennis, and the dog was running around the courts scaring him, so he yelled, 'Get that guy out of here!' Bill could be mean and tough and as nasty as anyone, but five minutes later he'd turn on the charm. And he is really, really funny."
Mike Walter, an undersized inside linebacker who thrived under Walsh after being waived by the Dallas Cowboys, remembers, "My favorite part of training camp was the 15 minutes we'd meet as a team each night in this big amphitheater at Sierra College, because Bill's dry sense of humor was unbelievable. The night before the first time we were going to be drug-tested, a lot of guys were definitely anxious, and Bill said, 'It's really no big deal. All they're going to do is ask for a little sample ...' and he reaches under a desk and pulls out this two-quart Mason jar."
While Walsh's primary job was to win football games, his vision of the coach's role was far more expansive. He had money managers and sociologists counsel his players, delivered speeches on integration and encouraged employees to get involved with charities.
He also seemed aware of the legacy being created by the success of his West Coast offense, the most obvious sign being the wide-open receivers catching Montana's pinpoint passes in stride. Today the West Coast, with its reliance on short passes, precisely timed routes and intricately planned progressions, is the NFL's preeminent scheme. ("Let's call it what it is: the Walshian Offense," Baltimore Ravens coach Brian Billick insists.) But in the early 1980s it merely drove opposing coaches nuts. Old-schoolers, such as the Chicago Bears' Mike Ditka, openly scoffed at the Genius label—a tag Walsh never went to great pains to protest—but his teachings were that innovative. Long before the advent of eBay, copies of his playbooks were being sold on the black market at prices that made him blush.
Walsh was the first coach to script his opening 20 or 25 offensive plays and the first to prowl the sideline with a laminated sheet of plays for specific situations. He recorded his speeches at team meetings and videotaped new plays being installed, creating an archive as a resource for future Niners coaches and players. And with his blessing, his systems were circulated throughout the league by his former assistants and their protégés. "He was proselytizing," Young says. "He was a missionary. I think Bill realized, I'm way ahead of the league here, and he knew the more people he could touch, the more lasting his impact would be."
Two months ago Walsh sat courtside at Maples Pavilion and watched a Stanford basketball game with Jim Harbaugh, the latest in the long procession of coaches he has mentored. As a member of the school's search committee, Walsh had just helped Harbaugh, 43, a former quarterback at Michigan and a 15-year NFL veteran, get hired as the Cardinal's coach. In the game they were watching, Stanford had taken an early lead against rival Cal, but Walsh didn't like what he was seeing. "Look at the way Cal's getting back on defense," he told Harbaugh. "They're gaining." Sure enough, the Bears took command and won by four. "His ability to analyze and communicate is unmatched," Harbaugh says of Walsh.
The two men met in the early '90s, when Harbaugh, then with the Bears, was competing in The Quarterback Challenge, a made-for-TV event in Hawaii for which Walsh was serving as an announcer. (After staying on as the 49ers' G.M. through the '89 draft, Walsh left the organization for a three-year gig as NBC's lead NFL analyst.) The two began discussing passing mechanics, and soon Harbaugh and another quarterback, Bubby Brister, were behind the centerfield wall of an old baseball stadium getting a 90-minute lesson from Walsh on drops and footwork."He was just so clear and specific," Harbaugh says, "and I was soaking it up like a sponge."
Late last year,even as his leukemia worsened, Walsh, who twice coached Stanford (1977–78 and '92–94), remained active in the Cardinal's search. In the energetic and enthusiastic Harbaugh, Walsh saw "a nonstop person" who is "as close to Dick Vermeil"—his longtime friend who coached the St. Louis Rams to the Super Bowl XXXIV championship—"as anyone I've seen."
It's a touching storyline—ailing legend guiding protégé—but in Walsh's case so consistent with his past as to be unremarkable. In an era in which many coaches seem to thwart their assistants' opportunities for advancement, restricting their access to the media and discouraging them from interviewing elsewhere, it's instructive to remember how far Walsh went to do just the opposite. "I've never known any coach more tireless in his efforts to help the people around him," says Billick, who worked as a 49ers public relations assistant in 1979 and '80 before beginning his coaching career at San Diego State. "I can never repay Bill, but part of his legacy is that I feel compelled to do it for other coaches, and I think we all feel the same way."
By we all Billick means a Who's Who of his profession, from Walsh's former assistants (Holmgren, Dennis Green, Ray Rhodes, Sam Wyche) to a second and third generation who earned the Walsh way (Shanahan, Jeff Fisher, Jon Gruden, Andy Reid and Tony Dungy, who also played for Walsh in '79). Walsh's coaching tree resembles the banyan in Lahaina—and this was by design. While Walsh was a Cincinnati Bengals assistant from 1968 through '75, team founder and coach Paul Brown hindered Walsh's head coaching aspirations. After Brown stepped down and named Bill (Tiger) Johnson as his replacement, Walsh angrily left to become an assistant with the Chargers before moving on to the Stanford job the following season. Last year Walsh told the Los Angeles Times that Brown "worked against my candidacy" to be a head coach in the NFL, "and then when I left him, he called whoever he thought was necessary to keep me out of the NFL."
That's why Walsh became a coaching patriarch. And he did so with a social conscience: In 1987, 15 years before the establishment of the Rooney Rule (requiring NFL teams to interview at least one minority candidate for head coaching vacancies), Walsh took the lead in an NFL internship program for minority coaches, bringing prospective assistants into training camp each year and giving them significant responsibility. Among those who served in this capacity were Marvin Lewis, now the Bengals' coach, and Tyrone Willingham, who would go on to be the head man at Stanford, Notre Dame and the University of Washington.
Late in the '88 season Walsh helped Green, his receivers coach, get the Stanford job, then allowed him to begin working there even as the 49ers made another championship run. "Denny had to take on the task at Stanford—that was so critical,"Walsh says. "Of course, I had Mike Holmgren to replace him."
And when Holmgren left to become a head coach, he installed Walsh's system first in Green Bay, where he led the Packers to consecutive Super Bowls, and then in Seattle, where he took the Seahawks to another.
"Those coaches were able to be successful because of the blueprint Bill Walsh created," Harbaugh says. "He created the modern-day practice, the modern-day weekly schedule, the way to run a meeting, the way to manage an organization. And when it comes to football expertise, he's the most respected man who's ever coached the game, period."
"I love a parade," composer Harold Arlen wrote in 1931. A half century later, after the 49ers defeated the Bengals in Super Bowl XVI to give San Francisco its first major professional sports championship, Walsh was singing a different tune. "I remember begging [San Francisco city officials], 'Please don't have a parade,'" Walsh recalls. "'Nobody will come.'" Walsh figured he knew the Bay Area well enough. He'd been a local since his days as a student at Hayward High, after his family moved north from Los Angeles in the late '40s. He attended San Jose State in the '50s, where he played split end and competed as a boxer, and began his coaching career at Washington High in Fremont. Later he worked as an assistant at Cal (under Marv Levy), Stanford (under John Ralston) and the Oakland Raiders (under John Rauch and owner—G.M. Al Davis ).
San Francisco, Walsh worried, was too sophisticated for a parade. But the city went ahead as planned, and as the flatbed transporting Walsh and some of his players rolled down the Embarcadero, alongside the glimmering bay, the coach felt his worst fears were confirmed. "The road was empty," he recalls. "Nothing.Then we made the turn onto Market Street.... "
His voice trails off as he savors the memory. Tens of thousands of fans had turned out to celebrate, and the 49er faithful have retained their affection for Walsh ever since. The feeling is mutual. Despite offers to coach other NFL teams after resigning from the Niners, Walsh refused to stray from his roots and continued to serve the team even when doing so brought indignity: In 1996 Walsh spent a season as a consultant on Seifert's staff, but he was given a windowless office and was largely ignored.
Walsh returned again, as vice president and general manager, from 1999 to 2000, and stayed on as a consultant in '01. In that time he helped clean up San Francisco's salary-cap problems and made several astute personnel moves, including the signing of an unheralded former Canadian Football League quarterback, Jeff Garcia, who would be selected to three consecutive Pro Bowls. But Walsh bristled when owner's representative John York lectured him about how to manage an organization, and there was tension between Walsh and coach Steve Mariucci. (York was the husband of Denise DeBartolo York, the sister to whom Eddie had ceded control of the team after his involvement in a Louisiana gaming scandal in the late '90s.)
So again Walsh stepped away. His health began declining in 2004, and leukemia was the diagnosis. Late last summer a test revealed dangerously low levels of bonemarrow, and in Walsh's words, "That's when all hell broke loose." He had two cycles of chemotherapy and in late October took a turn for the worse. For weeks he could eat only crackers, and he had two painful infections on his face that doctors feared he'd be unable to fight off.
As news of Walsh's declining condition spread, his former players and associates rallied to support him. Some, including DeBartolo, flew in from distant cities to visit; others left frequent phone messages. He got a call from Sen. Dianne Feinstein and a home visit from Gov. Arnold Schwarzenegger. Staring at his phone as it rang and rang, unable to muster the energy to answer it, Walsh understood, for perhaps the first time, the true depth of his impact on others—and it caught him off guard.
Among NFL executives, Walsh was revered for proactively releasing popular veterans to keep his franchise thriving, and though he privately anguished over such transactions, he'd act coldly when necessary. Now, years later, even some of the players with whom his relationship had become the most strained—Dwight Clark, Ronnie Lott and Jerry Rice included—were expressing their affection.
Walsh's condition, though incurable, has improved over the past couple of months. Most weeks he spends one or two days receiving blood transfusions; the rest of the time he tries to stay active. Recently, Walsh says, he played "some of the worst golf ever," though he wasn't really complaining. He still has ties to Stanford, serving as a consultant to the athletic director. Last month he visited his beach house near Monterey with his wife, Geri, who suffered a stroke seven years ago and has been largely debilitated since. Walsh and the couple's surviving children, Craig, 47, and Elizabeth, 35 (their oldest son,Steve, died of leukemia in 2002 at age 46) have made arrangements for Geri to receive care if Bill should die first. "She's a courageous and wonderful woman," he says.
Some of Walsh's former players, including Pro Bowl tight end Russ Francis, recently met with him to discuss the possibility of his undergoing experimental treatments that could theoretically keep the leukemia at bay for a prolonged period. Whatever happens, Walsh says, he has steeled himself for the worst.
If anything good has come of this, Montana believes, it's that by steadily reliving the past with friends and visitors, Walsh has been compelled to reflect on his career in a positive manner. "I think there's a lot more feeling there than he ever imagined," Montana says. "He's seeing it now, though it's hard for it to have to come out this way."
As Walsh walks through the country-club parking lot toward his car, he is smiling and unburdened. "I'm at peace with myself," he says softly. In the twilight Walsh stops under a Chinese elm to say goodbye and to make one request. It has nothing to do with the decision he made 18 years ago, and everything to do with the present: "The guy whose belongings we put in the cardboard box—please don't use his name. Since then he has become a deacon in his church. And we have a good relationship now. We really do."
The lesson, as Walsh takes his leave, is clear: In the end a man's relationships matter more than the number of Super Bowl rings in his jewelry box.
It doesn't take a genius to understand why.