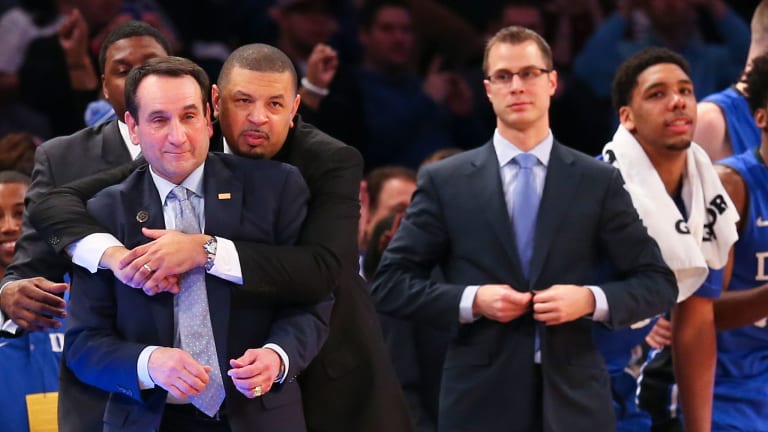 Before He Was Coach 1K
Krzyzewski's pivotal '86 recruiting class reflects on their time in Durham as he reaches a milestone.
Call them the Duke '86ers: Mark Alarie, Jay Bilas, Johnny Dawkins and Dave Henderson. After Mike Krzyzewski went a disappointing 27–30 in his first two seasons as the Blue Devils' coach, his second recruiting class arrived in Durham in 1982. As freshmen they didn't pan out, putting Krzyzewski's job in jeopardy. But as seniors they won 37 games, ascended to the No. 1 ranking and reached the 1986 NCAA championship game, which they lost to Louisville 72–69. Now, in light of Krzyzewski's 1,000th win on Sunday—he's the first Division I men's coach to reach that milestone—we asked the '86ers to reflect on their four years together and the ways they helped Coach K survive, advance and begin his assault on the record book.
Bilas: "I had never heard of him when he started recruiting me. He was immediately trustworthy. He would come out and watch me play, and because of a stupid NCAA rule, he would be sitting 15 feet away but wasn't allowed to talk to me. A lot of the other coaches would talk to you anyway, but he never violated that rule."
Henderson: "I went to a Duke game on one of my recruiting trips. They were playing Wake Forest, and Coach K and the Wake coach got into it. Coach K went ballistic. I said in my mind, I can play for that guy. I could see he would stand up for his players."
Alarie: "I considered Stanford and Notre Dame, but there was something about Coach K that really intrigued me. When he talked to me, he would literally have goose bumps on his arms. He was so much more passionate about his vision than any other coach who came into my living room."
Dawkins: "You'd hear him say all the time, 'Next play.' As a scorer, he taught me to have a short memory. I hated to miss shots. I remember him stopping me and saying, 'A missed shot is not a mistake. Stay aggressive.'"
Alarie: "We lost to Wagner at home during our freshman year. Walking off the court after that game, the Iron Dukes were hanging over the railings saying things you would have never expected to hear from your fans. Our confidence was just shattered."
Bilas: "Our freshman year ended with that embarrassing loss to Virginia in the ACC tournament. We got beat by 43. The only reason I know that is because the score was up on the scoreboard the next year on the first day of practice."
Henderson: "One of the real pivotal games was during our second year, when we almost lost to William & Mary. There were a lot of rumblings around the program, and if we had lost, it would have gotten a lot worse."
Bilas: "The heat on [Krzyzewski] was really bad. Mark Alarie was my roommate, and we were actually shown a petition that was flying around calling to get rid of the football coach and the basketball coach. Early in our sophomore year [Krzyzewski] came into a team meeting and said he had signed a contract extension, so there's nothing to worry about."
Alarie: "He had every drill written down to the minute, and on the practice plan he would write the reason why we were doing it. He would explain that this is what the other team is going to do and then prepare us for it. I'm telling you, I played basketball all my life, I spent five years in the NBA. I never had a coach put one-tenth of the elbow grease into constructing a single practice as Coach did for every one of those practices."
Dawkins: "We went from going 11–17 as freshmen to being ranked No. 1 as seniors, but he did a great job of keeping us balanced. He wouldn't let us have any sense of entitlement. We got to where we were because we were a blue-collar program, and he made sure we stayed that way."
Bilas: "Losing to Louisville was a profound disappointment. Heading into the game, people were talking about where we would rank among the alltime great teams. I'm 51, and I'm still not over it."
Dawkins: "I see him today, and he's still the same person who coached me. He's still that same guy who's fighting from 11–17. He has won four national championships, but he's as hungry as he was when he was just trying to make it."
Bilas: "With him getting 1,000 wins, we probably feel the same way that guys feel who played for Dean Smith, Adolph Rupp, John Wooden and Bob Knight. We would all say we played for the best coach ever. It just happens that we're the ones who are right."
"We got to where we were because we were a blue-collar program," says Dawkins. Krzyzewski "made sure we stayed that way."
Will college basketball ever see another 1,000-win coach?