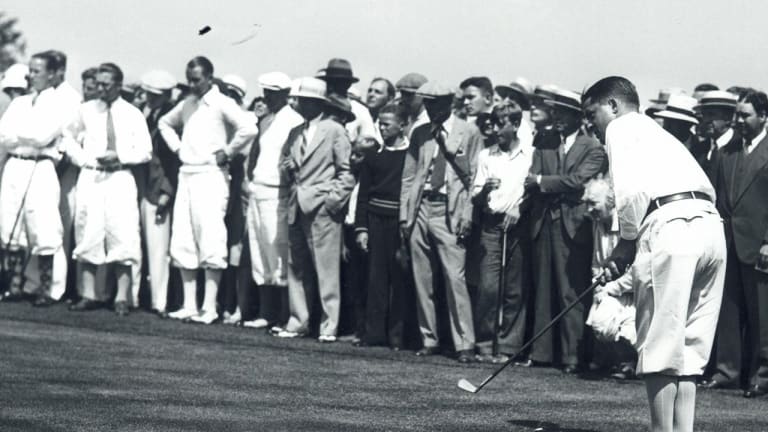 GOLF'S GREATEST PUTT
Time: 1929 U. S. Open. Place: 18th hole. The Man: Bobby Jones
GRANTLAND RICE
BORN: 1880
DIED: 1954
One of the last articles written by Grantland Rice, who died suddenly July 13, was a piece for SPORTS ILLUSTRATED. It is as typical of Grantland Rice as any article could be. It is about golf, the game he loved the best. Its central figure is Bob Jones, whom he esteemed above all the other champions he knew and admired as his ranking hero. Its setting is the '20s, the age when sports first became an important part of the American scene, assisted by Granny's incomparable ability to convey to his readers his genuine love of sport and the excitement that seized him at certain major moments—such as Jones's dramatic finish in the 1929 National Open. For these reasons, and others more personal, I think this story by Grantland Rice is the perfect one with which to inaugurate our regular golf column.
—Herbert Warren Wind
On a late June afternoon in 1929, some 10,000 tense spectators crowded up to the 18th green at the Winged Foot Golf Course in Westchester County, New York. As they came running up to the green, crowding as close as they could get, you heard every type of sound from a whisper to a shriek blended into one vast babble of excited human voices. The startling news was passed from person to person—Bob Jones was on the verge of the worst catastrophe any U.S. Open had ever known.
As Jones broke through the crowd and came upon the green, the babble suddenly was stilled. This was the silence of suppressed nerves. Since the first Scottish herdsman addressed an early golf ball with a shepherd's crook, I doubt if any golfer had ever faced a moment so packed with tension.
It was one of the great moments I have ever known in sports. The silence was complete. Only a few short minutes before, Jones had been six strokes up with only six holes to go. Now he had one putt left, for a tie. Bobby Jones had faced crucial putts before—more of them than any other golfer I have ever known—where important championships were at stake. But this putt meant more to Bob Jones than merely winning an Open. It meant the recapture of his golfing soul. It meant removing a dark stain from his pride, certain nationwide ridicule that was to follow failure.
Let's go back a minute. The real drama of this, the 33rd Open, and of Bob Jones's career, started at the long 12th hole.
Here Al Espinosa, the only challenger, took a destructive 8. When Espinosa took this 8, he felt he had no chance. With the tension off, he finished with four 4's and two 3's for a 75 and a total of 294.
Even with this spurt on Espinosa's part, Jones could drop three strokes to par over the last six holes and still win. There never was a surer thing in golf.
Bob lost one stroke at the short 13, and then at the 15th he had a heartbreaking 7, three over par. Now he needed three pars to tie Espinosa. Here was undoubtedly the finest golfer in the world...yet no duffer had ever blown so bad.
Jones got his pars on 16 and 17 and came to the final hole needing a par 4 to tie his Mexican-American rival. Bob's drive was good. His second shot hit the hard, keen green and ran down a grassy bank. He chipped from below, but the chip stopped 12 to 14 feet short. He stopped as he came up on the green and saw how far short he was—the putt he had to hole to even get a draw.
This wasn't the first 10- or 12- foot putt Bob had had to sink in his brilliant career...I could name any number of 10-footers he had holed to keep from being beaten on some closing green. I might add here that over a long period of years I have seen five great putters—Walter Travis, Jerry Travers, Walter Hagen, Horton Smith and Bobby Jones. I believe Jones was the greatest for the simple reason that he saved himself more times by holing the important ones—the 8- and 10-footers against George Voigt, against Cyril Tolley, against Maurice McCarthy, to beat out Gene Sarazen and Hagen in so many championships here and abroad.
But this occasion at Winged Foot was different. Jones's competitive career, by his own choice, was nearing its end. He had been working seriously at the game since he was 7 years old. He was now 27. The 1929 title meant his third U.S. Open. He had finished 1-2 in this Open since 1922, eight years with only one exception—1927. Later O. B. Keeler, Jones's Boswell and the best golf writer this country ever produced, told me that if Bob had missed this putt he would never have gone abroad the next year to make his Grand Slam.
On the green, Bobby Jones crouched partly on one knee studying the slanting line of the treacherous putt. There was a dip or a break in the green of at least a foot-and-a-half that had to be judged. Bob was usually a fast putter. This time he took a few seconds longer than usual, for in addition to the speed of the fast green he had to decide how big the break was.
I was with Mike Brady, the club pro, when the putt was made. I was on the ground, peering between legs. Mike had a step ladder and was above the mob.
"He's short," Mike shouted. "He's missed it. He's short." I lost the ball en route. I picked it up again near the cup. Suddenly the ball hesitated, stopped—and then turned over once more and disappeared.
That's the way Bob always putted—to get the ball just up to the cup where it has 4½ inches to fall.
I have heard in my time a sudden roar—a great crash of noise, many, many times at many different games. I never heard before, or since, the vocal cataclysm that rocked the oaks of Westchester.
Jones beat Espinosa in the play-off by more than 20 strokes. The next year he won the Grand Slam. In the wake of that putt he went on his way to one record that may never be equaled. For, as George Trevor put it, "he stormed the impregnable quadrilateral of golf."
PHOTO
PHOTO
BOB JONES'S PUTTER