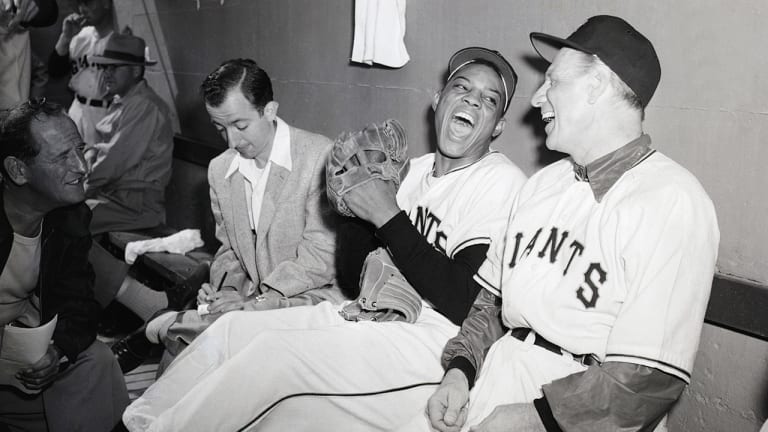 MAGIC FOR THE GIANTS
Willie Mays has made a lot, but Durocher is the real mesmerizer
In the spring the handbooks in Las Vegas, New offered odds of 5 to 1 against the New York Giants' pennant chances. When the Giants took over first place in June their price dropped to 7 to 5. Lately the prices have been as fluttery as a bookmaker's heart. Whether the Giants win the pennant or blow it, the big news of the 1954 season has been their resurrection. It started with a charm.
Before one game, Leo Ernest Durocher, the manager, had beaten Russ Hodges, the television-radio announcer, at gin rummy. This involved no powerful magic, as anyone could testify who had observed Durocher as a youth in the pool halls of West Springfield, Mass. Still, the Giants won that day. Next day Hodges paid off again. The Giants won again. And so on.
When at last the charm wore out, Durocher took to practicing his magic on the field. There is a common tendency to exaggerate the manager's importance, chiefly because the owners have sired a notion that firing the manager is a remedy for every ill. It is difficult, however, to overemphasize Durocher's role with the Giants.
Bold, brassy, combative, fearless, loud and pushing, he is in fact the leader of his team. He is too impatient to be a good manager for a poor team but he can be great with a good one, resourceful, driving, tireless. When his team is one run behind he's no better than anyone else, for then he must make the conventional moves to get the vital run. Chances are he isn't as good as the next when the score is tied, for his jittery temperament is no aid to nervous players. But give him a one-run lead to work with and he's the best.
The old West Springfield pool shark is a gambler to the marrow. No one has a better grasp of tactics, a clearer understanding of percentages, and few minds are so agile. He'll flash the hit-and-run sign on one pitch, change it on the next, try something else on the third, harassing the enemy, worrying him, jabbing him off balance. He'll play the bunt when it is least expected, steal, squeeze, hit and run, run and hit.
He has mastered the gift of absolute concentration, whether he is at pool or baseball or cards or conversation.
The most noisily controversial figure in baseball, Durocher is what he chooses to be. To some he is a basking bounder on a Hollywood set, perfumed, overdressed, vulgar, varnished and vain. He is capable of small acts of thoughtfulness and studied bits of malice. He subscribes to his own most-quoted dictum, "Nice guys finish last," yet he was nicest finishing first in 1951. Then he remained resolutely in the background giving all credit to the players.
He can exert, when he wishes, great personal magnetism if not charm, and he can stir his players. If they are not universally fond of him, they respect his ability. This year he has been the practically peerless leader, controlling both his team and himself. In the past his erratic impatience led to constant, unsettling line-up changes. This team took form in training camp and, except in real emergencies, has played as a unit. He recently had enough credit to spare in the charm column to weather the onus of a graceless dug-out spat with Whitey Lockman.
That is one reason for the Giants' success. Another, of course, is Willie Mays. Returning to baseball after two years in the Army, the dashing center fielder picked up where he left off in the spring of 1952 and picked up the team as well. He hits, he outruns line drives and he throws strikes from the fences. In one space of five games he hit six home runs. When he wasn't knocking in the big ones, somebody else would come forward to further the hero-a-day policy.
In this latter respect the Giants have been lucky, as a hot team always is lucky. One day the catcher, Wes West-rum, would win the game with a four-run homer. Next day Bobby Hofman, the utility infielder, would do it with a single.
The Giants and Cardinals were tied in the ninth inning. With runners on base, Durocher called upon Hoot Evers, an exile from the American League who hadn't made a hit of any description during the season, hadn't even got a single in spring exhibitions. Evers banged one into the seats. In a similar situation the little shepherd beckoned to Monte Irvin, whom he benched for failure to hit once in 26 times at bat. On the first pitch Irvin singled home the winning run.
In the winter the Giants traded the 1951 hero, Bobby Thomson, to Milwaukee and got two pitchers, Johnny Antonelli and Don Liddle. Thomson broke an ankle in training camp. For weeks the Braves weren't able to use him, even as a luncheon speaker, and they lost a lot of games for want of hits.
Antonelli has been the making of the pitching staff. With him as the big man, Durocher has made good use of a physically repaired Sal Maglie, of Ruben Gomez, Jim Hearn and two reliable relievers, Hoyt Wilhelm and Marvin ("The Wrong") Grissom.
Wilhelm's knuckle ball has been a priceless asset in the past. Grissom is an implausible phenomenon. A dozen years ago the Reds took him to camp because their fine left-hander, Lee Grissom, had spoken well of a kid brother. "Him?" Lee said when Marvin showed up in Tampa, Fla. "He's never played ball. I meant my other brother."
Marvin hadn't played ball, but he did enjoy those big-league sirloins. Somehow he hung on, learned to pitch in the minors. This year he has saved game after game.
Durocher has the right Grissom. A lot of handbook operators, it would appear, have the wrong handicappers.
ILLUSTRATION
THE QUIET MAN
From Durocher this season there comes not a yip.
Unassisted, the rascal has buttoned his lip!
—James E. Doyle