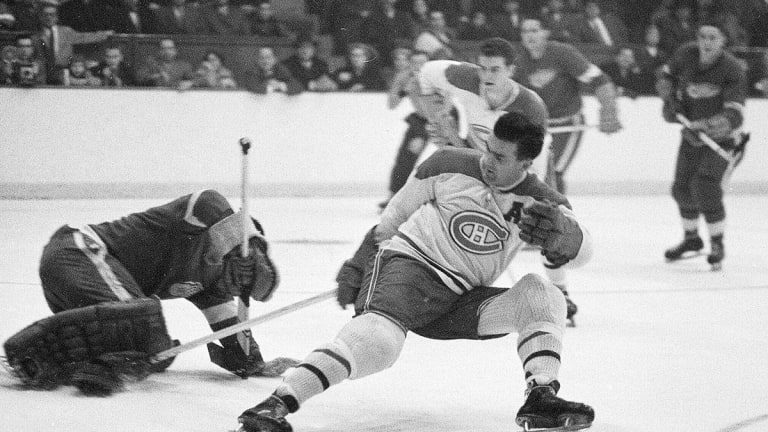 Publish date:
Fire on the Ice
Burning intensity, a champion's spirit, the pride of a man who knows the glory and loneliness of supremacy—these are the qualities which make Maurice Richard, the idolized Rocket of Canada, one of the great athletes of our time and perhaps the greatest player ice hockey has ever known
For all that has been said and written about the heights of fanatic devotion achieved by the fans of the Brooklyn Dodgers, the Notre Dame football teams and the Australian Davis Cup defenders, it is doubtful if there is any group of sports addicts anywhere which year in and year out supports its team with quite the supercharged emotion and lavish pride expended so prodigally by the citizens of bilingual Montreal on their hockey team, Les Canadiens—the Canadians. In June each year, four months before the next season begins, every seat in the Montreal Forum, save 800 or so that the management holds for sale on the day of the game, has been sold out for the entire 70-game schedule. On play-off nights it is not uncommon for crowds seeking standing room to run into several thousands and to swarm over Ste. Catherine's Street and beyond onto Atwater Park.
Hockey is deep in the Montrealer's blood. After a fine play by a member of the home team or, for that matter, of the visiting team, the Forum reverberates from the rinkside to the rafters with sharp enthusiastic applause. But many volts above this in feeling and many decibels above in volume is the singular and sudden pandemonium that shatters the Forum, like thunder and lightning, whenever the incomparable star of Les Canadiens, Maurice (The Rocket) Richard, fights his way through the enemy defense and blasts the puck past the goalie. There is no sound quite like it in the whole world of sport.
A powerfully built athlete of 33 who stands five-ten and now weighs 180, having put on about a pound a year since breaking in with Les Canadiens in 1942, Joseph Henri Maurice (pronounced Mohr-riz, with the accent about equally divided) Richard (Reeshar'), Gallicly handsome and eternally intense, is generally regarded by most aficionados, be they Montrealers or étrangers, as the greatest player in the history of hockey. Whether he is or not, of course, is one of those sports arguments that boil down in the final analysis to a matter of personal opinion. However, as Richard's supporters invariably point out, hockey is in essence a game of scoring, and here there can be no argument: the Rocket stands in a class by himself, the outstanding scorer of all time. Flip through the pages of the record book: Most Goals—384, set by Maurice Richard in 12 seasons (with the next man, Nels Stewart, a full 60 goals away); Most Goals in One Season—50, set by Maurice Richard in a 50-game schedule in 1944-45; Most Goals in a Play-off Series—12, Maurice Richard; Most Goals in a Play-off Game—5, Maurice Richard; Longest Consecutive Scoring Streak—at least one goal in 9 consecutive games, Maurice Richard; and so on and on. The record book supplies no entry for Most Winning Goals, but several Montreal fans who lovingly compile all Richardiana can document that, by the beginning of the season, their man had scored the goal that won no less than 59 regular season games and 8 play-off games.
It is not simply the multiplicity of Richard's goals nor their timeliness but, rather, the chronically spectacular manner in which he scores them that has made the fiery right-winger the acknowledged Babe Ruth of hockey. "There are goals and there are Richard goals," Dick Irvin, the old "Silver Fox" who has coached the Canadiens the length of Richard's career remarked not long ago. "He doesn't get lucky goals. Let's see, he's scored over 390 now. Of these, 370 have had a flair. He can get to a puck and do things to it quicker than any man I've ever seen—even if he has to lug two defense men with him, and he frequently has to. And his shots! They go in with such velocity that the net and all bulges."
THE SEIBERT GOAL
One of the popular indoor pastimes year-round in Montreal is talking over old Richard goals—which one you thought was the most neatly set up, which one stirred you the most, etc., much in the way Americans used to hot-stove about Ruth's home runs and do today about Willie Mays's various catches. In Irvin's opinion—and Hector (Toe) Blake and Elmer Lach, Richard's teammates on the famous Punch Line also feel this way—the Rocket's most sensational goal was "the Seibert goal," in the 1945-46 season. Earl Seibert, a strapping 225-pound defense man who was playing for Detroit that season, hurled himself at Richard as he swept on a solo into the Detroit zone. Richard occasionally will bend his head and neck very low when he is trying to outmaneuver a defense man. He did on this play. The two collided with a thud, and as they straightened up, there was Richard, still on his feet, still controlling the puck, and, sitting on top of his shoulders, the burly Seibert. Richard not only carried Seibert with him on the way to the net, a tour de force in itself, but with that tremendous extra effort of which he is capable, faked the goalie out of position and with his one free hand somehow managed to hoist the puck into the far corner of the cage.
There are two interesting epilogues to this story. The first concerns Seibert and serves well to illustrate the enormous respect in which Richard is held by opposing players. When Seibert clambered into the dressing room after the game, Jack Adams, the voluble Detroit coach, eyed him scornfully. "Why, you dumb Dutchman," he began, "you go let that Richard—" "Listen, Mr. Adams," Seibert cut in, interrupting Adams for the first time in his career, "any guy who can carry me 60 feet and then put the puck into the net—well, more power to him!" And that ended that. The second rider to the story is that Richard is perhaps the only hockey player who, to increase his ability to operate with a burden, has frequently spent an extra half hour after the regular practice sessions careening full steam around the rink with his young son, Maurice Jr., "The Petit Rocket," perched on his shoulders.
There is no question that Richard's most heroic winning goal was "the Boston goal"—the one he scored against the Bruins three years ago to lift Montreal into the finals of the Stanley Cup play-offs. It came late in the third period of a 1-1 game in which the Canadiens were playing badly, Richard in particular. Early in that period Maurice received a deep gash over his left eye. He was taken to the clinic inside the Forum, and the cut was hastily patched up. Blood was still trickling down from the dressing over his cheek when he returned to the bench and took his next turn on the ice. "I can see that goal now," Frank Selke Jr., the son of the Canadiens' managing director reminisced recently. "Hundreds of us can. Richard sets off a chain reaction whenever he gets the puck, even if it is just a routine pass. It's strange and wonderful, the way he communicates with the crowd. Now, this time he got the puck at our own blue line and you knew—everybody knew—that the game was over right then. Here's what he did. He slipped around Woody Dumart, who was the check, and set sail down the right-hand boards. Quackenbush and Armstrong, the Boston defense men, were ready for him. He swung around Armstrong with a burst of speed, using his right hand to carry the puck and fending off Armstrong with his left, but Quackenbush pinned him into the boards in the corner. And then, somehow, he broke away from Quackenbush, skated across in front of the net, pulled Jim Henry out of the goal, and drove it home."
For 10 years now because of his courage, his skill, and that magical un-cultivatable quality, true magnetism, Maurice Richard has reigned in Montreal and throughout the province of Quebec as a hero whose hold on the public has no parallel in sport today unless it be the country-wide adoration that the people of Spain have from time to time heaped on their rare master matadors. The fact that 75 % of the citizens of Montreal and a similar percentage of the Forum regulars are warm-blooded, excitable French-Canadians—and what is more, a hero-hungry people who think of themselves not as the majority group in their province but as the minority group in Canada—goes quite a distance in explaining their idolatry of Richard. "If Maurice were an English-Canadian or a Scottish-Canadian or a kid from the West he would be lionized, but not as much as he is now," an English-Canadian Richard follower declared last month. "I go to all the games with a French-Canadian friend of mine, a fellow named Roger Oulette. I know exactly what Roger thinks. He accepts the English as as good as anyone. But he would hate to see the French population lose their language and their heritage generally. He doesn't like the fact that the government's pension checks are printed only in English. He feels that they should be printed in both English and French since the constitution of the Dominion provides for a two-language country. For Roger, Maurice Richard personifies French Canada and all that is great about it. Maybe you have to have French blood, really, to worship Richard, but you know, you only have to be a lover of hockey to admire him."
NO CHEAP CONNECTIONS
As befits the Babe Ruth of hockey, Richard is the highest-paid player in the history of the game. While Les Canadiens' front office prefers not to divulge his exact salary, it amounts to a very healthy chunk of his estimated annual income of $50,000, which is filled out by his commissions for endorsing such products as a hair tonic and the Maurice Richard-model wind-breaker, his cut from the sale of Le Rocket du Hockey and other publications about him, and his occasional appearances during the off season as a wrestling referee. "Maurice could earn much more than he does but he has been careful not to connect himself with anything cheap," Camil Des Roches, the Canadiens' publicity director, says. "If he wanted to, he could referee a wrestling bout every night of next summer. His appearance is enough to insure the success of any affair in the province, from wrestling to a church outing." A few years ago, Richard and his teammate Kenny Reardon dropped in for lunch at the Canadian Club, a restaurant in Montreal. "When the other diners spotted Rocket," Reardon relates, "they began to pass the hat for him. It was a spontaneous gesture of appreciation. They collected $50, just like that. People can't do enough for him." Richard, in consequence, is the perfect companion to travel with should you journey anywhere in the province of Quebec. No one will let him pay for a meal, for lodgings, for transportation, for anything.
And what about Le Rocket? How does he react to this fantastic adulation? Perhaps the surest key is the way he conducts himself after he scores one of his roof-raising goals. Down on the ice, below the tumult of tribute, Richard, while the referee is waiting for the clamor to subside before dropping the puck for the next face-off, cruises solemnly in slow circles, somewhat embarrassed by the strength of the ovation, his normally expressive dark eyes fixed expressionless on the ice. In his actions there is never the suspicion of the idol recognizing the plaudits of his fans. The slow circles which Richard transcribes after he has scored serve a distinct purpose for him. They add up to a brief moment of uncoiling, one of the few he is able to allow himself during the six-months-long season. "Maurice," Toe Blake once remarked, "lives to score goals." It is not that Richard puts himself above his team or the game. Quite the contrary, in fact. But here—and he has never been any other way—is a terribly intense man who, like so many of the champions who have endured as champions, is forever driving himself to come up to the almost impossible high standard of performance he sets, whose pride in himself will not let him relax until he has almost the entire season again, returning only for the final game.
A recurrent mystery in sports is how a player who has never shown any signs of greatness will suddenly and inexplicably "arrive" as a full-fledged star. When Richard reported to the Canadiens training camp in Verdun prior to the 1943-44 campaign, everyone recognized that he was an altogether different and better hockey player. On the strength of his showing in these practice sessions, Coach Irvin, looking for someone to take Joe Benoit's place, gave Richard a crack at right wing on the first line with Elmer Lach, the superb center, and the veteran Toe Blake, "The Old Lamp Lighter," at left wing. Due to the scoring punch the new line supplied, Les Canadiens, who had finished a floundering fourth the year before, won the League championship and went on to capture the team's first Stanley Cup play-off victory in a full 12 years. Richard eclipsed all play-off records by scoring 12 goals in nine games, and in one game against Toronto, went completely berserk and scored all five of the Canadiens' goals.
The Punch Line, as Blake, Lach, and Richard came to be called, played together through the 1946-47 season, a stretch in which they led the Canadiens to three more league championships and one other Stanley Cup victory. They were a marvelous line to watch. Fast skating, spirited, and quick to take advantage of all opportunities offered them, they mapped out no set plays, but each of them, knowing his linemates' style perfectly and sharing an instinctive understanding of how a play should be developed (and the necessary alternative moves depending on how the defense reacted), always seemed to know, without looking, where the others should be, and together they could set up good shots on goal like few lines in the history of hockey. Blake's retirement in 1947, after he had suffered a fractured leg, broke up the Punch Line. Lach and Richard, working with a variety of left-wingers, continued to team up until this season when Lach retired.
A LEFT-HANDED RIGHT WING 
If there was anything unorthodox about the Punch Line it was that Richard, a left-handed shot, played right wing. "I know he'd played some right wing as an amateur," Dick Irvin has said in explaining this move, "and there have always been a few left wingers who do well on right wing. It doesn't work the other way so often. Most hockey players, you see, skate counter-clockwise. Right wing was good for Rocket because it gave him a bit more leverage on his shot and a bit more of the net to shoot at. Besides, his backhand shot was as powerful as his forehand:" Another aspect of Richard's sudden maturity was, oddly enough, the fact that he had fractured his right ankle the year before joining the Punch Line. After he had fractured his left ankle two years earlier, he had been inclined to overuse his right leg. After his right ankle was fractured he could no longer do this, and he began to skate with a far better distribution of leg drive. A long strider with amazingly quick acceleration, he rocks from side to side when he skates, a style that would be awkward in anyone else and which, if anything, has added to his deceptiveness. As for Richard himself, he considers that the great break of his entire career was that he was able to come back after three fractures in three consecutive years.
"DON'T DEPEN' ON ME"
The first time he saw Richard play, Conn Smythe, the head man of the Toronto Maple Leafs, offered Les Canadiens the (for hockey) fabulous sum of $50,000 for him. In making this offer to the Hon. Donat Raymond, the owner of Les Canadiens, Smythe declared in a characteristic Smythian comment, that he was willing to go this high even though Richard was a "one-way man"—a player not remarkably conspicuous on defense. Raymond was not at all interested in selling his new star but suggested to Smythe that if they made Richard a two-way man, it would be only proper for him to double his figure. (Only a short time ago, Smythe was offering $135,000 for Richard.) Jack Adams, the Detroit boss, after seeing Richard set a new league scoring record for a single game of five goals and three assists on the evening of December 28, 1944, declared him to be "the greatest hockey player I've seen in 20 years." This eight-point spree astonished Richard more than anyone. Before the game he had stretched out limply on a rubbing table in the dressing room. "I'm all tired oud," he had yawned wearily to teammates who had gathered around him.
"Dis afternoon I move my 'partment 'bout tree block and can't get no truck. My brudder and me, we move everyt'ing. Tonight, don't depen' too much on me." After he had tallied his eighth point, to be sure, Richard's vitality perked up noticeably (Richard, by the way, spoke no English at the time he joined Les Canadiens. He resented the fact that opponents made his broken English a target for wisecracks and it is typical of the pride he takes in everything he does, the way he dresses, the way he handles his hobbies, that today he speaks just about perfect English).
Richard's eight-point night was the high point of his second complete season, 1944-45, in which he set the league record of 50 goals. By this time he was the toast of the famous Millionaires Club, a group of exuberant Montreal rooters who attended the games wearing bright wool toques and Les Canadiens jerseys. The Millionaires Club was disbanded after the war—it was a financial necessity for the management, since the members were paying only $1.25 or $1.50 for $2.00 seats—but Richard has not lost his standing in the affection of their heirs and all Montreal fans as the team's premier hero. New stars have come up, stalwarts like Bill Durnan (the six-time winner of the Vezina trophy for goalies), Emile (Butch) Bouchard (the four-time All-Star defenseman), Boom Boom Geoffrion, (the colorful, carefree youngster with the big shot who is married to Howie Morenz' daughter), Jean Beliveau (Le Gros Bill)—who made so much money as the star of Quebec's amateur team that it was a financial hardship for him to turn professional. There is room for them all in the Canadiens fan's heart, but Le Rocket—he has always been something special and apart. He is their oriflamme. They urge him on with a hundred different cries, but in a tight spot the Forum seems to rise up with one shout in particular. "Envoye, Maurice!" This is a Canadian slang form of the imperative of the verb envoyer, to send or to expedite. "Envoye, Maurice!"—"Let's expedite this game, Maurice!" "Envoye, Maurice!"—"Let's go, Maurice!" "Envoye, Maurice!"
TEMPESTUOUS AND INCIDENT-PRONE
Maurice has never let his fans down but there have been moments when he has worried them sick. Largely because of his tempestuous temperament, he is what you might describe as incident-prone. A few years back, for instance, during a Red Wings-Canadiens game in Montreal which referee Hugh McLean was officiating, the Rocket swooped in from his wing to follow up a rebound and in the resulting m√™lée before the Detroit goal, was sent sprawling to the ice by the Detroit center who practically used a headlock. There was no whistle for a penalty. Boiling with indignation, Richard skated up to McLean and demanded to know what the referee was going to do about it. McLean did something about it. He handed Richard a misconduct penalty for abusive language. Burned up by what he considered a vast miscarriage of justice, the Rocket tossed all night in his berth as the Canadiens traveled by train to New York for a game with the Rangers. The next day, still smoldering, he was sitting in the lobby of the Picadilly Hotel when he spotted McLean. He rushed over and grabbed the official by his coat collar, but before he had time to continue his protest, Camil DesRoches and some teammates jumped on him and managed to pull him away. It was very fortunate they did. For his assault on McLean, Richard was fined $500 by President Clarence Campbell of the N.H.L., the highest fine ever levied by the league, but he had been restrained in the nick of time. A real assault and Richard would have been suspended.
Last year this almost happened. In a game in New York, Ron Murphy of the Rangers swung at Geoffrion with his stick. He missed. Geoffrion, retaliating, caught Murphy on the head. The blow fractured Murphy's skull and he was out for the season. Geoffrion was suspended for all the remaining games against the Rangers that season. As Richard saw it, Geoffrion had been punished all out of proportion for a fight he had not started. Richard was then "writing" via a ghost, a column for the Samedi Dimanche, a French-language weekly. "If Mr. Campbell wants to throw me out of the League for daring to criticize him," Richard stated in his column, "let him do it. Geoffrion is no longer the same since his affair with Murphy...he is demoralized and humiliated for having dared to defend himself against a sneaky and deliberate attack by a third-class player. We know that on numerous occasions, he [President Campbell] has rendered decisions against Canadiens players.... Let Mr. Campbell not try to gain publicity for himself by taking to task a good boy like Boom Boom Geoffrion simply because he is a French-Canadian.... If this brings me reprisals, I will step out of hockey, and I know that any other players on the Canadiens team will do the same."
Well, here is something—a direct challenge to the authority of the president of the league. Richard was clearly miles out of line. The affair could have been disastrous, not only for Richard but for organized hockey, had it not been handled with consummate intelligence by Frank Selke, the managing director of Les Canadiens who has been a part of hockey since 1906. At the heart of the crisis Les Canadiens returned to Montreal after a road trip. Selke was at the station to meet them. He collected Richard, Geoffrion, Ken Mosdell and their wives and took them to dinner at The Windsor hotel. He never once mentioned what was on his mind and everyone's. The dinner over, Richard and Selke found themselves seated alone together in the hotel lobby for a moment.
"I'm surprised, Mr. Selke," Richard said, "I thought you were going to be very angry with me."
"Maurice," Selke said quietly, "I've never known you to do a rotten thing in your life before. You're accusing President Campbell of things that aren't true. That isn't like Maurice Richard. I don't believe you wrote that column."
"No, I didn't, but I authorized it," Richard replied. "I take full responsibility."
"I want you to act like a big leaguer," Selke went on. "President Campbell's office is just across the street. I know he works nights. I want you to come over with me and see him."
Richard sat silently for a moment. Then the two got up and called on Campbell. Richard spoke up immediately. "Mr. Campbell, I want to apologize to you," he said, his deep voice almost an octave lower than usual. "I apologize not because anyone has told me to do so. I want to apologize because it is the decent thing to do. I have been wrong to say the things I said. It will not happen again."
During the weeks that followed Richard's apology, which ended the affair, many of the French papers accused him of selling out. He never batted an eye. "Maurice Richard never disappoints you," Mr. Selke said recently. "We have had a lot of dealings. When a mistake is pointed out to him and he sees it is a mistake, he has the character to recognize it and to make genuine rectification. He has great class as a person."
The Richards live in a modest, trim home in Cartierville, which adjoins Bordeaux. During the hockey season Maurice spends the bulk of his free hours at home playing with his kids—Huguette, 11, a pretty girl who is a natural figure skater; Maurice Jr., 9, whom the family calls "Rocket" as matter-of-factly as if it were a prosaic nickname like Bud; Normand, 4; and André, an infant of 6 months. Richard is not just a devoted father, he is crazy about his kids. During the summer, at least once a week, Richard and his wife bundle the family into the car and head for the country for a day together in the open air. It is his truest pleasure.
FISHING, SOFTBALL AND GOLF
Richard puts in some time in the summer as a sales representative for the Petrofina Company, a Belgian concern which operates gas stations in Canada, but a large part of every day goes to keeping himself in shape. It is his custom to take off on several three-day fishing trips when each hockey season is over. This is pure relaxation, but after that he plays his sports with an eye to preparing himself gradually for the coming hockey campaign. In June and July he plays some softball but principally he golfs. A 10-handicap man, he responds so well to competition that for the last two seasons he and Elmer Lach have won the tournament for major league hockey players which takes place before the big Canadian golf tournament, the La Batt Open. Halfway through July he switches to tennis and handball. "I think they are very good sports for sharpening the eye and strengthening the legs," he told a friend not long ago. "When it is time to go to training camp, I find it not too hard to get into condition."
Richard has mellowed discernibly in recent years. In a relaxed mood he can be wonderful company, intelligent in conversation and very responsive to old friends. His shyness with strangers has lessened somewhat and he meets people far more gracefully. He has even displayed the edges of a dry sense of humor. Not long ago the exchange for Richard's telephone number was changed to RIverside. "Just dial RI," he said with a straight face to a rural photographer who had forgotten the exchange, "RI...for Richard." An old friend who stood by couldn't believe his ears.
TOWARD THE 400TH
Most of these relaxed moments, it goes without saying, take place from April to September. Then another hockey season is on, and while Richard today may be a shade less volcanic than formerly as he moves steadily toward his 400th goal, he still burns with a fierce sense of purpose. During a team slump or a personal scoring drought, he is still a good man to avoid. Silent and seething, he builds up intensity to such a pitch that, eventually, it must explode. Sometimes the Rocket explodes all over the place, in fights, in arguments with referees, in overly aggressive if fruitless hockey. Sooner or later, though, he will explode with a splurge of dramatic goals. On these evenings, it is an experience to be in Montreal, for it is then that the Forum roars like one huge happy lion, the most jubilant hullaballoo you can hear in the sports world. It is not an extravagant tribute. After all, of all the great athletes of our time, none has played his game with more skill, more color, more competitive fire and more heart than Maurice Richard.
[originallink:10457771:40886]