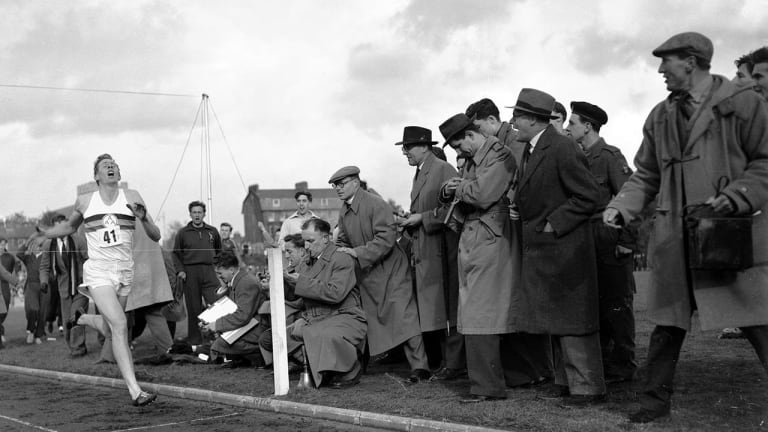 1954 & Its Sportsman: Roger Bannister
The year brought shining performances in a host of sports, but the electrifying running of history's first four-minute miler—a man of no fanfare—made him year's pre-eminent man of sport
If ever a good speech ruined a dinner it was that delivered by Dr. Roger Gilbert Bannister to the English Sportswriters Association on Dec. 9. Speaking easily and with natural poise, Bannister recalled for his listeners the drudgery of training, through winter rain and mud, that led to the first four-minute mile. He spoke of the companionship of effort—on the part of his pacemakers, Chris Chat-away and Chris Brasher—"that turned even the drudgery into a pleasure." Then, in a few words, he brought his great year, and his great career, to an end, and sent his newspapermen hosts scattering to telephones:
"Now that I am taking up a hospital appointment," said Roger Bannister, "I shall have to give up international athletics. I shall not have sufficient time to put up a first-class performance. There would be little satisfaction for me in a second-rate performance, and it would be wrong to give one when representing my country."
The speech was typical of the tall, thin, unathletic-looking 25-year-old who on May 6 electrified the world by running the mile in 3:59.4, then did it again by beating Australia's John Landy in a duel of four-minute men, in 3:58.8 at Vancouver's Empire Games. There is no fuss and fanfare about Bannister. When he was asked to explain that first four-minute mile—and the art of record-breaking—he answered with original directness: "It's the ability to take more out of yourself than you've got." Before his first big mile, he had spent hour after hour charting his own racing metabolism, but when he was invited to speak learnedly about his running style, he said: "You run best the way you're made to run."
Bannister was made to run with long, steady, deceptively easy-looking strides—and, for a finisher—the electric burst of final speed that caught John Landy a few yards from the tape at Vancouver. By coincidence, on the same day that Bannister announced his retirement, Landy said that he believed his days of competition were over too. The great Australian miler, whose 3:58 at Turku, Finland, is still the world record for the mile, is, like Bannister, buckling down to a career. In Landy's case it will be school teaching. From Landy, who himself provided one of the most dramatic performances of the year, or any year, came this tribute to Bannister at Vancouver: "I had hoped that the pace would be so fast that he would crack.... He didn't. When you get a man in that sort of situation and he doesn't crack, you do."
It was a year of shining performances in a host of sports—by personalities recognizable simply as Willie and Yogi and Dusty and Rocky and Billy Joe and Banana Nose and the Dancer and Hopalong and Crazylegs. It was a year of zealous pursuit of a hundred other sports by tens of millions of leisure-time sportsmen, from the President of the United States on down. The cast of candidates was tremendous—and yet, when it came to picking the Sportsman of the Year, the compelling choice was the man who set himself an athlete's severest challenge, the four-minute mile; who met the challenge superbly (in exchange for a couple of small, inexpensive medals), and then turned to the next challenge, that of a strenuous profession; the miler-turned doctor, Roger Bannister.
THE RUSSIAN PHENOMENON
In sporting circles behind the Iron Curtain, the voluntary retirement of both Bannister and Landy must have seemed incredible. In Russia and the satellite countries, a Bannister and a Landy would almost certainly be persuaded that their greatest value lay not in practicing medicine or teaching school, but in training for the 1956 Olympic Games.
What Russia was doing by way of preparation for these Olympics made one of the continuing big stories of the year. Superbly trained Russian athletes swept the European Games in Switzerland, humiliated Canada at its own national game of ice hockey, put England to shame in the historic regatta at Henley and won victories in speed skating, basketball, weightlifting, gymnastics, wrestling and soccer. Word even came from Russia of efforts to teach tennis and béisbol to Soviet youngsters—most of whom, heretofore, have barely heard of these fascinating preoccupations.
SAY HEY!
Baseball's electric character of the year was Willie Mays of the New York Giants.
On the day he reported for spring training, even before he put on a uniform, Willie gave a hint of what was to come. Handed a contract by Manager Leo Durocher, Willie said quickly: "Where's the pen?"
"Wait a minute, Willie," said Leo, "read the contract first and see what you're going to get paid."
"Don't care nothing about that," said Willie. "You say it's okay to sign and I'll sign. Only thing I care about is playing ball." Then Willie signed and went out on the field and, first time at bat, banged out a home run.
Willie was almost too good to be true. He played ball with a joyousness that communicated itself to everyone in the ball park and even made itself felt through a television screen. Willie did everything superbly well: running, throwing, fielding and hitting. He caught fly balls that were absolutely and mathematically impossible to get—notably an unforgettable one in the first game of the World Series. And Willie, an unlettered 24-year-old from the red-clay country of Alabama, invented a new phrase expressing pure exuberance, and, in all likelihood, left it part of the American language: "Say hey!"
As the season wore on, his admirers—and that included everyone who saw him—lived in secret fear that Willie was a flash. He would go into a slump or, worse, his head would be turned by the fuss that was being made over him. But after a game in which he had driven the fans wild with excitement, Willie—likely as not—might be found playing stick ball with some kids in a Harlem street. He was no flash in the pan; he kept up the pace right down to the final day of the season when he won the batting championship of the National League. Properly enough, he was voted the National League's Most Valuable Player.
It was Willie's year, but it also was the year the Yankees lost the pennant. Casey Stengel's five-time winners fell—though they did not fall apart. Actually, they won more games than in any one of their five straight championship years. But Cleveland, with a pitching staff that looked great all season, won more. The Indians piled up 111 victories, a record that sent them into the Series supremely confident—and blissfully ignorant of what was to come.
The National League made a better race of it. Milwaukee and Brooklyn put in strong bids for the pennant, but injuries handicapped both teams. The Dodgers suffered when Catcher Roy Campanella hurt his hand, and the Braves' best chances went glimmering when Outfielder Bobby Thomson broke an ankle in spring training. Ironically, the Braves gave up Johnny Antonelli to get Thomson from the Giants—and Antonelli won 21 games for New York. ("He should be most valuable," said Willie Mays.)
High as everybody was on Willie and the Giants, nobody was prepared for their astounding four straight victories in the World Series, a debacle in which the great Cleveland pitching staff was humiliated most cruelly by the pinch-hitting of Dusty Rhodes. Thanks to the spaciousness of the Polo Grounds and Cleveland's Municipal Stadium, the players drew the largest Series checks in history ($11,147 each for the winners, $6,712 for the losers).
Over the season, Milwaukee fans once more proved to be the most passionately loyal in baseball. The Braves' home attendance came to 2,131,388, an increase of 300,000 over 1953's record-breaking year. Another city enjoyed the novelty of big-league ball as Baltimore adopted the St. Louis Browns and disguised them as the Orioles. The deception did not last for long as the transplanted club continued to play like the Browns. But still the year's home attendance came to 1,060,910 (as many as the old Browns used to draw in four or five home seasons), and the Orioles juggled themselves into a $942,153 profit for their first season.
Another major league ball club looked prayerfully forward to a change of scene for 1955. After a soap opera saga in which the sons of Connie Mack and fiery Philadelphia patriots made noisy, tearful, but inept efforts to save the old team, Arnold Johnson of Chicago succeeded in buying the Athletics and moving them to Kansas City.
A SKYFUL OF PIGSKIN
Colleges as usual found football expensive—and here and there resolved at the end of the season to de-emphasize or (e.g., Fordham) give up the game. But such news gave only a partial picture of college football in '54. Season long the U.S. sky was full of pigskin, as 615 colleges and more than 200 junior colleges—a growing phenomenon in themselves—fielded football teams.
Super-shows like Army-Navy and the Rose Bowl were 100,000-seat sellouts. The meeting of UCLA and Southern California drew 103,000 to the Los Angeles Coliseum on an afternoon when the thermometer registered 110°.
UCLA was one of the nation's three undefeated major teams but was ineligible to play in the Rose Bowl because it had won that honor the year before. Oklahoma and Ohio State also had perfect records for the season. Brilliantly coached by Woody Hayes, Ohio State went into the 1955 Rose Bowl after a season as the big surprise of the Big Ten.
With the Detroit Lions and Cleveland Browns again the outstanding teams, professional football continued to gain in '54. More than 2 million fans paid to see the pros, and attendance averaged better than 30,000 a game. Television, which was a mixed blessing to such sports as baseball and boxing, was a boon to pro football. By blacking out home games and carrying them on the networks, the pros protected the box office and at the same time won new friends among those seeing the expertly played game for the first time on TV.
THE CROWDED GRANDSTANDS
As to what most people will pay to see, there was no doubt in 1954. Horse racing was again the leading box office sport and in addition to watching, its 30 million admirers wagered a total of more than $2 billion at the tracks for the second year in a row.
As the year drew to a close, one horse and one man shared first place in the affections of those who follow the Sport of Kings. The horse was the big gray, Native Dancer, named the Horse of the Year in every poll despite the fact that he ran only three times in '54 before he had to be retired with a bad leg. The turf's man of the year was Sunny Jim Fitzsimmons, a gaffer of 80, who had his best year in a half-century of horse training. Among other things, he saddled Nashua, son of Nasrullah and winner in six of his eight starts—including the Belmont Futurity, this last fulfilling a lifelong ambition of Mr. Fitz.
Boxing showed its best and worst faces during 1954. Its best was the first meeting of Heavyweight Champion Rocky Marciano and the leading contender, Ezzard Charles, at Yankee Stadium in June. Both men gave their best in a savagely fought 15-round match. The beaten Charles, who had been trying for a comeback, whispered through swollen lips, "I want him again." He was granted his wish, but the second Marciano-Charles fight, in September, ended with Ezzard's collapse in the eighth round, and proved again that they don't come back.
Television brought a heavy schedule of fights into the U.S. living room, including a fair share of good ones. But a share of bad fights left a trail of "dive" and "fix" talk, and more than once ringside fans, confronted with patty-cake performances, took to chanting "Let Me Call You Sweetheart" by way of criticism.
BILLY JOE'S CONTRIBUTION
Depressing as the boxing picture was in spots, it did serve to emphasize an enduring truth about sports in general. It is impossible, after a good look around the sporting scene, to stay depressed for long. Billy Joe Patton, the 32-year-old lumberman from North Carolina, won only one title (the North and South Amateur) but fascinated, regaled and charmed the galleries at the Masters, the U.S. Open and the National Amateur. He led the Masters at the halfway mark, and got a hole-in-one in it. He led the Open the first day (something no amateur had done since Bobby Jones) and went to the third round of the Amateur. Billy Joe was like no other golfer in the world. He sometimes seemed to be bent on approaching the green by way of Junction City, Kansas, but his incredible recoveries, his unfailing good humor ("Let's smile again," he would call cheerfully to his gallery, downcast after a fiasco) and his genuine golfing skill assured him of his place among the game's players always to be remembered.
A king lost his throne in 1954 as Ben Hogan failed to win a single tournament. Sam Snead won the Masters, but missed a chance to succeed King Hogan as Ed Furgol won the Open despite the handicap of a withered left arm. Babe Zaharias made an astonishing comeback after major surgery and won the National Women's Open by a 12-stroke margin. Youth was served as Arnold Palmer won the National Amateur at 24, Peter Thomson the British Open at 25 and Bob Toski, 27, took golf's richest prize, the $50000 Tam O'Shanter. But Billy Joe Patton was the people's choice as golfer of the year.
If Billy Joe proved that it is possible for a topflight competitor to keep his sense of humor, other individualists of 1954 were making all sorts of interesting points. Parry O'Brien established that a man doesn't have to feel his best to do his best: when he broke his own world shot put record, Parry had a stomach-ache and felt "punk all over."
FACES IN THE BIG CROWD
Oldsters (by sports reckoning) demonstrated the value of experience. In tennis, Vic Seixas, 31, who had a poor year in 1953, won the U.S. Singles title and top U.S. ranking for 1954, and 33-year-old Jaroslav Drobny, by his own choice a political exile from Czechoslovakia, won the Wimbledon championship after trying for 16 years. Stanley Mathews of England had another great year in soccer at the advanced age of 39. Mrs. Elenora Sears of Boston, at 73, was likely to be playing less squash racquets—but only that she might devote more time to her new stable of race horses, which she launched by paying a record $75,000 for a Saratoga yearling.
On the other hand, it was also clear from the year's events that it doesn't hurt to be young. For instance, at 16, Marilyn Bell swam Lake Erie for a $10,000 prize while Florence Chadwick, the veteran conqueror of the English Channel, had to admit it was too much for her that day. At 20, Maureen (Little Mo) Connolly won her third Wimbledon tennis championship and almost certainly would have won her fourth U.S. title if she had not been forced out of competition by a broken leg, suffered in a riding accident.
SPORTSMEN IN CROWDS
As usual, competitive sports took most of the headlines, but competition was far from the whole story of-the sports year. The hunters had their biggest season as 15 million took to the woods and neighboring farmers took to cover. There were an estimated 25 million fishing the rivers and streams and casting into the surf along the sea coast; only a very few of them, including the President of the United States, got their names in the papers.
As the endless sports drama went on, there were the inevitable withdrawals from the cast. Sir Gordon Richards, the Jockey who rode 4,870 winners during his 34-year career, announced his retirement. So did Otto Graham, the great passing star of the Cleveland Browns' professional football team, who wound up his career by running and passing the Browns to an upset championship (see page 50).
Sports lost one of its best friends—and in a sense its beloved presiding figure—in the death of Grantland Rice. W.W. (Pudge) Heffelfinger, Yale's famed All-American, died during the year. So, too, did Frank Menke, the sports historian; Bill Doak, one of the last of the spitball pitchers; Bill McGowan, acclaimed even by ball players as a great umpire; Wilbur Shaw, three-time winner of the Indianapolis Memorial Day auto race; Charles Francis Adams III, who skippered the yacht Resolute to victory over Sir Thomas Lipton's Shamrock IV in the 1920 America's Cup race; Glenn (Pop) Warner, one of football's greatest coaches and innovators; Rabbit Maranville, the colorful little infielder famous for his "basket" catch; Albert (Chief) Bender, one-time pitching star of the old Philadelphia Athletics. Near the year's end, death came, also, to an outstanding athlete and sportsman, Fred Miller of Milwaukee and Notre Dame (SI, Dec. 27).
YOUNG DOCTOR BANNISTER
As the curtain fell on 1954's extravaganza, many of its principal characters were still busy at the sports that carried over into the new year. Some—like Willie Mays—could not bear to wait for springtime and had pursued their games to places where it was summer all year long. But the Sportsman of the Year had put 1954's greatest sporting drama—the running of the mile—behind him. On a typical day, Roger Gilbert Bannister was devoting every waking hour to the study and the practice of medicine.
Young Dr. Bannister's schedule begins at 9:30 these winter mornings with a round of his ward in St. Mary's Hospital, Paddington, London. There are 40 patients in the ward and as he moves from bed to bed, Dr. Bannister listens to each of their stories. Occasionally one of the ward patients is feeling well enough to ask for an autograph, but most of them are more concerned with the doctor than with the famous athlete.
Like all other interns at St. Mary's, Bannister grabs his meals when he can. His normal day is 18 hours long and he is on call the rest of the time. At least two nights a week he is detailed to "casualty service." Then he is on duty in the receiving room, ministering to victims of auto accidents and now and then patching up the principals of a pub brawl.
After six months on his present post as house physician, Bannister will start six months next May 1 as house surgeon. A year from now, unless Britain changes its conscription laws, he will begin two years' service as a lieutenant in the Royal Army Medical Corps.
It is possible that Bannister may do some running again when he enters the army. It is less certain that he will ever run again in competition, for he would never be content with anything less than the kind of performance that, in his words, "takes more out of yourself than you've got."
One thing can be safely predicted. Whatever he does in the future, Bannister will be sustained, always, by an unfailing sense of humor. It did not desert him last May when he flew over to the U.S. and was caught up in a comedy of errors surrounding a commercial television program. It was still serving him well as lately as last Christmas morning at St. Mary's Hospital, where some of the doctors and students put on a little entertainment entitled, "The Houseman's Show."
One nurse in the chorus line was able to kick much higher than anyone else. Not surprising in view of the fact that this particular nurse was Roger Bannister, the house physician, the miler, the Sportsman of the Year.