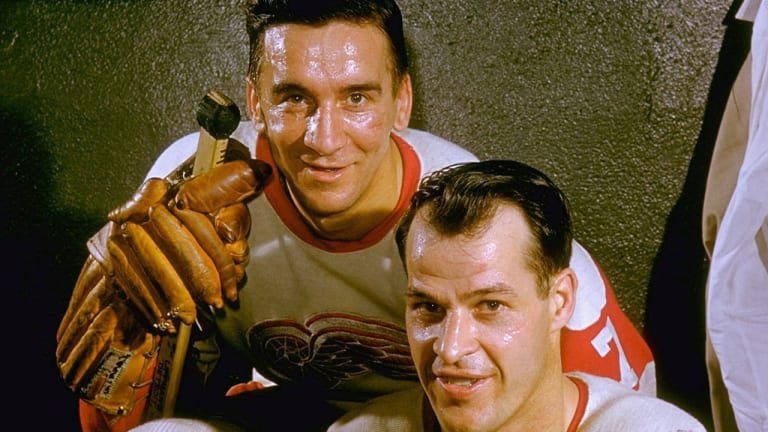 Wings of the Red Wings
Howe and Lindsay are their names, and for the 11th straight year they are the driving spark of the great Detroit hockey team that Jack (Adams) built
In the brash motor metropolis of Detroit, where all industry and seemingly all life revolves around auto-making, tradition is eyed with suspicion. "Last year's sales records don't sell 1957 models," they tell you at the Detroit Athletic Club, social headquarters of the auto world.
The same attitude pervades an equally successful Detroit industry—that of producing championship hockey teams. Perhaps that is why no other city can claim a more consistently winning hockey tradition (if you will excuse the expression) than the one assembled by that city's ever-changing Red Wings.
"Sure I'm proud of our record if I want to stop and look back at it. But that doesn't win tonight's game or this year's championship," says Jack Adams, the Wings' gruff, rotund general manager, who arrived in town during the big auto boom of the mid-'20s and began assembling hockey teams superior even to the models produced in Canada. Since the modern period of the National Hockey League began in 1926, none of Adams' rivals has won more championships (11), more Stanley Cups (7) or reached the cup playoffs more successive times (this being the 19th straight year).
In Adams' formula for success there are several other ingredients as important as his indifference toward tradition. One is enthusiasm. After 40 years in top professional hockey, 10 as a star player and the last 30 as Detroit's general manager, Adams still comes up on his toes every time the Wings play. His emotional reaction is such that for the past decade he has wisely refrained from viewing the final periods of any close games. At home games he'll retire to his office and watch the game on television; on the road or during crucial playoff spots, he'll hurry out of the stadium for nervous walks during which he badgers cab drivers for the latest score via radio. Like any old-timer, he'll reminisce if one insists, but he'd rather talk about the next game or next season.
At the age of 61 Adams tolerates no discussion of retirement: "What would I do if I got out of here? Why, after two weeks in Florida following the playoffs I'm a caged bear." His dictatorial grasp on the widespread farm chain and the "big team" which he so carefully nurtured is as strong as ever.
Along with Adams' enthusiasm goes a hardheaded approach to the business of making hockey pay. He does so by applying two fundamental tenets which he puts this way: "We sell season tickets on the basis that you'll be seeing the champs play" and "Hockey is the greatest spectator sport in the world—it's a man's game, but it's best for women because the basic rules are so simple that it's easy to understand." This kind of thinking has brought him a home town following as loyal and rabid as any in sports.
In adapting the thinking and methods of Detroit to the business of hockey, Adams has gambled continually with change-over models. Numerous times he has stripped down his classy championship teams with trades; then with a restyled team he has come right back the following season with a winning product. Success has almost silenced his ever-ready critics, but Adams acknowledges them with a stock rebuttal: "I make these deals only to strengthen this club and sentiment can't be involved. We were sentimental once and stood pat with our 1936-37 championship teams. The next year they collapsed, and we missed the playoffs—for the last time."
As usual, Adams has another contender on the market this season. His Wings, after taking and losing first place five times since October 11, finally assumed the lead on January 24 and have never since been headed by either Montreal's colorful Canadiens, the defending champions, or Boston's surprisingly hard-to-shake Bruins—the two most persistent challengers. Still the season has had novelty in as much as Detroit isn't defending a single title. Les Canadiens ended Detroit's seven-year reign as NHL champs and their two-time hold on the Stanley Cup by sweeping both honors last spring.
While continually redesigning his teams throughout his amazing run of titles, Adams has retained two players of prolific and apparently permanent scoring habits—Right Wing Gordie Howe and Left Wing Ted Lindsay. Each has already earned the ultimate hockey accolade of super star and, along with Captain Red Kelly, a comparable star on defense, and Marty Pavelich, a utility forward, Howe and Lindsay have spent 10 or more seasons in the red-and-white uniform. As Adams abbreviates it, they are the x in his x plus y equals z formula. This equation is translated into x as the untouchable nucleus of a winner, y as the hustling young players who surround him, and z, of course, as victory.
To illustrate what two such players as Howe and Lindsay can do for a team, they have combined to score roughly one-third of all Red Wing goals over the past nine seasons.
Jimmy Skinner, the cherubic coach who has piloted Detroit for the past three years, self-effacingly sums up the advantages of having two such players in his lineup by saying, "I can look like the greatest coach in hockey just by opening the gate and sending Gordie and Ted on the ice."
The quiet and the sassy
The phrase "Howe and Lindsay" has given them a sort of twin identification which they have even carried over into their lives, yet these two linemates and roommates are a rink-length apart in appearance and disposition. Howe is a slope-shouldered 204-pounder with tremendous power, amazing agility and lightning reflexes. An easygoing natural in any sport, Howe thinks of hockey—even the rough, tough professional version—as strictly a game. The day he landed on the club he hooked up with the sassy little (5 foot 8, 168 pounds) Lindsay, already a recognized star, and they've been buddies ever since. For several years the retiring Howe was comfortable only when a joint interview was arranged. "I'll let Ted do the talking," he would remark and then sit back as an onlooker while Lindsay answered questions for both. Lindsay also did the selecting, everything from Gordie's first automobile to the size of the pregame steaks. Their association will continue after hockey, too, for they are partners along with Pavelich in a thriving young Detroit industrial concern supplying engineering services to auto manufacturers.
Early in their careers they were united with Sid Abel, then a veteran center, on a line which became one of the best-known and highest scoring units in hockey history. It was called, with good reason, the production line. This threesome was such a smashing success that Abel's career was prolonged considerably and he reaped a flock of honors long after he expected to retire. Now a radio-TV commentator for Detroit's home games, Abel has said, "And I still could center them today, even if I had to play in a rocking chair."
Since Abel's retirement in 1952, Howe and Lindsay have continued to click with nine different centers running from Abel to the latest choice, Norm Ullman, a chunky youngster who was just starting grammar school when Lindsay first joined the Wings. Significantly, Alex Delvecchio and Dutch Reibel, Detroit's two other regular centers this season, were both groomed at the coveted spot ahead of Ullman. They learned their lessons so well that they were then handed lines of their own to develop, but they are always ready in case a trained replacement is required in an emergency.
"Actually, it is tough for a new center to play between them," Abel points out. "They are both unorthodox, crisscrossing on the ice so that no one really is a right wing, a center or a left wing. The man centering for them has to learn quickly to forget all the regular rules about playing center and just let them freewheel and adapt himself to it." Yet the statistics show that there is not an ice chip's difference in the Howe-Lindsay results, no matter who their center happens to be.
Despite all the evidence to the contrary, Jack Adams modestly attributes much of the Red Wings' success in assembling their winning teams—and particularly Howe and Lindsay—to luck.
"Look at the luck we had in landing a player like Lindsay, another like Howe and another like Kelly," he said recently. "Howe was invited to a Ranger tryout camp one year but became discouraged when told that he might as well go home because he'd never be a hockey player. A year later he had developed so much that no scout possibly could have overlooked him, but we had him sewed up by then. Then there were Lindsay and Kelly playing on Toronto kid teams in the Maple Leafs' backyard. The Leafs' scout missed them, but ours didn't. Then there was more luck in getting all three at the same time when they were young enough to build a team around. You bet I'm proud of this team and my part in it, but I have to be honest with you and say I'm mighty thankful that I've been able to make a success of what luck provided."
The quick jump
Howe is middle-aged as hockey players go. At 28 (he'll be 29 on March 31) he is in his 11th season and defers to only four players in the league in seniority. The heavily muscled Westerner from Saskatchewan hit the NHL with a minimum of preliminaries after his turndown by the Rangers, and Adams will never forget his first look at the raw product. "We had a flock of young kids in at training camp and I couldn't take my eyes off a big rangy one," he recalls. "I called him over and asked his name. 'Gordon Howe,' he drawled back and added, 'But I'm no relation to that other Howe over there.' I told the kid that if he worked hard, some day he might be as good as Syd Howe, one of our best forwards at the time. But honestly I never dreamed that he'd do it."
Technical ineligibility prevented Howe from playing with the junior amateur farm club to which he was assigned that season, and by the next year he was too good for that level. So he was signed to a pro contract for Omaha in the now-defunct United States League. His jump from juvenile to pro was about as startling as a Little League baseballer leaping to the majors. One season at Omaha was all Howe required in the way of pre-NHL grooming, for already the signs of greatness were showing through. Hap Day, Toronto's general manager, will vouch for that. "I took a scouting whirl around that league and spotted this youngster who could do everything," Day relates. "He kept the puck about 95% of the time, outfaking forwards, crashing through defensemen and firing shots the goalie never saw. After one period I was convinced that here was the best player outside the NHL and probably better than most in it. I checked up in a hurry only to find that Detroit had him sewed up tight. At least I've got the satisfaction of knowing I was right the first time I ever saw him."
Howe didn't hit his real scoring stride until his fourth season with Detroit and then a near tragedy in the opening game of the playoffs that spring almost ended his career. Critically injured in a collision at the boards with Toronto's Ted Kennedy, Howe underwent an early-morning emergency brain operation which doctors believe saved his life. While Howe and Adams emphatically deny it, reports persist that Howe has played ever since "with handcuffs"—under orders not to get into stick fights and other rough stuff. The infrequency of his fighting probably is due more to the respect all rivals hold for the speed and power in his huge fists than any caution on his part. There was considerable controversy at the time over Kennedy's role in the mishap, but Howe's reaction was typical of him: "I don't remember what happened but I guess I sure looked bad on the play, eh?"
Extreme modesty has characterized Howe ever since he has been accepted as one of the outstanding players of all time. The dexterity of his stick-work and the finesse and power of his shooting still amaze expert hockey men, but Howe seems more amazed because other players can't do the same. Following a game which Howe won with an exceptional play, his response when pressed for details was "Oh, I just shot it at the net and it went in." There was no change in attitude, expression or tone the next night when he failed on a far easier shot which would have been decisive. "I guess I just missed," was his laconic reply.
This nonchalant manner carries over onto the ice where Howe is a cool exception to the usual hypertensions of hockey. Like many natural athletes, he achieves the difficult with such graceful ease that it often appears as if he were only half trying. Frequent criticism has been heard that he doesn't have enough "fire in the belly," hockey lingo for competitive desire. Howe vigorously dissents, claiming, "I'm trying every minute I'm on the ice. But some nights my legs are light and other nights they're logy. I'm sure it has something to do with second wind, maybe nature's way of keeping you from burning yourself out." Whether he'll admit it or not, Howe does play his best in late stages of close games and at his worst late in games already wrapped up by a decisive score.
By a rather complicated sort of reasoning, the observation was made earlier this season that Howe already might be over the hill as a hockey player. The record book was quoted as reference, showing that he had topped the 80-total-point level four years in a row and the 40-goal mark three straight times but had failed to do either in the past two seasons. Genuinely surprised when questioned, Howe said, "I never looked at it that way but I'd sure hate to think my future was all behind me." A more complete answer came in his subsequent performance. Howe spotted Montreal's Jean Beliveau a 12-point lead in the individual scoring race about Christmas time, then started another of his typical last-half surges which carried him to the top. With only 9 games left to play he was leading the league both in goals, with 39, and total points, with 79.
Howe was only 23 when he became the youngest winner of the Art Ross Trophy as league scoring champion and kept it for the next four years. He was also voted the Hart Trophy twice in succession as the Loop's most valuable player. It was natural that he also should fill the right wing position on the official All-Star team, yet this selection touched off a bitter debate among hockey fans, and it still goes on. In achieving that honor, Howe nudged out Montreal's Maurice (The Rocket) Richard who had filled the berth for the six previous years due to his fabulous scoring feats. Here was The Rocket, widely hailed as the greatest of them all, losing top billing at his own position to a youth of 23.
The endless debate
Hockey's most stimulating hot-stove argument is still over the question: who is better, Richard or Howe? In the last eight seasons each has been on the first All-Star team four times. Perhaps Howe may some day become the leading scorer in history, but Richard still holds that ranking and is fast approaching the 500-goal target. Howe, second only to Richard in the record books, trails by some 140 but is seven years younger. So time is in his favor. Both men are understandably shy about discussing such a comparison. Howe's stock reply is: "Richard is a great player. He must be. Look at his record. I wish I had 488 goals." The Rocket takes about the same line: "Many people have tried to start a feud between us, they say I don't like Howe. It's not true. He is a great hockey player. If I had to make any comment about the guy it would be that he doesn't seem to go all out every time he's out there. If he did, there's no telling what he might do to the record book."
Adams is vocal about this comparison, although his stand may vary from day to day. He has stated from many banquet tables that "Howe is the greatest player I ever have seen or hope to see. Richard can't carry his stick." Then he also has shifted gears in picking his personal alltime all-star team by planting Howe at right wing and then shockingly insisting: "Richard is a natural left wing so I'll list him at that position." This looks like a rebuff to his own Lindsay, hockey's highest scoring left winger and a seven-time All-Star.
The relationship between the fiery Lindsay and his equally fiery boss has become somewhat delicate in recent years. Always a tempestuous player, Ted was under attack for a while because he drew so many penalties. "A man can't score from the penalty box," Adams would say, yet Lindsay still managed to rank high in the scoring list year after year. This season Lindsay went on an eyebrow-raising peace offensive, became a relative stranger in the penalty box and promptly drew Adams' wrath for "complacency."
When Lindsay is in hot water with his general manager, that makes it pretty much unanimous around the league, since he is a pet peeve with rival players, referees, league administrators and the fans of five cities. Ted hit this league, fighting, 13 years ago and is a cinch to go out the same way, yet his dominant characteristics are those that count the most in hockey: a truly outstanding ability at playmaking and scoring, plus a superb quality of leadership.
Little guy technique
Never one to alibi and always willing to confess his faults, Lindsay can talk about himself with candor and clarity: "I'm a little guy and I soon learned what that meant in this business. They find out in a hurry if you can take it; and if you can't they run you out of the league. A little guy has to have plenty of self-confidence, and I was ready to prove it. O.K., so I was cocky. I had the idea that I should beat up every player I tangled with, and I'm still not sold that it wasn't a good idea. Probably I'd do it the same way if I was just starting in again. That's the way I'm built.
"I've had my ears pinned back plenty of times. My first season Butch Bouchard accidentally sent me to the hospital for three days with a concussion, but I never backed away from Butch or anyone else after I came back. Since then I've been slashed, speared, elbowed, board-checked, butt-ended and hit on the head as much as anyone. I just like to keep that ledger balanced. Truthfully, I didn't start 50% of the trouble I've been in. But I'm just not the type to walk away.
"Hockey, however, is more than a job to me. I love the game just as much as the day I first broke in. If that love wasn't there, no amount of salary would make hockey worthwhile. I've had a broken shoulder, a broken instep, a broken hand, about 250 stitches in my face from more cuts than I care to remember. But I still tell you it was worth it—that's how much I love hockey." And that is why Lindsay is the perfect counterbalance to the phlegmatic Howe, the spark in hockey's most exciting partnership.
PHOTO
FIRST LINE of this year's Red Wings are (from left) Ted Lindsay, Gordie Howe and Norman Ullman. Latter is the most recent center to play between these perennial stars.
PHOTO
RED WING NEST is tended with irascible care by General Manager Jack Adams, whose fledglings make him so nervous he very seldom sits through a complete hockey game.
\n\n\n\n\n
AND NOW THE STANLEY CUP
The team that is in first place when the National Hockey League season ends on March 24 will win a little-known piece of hardware called the Prince of Wales Trophy—but the season will by no means be over. Two days later the league's top four teams will begin three weeks of Stanley Cup playoffs—in which the first-and third-place teams and the second-and fourth-place teams tangle in two best-of-seven series. (This year—barring the unforeseen—it will be Detroit against Boston in one, Montreal against New York in the other.) The winners then meet in a final four-out-of-seven duel for the cup—a battered trophy which represents the real professional hockey title.
Hockey people consider this postscript to the regular season eminently sensible. Club owners appreciate the added gate receipts, players the monetary incentives the league supplies, and fans the repêchage afforded to teams which fared poorly in the regular season because of slumps or injuries. Fourteen league champions have been upset in Stanley Cup play in the last 30 years, and, due to the cup's prestige, the league title has consequently been reduced to little more than an academic honor.
To predict the eventual winner of the cup melee is to skate on thin ice. Detroit and Montreal should be co-favorites this year. The Red Wings have been rebuilt around their "superstar" wings, Howe and Lindsay (see above). With the help of the league's best defense, the Wings took over first place in January and were still clinging to it with only six games to play, despite a late-season slump coinciding with a final rush by Montreal. The Canadiens, spearheaded by Maurice Richard and Jean Beliveau, have the most powerful scoring machine in the league (three 30-goal players, backed by three 15- to 20-goal men) and a sturdy defense that is also offensively potent and an outstanding goaltender in Jacques Plante. This is virtually the same team which blasted the Wings from their perch atop the league last year and went on to win the Stanley Cup. Against Detroit, the Canadiens have a 6-3-4 record.
Pressing the leaders this year has been a perennial also-ran, Boston. Bruin Coach Milt Schmidt has molded and inspired a group of veterans, castoffs and rookies into a surprisingly well-coordinated outfit which led the league in early months and continues to harry the leaders. They have no superstars, but they do hold a slight season's edge (6-4-3) over their probable first-round opponent, Detroit—and could provide this year's Stanley Cup upset.
The New York Rangers are the little engine that thinks it can. They have huffed and puffed their way past Toronto into fourth place—their boiler stoked with pure fight by Coach Phil Watson. They have the league's weakest defense and comparatively poor scoring—except as provided by Andy Bathgate. Beaten regularly by Detroit and Montreal, the Rangers hope to meet Boston, over whom they hold a 7-4-1 season's edge, in the opening round of cup play.