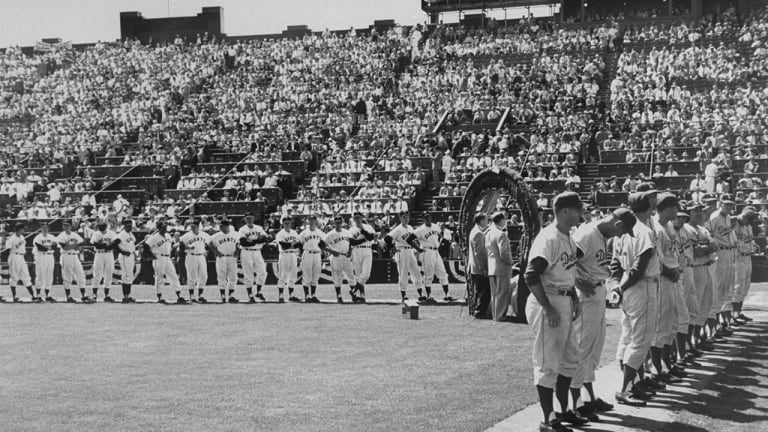 At Last the Twain Do Meet
East and West will clash in a season made exciting by new cities, fans, faces and champions. All this, and a whale of a pennant race—or two
Now it is April, and the immortal words of Abner Doubleday—or maybe it was Walter O'Malley—ring again throughout the land: "It looks like it's going to be a great season." Strangely enough, 1958 really does look like it is going to be a great season. Or at least a new and different and highly unusual one, which is perhaps even better.
There is a new World Champion and, with all due respect to the Yankees and Dodgers, this supplies, at the very beginning, a nice, refreshing touch. There is a scattering of new managers and general managers and coaches, and if you don't think this will liven things up, you haven't been exposed to the personalities of Frank Lane or Charley Dressen. Don Newcombe has become airborne and Ted Kluszewski is wearing a new corset. And, above all else, the national pastime has finally become national in scope as well as in name. Los Angeles and San Francisco have joined the troupe, and the boundaries of big league baseball have been pushed westward some 1,500 miles from the banks of the Missouri to the shores of the Pacific. Already it looks like a pretty good thing.
While one may have been led to believe that the exodus of the Dodgers and Giants was received with violent reactions in the East, most of the tears which flowed into the Gowanus Canal and temporarily threatened commerce on the Harlem River actually came from New York baseball writers who suddenly found themselves on the verge of becoming statistics in the recession. If Brooklyn fans had wanted the Dodgers badly enough, by their very presence in the ball park they could have assured themselves of a team for all time. As for the Giants, seldom have so many played so much before so few.
The stillness which has settled over the playing fields of Flatbush is, of course, a sad thing; there has never been a baseball town exactly like Brooklyn, and the memories of Uncle Robbie and Babe Herman and Dixie Walker and baseballs bouncing through the windows of the service station across Bedford Avenue will be slow to die. But Los Angeles is quite an unusual place itself, and there is no reason why three Dodgers can't some day occupy the same base out there, too.
There is a variety of benefits to be realized from the shift to the Pacific Coast. For Horace Stoneham's Giants it will mean a chance to become solvent once more, and for Walter O'Malley of the Dodgers, a chance to grow even richer. The climate will be healthier for the athletes (fog, smog, shmog) and their wives will adore California clothes. People in Minneapolis and Houston and Toronto can rejoice in the happy thought that what has happened to Los Angeles and San Francisco can one day happen to them, too. But the California fan will be the greatest beneficiary. Contact with Willie Mays and Stan Musial and Henry Aaron and Don Drysdale by way of Market Street and the Hollywood Freeway may hardly be as safe as via the coaxial cable, but it can be so much more rewarding.
The new look in baseball is not without its problems, of course. San Francisco sometimes shocks itself where sports are concerned by discovering that sophistication is only skin-deep; when the pro football 49ers win a few games each fall, for example, the town goes wild. Yet this big league sports city has only a minor league ball park with a seating capacity of less than 25,000, and although Seals Stadium may be adequate for a while, just wait until this highly promising young Giant team begins to perform. Moreover, a few miles to the south construction on one of the finest new stadiums in the land will soon get under way.
In Los Angeles, where Chavez Ravine is still just a place to throw old tin cans, the Dodgers have a stadium—and what a stadium—but it was never meant for baseball in any form. If George Shaffer, once home run champion of the National League, were to walk into the Coliseum and get a good look at that left field fence (a paltry 250 feet from home plate) he would surely drop dead laughing. It took Shaffer, you see, an entire season to hit three home runs, an output likely to be matched by Willie Mays on any day the Giants are in town. Of course Shaffer is no problem, having hit all three of his homers in 1877 and departed long since, but the fact remains that the Coliseum is a rather unsatisfactory home—to everyone but O'Malley, who sees an alltime record crowd of 93,000 on opening day and doesn't consider an advance ticket sale nudging $3 million to be unsatisfactory at all. Actually, the Los Angeles fan—who is twice as rabid as the one in San Francisco—probably won't really care. He is prepared to like that sawed-off foul line, to like home runs by the dozens and to love Willie Mays even if he does play for the hated San Francisco Giants. But most of all, he is prepared to like big league baseball.
"I, Goodwin J. Knight," intoned the governor recently, "...do hereby proclaim April 13 through April 19, 1958, as Major League Baseball Week in California." Properly briefed, Goodie Knight also pointed out that "only one of California's entries can win the National League pennant this year" but trusted that "one will emerge as league champion so that we have our first World Series on the Pacific Coast next fall."
Californians are likely to be a bit disappointed here. If they want to see a World Series they had better make plans now to spend October somewhere in the vicinity of Milwaukee or Yankee Stadium.
It is a baseball axiom that a pennant contender is measured by how well its strengths offset its weaknesses, and here the Braves and Yankees once more appear to be out ahead—the Braves because they have a wonderfully deep pitching staff and tremendous power to offset the big question marks which hover over two key players, Bill Bruton in center and Red Schoendienst at second base; the Yankees because they have no weakness that anyone has yet been able to see.
Still, there should be a whale of a race this season in each league. At Milwaukee, Fred Haney feels as secure as a Russian scientist's dog. The Cardinals, who gave him so much trouble last year, are back again with the same ball club, slightly improved by age. Cincinnati's well-balanced Redlegs have added pitching, which is what they lacked in enormous quantities last year. And although the old Dodgers have begun to fall apart, now they have superb pitching and a slight infusion of young blood, which may be enough to prop the old fellows up for one more big try.
The National League race, however, may be tame in comparison with one that will be going on in the American League, where the White Sox, Indians, Red Sox, Tigers and Orioles are all set for a tremendous battle—for second place. The early Las Vegas line quoted the Yankees at 2 to 5 to win the pennant. Perhaps this is not a great Yankee team, but who is going to catch it? Chicago, despite its marvelous pitching, speed and defense, is devoid of power. The Red Sox are still hurting around the infield. The Indians, their inner defense not yet patched up, find themselves down to a mere shadow of the once-great pitching staff, and Detroit, although on the way up, still has so far to go. As for Baltimore, Paul Richards may be a genius but he is not a magician.
But 1958 will present more than a couple of pennant races; it will also present people. Pittsburgh will meet Ted Kluszewski on a new and pleasant basis, and Wally Post has become a member of the Philadelphia Phillies. Scrappy Billy Martin and wise old Jim Hegan are now at Detroit. The White Sox have Early Wynn and Al Smith, and the Indians have regained both Minnie Minoso, whom they almost lost for good so many years ago, and Larry Doby, who was gone only for a little while. Harvey Haddix will throw for the Reds and Bob Rush for the Braves, while Bobby Thomson will be in the outfield of the Chicago Cubs.
There is another factor which is not quite so pleasant to contemplate as new faces, and this concerns familiar ones about to grow old. Some of the game's greatest stars of the past decade could be playing their last season; if not their last season, at least their last big one. Schoendienst and even Wondrous Warren Spahn cannot go on forever; neither can Ted Williams and Stan Musial, the two greatest hitters most of us have ever seen. There are also Early Wynn and Bob Lemon and Al Dark and Doby and, now that Robinson and Campanella are gone, the three who remain as backbone of the Dodgers—Furillo and Snider and Reese.
Yet for every great player who fades, there is a young and sometimes more exciting one to take his place. It is easier to accept Musial's age when one thinks of the way Henry Aaron swings a bat; and he will be around for a long, long time. Williams may go, but Mantle remains. And who can mourn over hitters as long as the game has Frankie Robinson and Eddie Mathews, Ernie Banks and Roy Sievers, Frank Thomas and Minnie Minoso? And of course, Willie Mays, per-haps the greatest natural ballplayer of our time.
There is the way Roy McMillan and Luis Aparicio handle a ground ball at shortstop and the way Nellie Fox and Gil McDougald move around second base. There is drama and suspense when Jim Piersall races in to take away a hit almost at the edge of the grass and when Al Kaline goes back to take away another by climbing the wall.
Who can fail to blink in wonder when Herb Score throws his fast ball or fail to appreciate the style and grace of Billy Pierce? And who would not cheer on the youngsters, the Blasingames and Mazeroskis, the Kubeks and Malzones, the Drotts and Bunnings, toward the stardom which some day will surely be theirs?
Baseball is a strangely pervasive sport. While usually only horse-m players talk about racing and fight fans about boxing, from April to October almost everyone finds himself somehow involved with baseball chatter. This year, from coast to coast, the game will probably become more a part of that everyday life than ever before.
THIRTEEN PHOTOS
NO PLACE LIKE HOME
Towering walls of vast Coliseum, Los Angeles' answer to tight little Ebbets Field, rise over famed slugger Duke Snider, who will be leading Dodgers into their uncertain but thrilling future.
NEW TEMPLE FOR AN IDOL
Star of a hundred games in the Polo Grounds 2,500 miles away, Willie Mays poses happily in Seals Stadium, where his fireworks will help San Francisco forget that pennant chances are small.
PUNCH FOR THE YANKEES
Even with their great depth, Yankees badly need catching skill and big bat of Yogi Berra, one of most feared clutch hitters in American league. Plagued by broken nose and bad slump last year, he must now shake off skin infection and injured hand if Yankees are to have things their way.
GLUE FOR THE BRAVES
Still bothered by groin muscle pulled in fifth game of World Series, Old Pro Red Schoendienst must stick in lineup if Milwaukee is to retain pennant. His sharp hitting and brilliant play around second base are no more important than the steadying influence he exerts on this young team.
POINT OF NO RETURN
Robin Roberts, his once lethal right arm whipping the ball toward home plate, is no longer the dazzling, always dependable 20-game winner of recent years. With most of his fiery speed gone now, he must find new pitch to back up his fair curve and pinpoint control.
ANXIOUS ARMS
Cleveland's hopes for a return to the first division rest heavily on the three pitchers running here under an Arizona mountain: Bob Lemon and Mike Garcia, veterans of the great 1954 staff, flanking young and phenomenal Herb Score, now ready to pick up his shining career where it was interrupted, almost catastrophically, early last year.
MY ACHING BACK
If Ted Kluszewski can ignore the most famous backache in baseball long enough to supply the power Pittsburgh so desperately needs, disappointing Pirates of '57 could become the surprise team of the National League in 1958. Cautious in his early conditioning, big Klu hit the ball hard in late exhibition games, says he is now ready to play.
PAT HAND
Best pitching staff in baseball is the claim of the White Sox, and these four aces lead the way: Dick Donovan and Jim Wilson (at top), Early Wynn and Billy Pierce (below). Other teams point out, however, that it takes runs to win ball games, even with pitching like this, and no one has yet figured out where Sox runs are going to come from.
MILWAUKEE MARVEL
Eight times in 12 seasons has the amazing left-hander of the Braves, Warren Spahn, won 20 or more games. Now he is almost 37 and the rest of the league is hopefully repeating that he has to run down soon. In Milwaukee they are praying that this is not the year for it to happen.
DODGER ENIGMA
Despite his youth (25) and tremendous talent, Johnny Podres has never been able to win more than 12 games. But last year he led even Spahn in the earned run averages and now, if chronic arm, back troubles behave themselves, this could be his eagerly awaited big year.
OUT FROM THIRD
Plucked off third base during the '57 season and dropped into a gaping void in center field, Ken Boyer, a big, fast kid with great promise who was an All-Star infielder, had trouble learning his new job. If he can handle it now and hit as he should, a big Cardinal problem is solved.
OUT FROM SHORT
Bothered by a sore foot and slowing reactions, Harvey Kuenn knew Tigers had better shortstop in Billy Martin, so he agreed to switch to center field. Strong arm and good speed indicate experiment will pay off and added outfield punch will benefit Detroit all the way around.
1958 BASEBALL ISSUE: 82 PAGES TO SERVE YOU THROUGH THE SEASON
LATE TRADES
Some late trades and cutdowns (not all of which could be included in our SCOUTING REPORTS, pages 39-77) merit mention. The San Francisco Giants, for instance, again traded away Bobby Thomson, sending him this time to Chicago for Bob Speake. The St. Louis Cardinals, realizing their catching was weak, acquired Ray Katt from the Giants for Outfielder Jim King. At the same time, they decided that young Curtis Flood did need another year of seasoning and returned him to the minors. The Pirates sent Luis Arroyo to Columbus, while the Cubs gave up on Jerry Kindall, leaving a spot for Rookie John Goryl. Lastly, Detroit bought Stan Palys, an outfielder, from Cincinnati. As we go to press, other trades and changes are in the making.