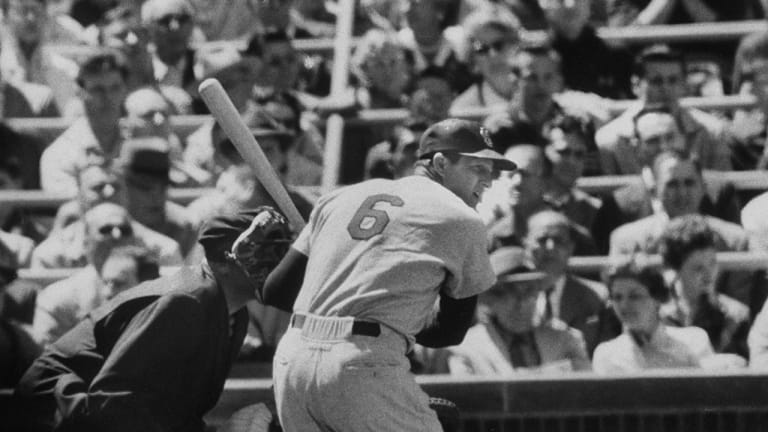 September 17, 1941 in St. Louis was hot, and Manager Billy Southworth of the Cardinals decided to rest his brilliant center fielder Terry Moore in the second game of the double-header with the Boston Braves. He moved Johnny Hopp from right to center, and in right he put the Polish kid just in from Rochester. The kid's name was Stan Musial.
In the third inning the Cardinals got two men on base with two out. Musial came up for the second time. The Boston pitcher, Jim Tobin, had thrown Musial a knuckle ball the first time. Musial had never seen a knuckle ball before and he went after it so hard he nearly fell down. The result was a pop-up to third. So on this second time up, Tobin tried another knuckler. This time Musial waited, swung and sent the ball into right field for a double. It was his first major league hit.
Casey Stengel remembers the day Musial got his first hit because Casey was there, managing the Boston Braves.
"His swing was more awkward than it is now," recalls Stengel. "He stood farther from the plate, too. All I knew about him was that he had been a pitcher until he came up with a bum arm. I told my pitchers to throw him slow stuff 'cause I thought being new he wouldn't be able to hit it. But wham! [Casey's right hand shot out.] He hit it out there."
Now it is 17 seasons later and Stan Musial is still hitting slow stuff "out there." He also hits—and equally well—fast stuff, curving stuff or any other kind of stuff a pitcher can throw. In appearance he is not much different from the 20-year-old kid from Donora, Pa. who walked up to the plate that September afternoon long ago. He still wiggles his hips a little to loosen the muscles, then coils into a rather menacing position to await the pitch. Off the field Stan is still trim, boyish and polite, with more polish of course, but with the same pleasant manner and quiet confidence he had even then. "Maybe I'm a little smarter," he grins, "but when you get old, you have to gain something to make up for the other things you lose."
If, over the years, Musial has lost anything, opposing pitchers would be pleased to hear about it. From that first double back in 1941 to the end of 1957, Musial collected 2,956 more hits, which won him, among other things, seven batting titles. This spring he needed 43 more hits for 3,000, one of baseball's majestic records, attained by only seven others whose very names indicate what a truly remarkable feat it is: Cap Anson, Honus Wagner, Nap Lajoie, Ty Cobb, Tris Speaker, Eddie Collins and Paul Waner.
Musial predicted he would hit No. 3,000 in late May. This would get him to the mark in less playing time than any of the other seven. Then he set out to get there even sooner. On May 8 he had all but seven. He went hitless in two games, but came back in Sunday's double-header with 5. He was still short of his goal, but that night Stan gave a celebration party at his St. Louis restaurant anyway, for it looked as if No. 3,000 would be hit on the road. Stan thought St. Louis shouldn't miss the fun.
PHOTO
STAN HITS FIRST HOMER IN 1941