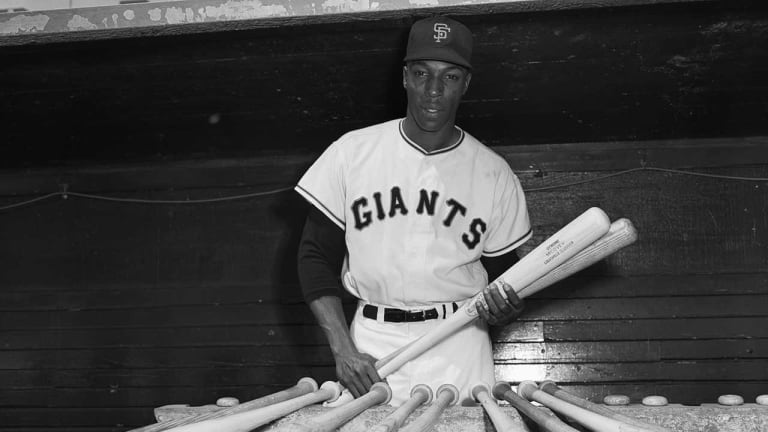 A cool cat named McCovey
The Giants' newest Willie is more than just a thunderous hitter. He's cool, man. If the fried chicken and shoot-'em-ups hold out, big league pitching doesn't figure to bother him a bit
By the afternoon of July 29 the Giants were desperate. Smack in the middle of a sizzling pennant race, they had suddenly lost four straight games, including, that very day, a three-hitter by Johnny Antonelli. The pitching had been superb, the defense for once adequate. The Giants just weren't hitting.
So that night the call went down to Phoenix for help—and the next day help appeared, a gangling apparition named Willie (Stretch) McCovey. Six feet four inches tall, weighing 200 pounds and looking a bit like a sleepy Watusi warrior, the Pacific Coast League's leading hitter (.377 average, 28 home runs, 91 runs batted in) found himself at Seals Stadium in San Francisco with only half his clothes, none of his Louisville Slugger bats and a job which just the day before had belonged to the National League's All-Star first baseman, Orlando Cepeda.
Apparently none of this bothered him a bit. Stuffed into uniform No. 44 and inserted into the third spot in the batting order, the left-handed McCovey singled his first time up against Robin Roberts of the Phils. Next he hit a 410-foot triple off the scoreboard. Then he singled again, the ball hitting the right field wall so hard he had to stop at first. And finally he tripled again, this time over the left fielder's head. McCovey scored three runs, drove in two, and the Giants won 7-2, moving back into first place.
Next day Willie hit again and kept on hitting. Only once in his first nine games was he stopped. He hit home runs and doubles and triples and singles, driving in runs, scoring, winning ball games. All of this was exciting enough, in itself. But much more important to the pennant race, the Giants won eight of those nine games. The newest and biggest of the Giants' Willies had given the whole team a lift.
Writers and photographers, television cameramen and radio announcers swarmed over McCovey like flies on sugar. At the end of his first week he became the subject of a three-part life story in one of the San Francisco papers, which at least ties a record. Feature writers examined every flaw, from the chip on his front tooth to the corns on his toes, hoping to come up with a new angle. But about all that anyone really found out was that he could hit, his feet were too big for him to be a really skilled first baseman, and that he never said a word if he could help it.
"How," a reporter asked him, "do you explain yourself?"
"Huh?" McCovey said.
He was born in Mobile, Alabama, on January 10, 1938, seventh of 10 children of church-going Baptist parents. He had his own tattered glove when he was 12. He went to Central High in Mobile for three years and played end in football, starred in basketball. By 16, Willie was at his full height and tried to join the Navy, but his mother stopped him. He worked in a produce market and a bakery. Then a playground director named Jesse Thomas recommended Willie to the Giants, and in March of 1955 he went to the club's minor league training base at Melbourne, Florida.
Scout Alex Pompez, who has had a hand in signing almost every Negro player with the Giants, liked what he saw. The kid's fielding needed polishing, but he had a major league swing, which he demonstrated by hitting baseballs into a clump of trees 400 feet away. Today McCovey stands close to the plate, leans over slightly, holds his bat straight up and down and drives smoothly into the pitch like Sam Snead hitting one off the first tee. He reminds Willie Mays of the early Larry Doby. "He's a wrist hitter," Mays says. "He don't stride that much. If you don't stride, you gotta be a wrist hitter."
Melbourne marked the first time McCovey—or Stretch, as he was soon dubbed—had been away from home, and he was popeyed. "When he first came into camp, he didn't seem to care about the game he was in," says Salty Parker, the Giant third base coach, who managed McCovey in B and Double-A ball. "There were four diamonds at Melbourne, and he's playing on one and watching the games on the other three. So there's a meeting one night, and all we talk about is Stretch. What are we going to do to get him interested? So finally one fellow said, 'Let's not worry about Stretch. All this is new to him. He'll come around eventually.' So we let him alone, and he did."
McCovey went to Sandersville in the Class-D Georgia State League, where he hit .305 and from there, in 1956, to Danville in the Carolina League (.310). Jumped to the Double-A Texas League in 1957, McCovey hit .281 but injured a knee sliding home. Last year, at Phoenix, he hit .319, drove in 89 runs and had 14 homers. An off-season operation on the knee left him overweight and out of shape this spring at the Giant camp in Phoenix and, since the San Francisco ball club was already well-populated with good first basemen like Cepeda and Bill White, he was sent down again. But when the Giants hit their slump, it was impossible to ignore him.
"Every night he was hot," says Jose Pagan, who was called up from Phoenix along with McCovey. "Every night he go two for four, three for four. He hit them over the light towers. You couldn't get him out."
So far, major league pitching has been a source of great pleasure to Big Willie, even the pitching of men like Roberts and Lew Burdette and Harvey Haddix and Bob Buhl.
"I just swing," he says, his head bowed as he stares at the floor.
How does pitching up here compare with that in the Coast League?
"Up here, I have to say they're around the plate a little more."
"He hit everything I threw," said Roberts.
"You ask me what I threw to him," said Buhl. "Whatever the hell it was, it was the wrong thing."
"He hits curves, sliders and fast balls," said Burdette.
"When I'm hittin' it just don't too much matter," said Willie.
Off the field McCovey is no tiger at all.
"The most strenuous thing he does off the baseball field," says Salty Parker, "is breathe."
In San Francisco, McCovey lives at the Booker T. Washington Hotel in the Fillmore district.
"I'm trying to find him an apartment near my place," says Willie Kirkland, "so he can use my car. I've got two sets of keys. But I haven't been able to find him one yet."
McCovey's special buddies on the Giants are Kirkland and Leon Wagner, both former teammates in the. minors. Apparently the three are destined to be joined together—as long as batting averages and the option rule permit—by their shared love for two of a ballplayer's most vital necessities: food and the movies.
Last week the three of them saw Last Train from Gun Hill and No Name on the Bullet, not to mention an assorted half dozen shoot-'em-ups on TV. For McCovey, who frequently ran out of westerns along about Wednesday each week in Phoenix, San Francisco, with its dozen downtown movie houses, is a paradise.
"Sometimes," Wagner says, "we play westerns. You know, drawing on one another. McCovey comes up behind and he shouts 'Ringo.' I turn around and he says, 'Put up your hands,' I put up my hands and he shoots me. He don't give me a chance, man.
"He cool," Wagner says. "He cool! Coolest first baseman in baseball."
"He's quiet," Kirkland says, "but the three of us have a lot of fun."
"He's quiet," Wagner agrees, "but he's a real joker around me and Kirkland. I think he's just happy to be up here with us. We call us 'The Big Three.'
"He eats a lot, man. He got a heck of an appetite. He likes that southern cookin'. Every year he gets a lady like a mother in each town who cooks special for him. A lady about 50 or 60. They adopt him like a son, he's so quiet. He eats that good southern cookin', not restaurant food. He likes that fried chicken, spinach, corn, turnip greens, candied yams.
"Stretch eats everything. Every-time we go to freeload he wounds the people. He wounds them, man."
"We all does," says Kirkland.
"I don't know where the food goes," says Wagner. "Must go to his feet. He's been eating the same pace for years and he don't have no fat on him."
But if McCovey isn't fat, the Giants are, or at any rate they are getting fat on his bat. "He's been the difference," says Parker. "Whenever he hits, we've been in."
Jeff Chandler, the Hollywood actor who is so far gone on the Giants that he works out with them in practice, adds, shrewdly, "If he just hits like this the first time around the league, that could mean the pennant for the team. By the time the league gets a second look at this guy, the season's going to be over."
PHOTO
BIG STRETCH lives quietly, says almost nothing and remains the least excited person in San Francisco over batting feats which have given Giants tremendous August lift.
PHOTO
LEVEL SWING, short stride, fine wrist action contribute to Willie's success.