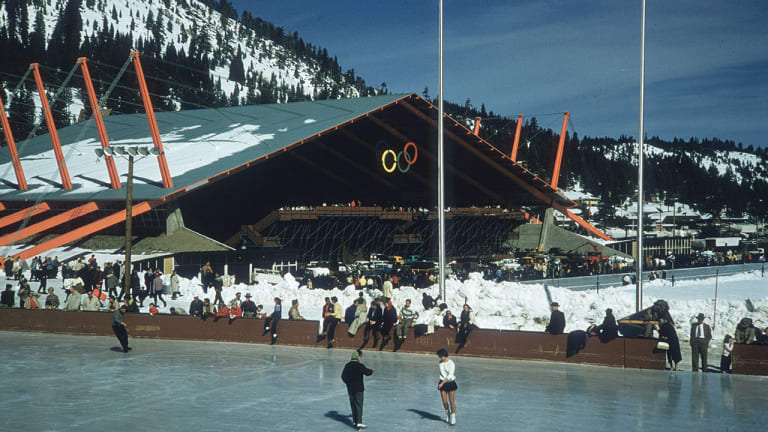 The Heroes of Squaw Valley
Hordes of heroes emerged as the Olympic world converged on Squaw Valley, Calif. for the 1960 Winter Games.
From the first, it was apparent that these Winter Olympics were not going to lack revolutionary fervor. The fabled Russians, doped to win almost half of the 27 gold medals, were winning medals all right, but not all of them were the right color. Girls from Germany and America and Poland kept popping up in places where it was apparent they didn't belong, and the fiercely dedicated little Scandinavian cross-country runners were proving that their particular sporting tradition is still a treasured thing—and the equal, in the production of champions, to any form of mass assault. At the same time, the opposition which was disturbing the Russians in the snow along McKinney Creek was even less polite to the Austrian racers on the slopes of the great mountains surrounding Squaw Valley. What the rest of the skiing world has been seeking for a long time—the end of Austrian domination in the glamorous Alpine events—began to take place. Some of the boys and girls moving fastest down the mountain were still Austrians, true enough, but a lot more were wearing the sweaters and parkas of Switzerland, Germany, France and the U.S.
The earliest days of the Games produced a horde of heroes. There was Roger Staub, of course, the handsome, laughing Swiss boy who blazed down KT-22 on Sunday to win the men's giant slalom before more than 40,000 spectators in Squaw Valley and everyone in the United States who could get near a television set. There was Heidi Biebl, the 19-year-old German girl who conquered a remarkably strong field and a treacherous turn to win the ladies' downhill race. There was Helga Haase, another fräulein who failed to read all her opponents' press clippings and stole the 500-meter speed skating event, to the uproarious delight of a by now more-or-less united East and West German team. There was the Canadian duo of Barbara Wagner and Bob Paul, who with their daring grace scored as decisive a triumph as any skating pair had ever achieved in the Olympics before. There was Klas Lestander of Sweden, who popped 20 shots into the targets, a perfect score, to win the strange biathlon event; and Maria Gusakova of Russia, an amazingly attractive girl who slogged more than six miles through the snow to lead a U.S.S.R. sweep in the first ladies' cross-country event, and then, after hastily applying lipstick, proceeded to charm several hundred members of a curious and unbelieving press.
Perhaps most of all, there was Sixten Jernberg, a wonderful, wiry little Swede with a soulful face appearing like a white ghost from out of the woods bordering McKinney Creek. When Sixten Jernberg, arms pumping like pistons and skis sliding gracefully over the snow, pushed his long nose across the finish line to win the 30-kilometer race and the first gold medal of 1960, the Winter Games were finally, truly, officially open. The athletes had taken over and the show began to be fun.
Jernberg is 31 years old, and for five years now he has been the greatest cross-country skier in the world. He won a gold medal at Cortina and two silver medals, and although he is getting old, as athletes go, he could conceivably win as many here. America is a land of green grass and blooming fields, not of ice and snow, and to Americans cross-country skiing is an idiot's pastime; at McKinney Creek on Friday there were fewer than 1,000 spectators out to watch the 30-kilometer race, compared to the 50,000 who might have gathered in Finland or Sweden or Norway to see the same event. Yet Americans, too, would have to love Sixten Jernberg; because we are a nation capable of appreciating the courage and determination and skill required of a superb athlete, we can also understand what makes him go—even across 20 or 30 miles of snow.
The cross-country runner is a solitary poet of motion: he wastes nothing, not strength or mind or terrain. Like a ram-jet gulping oxygen to keep the propulsion system going, he soon reaches a peak of efficiency where output balances intake and then he settles down to a steady, mile-consuming stride which never seems to vary. No one does this better than Jernberg.
"If he has a secret," says Sven Wiik, coach of the U.S. team, "it would have been found out by now. Everybody has had a chance to study his skiing. There is no secret. He told our best runner, Mack Miller, 'You just keep it up. There's nothing out there on the track that you get for nothing,' and I think that's it. He has worked for what he gets."
Wiik is small, has a long, droll face and, in his peaked cap, looks a little bit like a woodland elf heading for a hollow tree. He was born in Sweden himself and can appreciate Jernberg's tremendous devotion to his craft.
"Sixten's tempo is so fast," says Wiik, "that no one else can duplicate it. Where other skiers rest on the glide, he never does; he is already into his next stride. He always sets a faster, harder tempo. Notice that when he starts to use the ski pole, it bends like a bow. And he has the perfect temperament. He may look sad but he is not a pessimist. A cross-country runner is out there a long time, and he has lots of time to think. He can get discouraged, talk himself out of a race. A good skier has to be happy; he shouldn't think about sad things."
Jernberg was full of happy thoughts on Friday. He started out No. 43 in the big field which was being sent away at 30-second intervals, and from the first he began to cut down the runners out ahead. Away from the little stadium, off on the lonely trails with only his fellow competitors and a few near-frozen course police for company, he passed the other runners on the hills, between the trees, down the open slopes, one after the other. It was evident, right away, that he was going to win. A teammate, young Rolf Ramgard, ran very well to finish second, and the best of the Russians, Nikolai Anikin, came on strong to capture third. America's Miller finished 27th, but this was hardly a disgrace; he was only 12 minutes behind Jernberg, and never before had a U.S. skier, at 30 kilometers, done so well. Still, it was Sixten's race. At the finish, 1 hour 51 minutes 3.9 seconds after he began, the onetime Swedish blacksmith and woodcutter was embraced by his team captain, Siggie Bergmann, and Prince Bertil, head of the Swedish delegation. He was the first champion of the 1960 Games. Others were coughing and collapsing; Sixten didn't seem to be breathing much harder than Prince Bertil.
HAPPY THOUGHTS OF THE 50
"Var glad da" (smile a little), said one of the Swedish retinue, pointing toward the photographers. Sixten smiled, a thin, small smile. Then he skied away, face sad but happy thoughts in his head about the 15-kilometer race and the 50-kilometer race and the 40-kilometer team race that he would ski the next week.
Jernberg skied almost two hours for his medal. Heidi Biebl skied less than two minutes for hers. For one thing, she was going downhill. For another, she had to go fast, because Penny Pitou and Traudl Hecher were right on her tail.
The German girl's victory in the ladies' downhill race was considered a major upset by those who follow Alpine skiing only half-heartedly, but in reality it was nothing of the kind. Pitou of the U.S. and Hecher of Austria were the favorites, but only by a fraction; in an event frequently decided by split seconds half a dozen other girls were given an excellent chance to win. And Biebl ranked high among these. A year ago this sturdy-legged, strong-featured youngster from the Bavarian hamlet of Oberstaufen was a fine skier; this year she has been an outstanding one. On Saturday she was the best in the world.
The story of the 1960 ladies' downhill race is the story of a turn, a very wicked 90° corner with two small humps in the center of it, located about four hundred yards up KT-22 less than 15 seconds from the finish line. It is called the airplane corner, and on Saturday it claimed no fewer than 14 victims, including the wonderful little Swiss skier, Annemarie Waser, who at that point was burning up the course, and Betsy Snite of the U.S., who was racing brilliantly, too. In fact the devilish thing almost wiped out the entire U.S. team. Snite fell there, Linda Meyers fell there, Joan Hannah did, too. If Pitou hadn't already passed by, they might have had a fourth for bridge.
SAD THOUGHTS ON THE DOWNHILL
As it was, the corner probably cost Penny a gold medal. She was No. 1 in the starting gate, not the best psychological position, but this seemed to worry her not a bit. Nor did the top part of the mountain itself, down which Penny came like a runaway bowling ball to lead the entire field in elapsed time at the halfway mark. Then she hit the airplane corner, staggered, slowed, almost fell. "I came as close to falling as you can without going on your face," she said later. "I think only will power kept me up. If this had been anything but the Olympics I know I would have gone down."
The turn, Pitou felt, cost her at least two seconds. Biebl beat her by one. And only 3/10 of another second back was Hecher, the 16-year-old Austrian sensation who had less trouble with the infamous turn than with an ankle slightly injured in a fall down the dormitory stairs the night before.
Betsy Snite lost her right ski, which whacked the top of her racing helmet so hard that it made a dent and left ski wax shining on the top. She was unable to finish and was brought down the course, not seriously hurt but well shaken up. Meyers got up and finished, slamming her poles into the ground once, twice, three times in fury and delivering a quote from Eva Marie Saint. Hannah, who managed to get through the corner proper but in doing so lost her balance and fell farther down, merely smiled and said, "I hit the dumb gate."
The trouble, as diagnosed later, was twofold. First, as frequently happens on a downhill course, the previous day's hot sun, the cold night and a certain amount of wind had combined to change slightly the conditions of ice and snow at the corner, making the turn trickier and faster than when the girls had practiced over it a day or two before. Then, affected by the sheer stress and pressure of Olympic competition most of the racers went into the turn a little too soon. Instead of turning higher, to ski a straighter line through this one most dangerous spot, most of them tried to shave the control gate. As a result, they were skidding in the turn, and when their skis hit the second of those two little humps, down they went.
"I, too, had trouble there," said Biebl, who although an Olympic champion is also a girl and didn't want to be left out. Almost obstinate, she refused for a long time to believe that she had won; she stalked up and down, gray eyes flashing, shaking her short brown hair. But finally the official time went up on the big board, and she was champion. Penny Pitou, first down the mountain, had set a mark for the others to shoot at, and of the 41 who tried, only this little Bavarian girl, who celebrated her 19th birthday the day before the Olympics opened, had been able to go faster.
There was nothing so dramatic about Roger Staub's victory the next day in the men's giant slalom. The course was good and fast, but not very difficult, and hardly anyone fell. Staub simply skied better than anyone else, including the Austrians who finished second (Pepi Stiegler), third (Ernst Hinterseer) and seventh (Karl Schranz). The two most surprising things about the race were that Staub won instead of finishing second or third, which is where he usually finishes with cheerful regularity, and that Tom Corcoran of the U.S. came in fourth.
It was the first important international victory for the 23-year-old Swiss racer, who is tall (6 feet 1), dark, handsome, single and apparently one of the happiest men alive, win or lose. He was fourth in the 1956 Olympic downhill at Cortina, finished second in the downhill and third in the giant slalom at the world championships in Bad Gastein two years later and did well enough a year ago to rank behind only Buddy Werner and Karl Schranz in the world downhill ratings. On Sunday, Werner, hobbling around on his broken leg, cheered Staub from the stands. Schranz, who was healthy, simply couldn't catch him. When it was finally clear that he had won, Staub galloped happily around, lighting up Squaw Valley with his big smile, embracing friends, appearing on TV, talking to reporters in French and English and German. Business, it appeared, would be very good the rest of the winter in Roger Staub's sport shop back at Arosa.
Corcoran, in equaling the best Alpine placing ever made in the Olympics by an American, was almost as happy as Staub. In one skilled race down a California mountainside he reached the peak of a competitive career extending back through most of his 28 years, and by finishing ahead of some of the greatest of European racers proved that Americans other than Buddy Werner could compete against them on equal terms. A lot of other Americans, as a matter of fact, were almost as excited as Tom.
"Now please, please, write about how good our boys are," said Linda Meyers who, like some of the other U.S. girls, is frequently embarrassed by the abundance of publicity she has received. "What Tommy did was magnificent."
Explained Corcoran: "I just went like hell."
Nobody went like hell in the men's downhill race on Monday because the Squaw Peak run is not a great downhill course. But the new Allais 60, a shiny black metal French ski, ran faster than anything else, and an articulate, personable hotel manager from Morzine, Jean Vuarnet, rode a pair of them to the first gold medal of 1960 for France.
Vuarnet is 27, married, the author of three books on skiing, and a man equipped with a great deal of Gallic charm. He has long had a reputation as a racer who could get up for the big ones, not a great skier but a dangerous man in any big race. At Squaw Valley he skimmed down the two-mile course in 2:06, a half second ahead of Germany's second-place Hans-Peter Lanig. Third was another Frenchman, Guy Perillat. Sunday's gay winner, Roger Staub, finished fifth.
Vuarnet, who had spent the night before reading a mystery novel, had very little trouble with the course. "The wind was in my face up top," he said, "and I may not have been so fast. At the bottom I came very fast."
How did he feel, he was asked.
"I feel as anyone feels who has just won an Olympic gold medal," said Vuarnet. "You feel sad, you feel happy." Actually Vuarnet was only slightly more of a hero than the new metal skis. From the first, it was fairly certain that the men's downhill at Squaw Valley would be what skiers call a wax race. The course barely met minimum requirements of height and distance, and the heavy snow which had caused postponements of the race slowed it even more. Willy Schaeffler, Director of Ski Events, had done a marvelous job of toughening it up and putting in a number of wicked bumps, including an especially hairy pair just above the Waterfall, the course's roughest natural obstacle. The course had been relatively fast, icy and hard, but the heavy snow ruined all that.
"It is all right," said Othmar Schneider, coach of the Austrian team. "I don't think anyone will steal this race. It is going to take a good skier to win. But it is not a truly good course."
Apparently it was built for the French skis, which are something relatively new in downhill racing, and which—in the same month that France produced her first atomic explosion—were to prove the big secret weapon of the 1960 Olympics. Only a few of them were made. "They cost $104 in France," said Vuarnet, but according to members of the U.S. team, who tried to buy some while in Europe last month, you couldn't pick up a pair for $1,004. It was on this ski that Adrien Duvillard won both the Hahnenkamm and Még√®ve downhill races in January, and it was also on this ski that Adrien Duvillard was leading the Olympic downhill on Monday by an estimated two seconds until he fell, hard.
Oh yes. The Germans were sure they had picked the right wax, and it is true that they did rather well. The Swiss thought they had the answer, too, and came close. The Austrians guessed wrong all the way around. What wax did the French use? Voila! None at all. They just put Jean Vuarnet on the Allais 60s and pointed him down the mountain.