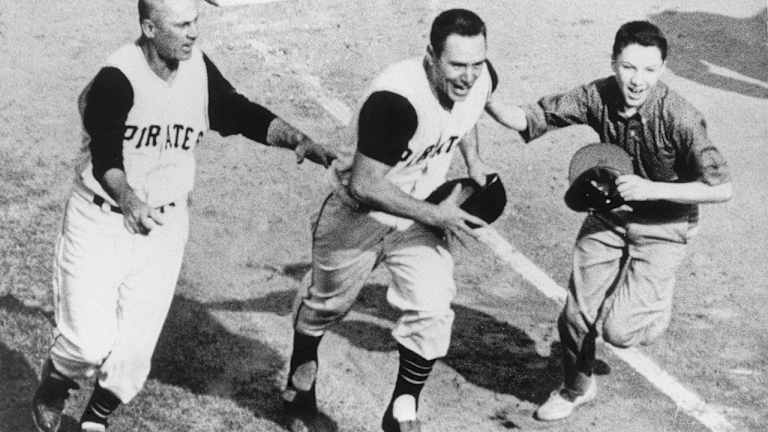 It Went All the Way!
And so did Pittsburgh's Pirates when Bill Mazeroski swung his bat and hit the ball over Forbes Field's distant left field wall. Yankee hopes were dead, the seventh game was over and the Pirates had won their first World Series in 35 years.
AN UNFORGETTABLE FINISH FOR AN UNUSUAL SHOW
The 1960 World Series ended just a week ago, but the Great Debate it engendered is still raging everywhere except, possibly, on TV. The question: Did the Pirates win on their remarkable determination and higher over-all level of skill, or did the Yankees lose through an amazing sequence of mischances?
The answer to Part 1 of the question is yes, and the answer to Part 2 is no. Certainly the Pirates got some breaks (see opposite page), and they took advantage of them, as a good ball club will. But the Yankees got breaks, too. They had to face perhaps the best Pirate hitter, Bob Skinner, in only two games; he missed the others because of an injured thumb. Dick Groat, the National League batting champion, was still recovering from a broken wrist. If there was one bad hop in the Series, there were a dozen for each team, a fact Casey Stengel admitted after it was all over. If a Bill Skowron home run curved foul, so did one by Vernon Law. The Pirates had breaks, the Yankees had breaks, and breaks have a way of evening out.
Hardly anyone has mentioned what really happened: the Pittsburgh Pirates, playing the same kind of baseball they played all year, beat a New York Yankee team which was playing over its head. If anything, the Pirates were subpar. With a season-long team batting average of .276, they were able to hit only .256 in the Series—and that, more than anything else, is a tribute to the ability of Whitey Ford. The Pirates were shut out only four times all season—never by Warren Spahn or Lou Burdette, not by Don Drysdale or Sam Jones or Mike McCormick or Larry Jackson—yet Ford did it twice in two attempts.
Not once could a Pirate pitcher throw a complete game, not even Vernon Law, who completed 18 during the regular season, or Bob Friend, who completed 16. Law beat the Yankees twice in three tries and he made them look bad, but Law was pitching with an injured ankle and he needed help in all three games from Roy Face. What happened to Friend is anyone's guess; during the season he was as good a pitcher as Law, sometimes better, yet the Yankees drove him out three times. Vinegar Bend Mizell failed, too. Harvey Haddix pitched very well for six innings, which is the way Haddix pitches. As for Face, he saved three games, and the surprising thing is that he failed to save a fourth, for Roy Face is the best relief pitcher in the business. So the Pirate pitching was generally subpar, too. But the Pirates won in seven games.
During the 1960 season the Yankees batted .260. They set an American League home run record of 193, but only one Yankee hitter was over .300 (Moose Skowron at .309), and not another was over .284. Yet in the World Series the Yankees hit .338 as a team. Elston Howard was .462, John Blanchard .455, Mickey Mantle .400, Skowron .375, Bobby Richardson .367, Tony Kubek .333, Yogi Berra .318. Richardson, in particular, was sensational. A .252 hitter with one home run and 26 runs batted in for the year, Richardson set records for runs batted in during a game (six) and during a Series (12). As a team the Yankees set records for most hits (91), most runs (55), most RBIs (54) and highest batting average. It was a spectacular performance, but if anyone thinks this is the way the Yankees play baseball all the time he has not seen much of them in the last two years.
Until the final game, it was a World Series lacking in many things. The three games which the Yankees won were so one-sided that pity for the Pirates was the predominant emotion; there was no suspense at all. If suspense existed in the three early Pirate victories, it was there merely because of an awareness of what the Yankee hitters might do, not because of what they did. The Yankees, once behind, seemed content to stay there.
There were only two stolen bases, both by the Pirates in the first inning of the first game. Bill Virdon's wonderful catches and a superb job at third base by Don Hoak supplied most of the fielding excitement; the two shortstops made a total of five errors, and the two fine second basemen had nothing but routine chances.
Then came the seventh game.
It was not a great game, in the sense that a no-hitter or a 2-1 victory in 11 innings is. In some ways it was not even a good game. There was only one error, which did not affect the outcome, but there were several bad plays by both infields, and the pitchers on both sides made far too many mistakes. Yet it was one of the memorable games of World Series history. The Pirates won 10-9, and no one who was there will ever forget it. For dramatic impact, for climax piled upon climax with never an anticlimactic moment, it was unique. There are many who say it was the most exciting baseball game ever played. Some say it was the most exciting game that ever will be played.
The Pirates were ahead 4-1 in the sixth inning when Danny Murtaugh decided to take Vernon Law out. Rocky Nelson had hit a two-run homer off Bob Turley in the first inning and Bill Virdon had singled to center off Bill Stafford. Bill Skowron homered in the fifth for New York. Now in the sixth Law had given up a single and a walk, and it was apparent with each pitch that his ankle was hurting. So Murtaugh patted Law on the shoulder, took the baseball from his hand and called in ElRoy Face.
But now the Yankees caught up with Face. Mantle singled, and a run scored. Berra, whipping his bat around in the strange, violent arc which has turned so many previous World Series games upside down, hit a tremendous fly ball, up, up into the upper deck in right field. The ball was fair by inches, and when it came down the Yankees were ahead 5-4.
In the eighth the Yankees scored twice again off Face on a walk to Berra, singles by Skowron and John Blanchard and a double by young Cletis Boyer into left field. The score was now 7-4, and this seemed to be the end. But the Pirates would never have been in the World Series in the first place if they did not specialize in coming from behind in the eighth and ninth innings. That is the way the 1960 Pittsburgh Pirates won ball games all year.
Gino Cimoli batted for Face and singled into right field. Bill Virdon hit a hard, skipping ball down to shortstop and, on the Pirate bench, Danny Murtaugh saw the double play coming, and he winced. But as Kubek moved into position to field the ball, it took a last quick hop over his outstretched glove and hit him in the throat. Tony fell backwards to his right, the ball dropped six or eight feet to his left, toward second base, and by the time Richardson got there to pick it up both Cimoli and Virdon were safe.
Kubek went off to the dugout and into the hospital with a bruised larynx, and up came Groat with two men on base and no one out. Perhaps the bad hop was the key moment of the game, the big turning point. In any event, it was a tremendous break for the Pirates—and they exploited it.
Groat lined a hard single into left field, scoring Cimoli and knocking Bobby Shantz out of the game. Jim Coates came in to pitch. Skinner bunted the runners along. Nelson flied out. Clemente, swinging wildly at bad pitches, topped a weak dribbler down toward first base. Skowron was playing deep, and he was slow getting to the ball; when he finally picked it up and turned to throw to first, there was no one there. Coates had failed to cover, and whether the Yankees could have caught the flying Clemente or not, they never had the chance. If this was a break for the Pirates, and it was, the Yankees—not Fate—provided it. Virdon scored, and Groat went to third.
It was then that Hal Smith hit his home run. Not many people know much about Hal Smith. They confuse him with the other Hal Smith who catches for the Cardinals, and they forget that this Hal Smith won half a dozen games for the Pirates this year with home runs and that he hit .295 while sharing the catching job with Smoky Burgess over the season. Coates worked the count to two-and-two and then threw a good fast ball across the plate just below the belt. Hal Smith swung and the ball was gone. It went over the left field fence just to the left of the 406-foot sign, and Berra, who was playing out there, did not bother to chase it very-far. He knew it was gone, too.
This caused quite a bit of noise in Forbes Field. It lasted while Groat danced hilariously across the plate, and it grew louder as Clemente came leaping down the line like a kangaroo. It grew to an indescribable ear-splitting confusion of sound as Smith stomped on the plate too, a huge grin crinkling his face into a hundred happy lines that stretched back to Kansas City and Quincy and Ventura and Twin Falls and all the places in baseball where he has been.
This should have been the ball game, for here was Bob Friend ready to keep the Yankees down.
Not the seventh-day Yankees. Richardson singled, a little looper into left. Dale Long, batting for Kubek's replacement, Joe DeMaestri, singled hard into right, and Murtaugh took Friend out. Harvey Haddix got Maris to pop out, but then Mickey Mantle came through with a single into left center field which drove in Richardson and sent Long around to third. Stengel sent in McDougald to run for Long. It was then that the curious 1960 Series produced its most curious play.
Berra swung and hit a hard ground ball down the first base line. Nelson was there; he gloved it, picked it up and stepped on first base for the out. Then he straightened up, drew back his arm to throw down to second to complete the double play—and suddenly realized there was no reason to throw, for Mantle was standing within a few feet of him. Nelson is a good ballplayer, but Mantle is younger and his reflexes are quicker. He dived safely back into first base, eluding Nelson's frantic stab, and McDougald scored. The Yankees had tied up the game—and Pittsburgh, unable to believe that such a thing could happen, was stunned. Had Nelson tagged Mantle for the double play, the Series would have been over. Break or brilliance? Both.
When Bill Skowron ended the Yankee half of the ninth by grounding to Groat, Fate truly intervened. Fate's particular Pirate, Bill Mazeroski, came to bat. He had produced the deciding margin in two earlier Pirate victories, with a two-run homer in the first game, which Pittsburgh won 6-4, and a two-run double in the fifth game, which Pittsburgh won 5-2. He let one of Ralph Terry's fast balls go by. Then he hit the next one over the left field fence.
There was noise in Forbes Field then, too, and it went on for more than an hour. Mazeroski took off his cap and swung it around his head as he went leaping and frolicking around the bases. The fans spilled out of their seats and mobbed the Pirates, especially Mazeroski, who had to fight his way to home plate. A man ran out with a spade and dug up home plate, which may be hanging over some mantel in Pittsburgh right now.
Anyway, the pennant is in Pittsburgh, and the World Championship, too. It was fitting that the Pirates should win in the ninth and that they should come from behind. The only irony is that the Pittsburgh Pirates beat the New York Yankees with home runs, for the home run is a Yankee weapon, not theirs. But Pittsburgh is a good baseball team, and it makes use of what it has—pitching, defense, line drives to the opposite field. A bit more courage than most, a little more hunger. So why not home runs, too? The important thing is to save them for when they count. The Pirates had been saving those last three for 35 years.
A key moment of the big game came in the Pirate eighth when Bill Virdon hit a hard ground ball to shortstop. It hopped off a spike cut in the infield (not a pebble) and struck Tony Kubek a wicked blow in the throat. Kubek went down, the ball bounced away and both Virdon and Gino Cimoli, the Pirate runner on first base, were safe. Down 7-4, the Pirates went on to score five runs in the inning on singles by Dick Groat and Roberto Clemente and the tremendous clutch home run by Hal Smith.
PHOTO
MARVIN E.
NEWMANILLUSTRATIONPHOTODEFEATED STENGEL Stalks off field as hysterical Pirate rooters mob Mazeroski.PHOTOCELEBRATION IN CLUBHOUSE BEGAN WITH PIRATES GUZZLING CHAMPAGNE, ENDED WITH CHAMPAGNE BEING POURED ON PIRATES