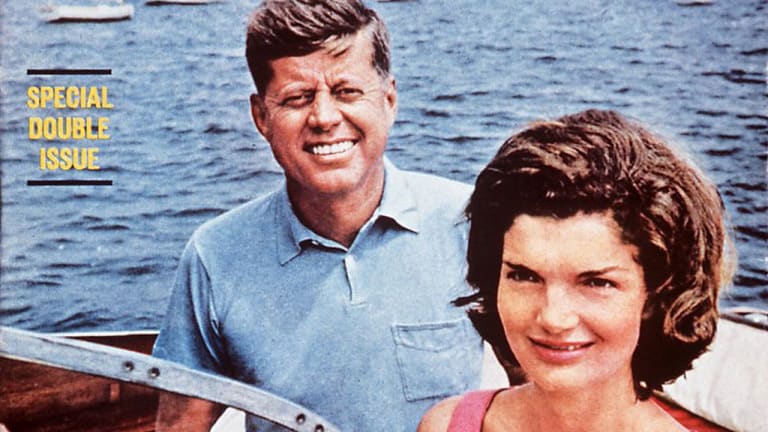 Jack Kennedy practices the fitness that he preaches
With the campaign ended, John F. Kennedy and his family traveled to his vacation home at Hyannisport, Mass. on the shore of Cape Cod to await the decision of the electorate. The morning after the election he walked the November beach for a while, drawing in lungfuls of North Atlantic air, as telegrams of congratulations arrived from around the world.
The Cape Cod country, with its sparkling sailing water, has been a second home to Kennedy most of his life. Before the fall campaign Kennedy visited Hyannisport to rest, sail and renew himself. To Photographer David Drew Zingg, whose pictures appear on the following pages, he confided what sand and sea mean to him, admitted that one of his unfulfilled ambitions is to sail (and win) a Newport-Bermuda ocean race. Reminded that many a Newport-Bermuda craft would welcome him aboard, Kennedy reflected a moment on the duties of the presidential office, then said with a grin: "If I lose I can go."
Walking his Hyannisport beach, Kennedy told the photographer: "I played here as a boy and relax here as a man."
John F. Kennedy single-hands his 25-foot centerboard sloop Victura around the bay at Hyannisport. The name Victura was selected years ago and means, in prophetic Latin, "about to conquer."
Kennedy, in cabin of family power cruiser Marlin, jots some reference notes before taking over the wheel.
The President-elect's handwritten jottings on his sailing history
Salt-water notes for a sportsman's biography
I'll write it down for you," said Jack Kennedy, when asked at Hyannisport about his salt-water sailing experience. Seated in his family's power cruiser (opposite page) he quickly jotted down the collector's-item holograph reproduced above. Beginning with a notation on the 31-year-old centerboard sloop Victura, in which he learned to sail and thereafter campaigned Nantucket Sound for years, the notes read:
Victura (about to conquer)
31 years
raced on Nantucket
Sound 20 years
(Edgartown
Nantucket
Star boats
Nantucket Sound
Champion
Competed in Atlantic
Coast Championship
With brother Joe
sailing other boat
won McMillan Trophy
(Eastern Intercollegiate Championship)
Sailed for Harvard.
As the record shows, the President-elect is not only an enthusiastic helmsman but a successful one. Like the other members of his large, vigorous and fiercely competitive family, he is a savage contestant, at 43, whether sailing, swimming, skin-diving, golfing or playing touch football. All the Kennedys have an intense interest in sports, and where-ever the family has lived—from Boston to London, from Palm Beach to Hyannisport—its always rough, usually noisy contests have impressed and awed neighbors. As a minor, if provocative, footnote to history, Jacqueline Kennedy will be the first First Lady who ever broke an ankle playing football. It happened during a Kennedy clan game of touch football at Hyannisport.
Kennedy is a powerful swimmer and was a member of the swimming team at Harvard. If it had not been for his skill as a swimmer and for a hardiness of body and toughness of spirit developed through rough-and-tumble games, he probably would not be alive today. His gallant role in rescuing crewmen after his PT boat was splintered by a ramming Japanese destroyer in the Solomons is one of the fine stories of courage in World War II.
Though injured himself, he led the roundup of others in the water. He made land after swimming for five hours—towing a crewmate behind him.