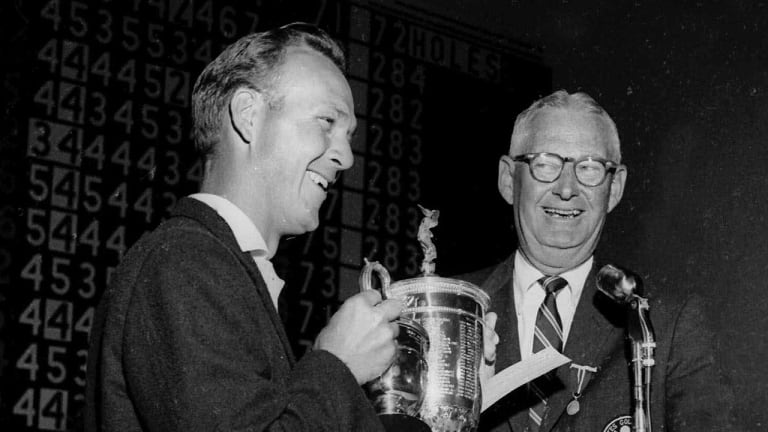 Sportsman of the Year: Arnold Palmer
For dominating the game of golf with a bold determination while adding to its splendor with genuine graciousness and charm, the editors of Sports Illustrated award the Grecian amphora, a classic symbol of pure excellence, to 1960's star Arnold Palmer
It started on a New Year's Day, with pomp, parades, bowl queens and quarterbacks in a traditional spectacle, and it ended hardly hours ago to the shush of skis across a hundred mountain slopes, the tranquillity of a year-end sunset seen from a thousand duck blinds and the last ice fisherman packing up his gear onthe frozen surface of Lake Minnetonka. This was Sporting 1960.
The year was international in scope. The XVII Olympics assured that. It reached an unparalleled audience. Television saw to that. And it infected the greatest number of people ever with a desire to take part themselves in sport. Growing incomes and a world at relative peace permitted that. Sporting 1960 was dramatic, too, and some of the drama was in scenes of memorable distress:
Penny Pitou and Betsy Snite, skis askew, tumbling through a treacherous bit of Squaw Valley ice and snow called the airplane corner in the most exciting seconds of the Winter Olympics.
John Thomas,brushing the flecks of sawdust from his arms after his last futile effort at Rome, so obviously wondering how the world's best high jumper could lose the one time he wanted most to win.
And Casey Stengel—young, young Casey Stengel, fired by the Yankees for being too old,explaining bitterly, "The youth movement of America is for kids."
There was even more drama in the personal successes: proud Floyd Patterson winning the heavyweight title from jaunty Ingemar Johansson; Vernon Law pitching the Pirates to a surprising and pleasing world championship; Navy's Joe Bellino darting through frustrated enemy lines; and the Olympians.
Yet nowhere did a 1960 sports personality command his field with quite the overwhelming ability and natural charm of that 31-year-old golf professional from Latrobe, Pa., Arnold Daniel Palmer.
Early last year Palmer won three tour tournaments in a row, the first time that has been done since 1952. Then in April he came from behind to win the Masters by getting birdies on the last two holes in one of his typical final-day rushes to victory.
In June he won the National Open, starting the last 18 holes with a prodigious 346-yard drive to the first green at Colorado's Cherry Hills Country Club—perhaps the single most meaningful golf shot of the year, because he then went on to score six birdies on the first seven holes and record the strongest finish in that tournament's 60-year history.
He teamed with Sam Snead to win the international Canada Cup for the U.S. in Ireland, and then lost the British Open at St. Andrews by a single stroke when another driving finish fell just short. ("I see a wee bit of Hogan in the laddie," said one discerning old Scot. "Aye, but he is a warm boy," answered his companion.)
By the end of the year Palmer had played in 27 tournaments, won eight of them, rarely finished worse than fifth. He had collected $80,738 in prize money, an alltime record for golf earnings, beating Ted Kroll's $72,836 in 1956.
Palmer made off with the prize money by combining the boldness of a Brinks bandit with the fearless confidence of a man on a flying trapeze, seeming to order the ball through sheer will power to get into the hole.
His concentration as he addressed a golf shot was grimly intense, yet, unlike so many of his top competitors, he didn't retreat into an egocentric shell to maintain that concentration. It was Palmer who would sit around a clubhouse sipping a whisky and talking golf after a round, who was enough of a ham to delight in TV appearances, enough of a daredevil to fly a supersonic Navy jet and enough of a frustrated football player to throw the ball around with local high school kids.
With his golf credo—"Hit it hard"—that horrifies traditionalists, his boyish enthusiasm, his athletic good looks and irrepressible will to win, he has dominated the game as no one has since the heyday of Ben Hogan nearly a decade ago.
Thus he has ended his sport's long wait for a fresh, vibrant personality, bringing a new age to golf: The Palmer Era. It is for this that the editors of SPORTS ILLUSTRATED select him as Sportsman of the Year.
The son of a golf professional, Arnold Palmer was born to the links as kings are born to the purple. He is without doubt the strongest accurate hitter golf has ever known.There are few par-5 holes in the country that he cannot reach in 2. Yet so fine is his control of tee shots that he hits across the corners of the most dangerous of dogleg holes, taking short cuts no other player could risk.
At 5 feet 11 inches and 177 pounds, Palmer isn't big, but he is wonderfully coordinated,with the build of a football halfback. He has large shoulders, outsized arms and broad, strong hands. His waist is small (32), and his hips so narrow that he is constantly hitch, hitch, hitching at his pants as he walks. His legs are developed on the proportion of his shoulders, as solid and tough as a mountain climber's.
All of his powerful physique comes into play when he hits a drive, the ball leaving the tee like lead shot booming from a shotgun. The ball carries 280 yards or so, to a chorus of sound from the gallery that is predictable, instinctive and irrepressible, a long drawn-out OOOHH.
Having hit,Palmer is down the fairway at a pace that leaves followers panting behind. He is literally racing to the next shot. His stride as much as says, "You think that shot was something? Watch this one."
His every action lets a gallery see how he feels. On good days his face has a constant about-to-smile quality, though he rarely smiles. On bad days he walks even faster, deep-set brown eyes glowering furiously, as if the unfortunate turn of events was a personal insult demanding immediate redress. In such circumstances he gives up hitching at his pants, and his shirttail comes out in back, a flapping banner of dismay.
Palmer doesn't play a golf course, he assaults it. "He goes right for the throat of a course," says fellow professional Jerry Barber, "and then he shakes it to death."
The cigarette so frequently in his lips (half a pack a round) is not merely dropped as Palmer prepares for a shot, it is flung aside. He looks at the green, plans his shot quickly and then turns to stare at the crowd if it is not his turn to hit."People think I am looking for somebody," he says. "I'm not. I just don't want to look at the shot again. I've learned that the way I see it the first time is the best way for me to play it."
The way Palmer sees a shot is usually right at the hole. "Why hit a conservative shot?" he says. "When you miss it you are in just as much trouble as when you miss a bold one."
Part of Palmer's boldness stems from the knowledge that he is one of the finest get-out-of-trouble players in the business. "Some players are wonderful hitters of the ball, but they can't figure out ways to get out of trouble,"says Palmer. "Eighty percent of the time there is a way. You just have to know how to look for it." He feels, properly, that what would be a gamble for others is a relatively safe shot for him.
Palmer's attitude doesn't change when he reaches the green. He crouches his body into a question mark, stands slightly pigeon-toed and knock-kneed and hits the ball hard at the hole. He may play an entire tournament without leaving a single putt short of the hole. "I putt like I did when I was a kid," he says. "When you're a kid you're not scared of anything."
He has a monumental desire for victory. "I don't care if it's bridge [at which he bids too high, of course], gin rummy or anything else," he says, "I can't be casual about losing." He refuses to admit defeat. "I always think I have a chance to win until winning is absolutely impossible," says Palmer. Yet when defeat does come, Palmer appears to accept it almost stoically. The British were as much impressed with his graciousness after what must have been a deeply disappointing loss in the British Open as they were with his excellent play.
Since his attitudes won't let him be diffident or resigned about a single shot, Palmer exhorts Palmer all around a golf course, and the gallery can listen in. Thus,at a recent tournament:
After a missed putt: "Fool!"
An approach left short (a sin to Palmer comparable to homicide): "Come on, stupid."
Another short approach: "You're nothing but an old maid!"
A hooked tee shot: "Damn!"
A badly hooked tee shot: "Damn, damn, damn!"
All of which is accompanied by a rapping of the offending club against the turf, an outraged stomping up the fairway and facial grimaces worthy of a wrestler.
This is not temper, for the expressive Palmer conquered his temper years ago when his father saw him throw a club in a junior tournament and threatened to end his golf career forever. Nor is it showmanship, because the words are meant for Palmer, not for the gallery. It is straightforward annoyance with an inadequate golf shot, and Palmer has no brief for inadequacy anywhere.
But he is a showman, too. He enjoys rising to an occasion so much that you might almost suspect him of playing poorly in early rounds of tournaments just to set up his dramatic finishes. Such finishes get attention, and since he was a small boy he has thrived on attention.
Arnold Palmer is the son of Milfred (Deacon) Palmer, a no-nonsense kind of native of the Pennsylvania coal and steel valleys, who in 1921 became the green keeper at the new nine-hole Latrobe Country Club some 30 miles east of Pittsburgh. When the Depression hit the area he was made the club professional, too, "until things got brighter." "Apparently," he now says, "they never did."
Arnold, the first of four Palmer children, was playing golf at 5, breaking 100 at 7 and constantly harassing his father or anyone else within earshot by shouting "watch me, watch me, watch me" before swinging at the ball.
When there was nobody around to watch, Arnold would indulge in an almost prophetic child's fantasy, coming up to a putt and announcing into a make-believe microphone:
"Arnold Palmer is lining up his putt here on the 72nd hole at St. Andrews, ladies and gentlemen. He pauses. The gallery is quiet. He hits it. It's in! He's won the British Open!" For hole after hole this would continue.
Deacon Palmer's golf training of his prescient son was piecemeal, five or 10 minutes at a time sandwiched between curing the slice of a steel executive and checking the damp third green for fungus. Perhaps because it was so casual, young Arnold grew up with an unwavering interest in the game, instead of learning to hate it as he might have done if the training had been more rigorous.
In spite of the brevity of the sessions, the elder Palmer got a precept across to his son that was outright golfing heresy. "Swing as hard as you want, Deacon Palmer said. "I was swinging so hard I'd lose my balance on every drive, and sometimes both feet would come off the ground," recalls Palmer.
People indignantly or curiously asked his father why he was letting his boy swing like that. "He'll balance himself better when he gets older, and he'll hit the ball hard, too," Deacon predicted.
Palmer is sure the muscles-first approach is what has made him the golfer he is today."Too many players learn a controlled swing first, then try to increase their distance and they can't," he says. "As a result, a lot of players don't hit the ball hard enough, and never will."
Young Palmer practiced what he was taught so hard that his father was forced to fire him as caddie master when he was 13 because Arnold kept locking up the golf shop and going out to hit drives. Yet, in the time he did spend inside his father's shop, he learned the mechanics of golf equipment, knowledge which has contributed much to his game. He began refinishing the heads of his driver and three-wood (the only woods he carries) a dull black and taking off the brand name so that nothing on the top of the club could disrupt his concentration. He also learned to rebuild clubs to suit him. Even now he reshapes the heads of his woods himself and experiments with new sets of irons more than any touring pro.
In a way, Palmer is still dependent on his father, to whom he returns for help when anything goes wrong with his swing. Until recently their friendly matches with each other were very close, with the Deacon often having the upper hand. "I think he'd rather beat me than win a tournament," Deacon Palmer said last year. "He'd come home after winning a tournament and I'd knock him off and tell him to go out and win a bigger one."
By the time he was a student at Latrobe High School, Arnold Palmer had decided he was going to be a golf professional, and tended to be lax about studies that didn't seem to further that ambition. Sandlot football, which his family frowned upon, kept him in doctors' offices, and lunch-hour pool, which his school frowned upon,kept him in spending money. He was, he says, "a hell-raiser."
At Wake Forest College, which he attended on a golf scholarship, he continued his easy living while also becoming one of the best intercollegiate golfers of his time. Then,in 1950, his senior year, his best friend and fellow golfer, Buddy Worsham, was killed in an automobile accident after offering to drive Arnold to a dance at Duke. A shaken Palmer quit school, the first time his confident approach to life was jarred.
Enlisting in the Coast Guard, Palmer came out in 1954. Later that year he won his first major title, the National Amateur Championship. Shortly after that, during a Labor Day tournament at Shawnee-on-Del-aware, Pa., he met Winifred Walzer, 20, the daughter of a Bethlehem, Pa. canned goods company president. "Arnie was a pretty fast operator," remembers Winnie. Three days after he met her he proposed to the snub-nosed brunette. They were married a few weeks later.
The following January Palmer started on the professional tour.
"I was ambitious as hell," he says of that first year. "It took money to play in the big tournaments, and the only way I could get the money was by winning it."
But he was playing too boldly and suffering from faults that still bother him at times,primarily weak short iron and wedge shots and occasionally hooked woods. He won only $8,000 in 1955, improved steadily until 1958, when his first Masters victory helped him become the leading money winner of the year with $42,600,then dropped off to $32,460 in 1959.
The reason for the decline in winnings was ragged putting. When his putting improved in early 1960, Arnold Palmer had arrived as golf's best.
Now it was"watch me, watch me, watch me" for real.
In one tournament last fall he hit a ball into a nearly impossible lie behind a green."Palmer is in a little trouble here on 15," said a true-to-life radio announcer in a hushed voice that carried out over the tense, silent gallery."You can tell them Arnold Palmer is in an awful lot of trouble," said Palmer, his forelock bobbing impishly. The gallery laughed. Then, stage set, he hit the ball two inches from the hole. It was more than a golf shot, it was a magnificent production. "You might as well face it: Arnie is a ham,"said Winnie Palmer when told of the shot.
Ham or not,Palmer's uncanny ability to sink winning shots has given birth to a new verb in golfing circles—"to Palmer." When a pro tells of sinking a chip shot,for example, he may say, "I Palmered it right in." The word carries an implication of 1) laudable skill and 2) a smidgen of good fortune.
Because he Palmered in so many golf shots, Arnold's three-bedroom white ranch house overlooking his father's course near Latrobe has become the focal point of a hectic sporting enterprise.
Winnie is in charge of the two blonde Palmer girls, Peggy, 4, and Amy, 2, and the telephone.The telephone is the most demanding. Its ringing marks the stream of requests for Palmer's services, some blithely brash, others pleasingly promising. The ones he and Mark McCormack, his business manager and lawyer, accept amount to a cornucopia of lucrative enterprises that pushed Palmer's 1960 income up to$190,000.
Last year Palmer played 22 exhibitions at an average of $1,500 each. A company brought out a line of golf clothes in his name, another started an Arnold Palmer golf shoe.He collects royalties on sales of his Wilson golf clubs, endorses Munsingwear golf shirts, L&M cigarettes and Heinz catsup. He is part owner of an electric golf car company. His weekly newspaper column, The Palmer Method, is becoming a daily piece, and his first golf instructional book is being published. Among projects which he may become associated with soon are a chain of golf courses, a variety of golf-practice devices, golf toys and even an Arnold Palmer bug repellent.
Palmer's popularity has even enabled him to exercise directly his yen for showmanship.He has appeared on What's My Line? (they guessed it), Masquerade Party (so did they) and the Perry Como Show.
His schedule is as crowded as a first tee on Sunday. In one nine-day period last summer he played golf or held business meetings successively in Connecticut, Long Island,upstate New York, New Jersey, Massachusetts, Ohio, Illinois, Missouri and Indiana. During this time he shot three 66s and three 68s.
Only the pursuit of his latest hobby, flying, has allowed him to keep up the frantic pace that success has brought. Palmer is an accomplished but as yet unlicensed pilot.Taking a commercial pilot along in the twin-engine aircraft he likes to rent,he has in recent months logged 200 hours of flying time, some of it in weather that would have grounded a duck. He often invites the touring pros to fly with him, but gets only one taker, fellow Pennsylvanian Art Wall.
A power dive at 650 mph
His enthusiasm for flying is bounded by no speed limits. At Pensacola this spring Palmer badgered a pilot from the Navy's Blue Angels stunt team to take him up in a two-seater F-Nine-F jet so that he could fly it.
"We're 50 feet off the ground and the pilot says, 'All yours, Arnie,' " Palmer recalled before a grillful of listeners at a tournament last fall. "The first thing I know, I've got her in a 6G turn. We gain some altitude, and the pilot tells me how to roll her. I give her a little flip, and there we go, corkscrewing across Florida."
And there goes Palmer, too, setting down his Seagram's V.O. on the rocks, waving his arms with more verve than be ever puts into the description of a golf shot.
"We get up to 20,000 feet and the pilot says, 'Point her straight down and I'll pull her out.' So I stick her nose at the beach and down we go at 650 mph. We pulled out at 50 feet."
Palmer ends his story with less zeal. The Navy pilot, whom he got to know well, was killed when the same plane crashed the day after Arnie won the Masters last April.
There are other things Palmer does which such a sports celebrity could think twice about, i.e.,working with power tools, playing baseball and football with local kids, Indian wrestling and crossing Fifth Avenue against the light.
Considering his daring on a golf course, all this is understandable. But there is a streak of western Pennsylvania conservatism in him, too.
Winnie is not permitted to wear fingernail polish, dyed hair is a Palmer anathema, and when he built his house three years ago it was too small because he insisted on paying for it with cash. Since then a den, a garage and a full finished basement have been added.
On the less conservative side, he has owned 17 automobiles in five years, from a watermelon Ford to a white Cadillac, and he is a lavish tipper. He paid his U.S. Open caddie $1,500.
Arnold Palmer's intense desire to win every tournament he plays has not diminished with successive victories but remains as firm as ever. He is now especially eager tow in the British Open, and talks of trying to capture the Open of every country which holds such an event. (There are 24 of them.) "Money is not as important to me as championships," he has said.
In a sense,Palmer is an amateur in a professional sport. The business sidelines that have developed as he prospered frankly bore him. He has shrugged off his success in his matter-of-fact fashion, enjoying it but hardly reveling in it. Recently he went to a high school football game in Huntington, W. Va. "Nobody will know me here," he said happily to a friend, a little bit of the old hell-raiser's spirit in his voice. "We'll walk around down by the end zone and if anybody comes over I'll say I'm a scout from Wake Forest and you say you're a scout from Maryland."
Minutes later a youngster in a football uniform came running up. Arnold Palmer put on his best scout-from-Wake-Forest look. "Yes, son?" he said importantly."Excuse me," said the boy, holding out a crumpled popcorn bag, "but would you autograph this for me, Mr. Palmer?"
GOLF IN THE PALMER FASHION
In his own words, Arnold Palmer describes on this and the following pages significant shots that he made during a major victory, the Masters, and a major defeat, the 1960 PGA.

15TH AT THE MASTERS: "A drive and a one-iron over the water left me a downhill 20-foot putt for an eagle. But the fast green worried me plenty. Afterthis look I decided to just hit it close."
18TH AT THE MASTERS: "I was One over par here on the second day. I tried to cut this tee shot around some trees to the right,but it faded too far. The ball hit a tree, then bounced back into the fairway 150 yards from the tee. I felt kind of fortunate. I hit a wood near the green and pitched up close for a par."
9TH AT THE PGA: "The last day [left]. I still had thoughts of winning, but I needed birdies badly. My drive hit in the fairway but kicked into the rough. The grass was damn thick and the ball was sitting down quite deep. I couldn't really get a club on it. I used a nine-iron. The ball sort of floated out toward the green. A good pitch shot saved a par."
2ND AT THE MASTERS: "A hooked tee shot on the second day put me deep in the woods, my worst trouble of the whole tournament.I had to turn to miss a tree on my backswing. Then I hit a full four-iron off the dirt road. I kept it low to go under some jagged pine branches and got it well into the fairway. The shot allowed me to make an easy par 5."
7TH AT THE PGA: "This is a long par 3. I tried to punch a two-iron into the green on the last day. The ball hung up on the right side and fell into the trap. I had a good lie in firm sand. I blasted within three feet of the hole for a par. But at this point in the tournament only birdies would have helped me."
12TH AT THE PGA: "I had just birdied 11 on the final day and was thinking I was still in the game. My tee shot was a fair five-iron about 12 feet to the right of the hole. I hit the putt real well and was waiting for it to suddenly break down into the cup. It never did."
PHOTO
ROBERT
D.
HUNTZINGER
THE STRONG ARMS OF ARNOLD PALMER, WHICH HAVE BROUGHT GOLF A NEW ERA, ENFOLD HIS SNUGGLING DAUGHTER,
AMYSIXPHOTOSPHOTOTELEPHONE AT HER EAR, WINNIE PALMER CHECKS HER HUSBAND'S CROWDED SCHEDULEPHOTOSPARKS FLYING BY HIS FACE, PALMER RESHAPES AN IRON IN HIS CHILLY WORKSHOPPHOTODEACON PALMER (LEFT) AND SON ARNOLD WAIT TO HIT IN A MATCH AT LATROBEPHOTO