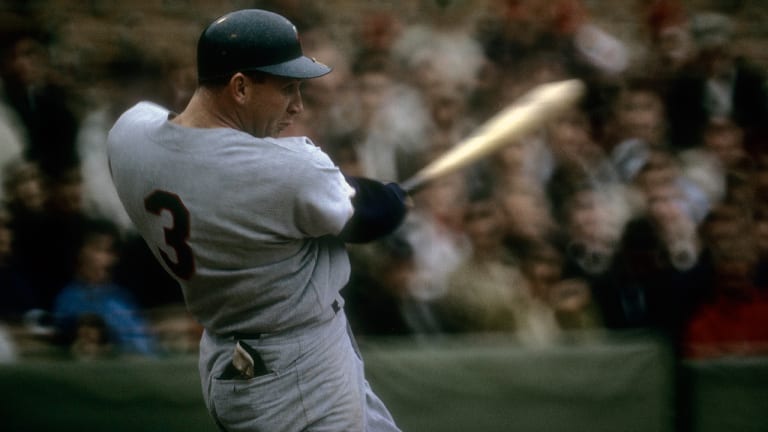 Out of the Park on a Half Swing
Minnesota's Harmon Killebrew, the loudest bat and quietest mouth in baseball, goes doggedly about the business of leading the major leagues in home run production and ice cream consumption
It is becoming baseball's best-known little-known fact that Harmon Killebrew of the Minnesota Twins {see cover) is challenging Babe Ruth's lifetime home-run average. Not Maris, Mantle, Mays or Colavito, but Killebrew, and he is challenging briskly. The average is derived from the number of homers per times at bat (Ruth's average was 11.8; Killebrew's is 13.1), and Mantle, Colavito and Maris are fifth, sixth and 13th, respectively, behind Ruth. For those who like their figures absolute rather than relative, there is the fact that since he became a big-league regular four years ago Killebrew has hit 167 home runs. Colavito is second with 159, Mantle follows with 155 and Maris with 149. (The fan of the absolute figure may also ponder the fact that Harmon led the American League in strikeouts last year, with 142.)
In all the late hullabaloo over the single-season home-run record, Killebrew's steady attack on the ultimate average has gone—if not unnoticed—at least unsung, or at the very least not sung in a loud voice. One cynic has said that you have to be a New York ballplayer with New York press coverage before anybody knows what you're doing. But in any city Harmon Clayton Killebrew would have an almost infinite capacity for not causing a stir. In 1959 Killebrew was nicknamed "Killer" by desperate sportswriters—sportswriters who also have come up with "Charmin' Harmon," "Harmin' Harmon," and "Bombin' Harmon," depending on the circumstances. The term Killer eventually died of its own silliness, and from being good-naturedly abused by Harmon's teammates. You can't look an abstraction of amiability in the eye and call it Killer, day after day, no matter how hard it hits. But the name persists in some newspapers, and this may be because reporters trying to make colorful and intimate copy out of Harmon have discovered that he is a killer indeed. What makes a reporter happy is someone with a facial tic, conversational peculiarities, a hobby involving off-season archaeology or perhaps an acquittal in the dim past for the murder of an aunt. And Harmon Killebrew is a sensible, good-tempered man who loves his wife and children and has no curious hobbies. ("Come on, Harm. You must have some unusual hobby." "Just washing the dishes, I guess," says Harmon, trying to help.)
The result is that only the basic facts of Killebrew's career are well known. He was "discovered" by the late Senator Herman Welker of Idaho and scouted by the Senators' Ossie Bluege, when he was 17 and playing semiprofessionally in the spring of 1954. He responded magnificently to Bluege's scrutiny, with four homers, three triples and five singles in 12 times at bat. He was signed for $30,000 by the Senators' Clark Griffith, thus becoming the Senators' first bonus baby, a distinction that gave him the chance to sit on the bench for two years. There followed three years in the minors, and in 1959 he came to Washington for good, forming, along with Jim Lemon, Roy Sievers and Bob Allison, a new version of "Murderers' Row." A bunch of hitters anybody could call Murderers' Row was something Washington never expected to call its own. The Senators picked up, attendance picked up, Killebrew's spirits picked up. He drove in 105 runs and tied Rocky Colavito for the American League home-run championship with 42.
In 1960 what may be called the Killebrew split season really manifested itself. In 1959 Harmon didn't homer once in 24 exhibition games, but hit 42 during the season. In 1960 he slumped through the first half of the season, turning in four homers; in the second half he came through with 27 home runs for a total of 31. In 1961 the season split the other way. He started strong and slumped late, but finished with an even gaudier 46 homers. In 1962 the slump reversed itself again, but when it was all over the home runs added up to 48, the RBIs to 126, and Killebrew was the American League home-run champion.
But there is more to playing baseball than hitting or not hitting home runs. There is always the other half of the inning, and a major problem it has been for Harmon Killebrew. He came from high school to the Washington Senators as a shortstop, and the Senators tried him there—for about 20 minutes. From shortstop to second to third to first; nothing made anybody very happy. "I just wasn't built for shortstop," Killebrew says now. "I didn't have the range for it. At the time Eddie Yost was playing third and they didn't need me there, but I wasn't particularly good at second base. Wasn't built for that, either." (Harmon is square. He's 5 feet 11 inches, 213 pounds, and square. "Harmon's legs are short from the knee to the waist," Twin Physician Bill Proffitt says, but the fact is, his legs are short from the waist to the ground. Harmon's shoulders and torso would require peculiarly long legs to make him look anything but square.)
"Well, finally I spent several years at third, and that was the place I felt most at home, but then in 1960 I was injured and Reno Bertoia came in." Where Bertoia came in to, of course, was third base. "When I was ready again they put me at first. I liked the position." Harmon sounded a little wistful. "But I kind of jumped back from first to third and was kind of in a mess. In the minor leagues I'd played a few games in the outfield. I played some in left and right in Chattanooga, and I kind of knew my way around." The Twins put Harmon in left field where, according to a rather obscure statement by Herb Heft, the Twins' PR man, "He did a lot better than anyone expected."
Killebrew began spring training in left field this year, the first time he has ever known so early where he would play. He is not particularly agile and not particularly fast, but his arm is sufficient and his hands are good. He is an earnest and adequate outfielder, and his peregrinations around the infield are over.
It has been a long shakedown process, and back near the beginning of it there wasn't too much joy in Washington about Mr. Griffith's bonus baby. Griffith had not spent any fluorescent $50,000 as was reported, but he had spent $30,000, and there was certainly some pressure on the very young Harmon to look like $30,000 worth.
Bucky Harris was managing the Senators at the time, and he has been described as "very in with the press; though they didn't often quote him, what he said became their opinion." The opinion of Bucky Harris, thus made ubiquitous, seems to have been doubt that the acquisition of young Killebrew was going to be worth it. Harmon was depressing everybody at shortstop, and soon the question was, was Killebrew going to be a bust?
A nice position to be in—to be a boy with a single gift, not allowed to cultivate it or a supplementary strength for two years, with a batch of sportswriters sitting around waiting for you to look like an unprecedented $30,000, if not a mythical $50,000. The sportswriters were not kind.
In 1958, in a game with Kansas City, Harmon was playing third. Calvin Griffith, now the Senators' owner, had told Cookie Lavagetto, the Senators' manager, that he wanted Killebrew to play, and Eddie Yost had been left in training camp. There were two outs, Hal Smith was running toward Killebrew from second, and shortstop Rocky Bridges yelled at Harmon to tag him. Bridges was a respected veteran, and Harmon tried to tag Smith but Smith got by. Both runners were safe, and Kansas City went on to win the game. The next day a Washington paper said that Eddie Yost had won back his third-base job while sitting in Orlando. They played it up in the headline and, all in all, it was a pretty tough article to take. Bridges went to the writer and tried to take the rap, explaining that he had intruded on the play. But there was nothing to be done. Harmon had to swallow hard and get it down, but some observers said the incident knocked him out for the season, and conceivably it has had something to do with his rather fatalistic attitude toward the press. So, also, may the fact that of the few even moderately personal bits about Harmon in the press over the last few years, many have been inaccurate. For example, the story that his paternal grandfather, Harmon Clayton Killebrew, was the strongest man in the Illinois regiment of the Union Army has been seized upon by innumerable newspapers and magazines, and has run for two years in the Twins' own yearbook. But Harmon's grandfather's name was Culver Killebrew. "Harm," Herb Heft said when somebody pointed it out, "is the yearbook really wrong?" "Been wrong for two years," said Harmon, who had never bothered to tell anyone.
It is certain that Harmon was born June 29, 1936 in Payette, Idaho, fourth child and third son of Katherine May and Harmon Clayton Killebrew. His father, who was at that time a house painter by profession and something of a painter in oils for amusement, had wrestled a little and had played football at West Virginia under Greasy Neale. He took an active interest in Harmon's athletic endeavors until he died, when Harmon was 16.
Harmon began playing golf in high school, played basketball and a lot of football, along with some baseball. He was called Killie then. He graduated from Payette High, in a class of 54 students—"You know the top 10? I was 11th"—and in 1955 he married Elaine Roberts, who had been his girl there since Junior High. They have three children now, Cameron, Kenneth and a little girl, Shawn, who is newly one year old, and they have moved from Payette to Ontario, Ore. "As far as the house is concerned," says Harmon, plunging into a classic Killebrew description, "it's just a house. We have a place outside of town—it's about two acres. A lot of flowers and a pasture for the horse (Elaine's sister's pony, which is visiting), and I don't know what to tell you. It's a house.
"People ask me, 'How do you like it over there in Oregon, Harm?' And the local Kiwanis Club back in Payette wrote me a letter saying I could no longer be an honorary member, since I didn't live in Payette anymore. Ontario," says Harmon, shaking his head, "is six miles away." When he's home—whether it's Idaho or Oregon—he does a little hunting—deer and pheasant.
During the baseball season Killebrew has a television show and a daily radio program, which he tapes. "I work with another fellow—we don't have a script. We just have somebody on, and talk to him. Like we might have Bobby Richardson, and we'll talk about playing second base. No, it wasn't too easy at first, being on TV."
One bets it wasn't. Only a few years ago Harmon was well known for being shy to the point of awkwardness. Now, though he is still reserved, it is a very poised reserve. He has turned into a quiet but unmistakable take-charge man in restaurants, for example, and people who follow his television show say he has an easy manner and a natural talent for interviewing other people.
Interviewed himself, Harmon will say conscientiously that he doesn't think those two years on the bench did him too much damage. He points out that he was working out, after all. "I just wasn't in game competition. I don't think that this actually should have anything to do with midseason slumps. One thing about a slump," it is Harmon's unarguable opinion, "is not to have a long one. You're going to have a slump, but I think there are things you can do. I did the opposite things from what you ought to do last season—I took advice from everyone. Everyone means well, but if a player has been playing for a while I think he should know the fundamentals of hitting. Unless he's doing something radically wrong with his body, he shouldn't take too much advice." The size of Harmon's swing, of course, is the factor linking his home-run record and his achievements in the strikeout department. "The bigger swing is the thing. Some people just tap it around, and it doesn't go anywhere." He adds politely, "but everybody has his own style of hitting."
"Harmon can hit a ball out of the park on a half swing, he's that strong," a sportswriter observed. "When he slumps, it's his timing that's off. He swings with his whole body, and once he starts he can't stop."
Harmon is reported to be unconcerned about brushbacks, but "I can't say yes to that," he objects. "Somebody's liable to stick one in my ear. I think a batter expects to be brushed back—it's not necessarily that they're throwing at you." As to the Babe Ruth record, Harmon says, "I didn't know any of that stuff until I read it in The Sporting News."
At spring training in February big Jim Lemon, Harmon's best friend, sat on a bench outside the clubhouse, smoking his pipe and kindly addressing himself to the problem of a little colorful-ness for Harmon Killebrew. Harmon himself came by. "Now, Harmon," Lemon said to him, "you've got to think of something. He doesn't like ice cream, of course," Lemon added, in reference (it turned out) to the fact that Harmon could consume a gallon of ice cream a day. "I like steak," Harmon offered. "Medium." That didn't seem to set him off enough from the rest of the population, unless one could make a point of its ineffable ordinariness. But Harmon shortly stood revealed as also liking Chinese food, Polynesian food, pizza, tacos and extremely hot mustard.
Killebrew's is an intricate reserve. He would prefer writers not to mention, for instance, that he doesn't drink or smoke. After a certain amount of experience of Harmon, a good guess at the reason for this is that Harmon has friends who do both, and that making a big thing of his habits could conceivably read like some faint assertion of his opinion as opposed to the opinion of somebody else somewhere. Harmon is so sensitive in this respect that it is reasonable to infer that his own feelings can be hurt with less than a sledgehammer. He worried for weeks after saying on television that he'd like to see Maury Wills try to steal 104 bases in the American League. He hadn't meant to hurt Wills's feelings. He had only been rather automatically defending his own league. "That's all I meant," he brooded, and when someone assured him that Wills would know that, Killebrew said, no, if anybody ever said they'd like to see him hit 48 home runs in the National League, his feelings would be hurt. Harmon thinks Sam Mele is the best manager he's ever worked for, but debated being quoted as saying, "What he does particularly well is to keep everybody happy." Some former manager might think Harmon was saying he didn't. Harmon said, "We sure liked Washington. We kind of hated it, when we moved—we had friends there, and everything." Then he added, with faint alarm, "Of course, we love Minnesota"—as if he might have wounded the states of Minnesota, Missouri, Idaho and probably Oregon.
At dinner in Orlando, Harmon Killebrew finally leaned across the table and said solemnly to Herb Heft, "Herb, what unusual hobbies do you have?" A man deserves to be let off the hook.
ILLUSTRATION
ROBERT HANDVILLE