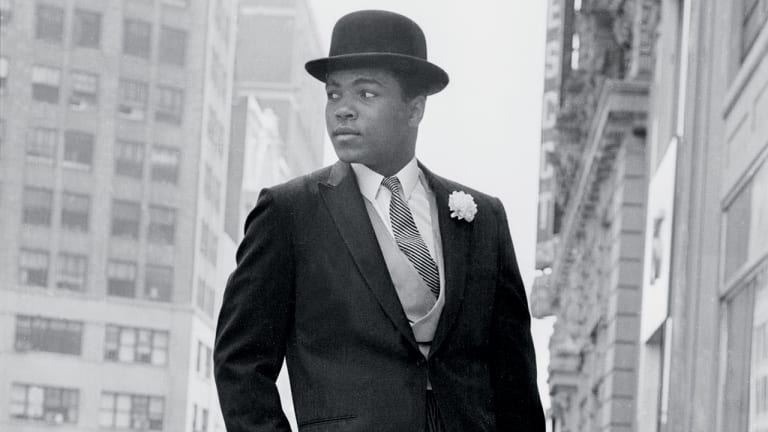 C. Marcellus Clay Esq.
Martial music heralded an invasion of Britain last week. When the sound of trumpets turned out to be boxing's brash young man blowing his own horn, staid old London shuddered and dug in
England never did nor never shall lie at the proud foot of a conqueror, Shakespeare says, and, sure enough, she has endured plague, blitzkrieg, treacle pudding and Gauls. But then one day last week came the biggest gall of all. A TWA jet shrieked into London and discharged bumptious Cassius Clay. Instinctively, Britain braced.
Self-advertised as "the uncrowned world champion," Clay is indeed an extravagantly promising boxer and the next—if illogical—contender for Sonny Liston's heavyweight title. What brought him to London was a match with grizzled Henry Cooper, against whom Clay hoped to redress his sorry performance with Doug Jones last March. But the Clay-Cooper fight was still more than a fortnight away. In the meantime, Louisville's Lip decided to square off with Britain's Stiff Upper.
Cassius in England applied the economic theory he has found so workable in the U.S.: to sweeten the gate you must first sour the people. "I'm only here," he told the natives, "marking time before I annihilate that ugly bear, Liston." As for Henry Cooper, the British and Empire champion fondly known to fans as "Our 'Enery"—well, tut. He was a tramp, a bum and a cripple,Cassius allowed, not worth the sweat of the training ring. "After five rounds," said Clay, "Henry Cooper will think his name is Gordon Cooper:he'll be in orbit." Then Cassius set out to strut the town, offering his autograph for a £5 note, calling Buckingham Palace a "swell pad" and, while a cold shiver ran down the national spine, saying, "It's growing on me, England."
Gradually the press found its own voice; columnists gruffed about his rudeness, his immodesty and his big mouth. Did he really mind? Hardly. His critics had fallen into the baited trap, his philosophy of sweet-and-sour ham was working like a charm, and tickets were selling like fish and chips. Observed C. Marcellus Clay Esq., riffling through a sheaf of sterling: "I talk for these."
LORD OF LOUISVILLE
"I'm not too worried about this Cooper fellow," Cassius Clay said recently, and it was plain he was not bluffing. Clay broke off training in Miami a full month before the fight and drove his Cadillac convertible to his home in Louisville. Angelo Dundee, his trainer, said he was confident Cassius would work out in Louisville, worried only that he might "go stale from overtraining." Dundee's fears were groundless. Instead of working, aquiescent Cassius stayed up late, slept late and recited rough drafts of poems he would later deliver in England. Once he bestirred himself enough to have a television set installed in the rear seat of his car, another time rode a bike with neighborhood kids. But mostly he played Monopoly with the children."I'm tired of training to fight stiffs," he told them. "All's I want is a crack at Liston."
TALK OF TWO CITIES
Fearful of planes, Cassius drove on to New York with his brother Rudy, a friend named Tuddie King—introduced variously as his chauffeur or bodyguard—and a sparring partner, James Ellis. "Louisville is a sad town," he said on arrival."It doesn't have enough to do." What Cassius found to do in New York was to carouse with girl friends until 6 in the morning, to pay a social call on Sugar Ray Robinson (who stood him up) and to talk with his theatrical agent about a recording of Clay's amateurish poetry, some of which will be professionally embellished. Consumed with greed, Cassius also announced he would allow the fight to be televised by Telstar "provided my cut is big enough." "That's the spirit, baby," said his agent.
Then, more afraid of seasickness than engine failure, Cassius flew off to London. There he gave his first autograph to a customs official and held a press conference to which one paper had gleefully assigned its drama critic. Next Clay Rolls-Royced to Nottingham and whipped a fight crowd there into a frenzy of good-natured catcalls and boos by holding aloft the signboard designating round five, a reference to the moment when he has predicted that he will dispatch Cooper. "A most inflammable person," breathed a girl, falling hard for his style.
WITH LONDON AT BAY
Not everyone found Clay's flame irresistible, and evidence of this came from both sides of the Atlantic. Time you start training, crackled a cable from Cassius' Louisville headquarters. "You talk too much," cracked a BBC television announcer while interviewing Clay. But Clay paid no particular mind. He went nightclubbing, attended the dog races—where he watched the Cassius Clay Hurdles—and dropped in at posh Gieves, outfitters to H.R.H. The Duke of Edinburgh. He sauntered out with a new bowler (his head is lopsided, the hatter said) and a red brocade cocktail jacket with a dragon motif. "People tell me to hang one on him and button his lip," said Henry Cooper, "and I am looking forward to doing just that." Naturally, at week's end Henry Cooper was the sentimental favorite. And, naturally, the smart money was all behind Cassius Clay.
PHOTO
Adorned in bowler and spats and carrying a gold-headed brolly, the coolest dandy in town promenades in some rented clothes on the eve of his departure for England.
PHOTO
Transfixed by the picture on his car-powered TV, Cassius watches As the World Turns in Louisville. The set is a Sony, to remind him always, he says, of his future date with Sonny Liston. At night Cassius drove through the streets of Louisville so motorists could see the shining image through the rear window.
PHOTO
"They all must fall," Cassius proclaims to children gathered on his front steps, and the kids razz the hero of their block. "I love children," says Cassius, the man-boy. Later he went inside for the farewell dinner his mother had cooked. "I want to marry a girl just like my mama," he said, embracing her.
PHOTO
With high disregard for the convenience of others, Clay persuades the Manhattan passport office to serve him on Saturday, an off day. He filched golf ball from a friend's desk.
PHOTO
An English bobby, a foot taller in his helmet than Cassius, delights Clay in Nottingham. It was not clear whether police were assigned to protect Clay from the public or vice versa.
PHOTO
With a cigar clownishly jammed in his mouth (Clay neither smokes nor drinks), Cassius leans across Promoter Jack Solomons (above) to tell Henry Cooper, "This will be your last fight." At this the genial Briton breaks up.
PHOTO
Jouncing along Lower Regent Street on a morning run with James Ellis, Clay is stopped by a bus driver who needles him. Cassius worked out briefly in a London gym, sparring with his brother Rudy and Light Heavy Ellis.
PHOTO
After a taxing day on the town, Clay rests while "bodyguard" Tuddie King stands watch. A British photographer posed King, an amiable youth with no pretensions to guarding anybody, in the best tradition of gangster movies.