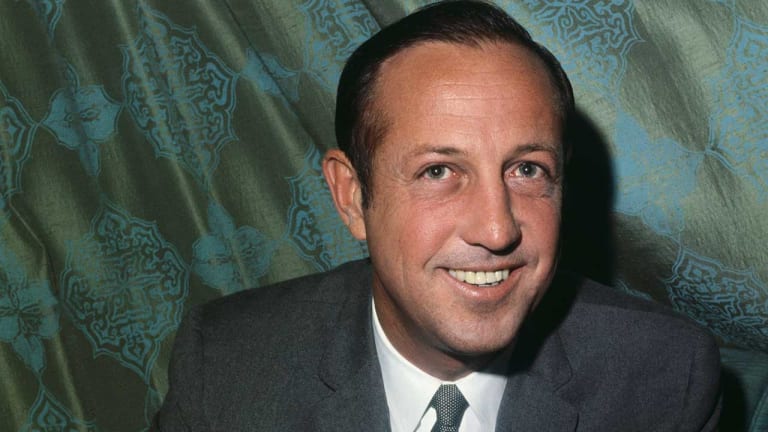 SPORTSMAN OF THE YEAR: Pete Rozelle
In May of 1954 a slender, pale-skinned Oxford medical student ran a foot race for the ages. Three months later this magazine was born, in time to honor Great Britain's Roger Bannister, the first four-minute miler, as its first Sportsman of the Year. Eight other athletes of surpassing excellence have since received Sports Illustrated's award.
This year we depart from tradition and name not an athlete but an executive as the Sportsman of 1963: Alvin Ray (Pete) Rozelle, commissioner of the National Football League. In the year of its most alarming crisis, Rozelle decisively and brilliantly guided a great and growing sport. He bucked the almost universal trend in professional sport by emerging as a strong commissioner—making vigorous decisions, not all of them popular, and proving that he could act independently of the owners who hired him. It is in salute to the sporting phenomenon of our time—professional football—as well as to Rozelle himself that we make this award.
It is the wonder of American sport. On that icy day a little over a year ago when the Green Bay Packers collided with the New York Giants in Yankee Stadium there obviously was no stopping professional football's intoxicating leap upward. In what other sport of major rank could a small town like Green Bay (population 65,000) oppose a great city for the championship—and win? Had not the 14 National Football League teams played to a record 4 million spectators, and on certain rich Sundays kept another 30 million clustered before television sets? Whose heart did not beat faster to the impact of linemen big as cathedrals, to the aerial marvels of Y. A. Tittle and Johnny Unitas, to the incredible running of Jimmy Brown and Jim Taylor?
But only a week after Green Bay struck its blow for small towns everywhere professional football was in trouble. The first hint of scandal came from Chicago, and then for 102 days rumors of fix and other folly flamed across the land. Impatient men condemned Pete Rozelle, the NFL's young commissioner (see cover), for his pleasant but stubborn refusal to speak until the evidence was in. The more reckless insinuated whitewash, the least knowing dubbed him "amiable mouse" and "child czar."
On the 103rd day, Pete Rozelle awoke at 5 a.m. after a restless night. He knew that the responsibility for stopping the scandal was his alone, a responsibility that would have been a massive burden even for an Olympian presence like the late baseball commissioner, Kenesaw Landis. It was much more so for a man just turned 37, without public prestige, who three years before—in an atmosphere of stalemate and despair—had been elected as a compromise choice to succeed the NFL's able and much-respected Bert Bell.
Rozelle had made up his mind. He dressed, drank some orange juice in the kitchen of his apartment on the fashionable New York street called Sutton Place and then, seated at a window, watched the sun come up over the warren of buildings across the East River. At 7 o'clock, saying good-by to his wife Jane and 5-year-old daughter, Ann Marie, he started walking the 11 blocks across town to NFL headquarters in Rockefeller Center.
Rozelle's staff assembled that April morning with unusual solemnity. In his large, rather plain corner office on the 23rd floor of the General Dynamics Building, the commissioner typed a message to member teams. Next he phoned some bad news to the game's greatest star, Paul Hornung, the "golden boy" halfback of the Green Bay Packers, who was in Louisville. A similar phone call brought the same message to an All-League defensive tackle, Alex Karras, anchor of the Detroit Lions.
At 1:30 teletype machines flashed Rozelle's communiqué to the league. At 2, standing tall and slender, clothed in conservative blue, he broke the story to newsmen gathered in his office. Hornung and Karras were suspended indefinitely for betting on football games—Hornung for placing bets of $100 to $500 on NFL and college games from 1959 through 1961, Karras for making six "significant" bets ($50 to $100) on NFL games since 1958. Five other Detroit players were fined $2,000 each for belting on the Green Bay-New York championship game; the Detroit club itself was fined $4,000 because Coach George Wilson ignored a police tip that some players had been seen with undesirable characters and because he let outsiders view games from the players' bench.
"Rozelle did nothing to cushion the impact," wrote The New York Times's sports columnist, Arthur Daley. "He let it crash."
In that decision of wise severity Rozelle demonstrated strength, courage and his belief that the league's integrity was first among its possessions. By refusing to act prematurely, he displayed fortitude under extraordinary pressure. By then announcing that there was "no evidence that any NFL player has given less than his best in playing any game" and that there was "no evidence that any player has ever bet against his own team" or "sold information to gamblers" he asked the public to believe, with him, in the game's essential honesty.
The public so believed; editorial voices, including most of those that had previously censured Rozelle, now spoke relieved praise. The game survived and grew. In the season just past, the NFL set fresh attendance records and the men on the field again displayed those qualities of furious attack and defense, strategy and surprise that have made them the newest superheroes of sports.
"Pete Rozelle's handling of the investigations," says Texas Schramm, the general manager of the Dallas Cowboys, "was the thing that made everybody accept him as commissioner and no longer a boy playing the part. He gained once and for all everybody's complete respect."
"He is," says white-haired Art Rooney, the gentle old-timer who owns the Pittsburgh Steelers, "a gift from the hand of Providence."
To Rooney, as to all the NFL club owners, Rozelle's defense of the league's integrity was but one of his proofs of excellence. It is in tribute, then, to a man of brilliance, and to a game that has captured the modern imagination as no other, that SPORTS ILLUSTRATED recognizes Pete Rozelle as its 10th Sportsman of the Year.
Excellence among administrators was scarce in 1963. Baseball staggered on, losing attendance, failing to stock its fledgling teams (e.g., the hopeless Mets) with able bodies, still slave to television I rather than its master, permitting the monster to enrich the Yankees by another $2 million while doling out a fifth of that to less favored teams. Professional basketball, with an alert new commissioner in J. Walter Kennedy, struggled for the wide recognition its immense high school and college base suggests can be captured, but that still seems so far away. Ice hockey remained comfortably well off but in the main stagnant and complacent, like a widow hugging an annuity.
Horse racing, rich but often shortsightedly governed, bullied by state tax authorities, looked to dubious lottery-like gimmicks for even wilder prosperity. The swift growth of automobile racing was threatened by the squabbling of rival sanctioning factions over stars and spoils. Boxing offered the Liston-Patterson mismatch as its big endeavor. In the realm of amateur sport the Amateur Athletic Union and the National Collegiate Athletic Association waged a bitter power struggle that even General Douglas MacArthur could not entirely pacify, and the American Olympic effort suffered in consequence.
This is not to say that spectator sport, taken as a whole, was in decline. Far from it. More athletes were performing more skillfully before larger audiences than ever before. But, by and large, the capital sports seemed often to succeed in spite of the men running them, to have been borne—inert—into the decade of the '60s on the wave of general prosperity, the expanding population and the increase in leisure that gives Americans large chunks of time for sporting diversion.
Alone, professional football grasped the opportunities afforded it, and Pete Rozelle, who demonstrated his insistence upon high integrity by firing Paul Hornung and Alex Karras, did much more. He established, with great difficulty, an essential television policy that provided more money. He shaped a player-pension plan and tightened security against any repetition of the Hornung-Karras affair. He got the NFL safely into Dallas and Minnesota and helped speed the shift of the Chicago Cardinals to St. Louis. He improved game officiating and clamped down on unnecessary player roughness (SI, Nov. 11). He persuaded that consummate but conservative showman, George Preston Marshall (now gravely ill), to end his holdout against Negro players for the Washington Redskins. And he moved the NFL headquarters out of the back room of a suburban Philadelphia bank and into the New York mainstream of news and advertising.
Perfectly cast in the role of a modern executive, Rozelle is a man who hardly ever raises his voice. People looking for echoes of Landis' crusty czardom or the salt and bite of Bert Bell's style will not find them. But they will not find softness, either. Rozelle is his own man, and what he has is a good mind, firmness of conviction, a talent for hard work and a cool, cool head.
"Pete never panics," it is often said of him. Daniel F. Reeves, owner of the Los Angeles Rams, for whom Rozelle once worked, speaks of his "supreme confidence." An ex-Ram executive sees him as "the great mediator." "Pete likes people," Reeves adds, "is good company and is thoughtful of individual feelings. Underneath all this is an extremely keen, quick mind gifted with the ability to make an immediate decision when necessary that will stand the sternest test."
Rozelle's aptitude for conciliation no longer deceives people into thinking that he is a bootlicker, the puppet of string-pulling owners who have been described as "the most contrary bunch of individualists you ever saw." "He has milk toast all over his high hand," says the Dallas Cowboys' owner, Clint W. Murchison Jr., in admiration. Mildly embarrassed about the extravagance of his regard for the commissioner, Murchison adds, "Lest I give the impression that he is perfect, let me make it clear that Pete is a lousy fisherman."
Last November, only seven months after his Hornung-Karras bombshell, Rozelle again waded into hot water with another strong and controversial decision. He ordered the full schedule of seven NFL games to be played on the Sunday after the Friday of the President's assassination. All of sport seemed to be divided that weekend on whether to play, to postpone or to cancel. A good many college football games were played; the majority were postponed. The Saturday pro basketball schedule was halved. Ice hockey went on just about as usual, and the Pimlico racetrack in Baltimore stayed open on Saturday as other race-courses shut down.
It was a tribute to the prominence of professional football that only the NFL's decision was widely discussed. Among the team owners there was some dissent but no suggestion of revolt against the commissioner's ruling. Frank McNamee, president of the Philadelphia Eagles, announced that he would not attend the Eagles-Redskins game—which was played to a full stadium anyway. Pittsburgh's Art Rooney was an early dissenter and phoned to tell Rozelle so, but by Sunday he had concluded that Roselle's decision was "the right one."
Some newspapers and fans were shocked by Rozelle's stand. He felt that individuals should decide for themselves on how to pay the dead President their respect—the commissioner was one of millions who attended the special Sunday church services—but that sport no less than other cogs in the national machinery should continue to function.
Rozelle got support from two quarters. First, the fans, who had their individual decisions to make, showed up that Sunday in full array. In New York, where newspaper columnists were the most emotional and the controversy was sharpest, Yankee Stadium was, as usual, sold out. Second, there was indirect approbation from the Kennedy family itself. While consideration was given in Washington to canceling the Army-Navy football game, it was merely postponed a week, and the decision to play was taken at the behest of the Kennedys.
Part of the newspaper criticism went far beyond the question of what constituted respect, accusing Rozelle of money-grubbing for soulless owners. He took the abuse without flinching. On the irrational charge that money was his motive, he pointed out the obvious: there was none to be gained. Postponed, the games would have drawn the same revenues.
Greed must have been a particularly galling accusation to the owners themselves. Although far from being philanthropists, their attachment to the game makes them the least mercenary in professional sport. One example should suffice. Television income is divided equally among the NFL clubs. Green Bay, with a negligible television market, receives the same amount as New York, which has an incomparably rich market, but pays a stiff Yankee Stadium rental and gets not a penny from concessions, programs or customer parking. Without that equal share the Packers probably could not survive.
As Rozelle crisscrossed the country during the 1963 season, keeping in touch with his clubs, he saw that NFL football was booming as never before. Sellouts of New York Giant home games sent a determined overflow to exurban motels in Connecticut and on Long Island to watch the action on television beyond the home-blackout range. Despite losing teams and so-so attendance in Los Angeles and Dallas, two big-stadium cities, overall attendance moved ahead by some 5%—and it was already big. In Washington and Philadelphia maximum crowds—every game was a sellout—supported teams with minimum possibilities.
The league's precious "balance" was never more conspicuous. It is the NFL's proudest boast that any team can win on a given Sunday, and that any tailender, without the necessity of a miracle, can shortly move up and become champion. In the Eastern Conference, with two games to play, nobody knew whether New York, Pittsburgh, Cleveland or St. Louis would come out on top. In the West those old antagonists, Chicago and Green Bay, were both in contention to the final day of the season, when the Bears' 68-year-old owner-coach, George Halas, pulled one more divisional title from his ancient bag of tricks.
Wherever he traveled, Rozelle huddled with owners and managers. One November morning brisk Art Modell told the commissioner he thought his Cleveland Browns, in just seven regular-season home games and one whopping exhibition, might outdraw the baseball Indians, who played 65 home dates. (He was wrong by a paltry 8,000.) He knew the Browns would outgross the Indians at the gate.
Later that week Vince Lombardi, the plainspoken coach and general manager of the Packers, asked for the earliest word on whether Paul Hornung might be reinstated for 1964. In Detroit young William Clay Ford, of the automotive family, was wondering about Alex Karras but had a more urgent matter to discuss. One of the Lions' many stockholders, he wanted to buy the team outright—and Rozelle wanted to consider all the details. On November 22 Ford bought the Lions for approximately $4.5 million. (The widely published figure of $6 million included $1 million in the Lions' treasury, the season's profits, and a building worth $300,000, all of which went to Ford.) This was the same Billy Ford who last April bitterly resented Rozelle's heavy penalties against the Lions. Ford still smolders about them, but describes his relationship with the commissioner as "excellent."
To neither Lombardi nor Ford, nor to anyone else, did Rozelle say what was in store for Hornung and Karras. Indeed he wanted it perfectly understood that he would not begin to consider a decision until after the league's annual meeting later this month. He had advised H&K "to take such steps as they feel proper" to prevent a recurrence of their "problems" but had ordered no specific code of conduct.
That same week, Rozelle talked late with Dan Reeves, owner of the Rams. Reeves was flirting with the idea of moving the club from Los Angeles' huge 101,000-seat Coliseum to Dodger Stadium in Chavez Ravine (56,000 seats), where season-ticket sales might be brisker. But Rozelle didn't like the idea. The NFL, already tied to 10 baseball stadiums, had early-season scheduling headaches because of baseball's overlap with the football season. Baseball would run a week later in 1964; the difficulties would multiply. The loss of the Coliseum might be sticky.
Rozelle did not press for an instant solution. That is not his style. He lets his arguments sink in, and his viewpoint usually is accepted. "There have been no knockdown drag-outs since I have been in the league," says Clint Murchison.
Between trips, Rozelle worked in New York at untangling a skein of club-network advertising commitments so that a new two-year television contract could be put up for open bidding this month. It was Rozelle who negotiated the just-terminated $4.6-million-a-year two-year package with CBS, doubling the highest previous seasonal television income and providing every team with a handsome $326,000 a year.
With football as hot as it is, the new agreement undoubtedly will bring a good deal more. NBC, by the way, had to produce $926,000 to get the 1963 championship-game rights, the most ever paid for a single game.
At other moments Rozelle worked out a new angle in player-signing—the concept of the "hand-holder." Last month he deployed 28 NFL men, drawn from various clubs, to sweet-talk drafted college players. These hand-holders were assigned to key campuses to keep safe any draftee, or draftees, until an agent of the drafting club could arrive to talk terms. Since the founding of the AFL in 1959, the two leagues have, of course, competed vigorously for prime college beef. The NFL asserts it has had incomparably the best of it. But then Rozelle expected his hand-holders to corral the top of the 1963 herd.
It is thus that Rozelle operates—probing, absorbing, advising, almost invariably calm, poised, quick to smile, revealing the intensity of his obvious drive only in the large number of cigarettes he smokes. In odd moments of relaxation he reads about another chain smoker, Ian Fleming's phenomenal Agent 007.
Not everyone knew of these qualities in January 1960, when the owners met in Miami to elect a commissioner. Actually, Rozelle, then 33 years old and the $25,000-a-year Los Angeles general manager, was not even a gleam in the owners' eyes. The big fact that concerned everyone was that Bert Bell was gone—dead of a heart attack on October 11 in his box at a Philadelphia-Pittsburgh game.
Sometime Penn quarterback and Philadelphia owner, Bell had become commissioner in 1946 and had governed well. Under Bell, two-platoon football came in and with it the game's remarkable passing, running, kicking and defending specialists. The draft became truly effective and permitted weak teams, by drafting first, to hire the best college players and pull themselves up. Bell's firm resolve to black out television in areas where games were being played protected the stadium gate—and saw television create an immense new audience that would clamor for stadium seats. One telecast in particular gripped the country. That was the dramatic presentation of Baltimore's sudden-death championship victory over New York in 1958. People were beginning to say pro football had overtaken baseball as the national sport.
Bell, a man of notable integrity himself, was just as jealous of the game's honor. As everybody knows, he dealt with the moral crisis of his own day by suspending the Giants' Merle Hapes and Frank Filchock for failing to report a bribe offer. Bell saw the insurgent All-America Conference collapse and collected three of its teams for the NFL: San Francisco, Baltimore and Paul Brown's mighty Cleveland Browns.
The loss of Bell's strong hand haunted the owners. The creation a few months before of a newly insurgent league, the AFL, troubled them. So did the complaints of some television advertisers over conflicting game telecasts, the effect of which was to imply the dumping of smaller cities. Adding to the general air of crisis was an unresolved debate on expansion, which Chicago's Halas and Pittsburgh's Rooney strongly favored and Washington's Marshall as strongly opposed.
The lightning that was to strike Rozelle hovered for seven dispiriting days as the owners, searching for Bell's replacement, deadlocked over San Francisco's Marshall Leahy, then as now the NFL attorney, and Austin Gunsel, then as now the league treasurer. A dozen other names were mentioned, Rozelle's last. He was elected in precisely 15 minutes, more out of desperation than by acclaim, and he was voted a $50,000 salary.
"They will cut you up," one owner warned him. Rozelle recalls that he did not think his selection "very logical." "After all," he says, "I was only 33." Jane Rozelle quipped, "What does that make me, a czarina?" The real question was whether her husband had the sinew to be czar. His suit had been tact, not toughness, and his life did not appear to have conditioned him in any specific way for the problems ahead.
Rozelle grew up in the modest environs of a Los Angeles suburb, Lynwood, and was nicknamed Pete by an uncle who did not like the name Alvin. Pete stuck. Grown tall and skinny, he played an adequate forward for the Compton Junior College basketball team with a husky kid later known to baseball as Duke Snider. Rozelle also won a letter in tennis and handled sports publicity for Compton but never played football. He brushed it a little by putting out game programs for the Rams in his spare time.
After leaving Compton, Rozelle persuaded the University of San Francisco to pay him $250 a month as sports publicity director while he was still a student. For four years, two as a graduate, he boosted Joe Kuharich's rugged football teams (last year he hired Joe to supervise NFL officials). From USF the pros got such enduring stars as Backs Ollie Matson and Ed Brown, Linemen Gino Marchetti and Bob St. Clair.
Pete and Jane, a Chicago girl he had met and married after he was mustered out of World War II Navy tanker service, socialized occasionally with the San Francisco Chronicle's young night city editor, Pierre Salinger. Today Salinger's children have a very strong in when it comes to getting Redskin game tickets. Rozelle worked as the Rams' publicity director in the fabulous and frenetic Bob Waterfield-Norm Van Brocklin days, 1952-1955. The next two years he plugged Australian enterprises for a San Francisco public relations firm, notably Miler John Landy and the 1956 Melbourne Olympics.
In early 1957 Rozelle returned to the Rams as general manager amid a Byzantine ownership tangle. Dan Reeves owned one-third, voted 50% and did not get along with his partners, Edwin Pauley, Fred Levy and James Seley, who together controlled the other two-thirds and voted 50%. Under the ground rules of this weird situation, Bert Bell was empowered to break logjams. Rozelle says Bell never had to be called in, and everyone agrees that Rozelle earned the respect and confidence of the opposing factions in an "impossible" job. In 1962 Reeves and some new associates, the owners of Los Angeles' baseball Angels, paid the enormous sum of $7.1 million to buy up the Rams.
And then Rozelle became commissioner. The public would not get to know him until the H&K affair exploded, but from the time he gaveled his first meeting he was in quiet but full charge. "Bert Bell put us on an even keel," says Wellington Mara of the New York Giants clan. "Rozelle kept us there."
Within a few months old differences were patched up, Dallas was booked in for the 1960 season and Minnesota for 1961, the Cardinals were out of Chicago and en route to St. Louis and prosperity, and the NFL office was out of the backwater into its Manhattan tower.
Rozelle took the player-benefit plan Bell had started and found the money to make it work. Never sneer at bubble-gum trading cards. Rozelle used them, as well as TV and other sources, to raise to $600,000 the annual pay-in. Besides providing life insurance and medical attention, the plan gives a five-year man a $437 monthly pension starting at 65, and up to $821 for a 15-year veteran.
The television question was trickier. There is a widespread belief in the league that only Rozelle's forceful persuasion convinced the television haves, the big-city clubs, to share television income equally with the have-nots. Rozelle minimizes his part, as do some owners, who prefer to emphasize their own magnanimity. There is no doubt, however, of Pete's surefootedness in establishing the legality of the package contract. Before there could be an equal split, Rozelle knew, there must first be "block-booking," in other words, a single television contract encompassing all 14 teams. This was a concept of doubtful legality, although the AFL and the NCAA in their television contracts were already employing the device. To begin with, Rozelle sought a favorable court ruling. It was denied, on the ground that the language used in a 1953 court decision affirming home-area television blackouts could be construed to ban block-booking as a violation of the antitrust laws.
A federal law was the commissioner's only resort. Enlisting the NFL's Washington lobbyist, Attorney Clinton Hester, to arrange informal meetings with influential lawmakers, Rozelle turned on his persuasion and got what he wanted: Public Law 87-331.
Says Bert Rose, the Minnesota Vikings' general manager: "Between July and October in 1961 Pete got the television law we needed in and out of committee in the House and Senate. Anyone familiar with Washington red tape knows what an accomplishment this was."
"It probably saved Green Bay," says the Packers' Vince Lombardi. "It was a great move."
Soon after Rozelle took over, his Washington grapevine reported AFL feelers at the Justice Department, exploring whether the Government might want to prosecute the NFL under antitrust laws for barging into Dallas and Minnesota. Justice tested negative. The AFL went to court, "putting a $10 million gun at our backs," as Well Mara prefers to think of it.
"Research" is one of Rozelle's favorite verbs. He researched antitrust litigation and hired the Washington lawyer he believed to be No. 1 in the field to defend the NFL. The trial judge, acerb in his appraisal of the AFL's claims, found for the National League in May 1962. A $10,000 raise was already in the works for Rozelle and was given him that summer with the owners' relieved gratitude.
But the bitterness of the court fight has not evaporated. However pleasantly NFL men may speak of the AFL in public (which is good politics), privately they are far from being among its cheerleaders. They were not amused at having to spend $300,000 to contest the AFL suit, nor do they find sidesplitting the high price of rookie flesh now that a players' market exists.
Most fans, however, want to see the AFL prosper and many want it to play the NFL champion in a pro football World Series game. Rozelle's stock comment is, "We have no plans for such a game." He undoubtedly feels that the NFL now would have nothing to gain, the AFL nothing to lose, and that time is needed for interleague relations to improve (SI, Dec. 16).
Rozelle frequently tells this story: "Sid Gillman, coach of the AFL's San Diego team, sent me a telegram. It said, 'Pope John was a great man. He recognized the other league.' I sent this wire to Gillman: 'Yes, but it took 2,000 years.' "
One subject about which Rozelle never jokes is the league's integrity. He and the game were taken over some pretty ugly jumps in those dark hundred days last year—in most instances without justification—but he is resolved that the NFL must avoid "even the suspicion of evil."
Why? "The general public," Rozelle says, "more and more embraces the area of team sports as its own. Those involved in such sports must respect this public trust and in turn be unrelenting in preserving public confidence in the basic integrity of the games and their participants.
"Setting aside other vital reasons, this is important from a practical business standpoint. Our plan for assuring public confidence in the NFL involves three basic elements. First, constant counseling of players and club officials as to the importance of high standards of conduct. Second, maintenance of a strong intelligence system so that potential problems can be discovered and eliminated. Third, taking disciplinary action when a violation of rules or policies is found.
"The actions of prominent people in any field draw close and sometimes exaggerated scrutiny from news media and the general public, while the same actions by the average person go virtually unnoticed or are condoned.
"Consider betting. The argument is sometimes advanced that there is nothing wrong with a player betting on his own team to win. It would be ruinous for the NFL to accept the notion.
"As is well known, betting on football involves a point spread. Say one team is leading in the closing minutes of a game, but by less than the point spread, and has the ball. Say the quarterback of that team is known to be betting on the game. The bet is lost if his team does not score again. He calls a reckless play, perhaps a long pass. The other team intercepts, scores and wins. Would there then be 'nothing wrong' in that man's betting on his team?
"Moreover, a player betting on his own team could be taking the first step toward something more dangerous—the possibility that a series of losing bets would place him in a position to be blackmailed by unscrupulous gamblers.
"I am convinced that our rules must be strictly observed. I am confident that our house is in good order."
Last June, Rozelle hired a superior law enforcement man, James Hamilton, the former intelligence chief of the Los Angeles police force, to see that it stays that way.
"What I try to do," Hamilton says, "is keep the pipelines open so as to be aware of anything affecting the good name of a team, an individual or the league itself. If in the future the commissioner has to impose further penalties, the players' teammates will have failed and I will have failed."
But, as the year turns, any kind of failure in the National Football League's well-oiled machine seems unlikely. Clearly the game will grow, and Commissioner Rozelle specifically looks for:
1) Bigger, better stadiums. "Contrary to rumor," Rozelle says, "professional football and baseball are not bitter rivals. In fact, the two sports are cooperating to get larger stadiums with better seating for fans throughout the country. Through the rent they pay, both football and baseball are helping to pay off construction costs of the new D.C. Stadium in Washington and the relatively new stadiums in Minneapolis-St. Paul and Milwaukee, where the Packers play four games a year.
"There are plans for new stadiums in St. Louis and Pittsburgh, plans that depend heavily upon long-term lease commitments from both football and baseball teams. From present civic studies in Chicago and Detroit there may also come larger and better-designed parks for those cities.
"Such projects mean not only better accommodations for spectators but also additional revenue for club management to cope with the accelerating cost of fielding quality teams. Today it costs a minimum of $1.25 million a year to operate an NFL team."
2) Expansion. "Some club owners," Rozelle says, "want to expand the NFL from 14 to 16 teams and thus arrive at two eight-team conferences. Each conference would have two four-team divisions, with divisional playoffs within the conferences leading to the championship game. At the moment there is merely discussion, not concrete planning; I feel that we must first strengthen the two newest operations in Dallas and Minnesota. However, a 16-team league is definitely a possibility for the future."
(Dallas' General Manager Schramm sees expansion to 16 teams as "the most important single thing the league has to do. There are too many second-division clubs who are virtually on a par with the league champion. We need more league leaders and contenders. We have to get two more warm-weather locations. Possibilities that come to mind are New Orleans, Atlanta, Houston and Miami.")
3) Big-screen theater television of home games at home, e.g., in New York City as the Giants play in Yankee Stadium. The NFL first began experimenting with theater television only last week, putting the championship game into three exhibition halls in Chicago. "Theater television," Rozelle says, "would augment, not supplant, the established policy of regional television received free on home sets."
4) Overseas games. "I expect," Rozelle says, "to see either preseason exhibitions or postseason all-star games played abroad by the NFL within the next few years. Washington has unofficially expressed keen interest. The games would contribute to the overall American program of promoting better understanding among peoples through sport and would provide thoroughly American entertainment for servicemen stationed overseas."
Those are the commissioner's aims and hopes. The men of the NFL have one plan of their own, which can be stated in two words: "Keep Pete." No man was more valuable to sport in 1963. No sport is in more competent hands for the years to come.
PHOTO
TONY TRIOLO
FIFTEEN PHOTOS
THESE ARE THE MEN WHO RUN THE 14 CLUBS IN THE NFL
Vikings' Bill Boyer, who owns a car agency, has 20% of club, runs it and boosts it with verve.
Cardinals' Charles Bidwill and brother William inherited the ex-Chicago club from parents.
Giants' Jack Mara and brother Wellington operate team founded by ex-bookmaker father, Tim.
Redskins' George Preston Marshall, once a laundryman, is famed for his half-time shows.
Lions' Bill Ford, of the auto-making family, recently bought team outright for $4.5 million.
Cleveland's Art Modell, former TV producer, earned notoriety as man who fired Paul Brown.
Cowboys' Clint Murchison, of the wheeler-dealer Texas clan, spends heavily on young club.
Colts' Carroll Rosenbloom, another wheeler (tote machines, textiles), was a Penn halfback.
Rams' Dan Reeves, a stockbroker, inherited a grocery fortune and once ran chain of theaters.
Packers' Coach Vince Lombardi rules club absolutely for a nonprofit community owners group.
Eagles' Jerry Wolman, rags-to-millions contractor, pledged $5.5 million to take over club.
Bears' George Halas acquired franchise back in 1921 as gift, is the NFL's only owner-coach.
49ers' Vic Morabito speaks for team founded by his wealthy, lumber-trucking brother, Tony.
Steelers' generous, game Art Rooney launched team with a $200,000 Saratoga win streak.