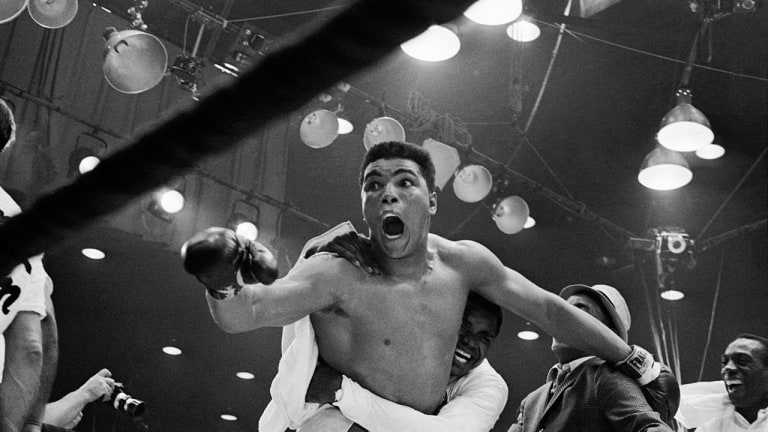 Publish date:
The First Days in the New Life of the Champion of the World
Having won the title, Cassius emerged as a relatively quiet man with serious, if confused, religious leanings. The author, who has spent more time with Clay than any other writer, records the details of how Clay is dealing with success
About an hour and a half after he had won the heavyweight boxing title on a moist Miami night last week, Cassius Clay was driven to a Negro motel where he ate ice cream in a dish and hammed it up while a tall man in glasses snapped his picture. The ice cream was vanilla, the photographer a Black Muslim leader named Malcolm X, and taken together they pretty much summarized the new world champion: his tastes are just as simple, and his thoughts on life just as murky as they have been for years.
Merely because he was at the top of his profession at the age of 22 did not mean that Clay was about to change his ways. And if, in the days that followed, he suddenly became a great deal quieter than usual, the reason was less one of reform than of reverting to type. All he was doing was showing himself in public the way he has always been in private. The bellicose bombast that has characterized Clay's behavior before reporters, television cameras and crowds of any size or description has been an admitted, self-promotional front. He remained as vain as ever but, now that he had got what he was after, the heavyweight championship, Cassius chose to drop the loudmouth pose until it is needed again. "I'm like a politician," he said the day after the fight, slouching on a green divan. "I made the noise I had to make while I was campaigning for election. Well, the vote is in now, and I won. I'm going to play it cool for a while."
Cool was not exactly the word for it. Cassius Clay's deportment as the new champion was close to being inert. He had no sooner washed down his ice cream with a glass of milk at the Hampton House Motel than he told the satellites milling around him that the victory party was over; he was going to sleep. But drowsiness was tempered by Clay's new responsibilities. Only a few moments after he stretched out on a motel bed, he Restlessly decided he ought to go back to the house in which he had been living in Miami. Word had come through a friend that a crowd of neighbors was standing in the front yard waiting for him. "They are the people I mean something to," he said, pulling his clothes back on, and he and his lawyer, Edward Jacko, and a companion named Howard Bingham, checked out.
The six-room house Clay was renting—he left it for New York at the end of the week—is stucco, painted gray, and is near the end of a street of similar homes in a Negro neighborhood. The crank-open windows are frosted, louvered glass, the roof is Spanish tile painted white. The shrubs around it have been broken down by visitors trying to see in, and the big ficus tree in the front yard has been populated lately with raggedy little boys looking down on their hero. The furniture inside the house is comfortable and nothing fancy, the carpet is threadbare. It all suited Clay just fine.
When he got home after leaving the motel, he stood around outside with the crowd for a little while, shaking hands and signing his name, and then he told them good night and went in. Presently three reporters arrived—all from Los Angeles. Clay was in his undershorts and socks, and he told the men he had to "get into the feeling of being the champion. I'm going to be a gentleman, be a clean image for the children. Oh, think how great I was tonight." He talked on for an hour and then his business agent, a young New York Muslim named Archie Robinson, came in. Robinson can be waspish, and he said: "What's this? A press conference at 3:30 in the morning?" The reporters left, and somebody put cotton in the doorbell and took the phone off the hook. Cassius went to sleep about 4.
Earlier that night, shortly after the fight was over, Clay had come to a so-called press conference at the Miami Beach Convention Hall. It was not a conference at all, because Clay did all the talking—and that talking was confined to a rude, arrogant speech berating the reporters for having picked Sonny Liston to win. But by the next morning his transformation to gentleman was on its way, and he showed up at the hall for another scheduled conference, ready to answer questions. Making very few extravagant claims—and thus astonishing everyone—Clay said he had beaten Liston because he was a better boxer than the ex-champion. Was he also a Black Muslim as was being rumored, somebody asked as he came down from the stage. "I believe in the religion of Islam," Clay answered, avoiding a direct answer. "I believe in Allah and in peace. What's wrong with that? I don't try to move into white neighborhoods, I don't want to marry a white woman, I don't want to hurt no one like the Ku Klux Klan. I was baptized when I was 12, but I didn't know what I was doing. I'm not a Christian anymore."
Clay left the building then and rode over to WTVJ, a Miami TV station, to watch a playback of the fight that had been made by Theater Network Television. On the way over, Jacko said, "The world just met the new Clay, the All-American-boy Clay." Actually, the All-American image Jacko was talking about has been around Clay for a long time—he has never smoked, drunk or cursed—but the moralistic Muslims intend to capitalize on that image, beginning now.
At the screening of the fight, Cassius got excited and sometimes stamped his feet. He talked about himself, too, much of the time. "I really looked confident, didn't I?" he asked those around him, and they assured him he did. "You'd never think I'd end up feeling sorry for Sonny Liston, would you, but I do. I can't help it. I don't like hurting people. He's fighting too fast. You see? He can't last at that pace. I'm fighting a good fight, though. But I'm having to work for it, I'm having to hustle. I wonder will this go down as one of the greatest fights in history?" "Don't worry about that, Champ," they said. "It will sure go down in history." "But I saw a lot of things I did wrong," said the new, humble Clay as he walked out of the darkened room.
It was early afternoon by now, and Clay was beginning to tire of being the champion. So he went back home in his $13,000 Cadillac limousine with the two telephones, and he sat down on the front step. He did not bother to read the telegrams that had arrived in his absence. Small children from the neighborhood began to cluster around his feet. Some had come on their own, some, including a 7-week-old infant, had been brought by their mothers. Cassius picked up the little girls and gave them a hug, and flattered them and teased them and sat them down, "Who's the greatest?" he asked the children, and they shouted his name. "Who upset the world?" and they shouted his name. "I am the champion," he told them, "and that means all of us are champions. I showed you now what we can do. We can do anything." On the fringe of the crowd stood Malcolm X with his 35 mm. Japanese camera. He has known Clay for four years, Cassius says, although up to now he has not been seen much in Clay's company. "Who are you taking pictures for?" another photographer asked him. "You'd drop your teeth if I told you," Malcolm said, smiling, and advanced his film to the next frame.
Now a crowd had begun to collect in the living room of the house. Clay's mother and father were there, as was Henry Sadlo, a lawyer from Louisville who represents the interests of Mr. and Mrs. Clay. Mr. Clay started twisting with a model from Chicago. She was one of eight who had shown up at the fight courtesy of Major League Enterprises, also of Chicago. Walter Turner, promotional director of Major League Enterprises, said his firm planned to gold-plate Clay's gloves, shoes and trunks. "Then we'll mount them on a big walnut slab around an oval picture of Cassius," Turner said. "It will probably be the world's greatest masterpiece of its kind, and we're going to give it to Mrs. Clay." "They ought to gold-plate these, too," said one of the models. She held up a pair of black-rubber knee protectors Cassius had taken to the fight. Had he lost, he intended to strap them on and crawl across the ring to kiss Sonny Liston's feet.
Clay came in, looked around and went back out to the children. "There are so many responsibilities to being the champion," said Cassius. "I can feel the pressure already. And there are so many people around." He sat back down on the porch. "Who's the greatest?" he shouted again to the children, as much for them as for himself. "Cassius Clay," they answered. The party inside did not break up until Clay had suggested everybody get on his bus and take a ride downtown.
Shortly after 8 o'clock the next morning, Cassius had breakfast with Malcolm X at the Hampton House Motel. They discussed what Elijah Muhammad, the No. 1 Black Muslim, had said about Clay at a meeting in Chicago the night before (Allah and he had helped Clay win). "Clay is the finest Negro athlete I have ever known," Malcolm X said, "the man who will mean more to his people than any athlete before him. He is more than Jackie Robinson was, because Robinson is the white man's hero. But Cassius is the black man's hero. Do you know why? Because the white press wanted him to lose. They wanted him to lose because he is a Muslim. You notice nobody cares about the religion of other athletes. But their prejudice against Clay blinded them to his ability."
Now that Cassius had been mentioned publicly by Muhammad, the day ahead of him became one long interview (not one question was put to him that day about the fight). Some of the things he said he has been saying in watered-down form for several years, but this was the first time he was willing to identify himself with the Black Muslims. Although, as he said, "I am not a Black Muslim, because that is a word made up by the white press. I am a black man who has adopted Islam. I want peace, and I do not find peace in an integrated world. I love to be black, and I love to be with my people. I am a very intelligent boxer, you know, and people don't ask me about my muscles the way they would ask Liston or Patterson. They ask me about Zanzibar and Panama and Cuba, and I tell them what I think."
Cassius told the reporters who came by his house or called him on the phone that Allah was in the ring with him against Sonny Liston because he prayed five times a day (he prayed in his dressing-room shower before the fight). He said his people had a history stretching back 80,000 years whereas the English language was only 500 years old. "Why do I want to live in the white man's way?" he said. "Why do I want to get bit by dogs, washed down a sewer by fire hoses? Why does everybody attack me for being righteous? Why don't people leave me alone?"
Cassius, however, drew the line at admitting to certain ideas commonly associated with the Muslim movement—possibly because he has been taught a sugar-coated version of the socio-religious philosophy. He said there was no hate in his heart for the white man. "because I would be nowhere today without the white man's money." He said, furthermore, he knew nothing of the Muslims' concept of black supremacy. "Why do I have to feel superior to you? All I want to do is to live my own life among my own people."
Would any of this affect his future as a fighter, Clay was asked. "Why should it?" he said. "I've believed this way for four years, and it didn't have anything to do with my fighting. But I'll tell you this: if I had to give up my fighting or my religion, I already know what I would do. I would give up boxing and never look back."
PHOTO
Once he had caught the big bear—Sonny Liston—in his carefully set trap, Cassius Clay suddenly displayed an unforeseen talent for total relaxation.
PHOTO
Clay, who has genuine love for children, lifts neighbor's girl, saying, "Look at my sweetheart!"