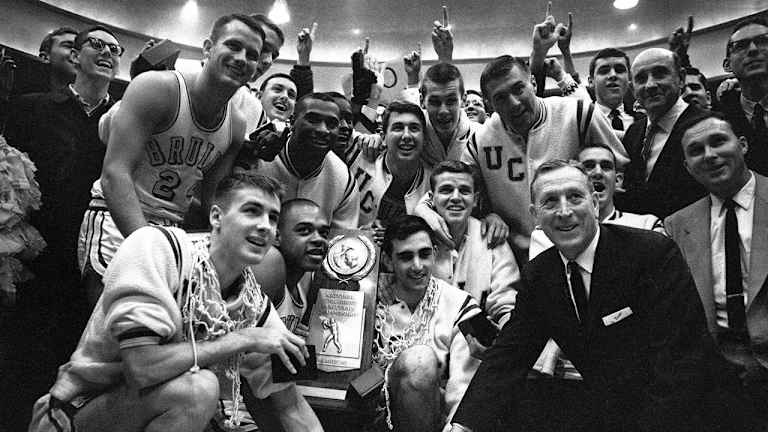 Publish date:
The Two-Minute Explosion
With quick bursts of scoring, UCLA startled Kansas State and Duke, stayed unbeaten and won the national basketball title
There is a certain mystical something about the UCLA basketball team that defies calculation. The Bruins go for long spells at a time looking mortal and vulnerable and capable of inspiring sympathy. Then they put you under with such thorough execution that a witness has to look twice to be sure that innocent-looking truck was really the one. UCLA coaches call it "the two-minute explosion," this mystical something-or-other, and since it is not an eclipse of the moon, only of an opponent, they cannot predict when it will occur. Only that it will occur. Eventually. They hope.
Last week in Kansas City, a town unequipped for too much excitement, 10,000 people at the Municipal Auditorium were permitted the treat of watching UCLA's two-minute explosion explode on consecutive nights. In each case the explosion was extended a few seconds, but the time was put to good use and the practical result was exceedingly gratifying—for UCLA. The Bruins beat Kansas State, a good team, 90-84 and beat Duke, a better team, 98-83 and won the national championship.
Anybody unromantic enough to believe UCLA could not finish 30 games undefeated, with undersized, unimpressive-looking players and a coach, John Wooden, who does not smoke, drink or recruit very much, deserved to be kept awake by UCLA insurgents yelling, "We're No. 1," down Baltimore Street until morning—and to see "We Try Harder" buttons (the ones UCLA rooters obtained from a second-rated auto-rental agency) in any sleep he did get.
But about the two-minute explosions. In the semifinal on Friday night, after Duke had taken Michigan 91-80 in such a tour de force that not one of the 600 convening members of the National Association of Basketball Coaches dared be unimpressed, UCLA bumped around with Kansas State and was behind 75-70 with seven minutes to play. There followed a flurry of hands ("Does UCLA have quick hands?" said one coach. "Are there Mexicans in El Paso?") and feet ("You run with UCLA and you die," said another). Two-minutes-plus later UCLA was ahead 81-75. Permanently ahead.
On the final night, in a match that promised to be a dandy but proved to be a dry throat for Duke, UCLA trailed 30-27 midway in the first half. In two minutes and 30 seconds the Bruins scored 16 straight points, the Blue Devils agonized, and when the score reached 43-30 there was no doubt in which direction that game was heading.
No one with half a superstition was willing to believe it was so simple, of course, and omen for omen UCLA people stack up with anybody. What immediately precipitated the 11-point rush on Kansas State, for example, was the strategic arrival of four UCLA cheerleaders just at the moment a Kansas State shot was heading for the basket. The cheerleaders' plane had been delayed by a snowstorm. Hollywood smiles still intact but frozen on, they skipped into the arena. There was a mighty cheer. The Kansas State shot whirled uncertainly inside the basket and popped out.
Duke, No. 30 in UCLA's magnificent procession, had then to face this kind of lineup: John Wooden's daughter Nan's 30th birthday ("Oh, that's a sure thing," cooed Publicist Vic Kelley), Nell Wooden's lucky acorns, her husband's collection of lucky pats and tics, and assistant Jerry Norman's 13-year-old lucky road suit. "Since we don't need it anymore," sniffed Jerry's wife, June, looking pained at her husband's style lag, "we are going to burn that suit." Jerry's father, Arthur Norman, said all the other accessories were really unnecessary, because it had come to him in a dream last December that UCLA was going to go undefeated and win the national championship.
No one else quite shared Mr. Norman's serenity, however, and on the morning of the Duke game, Wooden sat in front of his orange wedges, oatmeal and sweet roll at the Hotel Muehlebach and said he had slept barely three hours. "Nell fell asleep about 2," he said, "and I was on my own until about 4, thinking about Duke." Wooden is a man so straightforward as to make you blush, and he is devoted to the outlandish proposition that character really is more important than winning.
This has not been an easy team for Wooden to coach, but through skins thick and thin he has stuck with his five starters and is proud of the reward. "Lately," he said, "we have not been going well, but somehow we keep our poise and get out of the jams we get ourselves into. Now we have to do it one more time."
Duke had experienced immediate discomfort in Kansas City. The chartered plane carrying 90—the team, cheerleaders and guests—slid off the landing strip at the Kansas City airport and almost nosed over. The Kansas City Star kept referring to the Blue Devils as the "Tar Heels." The hotel neglected to obtain the 7-foot beds Coach Vic Bubas had ordered for his 6-foot-10 boys, Hack Tison and Jay Buckley (7-foot beds would not fit in most Kansas City hotel rooms, anyway). When the Devils went to practice at the auditorium their dressing room was being painted.
Duke first had to get by Big Ten champion Michigan. The Blue Devils prepared for Michigan "like it was the Normandy invasion," said Assistant Coach Bucky Waters. Michigan had beaten Duke by 16 points at Ann Arbor in December, and Buckley was reminded how he had been outrebounded 18-2 by Bill Buntin. Buckley later was called the team's "weak link" by a Charlotte sportswriter and the Blue Devils had taken to calling him "Link." Properly incensed, he had become a tiger.
"We smashed them on the boards at Ann Arbor," said Michigan Coach Dave Strack. "We will have to resmash them." Despite this amiable suggestion, Michigan was unable to smash Buckley and Tison again. Duke got good outside shooting from Buzzy Harrison and Denny Ferguson, made half as many errors and wound up with an equal number of rebounds. Captain Jeff Mullins was, as usual, the steadying hand, and Tiger Buckley, curling around Buntin like he was a lamppost, scored 25 points. Michigan star Cazzie Russell was given painkiller for his damaged and swollen right ankle and he scored 31, but obviously he was not the typically reckless Cazzie.
Meanwhile UCLA did as expected with the K-State zone, but under considerable duress. Walt Hazzard split it on drives and passes to the flanks, from where Keith Erickson hit for 28 points—only a point less than the number scored by State's superb Willie Murrell. "Any time one of our men can be a point away from Murrell we're all right," said Wooden. Not all right, ominously, had been the play of Center Fred Slaughter (Kansas is his home and he could not quite get used to being back before home folks). Jack Hirsch and Guard Gail Goodrich, Hazzard's shooting mate, were still missing. UCLA flubbed half a dozen layups trying to pierce the zone, and there was fraternal conjecture in downtown hotel lobbies that the Duke coach might try a zone, too.
Not a chance. "Now is not the time to be changing," said Vic Bubas in his hotel suite at the Continental. He sat relaxed on the sofa after three hours of trying to figure out what makes UCLA tick so fast—or rather, how to stop UCLA from ticking so fast. Daughter Sandy came in with a poster: "Ruin the Bruins." The i ran into the n, so that it looked like "Run the Bruins." "You'd better dot that i, honey," said Bubas.
He turned to Bucky Waters. "I think we can beat their press," he said, "and I'm not so sure we can't run with them." Waters said that Mullins had figured that out for himself and had gone down to the deserted auditorium that morning and taken practice shots for 25 minutes.
The match was so attractive-big, resourceful Duke of the East against not-so-big, resourceful and unbeaten UCLA of the West, smackdab in the middle of the country—that scalpers asked for and received three times the face value of tickets by game time. But the record crowd of 10,864 did not include the 50 tickets one man said were stolen from him. An NCAA official immediately wanted to know how the man could buy 50 tickets when UCLA and Duke were allotted only 250 apiece. Abashed, the man admitted they had not been stolen at all, that he never had them, and that he was just too embarrassed to tell his 50 friends that he had struck out.
The championship game started briskly and for a time it appeared Duke indeed could beat the UCLA press. Quickly downcourt on the break, Buzzy Harrison flipped to Buckley, who curled in a field goal around Erickson, much as he had done with Buntin. Duke was out, 2-0. A full-length pass over the press got another for Duke, and before too long Wooden replaced Slaughter with a sophomore, Doug McIntosh. Soon after, another sophomore, Kenny Washington, appeared in the normally pat UCLA lineup. Both boys had done well against K-State, and now, subtly, they were making their presence known to Duke.
What makes Wooden's Bruins super—it is a word now safe to use in their behalf—is not superstition, despite all those dreams and acorns. What makes UCLA super is the deadly art of self-defense Wooden teaches, and you cannot imagine how offensive defense can be until you have seen UCLA's busters gang up on the backboard or on some taller team. Like Kansas State. And like Duke.
UCLA presses and UCLA converts—a stolen pass into a basket, a rebound, clearance and fast break into a basket, etc.—and the size disadvantage UCLA always faces is, always, negligible. "How do you look at Duke?" Johnny Wooden was asked. "Up," he said. But despite Buckley and Tison and their five-inch advantage over any single UCLA player, the height difference was a paper difference. UCLA attacks not singly but in swarms, like mosquitoes.
On offense, Wooden kept his post man high, drawing Buckley out and clearing the middle for the drives of Walt Hazzard (see cover) and Gail Goodrich. Goodrich, the lithe left-hander, got 27 points, his first up-to-par game (he is UCLA's leading scorer) since the tournament began three weeks ago.
On defense, UCLA negated Duke's superior height by making it miserable for Tison in the high post. Pressed by Keith Erickson, Hirsch and the amazing sophomores Washington and McIntosh—especially the sophomores—the combination of Tison to Buckley could not get going. Even Mullins, though scoring 22 points, did not pass well and seemed powerless to assist. Buckley scored 18 points but got only nine rebounds, and Tison got only one, compared with McIntosh's 11 and Washington's 12.
Most amazing was Kenny Washington, the Negro boy who traveled 2,440 miles in the back seat of a Greyhound bus from Beaufort, S.C. just to get a chance to play for John Wooden. Washington, who is so shy that Wooden frequently chucks his chin to keep his head up, couldn't put the ball in the Pacific Ocean his freshman year. "I shot funny, kind of from behind my head," he says. "Coach Wooden changed that." But Kenny is an astounding leaper and he possesses the fast hands Wooden requires. So he practiced 10 hours a day last summer. He also decided, after two trips home in the back of the Greyhound, that his favorite spot on the UCLA bus would be right up in front.
The most accurate man in the game, Washington hit 11 of 16 against Duke and scored 26 points. Typically, little UCLA outrebounded big Duke 43-35, and as Duke came undone during the two-minute explosion, the mistakes began to pile up. In the end, the Blue Devils committed 29 errors, a season's supply, and more often than not had the wrong men with the ball in the wrong places. That is the kind of team UCLA is.
In the dressing room, privately, Coach of the Year Wooden told his Bruins, "I am immensely proud of you. You're really the best. You've proved it. Now, don't let it change you. You are champions and you must act like champions. You met some people going up to the top. You will meet the same people going down." And that is the kind of man John Wooden is.
PHOTO
Outjumping Jeff Mullins for the ball, Kenny Washington exemplifies UCLA's success in controlling rebounds against taller Duke team.
PHOTO
His glasses askew in a huddle, Coach Wooden saw clearly enough to map strategy.
PHOTO
Perky UCLA cheerleader, with lucky garter, arrived in nick of time for Kansas State game.