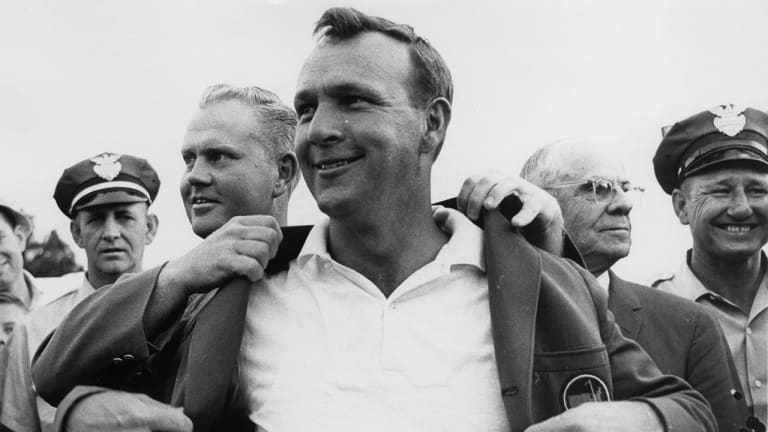 A Master to Top Them All
Arnold Palmer called it his greatest triumph. Becoming the first man ever to win the Masters four times, there was no reason to doubt his assessment of the feat.
He said it was his greatest triumph, and when he achieved it late last Sunday afternoon, becoming the first man ever to win the Masters championship four times, there was no reason to doubt Arnold Palmer's assessment of his feat. Months without a victory on the tour, he had heard increasing talk that his career was in eclipse, that he could no longer summon forth the intensity of will and concentration required to win a major title. His answer was a show of majestic golf in the event he treasures most. He led, in effect, from the first tee shot to the last putt—a birdie putt, of course. He won by six strokes, and his 276 total was the second best score in the tournament's history. His attack on the course was beautifully planned and perfectly executed. So overwhelming was his performance that the impact of it seemed strangely muted. It was a four-day sports conquest best savored day by day as it developed to the seemingly inevitable climax that left Arnie once again the Masters' master.
First Day: SLUGGERS, TONSILS AND LOVE
THURSDAY. A weird yellow globular object startled the natives at dawn this morning as it rose in the east above the green pines and red clay of Augusta, Ga. A few hours later out at the Augusta National Golf Club, people shaded their eyes and chattered with excitement over the phenomenon called sunlight that warmed the spongy hills and damp foliage after days and days of rain. A couple of gallant octogenarians named Jock Hutchison and Fred McLeod, champions of an earlier, more graceful era, stepped stiffly down the first fairway in pursuit of their drives, and the 28th Masters championship was under way.
This was going to be, the experts agreed, a sluggers' tournament. There would be little bounce and roll on the marshy fairways. The sluggers of golf are, of course, Jack Nicklaus, the 24-year-old defending champion and favorite to repeat, and Arnold Palmer, a three-time winner of the tournament trying for an unprecedented fourth. By the end of the day, however, five men of widely varying strength and reputation were in the lead with scores of 69, three strokes under par. Palmer was one of them, and so was Gary Player, who had been fighting a bad attack of tonsillitis and sounded like Andy Devine when he talked. The other three were Kel Nagle, a middle-aged Australian; Bob Goalby, a husky young man who once played quarterback for Illinois; and Davis Love Jr., a little-known 29-year-old.
The day had started on a quiet note. All through the morning and early afternoon the course lay quiet, lovely and stolid, daring the golfers to prove its vulnerability. But the minutes of waiting slipped on into hours before, finally, the first heartfelt roar went up from the big gallery. Player, who had been cruising along smoothly at even par, had sunk a 12-foot putt on the 9th green, and up went the first red (for sub-par) figure on the scoreboards that record the progress of the 10 most prominent contenders. Moments later, as if in reply to the roar of Player's gallery, Arnie's Army cheered with unrestrained feeling when he birdied 8 to join Player in the red.
These minor inroads, like a scratch single in a tightly pitched ball game, seemed to break the resistance of the course, and golfer after golfer came alive with birdies. Nagle, Goalby, Dave Marr and Nicklaus all went under par. And then, as if as a special gift to the whooping and hollering galleries that have in recent years given the Masters a kind of carnival feeling, Billy Joe Patton got hot with three birdies and an eagle. Ever since he almost stole the tournament from Ben Hogan and Sam Snead in 1954, Billy Joe, now 41, has been to the Masters galleries what Lillian Russell was to the gay blades at Rector's in the '90s. They drive their cars all the way from his native North Carolina to cheer his flamboyant triumphs and groan over his equally spectacular disasters. As sunset was near, Billy Joe came gaily up the 18th fairway, his gallery yelping at his heels. He was still three under and needed only a par 4 to tie for the lead. Walking just ahead of him was his playing partner, Hogan, a gray-haired but leaner-than-last-year 51. The huge gallery surrounding the 18th green in the late afternoon shadows applauded these two survivors of so much Masters drama as if they were heroes returning from foreign wars. Anticlimactically, Billy Joe three-putted to end with a 70 for the day.
But it was Arnold Palmer's round that injected the most electricity into opening day. Because he had not won a championship since the Whitemarsh Open last October, people were saying that Palmer was in trouble. They preferred to overlook statistics showing he is fourth on the list of 1964 money winners, the leader by far in Ryder Cup points and first in the Vardon Trophy standings, which list the average number of strokes per tournament round.
Coming to the formidable 15th hole, where it takes two very large shots to clear the pond in front of the green, Palmer was two under par. Up to this point virtually all the golfers had been playing 15 cautiously, laying their second shots up in front of the pond and lofting short wedges across it. Palmer decided to go for the green in two. While his shot was still in the air the Army that was six deep along both sides of the fairway let loose a tremendous cheer in appreciation of his gallantry. His audacity rewarded him with a birdie 4.
On a course that was supposed to favor strength over cunning, Nicklaus was several times the victim of his own immense power. On these occasions he drove the ball past the area on the fairway that had been mowed closest, leaving himself thick and difficult lies. For the most part, though, his trouble was in his putter, for he reached all of the 18 putting areas in par or less yet never took fewer than two putts to get the ball in the hole. On the 18th he three-putted from 15 feet for the bogey that raised his score to 71. "You can't win golf tournaments when you take 37 putts a round," Jack said later. Nobody disagreed.
Pleasing and predictable as it was to find the Palmers and Players in the forefront of the contest, it was a special treat to discover a Davis Love right there with them, however briefly. An amiable man from Texas, Love first qualified for the Masters 10 years ago by reaching the quarter-finals of the U.S. Amateur championship at the age of 19. On being told that he would be eligible for the Masters the following spring, he produced a remark that is still cherished among golfers. "Gee, that's a good deal," he had said. "Where they playin' it next year?" In the interim, Love's golfing accomplishments have been among life's better-kept secrets, so his success, and Patton's, lent a special gaiety to a Masters opening day that was bright and friendly. In a sense, it was their day, because their fame had to be fleeting. It is the way of things. The less romantic noted three points: Player had scrambled to his 69; Nicklaus was not putting; Palmer had rarely looked sharper.
Second Day: HATS WERE OFF—TO ARNIE
FRIDAY. This day, brilliant, glorious, more perfect even than the one just past, was Arnold Palmer's. He played against an alien army, he played against Chi Chi Rodriguez, he played against the field—and he vanquished them all with ease. It was too fitting to believe, but then something special goes on between Palmer and the Masters. It is a kind of love affair. He regards the Masters with a reverence that he offers no other tournament, and the Masters galleries regard him, in turn, as a chosen son. He may not win a tournament for six months, he may pile double bogey upon bogey, he may shoot a 112, but he will always be their Arnie. Now came tiny Chi Chi with a lively little guerrilla army that called itself Bandidos and his own hat-waving, jig-dancing, bowing, irreverent ways. Interlopers on sacred soil, but exciting interlopers.
As Palmer walked to the first tee to play what was going to be the single most interesting 18 holes of this tournament, he looked fit and happy. The eight pounds he had gained since he stopped smoking rode easily on him, and he has not gained any in recent weeks, though his wife Winnie testifies that he has become a nonstop nibbler. Winnie described his mood as "relaxed, joking, pleasant—here yet not here," by which she meant that his mind was mostly out on the golf course in that semidetached, uncomplicated way it gets when he is playing golf in earnest.
The only minor flaw in Palmer's well-being was a slight skin irritation on his face. He had worn a peaked cap (see page 19) on Thursday to protect himself from the bright spring sunshine. Arnie's Army didn't like the cap and kept yelling to him to take it off—this being an army that never hesitates to advise its general. Winnie, who thinks her husband looks bad in all hats and caps—"balloon-headed," she called him on Thursday—bought him a tennis-type white visor, and talked him into wearing it. The Army conceded it was an improvement. Chi Chi, a flamboyant Puerto Rican whose on-course antics frequently annoy and upset the other tournament pros, had a hat of his own. It was straw, it was dashing and it had a nice wide brim that made it easy to grab if you wanted to take it off and wave it at the gallery, which Chi Chi wanted to do on every possible occasion. In spite of his ebullient behavior, or maybe because of it, he is an excellent golfer. He weighs 116 pounds, including hat, yet he is one of the longest drivers in the game. Arnie's huge gathering of Georgia followers was eager to see its commanding officer put the bouncy Chi Chi in his place.
The match was hardly under way when a plane flew overhead trailing a banner reading GO ARNIE GO, an answer to the hundreds of cm CHI'S BANDIDOS buttons that were pinned on many blouses and shirts in the all-but-raucous crowd. The plane was followed by another advertising the thrice-nightly appearances of Miss Patti White, a stripper at Augusta's Bon Air Hotel. Neither of these aerial demonstrations pleased Palmer. (And the less said the better about the startling arrival of Patti herself on the putting green on Thursday—tight pants, low-cut blouse and sandals.)
Nothing about the early part of Chi Chi vs. Arnie foretold the fireworks to come. Palmer was hitting brilliant iron shots at the pin, just as he had the day before, and he made the turn in an effortless 35. But Rodriguez stuck right with him. Not only that, Chi Chi was outdriving Palmer and taking deep bows or doffing his hat in mock salute every time the gallery gave him—or Arnie—a cheer. His behavior seemed to get to Arnie. The dignity of the Masters was being trifled with, and Palmer began to look more purposeful with every step.
Finally, at the par-5 13th, the break came. Arnie outdrove Chi Chi by about a yard, but both were well around the bend of this crescent-shaped fairway and had clear shots over the water and to the green. Chi Chi hit a beautiful three-wood onto the green and bowed deeply to the gallery. His followers went wild. You could feel Palmer burn. He took a one-iron out of his bag (get that, Chi Chi: an iron, not a wood) and hit a truly memorable shot. It landed within a foot of the flagstick and ran five feet past. It was a magnificent, deadly, "take that" stroke. Chi Chi was done. The cards were on the table, and he had been called.
Chi Chi then three-putted, and a lot of the bend went out of his bow. Arnold himself missed his five-footer for an eagle, but he tapped in for his birdie 4. A couple of minutes later, at 15, where he hit a long second shot into the gallery to the right of the green—that is the safe side, and he wanted to be there—Palmer rolled in a 35-foot putt for another birdie to go five under par for the tournament. "That," said Winnie, "is the first putt Arnie has sunk in three months. It could really help his confidence."
At the par-3 16th, Palmer hit his five-iron tee shot to within six feet of the pin and sank the putt for a birdie. On the 17th he hit his approach to within eight feet and missed the putt by an inch. Par. On the 18th he put a four-iron 10 feet from the pin and sank that one for his fourth birdie in six holes. When the putt rolled in he purposefully contained his own exuberance, and merely smiled at the crowd.
Palmer's 68 was nearly flawless, one of the finest rounds of his competitive career. It was so stunning, so overpowering, that it seemed astonishing to find anyone even close to him at the end of the day. But people were, of course. Gary Player, with an even-par 72, was just four strokes back. Gary's card, which showed only a single bogey and a single birdie, indicated a much steadier round than he actually played. He had to one-putt six of the greens to get his pars, and on the 13th he had to hole an almost unbelievable 45-footer for a par. "The putt had to go over two humps in the green and curve two or three different ways to get to the hole," Gary said. "I got a sore neck watching it."
Right behind Player were Don January and Gene Littler. January had an otherwise splendid round spoiled by a triple-bogey 6 on 12, where he hit two shots into the pond fronting the green and then chipped into the cup.
The pairing of Billy Joe Patton and Tony Lema, an inspired piece of casting by the tournament committee, produced the expected drama. Inspired by Billy Joe's fierce attack on the course and its forests, Lema turned in a 68, taking only 27 putts in the process. Billy Joe was as wild and woolly as ever, but the putts didn't go down as well as they had the day before, so it took him 74 shots to get around, leaving him tied at even-par 144 with Jack Nicklaus and 10 others. Nicklaus, who was again struggling with his putter, had a lackluster 73. When he had walked off 18 after all his putts the day before, he had still looked happy. This time he signed his card, was motionless for a second, then threw the pencil to the ground—a fleeting public trace of deep disappointment that was immediately replaced by his usual semismile. And Davis Love? Oh yes. It took only six holes for the Augusta National course to wrench him back to even par, and reality.
The question on everyone's mind by sundown was whether Palmer could maintain his extraordinary concentration now that he had a comfortable four-stroke lead. And was the lead so comfortable? Thinking about it, Jack Nicklaus said, "If Arnold has a normal round, anyone who is at par or better can catch him. But if he keeps playing like this, forget it." Bobby Jones, whose tournament this is, put it another way. "I don't pay much attention to what happens the first two days," he told some friends. "That's just jockeying for position." Which is true, but Palmer had proved himself quite a jockey.
Third Day: A CHASE ON A TREADMILL
SATURDAY. This was the day of pursuit, the day everyone had to chase Arnold Palmer. But all who are old enough to watch television or read Little Red Ridinghood know there can be no suspense in a chase unless the pursued is in some danger of being caught. And stroke by stroke, hole by hole, the chance of anybody catching Arnold Palmer was disappearing as surely as morning dew. Palmer himself, who has always in the past seemed to need the nourishment of theatrics to perform at his best, ignored his usual tendency to give a big lead away and shot another excellent 69. No one could get closer than five shots. By the time the sellout gallery of 40,000 (the gates were locked before Palmer teed off) had finally wandered off at the end of the day and left the Augusta National's green acres looking like a dump heap, Palmer stood 10 strokes under par for the tournament—five better than Bruce Devlin, a young Australian who observed, "The way Arnold is playing, I guess the rest of us are just shooting for second place." Bruce, of course, did not remember that Sunday in Augusta in 1962 when Palmer went from six strokes up on Player to three down in a stretch of only seven holes. The experienced knew it still could be a chase for real.
For the third straight day, the weather was sublime. It was sunny, yet cool enough for many of the golfers to play in light sweaters, and just the tickle of a breeze kept the air fresh. "It's super out there, and it's been that way for three days," Gary Player croaked hoarsely to one and all. "I don't think I've ever seen playing conditions any better," Palmer said. But then he paused and added, "I don't know if I've ever seen the pin placements any tougher." Even so, 19 players broke par, compared with only 11 on Friday and 15 on Thursday. There seems to be no accounting for the astrophysical whims that produce such variations, except perhaps that a field in pursuit has to go for birdies.
Palmer's round was not the inhuman masterpiece of the day before. It was flawed in spots, and the very step back from perfection was both refreshing and tantalizing. It also enabled him, for example, to answer the question of whether he would play safe to protect his lead—a form of behavior that has little place in the Palmer scheme of things—or once again go out and shake the golf course by the scruff of its neck. Naturally, he chose the latter route, as was obvious on the 11th hole, where he took his only bogey of the day.
The 11th is as difficult a par as there is at Augusta. Even after a fine drive on this 445-yard par-4, a long and extremely accurate second shot is necessary to avoid the pond that cuts into the left front of the green. The bold player will hit for the right side of the green on his second and try to draw the ball from right to left. In doing this, Arnold produced a hook that dumped his ball in the pond. After dropping, he played a superbly delicate chip of at least 60 yards, and the ball stopped no more than an inch from the cup.
At the 13th, he tried to hook his drive around the corner of the dogleg to insure himself a birdie on this par-5, or possibly an eagle. He duck-hooked the ball well into the woods and had to loft it out with a wedge through a pine-cone-sized opening in the thick foliage. From there he salvaged a par. These two forays in brinkmanship were just the stimulant he needed. He immediately ran in three straight birdies for his 69. Palmer always says the second nine is the hardest at Augusta—and he always destroys it.
The chase after Palmer now looked desperate indeed, and some surprising people were making it. The closest was Devlin. This skinny, boyish Australian, who arrived in the U.S. in January with no greater ambition than to finish among the top 50 money winners on the pro tour, had started the day at even par—seven strokes behind Arnie. Two birdies on the first nine and another at No. 12 brought him no closer to the leader, but he had another birdie at 13 and then an eagle 3 at 15, where he sank a 25-foot putt.
Dave Marr was closest to Palmer throughout most of the afternoon and finally ended up six strokes behind him. Never in his five years on the tour has this slight, 30-year-old Houstonian played better golf, and no one was more pleased than his fellow pros. The son of a golf pro who died when Dave was still a boy, Marr belongs to an exclusive and distinguished fraternity of players who are known as "Claude's boys," men who honed their skills as assistants to Claude Harmon at Winged Foot. Because he does not hit the ball as far as the likes of Palmer and Nicklaus, Marr must play his approaches and putts with infinite finesse to keep abreast of the big hitters. This year he is suddenly learning that he is a much better golfer than he thought he was. Nobody expected him to play the long Augusta course so well, least of all himself.
A stroke behind Marr, there was a three-way tie among Peter Butler, the British PGA champion, Gary Player and indestructible old Jim Ferrier. Of these three, Player should not have been there; he should have been two strokes better off, tied with Devlin. Gary, playing late in the afternoon, had been chugging along steadily at par and losing a few strokes to Palmer when he suddenly got hot on the back nine with birdies at the 13th, 15th and 16th. Maybe there was going to be a chase after all. Nope. Player bounced his drive through the pine trees on 17 and ricocheted one off a spectator's folding chair on 18. These lapses cost him two bogeys and any real chance on Sunday.
Poor Jack Nicklaus—if such an adjective may be used to describe one of sport's most prosperous athletes—failed for the third straight day to get the ball into the hole with his putter. It is, however, a tribute to this exceptional golfer that his 71 should be regarded as something of a failure when it would be a triumph for almost anyone else. And there was one moment on Saturday when Nicklaus proved his character as no victory ever could. On the watery 12th hole, where he stood even par after a loosely played first nine and a good birdie at the 11th, he shanked his tee shot. That's right, he shanked it. The ball barely missed a press tower as it shot off at a crazy angle some 100 yards to the right. It was as if Helen Hayes had fallen flat on her face while making her opening night entrance. Jack's embarrassment before the enormous gallery was painful to see, but after he had overcome his surprise he grinned foolishly and said, "I thought I'd play it safe."
So Saturday was, after all, not so much of a chase as a panting struggle after Palmer. And as happens so often at the Masters, there was one specially heartwarming round turned in that added immeasurably to the day. This one was by Ben Hogan. It was a 67, and it was golf played the way Hogan played in his prime—lovely, intelligent drives and irons hit with such awesome authority that, as Marr described it, "He is playing a different game than the rest of us." True, it left Hogan still nine strokes behind Palmer, but that didn't matter at all. Only the very young and very practical would look at Hogan's score at dusk and then note aloud that if Palmer shot a 67 on Sunday he would have a 273 and break the scoring record for the Masters—Ben Hogan's record.
Fourth Day: NO WORRIES FOR WINNIE
SUNDAY. At 5:26 this sunny afternoon what had seemed inevitable since late Friday afternoon, but actually had not been, finally happened. With his customary flair for the dramatic, Arnold Palmer sank a 25-foot putt on the 18th green to become the first and only four-time winner of the Masters. No achievement in modern golf compares with it except Ben Hogan's four victories in the U.S. Open. During his four hours on the Augusta National course this day two challengers had arisen—one large, famous and expectable; the other slim, far from renown, and surprising—and both had been shaken off by this new Arnie, one who, it would seem, prefers to get ahead and stay there instead of charging frantically from behind.
When Palmer teed off, his score for the first three rounds was 69-68-69. "At the start of the tournament," Arnold said, "I told all the reporters what score I thought would win, somewhere between 276 and 278, and I had tried to set that as my point of aim. So when I began today's round I figured I could win if I shot a 72, which would put me at 278. Since Bruce Devlin was five strokes behind me, he would have had to shoot 66 to win, and that's a pretty tough assignment on the final day of the Masters. I was going out there to shoot my 72, and if I had a chance to do better than that, well, of course, I would try it."
Someone asked Palmer if he had given any thought to Hogan's record, which had been set in 1953 when the tournament also had four days of weather as perfect as this week's had been.
"Yes," Arnold answered with delightful frankness. "When I started thinking about it was at the 12th hole, when I hit a tee shot that I thought was pretty good. I was 10 under par then, so I would need four birdies to tie the record. If I made that putt at 12 I would be one under par for the round, and I had 13 and 15 coming up, where I should be able to make birdies.
"But when I missed the putt at 12 and three-putted at 13 I kind of lost my incentive to tie the record. Then when I birdied 14 and 15, my hopes went up again. If I had sunk that putt at 16 it would have made a lot of difference. But I missed it."
Yet this was by no means as cut-and-dried a victory as it may have sounded when you listened to Palmer sitting in the clubhouse with his winning 276—the second best score ever shot at the Masters—and chatting about breaking records. The two men who finished second, Jack Nicklaus and Dave Marr, had both pressed him before eventually winding up six strokes back.
There was a time back at the 10th hole when Palmer had to give some very careful thought to Marr, who was his playing partner this day. Marr had started six strokes behind, but was playing some extraordinary golf. He was sinking putts from everywhere but under water, and he turned the first nine in three-under-par 33 to Palmer's 35. When Palmer three-putted the 10th for a bogey the two men were separated by a mere three strokes, and three strokes at Augusta can vanish as fast as a politician's promise. As Marr strode briskly down the fairway of the 11th hole in pursuit of a drive he had hooked into the rough, his pretty blonde wife, Susan, was mentally measuring him for the green jacket of a Masters champion. But moments later Marr missed a three-foot putt for his par on 11, probably the first makable putt he failed to sink in the tournament. And moments after that he hit a poor iron off the 12th tee that plopped into the pond in front of the green, skipped up on the bank momentarily and then fell back into the water. This caused him to take his second bogey in a row. The three-stroke difference was now five, and Susan Marr decided Dave doesn't really look good in green anyway.
Jack Nicklaus, on the other hand, had come alive at last. He had been putting atrociously all week, but he was now playing the kind of muscular golf that can make him seem a good deal larger than human. At the 13th, where a lot of the best pros are unable to reach the green in two, he used a driver and a five-iron, then rammed in a two-foot putt for an eagle. At the 15th, which measures 520 yards, he hit an easy seven-iron for his second, and it carried over the green. He still got his birdie, and now the nine shots by which he had trailed Palmer at the beginning of the day were down to four. At the 16th, a good 200 yards from the back tee, he hit a massive seven-iron 12 feet from the hole. "I thought I had a chance if I could make the putt," he said. When it missed, Jack sank to his knees, his biggest show of emotion of the week.
The kind of slugging Nicklaus was doing can shorten a golf course by five or six strokes, and he was more than justified in his belief, which he was to mention later, that he could have reduced his five-under-par 67 by at least five additional strokes if he had only been able to sink some short putts. As it was, he never got another birdie after the 15th.
By the time Palmer reached the 18th tee he knew he was the 1964 Masters champion, and he also knew that Dave Marr needed a birdie to tie Nicklaus for second. "What can I do to help you?" he asked Marr.
"Shoot a 12," Marr cracked. Marr, however, did his own work on this hole when he sank a downhill 30-foot putt for the birdie he needed to tie Nicklaus for runner-up. The putt was worth roughly $2,000 to him, the difference between third-place money and the $10,100 he and Nicklaus each received for second. An hour earlier, when Susan Marr realized her husband had relinquished second place to Nicklaus, she sighed as she thought about the size of the runner-up purse, usually in the neighborhood of $12,000. "We could have made a payment on a house for that," said this mother of two, whose home is an apartment in New Rochelle, N.Y. Among those strung out behind Marr and Nicklaus were Devlin at 284 and Player at 286. Lema and Hogan were at 287, and Chi Chi could be found at 290. Davis Love made $850 for finishing 34th, and Amateur Billy Joe got nothing but fun out of ending up 37th. Such is the fate of some Masters leaders.
Palmer regarded his fourth Masters title as about the greatest achievement of his golfing career. "I played here as I would like to be able to play in every tournament," he said. "Of course, I wish I'd done a lot of things I didn't do—you always feel that way even when you win—but I got a lot of satisfaction out of the way I played. It seems to me I waste a couple of shots every week I play—careless shots and careless putts. It seems to be the way I am. This week I decided not to be careless."
"Did you waste any shots here?" someone asked. "Frankly, no," he said. "I hit some shots that were not too good, but they weren't careless shots.
"You know," he went on, "I started this year unhappy about some of the things I had done last year. I won some tournaments, but I didn't win a major championship. One thing I was very definite about in my mind when I started the year was that I would try my best to win at least one major championship if I did nothing else.
"I can't say I was aiming particularly at the Masters, because if you go around saying you are aiming at a particular tournament and then you don't qualify, what are you going to say? If I aim at a tournament and don't win it, then I just go on and aim at the next one. So it would be ridiculous to say that I began by aiming just at the Masters, although that's the one I wanted first.
"I didn't start out playing too well at the beginning of the year. I don't want to blame it on any one thing, but it was a great mental and psychological block for me when I quit smoking a couple of months ago. I've licked that now, and I came to this tournament with a great many things depending on it.
"When I got here I felt as great as I have in years. I was hitting the ball solidly, and I felt that from tee to green I was O.K. But on the green I wasn't so sure. When you go from one tournament to another, no matter how well you are hitting the ball, you are never too sure about your putting. It's sort of like checking out a plane with new sparkplugs. You're not sure whether they will all work.
"After the first round here my putting was good, and I felt a little confidence. After the second round I felt better yet, but I was still not sure. I was looking forward to playing now, and I was a little more certain of what I could do. Now, after the four rounds, I really feel like playing."
Whatever this bodes for the future, and his opponents hesitate to think, Arnold Palmer has every reason to be proud of his memorable performance at Augusta. Though he does not know it, he even did his wife a special favor. As she watched Arnie walk up 18 on Friday he was five strokes ahead of the field. She noted that she had never been able to get through the crowd to see Arnie sink the winning putt at a Masters. "Wouldn't it be nice," she said, "if he had a five-stroke lead when we were walking up 18 on Sunday? Then I wouldn't even have to care about what was happening on the green." Sunday afternoon a grinning Arnie came up 18 with a five-stroke lead, and Winnie didn't have a worry in the world.