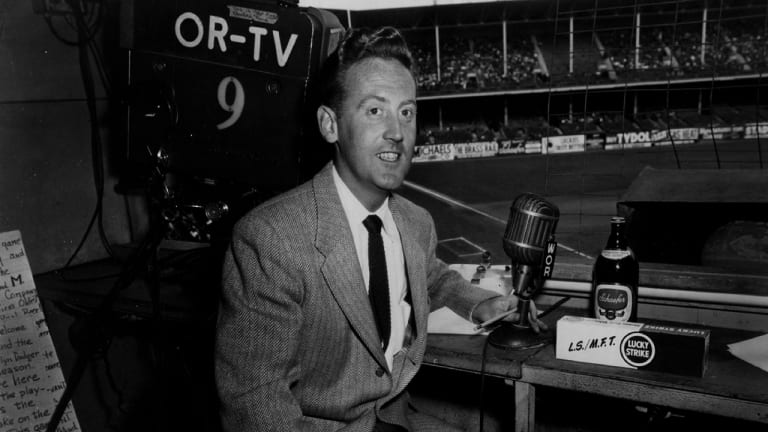 The Transistor Kid
When announcer Vin Scully came to Los Angeles with the transplanted Brooklyn Dodgers, he was a stranger in alien corn. But in the six years since, he has become as much apart of southern California as the freeways, whose radio-listening drivers form a huge part of his audience
Give a word-association test to a baseball fan from Omaha or Memphis or Philadelphia and suddenly throw in the phrase "Los Angeles Dodgers" and almost certainly the answer will be "Sandy Koufax" or "Maury Wills" or "Don Drysdale" or even "Walter O'Malley" or "Chavez Ravine."
Give the same test to a fan from Los Angeles and the odds are good that the answer will be "Vin Scully."
Scully is the tall, slim, red-haired native of New York City who has been broadcasting Los Angeles Dodger games ever since there has been a team called the Los Angeles Dodgers and who, for eight seasons before that, did the play-by-play of Dodger games back in Brooklyn. This year, at 36, he is in his 15th season of broadcasting major league games, a statistic that is bound to startle anyone who ever heard Red Barber turn the mike over to Scully in the old Ebbets Field days with a cheery, "O.K., young fella. It's all yours."
In the six years that he has been in California, Scully has become as much a part of the Los Angeles scene as the freeways and the smog. His voice reporting the play-by-play action of the 162 games the Dodgers play during the regular season, plus the few dozen extra in spring training, plus playoff games (the Dodgers have been in two postseason playoffs in six years), plus World Series games, floods southern California from March until October. He is seen as well as heard on television a few times a year (the Dodgers usually telecast only the nine games the team plays against the Giants in San Francisco). "Everybody" probably is not a mathematically precise description of the number of people who listen to Scully's broadcasts, but it is close enough. When a game is on the air the physical presence of his voice is overwhelming. His pleasantly nasal baritone comes out of radios on the back counters of orange juice stands, from transistors held by people sitting under trees, in barber shops and bars, and from cars everywhere—parked cars, cars waiting for red lights to turn green, cars passing you at 65 on the freeways, cars edging along next to you in rush-hour traffic jams.
Even during the off season, when baseball is wrapped up and put away until spring, Scully's personality infiltrates Los Angeles. He does a 15-minute afternoon sport show five days a week, and he is a frequent guest on television. This past winter he was a regular irregular on a TV panel show called First Impression; he was on for a couple of weeks, off for a couple of weeks. Because of his appearances on First Impression he is becoming a familiar TV face and personality as well as a radio voice, and several people have approached him with ideas for new TV programs that would use him as master of ceremonies.
Vin Scully's voice is better known to most Los Angelenos than their next-door neighbor's is. He has become a celebrity. He is stared at in the street. Kids hound him for autographs. Out-of-town visitors at ball games in Dodger Stadium have Scully pointed out to them—as though he were the Empire State Building—as he sits in his broadcasting booth describing a game, his left hand lightly touching his temple in a characteristic pose that his followers dote on and which, for them, has come to be his trademark.
Baseball broadcasts are popular in all major league cities, but in Los Angeles they are as vital as orange juice. For one thing, the Dodgers have been an eminently successful and colorful club in their six seasons in Los Angeles (two pennants and a tie for a third, two world championships, a Maury Wills stealing 104 bases, a Sandy Koufax winning 25 games). For a second, the Los Angeles metropolitan area is huge (6 million people in the 1960 census, the biggest in the country after New York). For a third, because of a minimum of efficient public transportation, practically everybody drives to and from work and, for that matter, to and from everywhere, and in almost every car there is a radio and every radio is always on. When a home-rushing driver bogs down in a classic freeway traffic jam, he finds that nothing else is as soothing as Vin Scully's voice describing the opening innings of a Dodger night game just getting under way a few thousand miles and three time zones to the east. This time difference has been a key factor in the growth of Scully's audience. A man who drives home from work listening to an exciting game is not about to abandon it when he reaches his house. As a result, millions of southern Californians have Vin Scully with their supper.
But it is not just the happy timing of road games that endears Scully to his audience. He appeals to them when the Dodgers are home, too. In fact, he holds his listeners when they come to the ball park to see games with their own eyes. When the Dodgers are playing at home and Dodger Stadium is packed to the top row of the fifth tier with spectators, it seems sometimes as though every member of the crowd is carrying a transistor radio and is listening to Scully tell him about the game he is watching. Taking radios to ball parks to listen to the game as you watch it is a fairly common practice, but nowhere is it so pronounced a characteristic as it is in Los Angeles, and has been since 1958, the year the Dodgers left Ebbets Field and moved west. Los Angeles was hungry for major league ball, and though the Dodgers had a dreadful season that first year (they finished seventh), the crowds jammed into Memorial Coliseum, where the team played until Dodger Stadium in Chavez Ravine opened in 1962. Perhaps their unfamiliarity with major leaguers prompted so many fans to bring transistors along at first in order to establish instant identification of the players. But a large percentage brought radios not just to identify players but to learn what they were doing. Scully was talking to an audience that had not been watching baseball. The old minor league teams that Los Angeles and Hollywood had in the Pacific Coast League seldom drew more than a few hundred thousand spectators in their best years. Now a million and a half, two million, two million and a half were pouring into the ball parks. Through Vin Scully they learned the fine points, the subtleties, the In language of the game.
Scully was an instant success, and his hold on his near and remote audiences became extraordinary. The thousands of transistor radios in the stadium add up to substantial volume, and Scully, sitting in the broadcasting booth, can hear his voice coming back at him from the crowd around him. The engineers have to keep close watch on field microphones (the ones designed to pick up the background noise of the crowd) to screen out the feedback. Scully says, "I tell you one thing, it keeps you on your toes. When you know that just about everybody in that ball park is listening to you describe a play that they're watching, you'd better call it right. You can't get lazy and catch up with a pitch that you've missed. You can't fake a play that you've called wrong. I guess the thing I'm proudest of is the fact that in six seasons I have never gotten a letter from a fan who had seen a game at the ball park and listened to it at the same time on a transistor telling me that I'd been wrong on a play. I've gotten a few letters telling me to go soak my head, but none that said I described a play inaccurately."
One day in 1960 Scully did something on the spur of the moment that provided extraordinary evidence of his impact on his audience. It was a fairly drab game, and Scully, as is his habit, was filling in the duller moments with stories and anecdotes and revealing flashes of information. He began talking about the umpiring team, one of whom was Frank Secory. Vin leafed through the record books and cited a few bits and things about Secory. He mentioned his age and then did a double take when he noticed the date of Secory's birth. Over the microphone he said, "Well, what do you know about that? Today is Frank Secory's birthday." And because it was a dull game and because he was acutely aware, as always, that most of the people at the game were listening to him on transistors, he said, "Let's have some fun. As soon as the inning is over I'll count to three, and on three everybody yell, 'Happy birthday, Frank!' "
The inning ended. Scully said, "Ready? One, two, three!" And the crowd roared, "HAPPY BIRTHDAY, FRANK!" Secory looked up, astounded, and the crowd sat back, bubbling with self-satisfaction.
Early last season a similar incident revealed that Scully had not lost his grip on his listeners. The National League had told its umpires to enforce strictly the balk rule, which provided that with men on base a pitcher had to stop for one full second in the course of his windup before throwing the ball to the plate. Many pitchers were violating the rule unintentionally, and the umpires soon made so many balk calls that they sounded like a flock of crows in a cornfield. The league office eventually backed down and everything became serene again, but before that happened one of the real crises of the Great Balk War occurred at Los Angeles during a game between the Dodgers and the Cincinnati Reds. The Reds, the Dodgers and the umpires became embroiled in a loud, long discussion on the question of whether or not a pitcher had stopped for one full second. The argument went on and on, and up in the broadcasting booth Scully was obliged to keep talking. He reviewed the balk rule, the National League's effort to enforce it, the numbers of balks that had been called thus far in league play compared to the number of balks called in previous seasons, and so on. Finally, with the argument still dragging on down below, Scully brought up the obvious but intriguing fact that one second is a surprisingly difficult length of time to judge. He asked his audience if they had ever tried to gauge a second precisely. He said, "Hey, let's try something. I'll get a stopwatch from our engineer..." And with thousands of spectators watching him as he sat in the broadcasting booth, he reached up and back and took a watch from the engineer. "...I'll push the stopwatch and say, 'One!' and when you think one full second has elapsed you yell, 'Two!' Ready? One!"
There was a momentary pause and then 19,000 voices yelled, "Two!" The managers, the umpires, the players, the batboys, the ball boys all stopped and looked around, startled. Scully said into the microphone, "I'm sorry. Only one of you had it right. Let's try it again. One!" And again, a great "Two!" roared across Dodger Stadium and out into Chavez Ravine. The ballplayers were staring up at the broadcasting booth, and one of them got on the dugout phone, called the press box and asked, "What the hell is going on?" The crowd, immensely pleased with itself, waited patiently for the argument on the field to end.
In talking about the two incidents recently, Scully said, "You can't do things like that very often. In fact, maybe in doing it twice we have done it enough. The first time, with Frank Secory, as I was counting one, two, three, I suddenly got the feeling that there wouldn't be a sound, and that I'd be sitting there with a foolish grin and egg all over my face. I felt a great wave of relief when those voices shouted, 'Happy birthday.' Last year, during the balk argument, it seemed a natural thing to do, and the crowd really enjoyed it. I suppose it would work again, but you could get an awful lot of people saying, 'Who does this guy think he is?' "
The loyalty of Scully's listeners, who seem to feel very close to him, and the accuracy with which he reports a game can be traced to his training under Red Barber, the first great baseball announcer and the man who broke Vin into sports broadcasting. In the late 1930s Barber moved from Cincinnati, where he had been doing the Reds' games, to Brooklyn. At Cincinnati, Barber had a relatively small radio audience. At Brooklyn he had the biggest one in America. He created thousands and thousands of new baseball fans in the years when the Dodgers, under Larry MacPhail and Leo Durocher, climbed from the second division to the top of the National League. Barber's homely country expressions, like "rhubarb" and "tearing up the pea patch" and "the catbird seat," entered the language. His influence on metropolitan New York (and despite legends to the contrary, there were more Brooklyn Dodger fans outside that colorful borough than there were in it) was profound. He had the pitchman's gift of getting people on the outskirts of the crowd to come closer. One of his converts in those days was a pleasant middle-aged lady whose interest in baseball before Barber's voice began to sound regularly in her home had been about as intense as her feeling for the problems of Patagonian sheepherders. One Sunday afternoon her two teenage sons were sprawled in the living room listening to a Dodger game. The other team got a man to first base, but the next batter hit a ground ball to deep short. The ball was thrown to second base in time for the forceout, but the relay on to first was not in time and the batter was safe. As Barber was describing the play, the mother hurried in from the kitchen, carrying a mixing bowl and a spoon and wearing a concerned expression. She cocked her head, heard the end of the play, shrugged and said, "Oh, well. We got the front man."
Barber later developed a tendency to preach to his listeners about certain aspects of the game—his scathing comments on people who would cheer when an umpire got clipped by a foul ball were refined fire and brimstone—but even so he could make the complications of baseball fascinatingly clear to the tyro without irritating the knowledgeable fan. Scully, more relaxed on the air than Barber, is even more successful at doing this. His knowledge of the game is very broad. Counting World Series, playoffs, spring training and regular seasons, he has watched at least 2,500 major league games over the past 14 seasons. That is more than most players ever see, and it is more than a sports-writer would have seen in the same period (since sports-writers get a day or two off each week, whereas announcers do not). Too, Scully devotes a good deal of his spare time to conversation with players and managers, and most of that is spent listening and learning.
Despite his long association with the Dodgers, he never roots on the air. A Scully admirer has said, "If I tune in a game in the middle I can never tell from the tone of Vin's voice whether the Dodgers are ahead or behind. Oh, sometimes I can figure it out from the situation he describes—if the Dodgers have a pinch hitter going up for the pitcher in the fourth inning, say—but I can't tell from his voice. It doesn't get gleeful, it doesn't get dull and flat. I like baseball, and I think he does, too. He tells me what is going on, he tells me things about the game that I want to know."
The fact that Scully does not root for the Dodgers in his broadcasts stems from a decision he made in his first winter in Los Angeles. There was considerable discussion among club officials about the "attitude" that the play-by-play broadcasts should take. Although the broadcasts are sponsored—Union Oil Company holds the rights and usually sells half the commercial time to another advertiser—Vin is an employee of the Dodgers. He is paid about $50,000 a year and is responsible primarily to the club. In 1958 some of the Dodger officials thought that Scully might be wise to adopt an all-out pro-Dodger tone over the air. Such an approach had been considered impossible back in Brooklyn because New York City at that time had three major league teams (Yankees, Giants and Dodgers) and those tuned in to any game always comprised a mixture of adherents of all three clubs. An announcer openly rooting for one team would have quickly alienated a substantial part of his listening audience. But in Los Angeles, the pro-rooting faction contended, the city was all ours! (And would be until the American League Angels came into being in 1961.)
Scully spent weeks pondering the suggestion and finally came to the conclusion that he would be better off following the style he was used to—that is, to be as objective and factual as possible. "It turned out to be one of the luckiest things that ever happened to me," he said recently. "When Los Angeles had minor league baseball the games were broadcast on a frankly partisan basis. The announcer rooted for the teams. But when major league baseball came to Los Angeles and Jerry Doggett and I did the games straight, without rooting, it had a very favorable impact. It was as if the city, without knowing it, had been waiting for this kind of announcing. People were seeing major league baseball for the first time. It was different, and they liked it. When they heard us they assumed that this was the way major league games were broadcast, and they liked that, too. I think they appreciated the compliment—that what they wanted was a factual report, and they didn't have to be told how to root. Another thing, there are a lot of people living here in Los Angeles who come from back East, from the Midwest, from New York, from all over. They were looking forward to seeing the teams they used to follow back home, and they would have resented it if we had knocked those teams in favor of the Dodgers.
"Besides, I had been brought up in that school of announcing. Brooklyn and the Dodgers meant more to Red Barber than to almost anyone, but on the mike he was always objective, always fair. Barber has been the big influence in my life."
Scully was born in New York City and grew up in Washington Heights, at the narrow northern end of Manhattan Island. He went to Fordham Prep, entered Fordham University, took time out for two years in the Navy, returned to Fordham and graduated in 1949. He played some baseball there (he was a good-field no-hit outfielder), but by his senior year Fordham's campus radio station had become Vin's consuming interest. "I remember when I was in grammar school in the 1930s," he says, "when there couldn't have been more than a couple of sports announcers around. I wrote a composition about what I wanted to be when I grew up. I wanted to be an announcer."
He studied speech. (When he was a small boy he and his mother made a long visit to Ireland after his father died, and when they returned Vin had a thick Irish brogue. Yet despite that and despite his New York background, Scully's voice today has no noticeable accent or regional inflections.) Before his graduation from Fordham in 1949 he wrote dozens of letters to radio stations up and down the East Coast, applying for a job. He did not really expect any results from the letters, but to his surprise he landed a summer spot as an announcer with a station in Washington, and there he picked up his first professional experience. That position ended when the summer did, and Scully returned to New York. One day he walked into the Columbia Broadcasting System office and asked to speak to Red Barber, who at that time was also sports director of the CBS network. Scully managed to see Barber and they had a pleasant, if brief, chat, but there was no job available and, in fact, Scully did not even fill out an application.
That fall CBS had a Saturday afternoon college football program, which Barber ran, that utilized a roundup broadcast of several games from around the country. Barber, on the air, would contact the announcer at one of the games, get a quick report from him and perhaps a few minutes of play-by-play and then switch to another game. One week the announcer who was supposed to handle the Notre Dame-North Carolina game in Yankee Stadium fell ill at the last minute. Ernie Harwell, who had broadcast Dodger games with Barber, was scheduled to do the Boston University-Maryland game in Boston, but Barber switched him to New York for the Notre Dame-North Carolina game, which was supposed to be the big game of the week. Then Red looked around for someone to take over the game in Boston. No one was available. Every experienced announcer was busy. Barber thought for a while and then said, "Who was that redheaded kid who came in here that day looking for a job? Anybody remember his name? Where was he from? Fordham, wasn't it?"
Barber knew Jack Coffey, director of athletics at Fordham, and phoned him. Coffey instantly recognized the "redheaded kid" as Scully, and put Barber in touch with him. Vin, of course, leaped at the chance, and the next day, Saturday, he was on a train for Boston. It was a cold day, and Scully had packed long underwear and extra sweaters, but on the train he ran into some Fordham men he knew who were on their way to Boston for a game between Fordham and Boston College. They told Scully that there was going to be a party after the game and they invited him to join them when he finished his broadcast. Vin checked into his hotel, decided not to bother with the long Johns and the sweaters so that he would not have to go back to the hotel to change before going on to the party, and went off to his first job wearing a light topcoat.
The Boston University-Maryland game was played at Fenway Park. Scully was directed to the roof of the stadium. There he met his engineer, who had rigged up a table for his equipment and had strung a 60-watt bulb on a pole for illumination, in case light was needed later on. Scully was given a head set, a microphone, a program, 50 yards of cable and the run of the roof.
"Boy, it was cold," Scully said recently, remembering. "There I was with my warm clothes back in the hotel and the wind blowing across that roof. I have never felt so cold in my life. I had assumed that I'd be in a booth—not a heated booth, but anyway a booth. But no, sir. And it turned out to be a terrific game. Harry Agganis was playing for BU, and Maryland had come up with one of those good teams they had—with Ed Modzelewski and those guys. I didn't have any spotters, and I had to identify the players from the program. I'd hear Red Barber's voice say, 'And now up to Vince Scully in Boston. Give us a quick 15-second rundown, Vinny.' I learned radio discipline fast that day. You had to have your facts clear and ready to say anything in 15 seconds: there wasn't time for any floss about the clouds scudding across the cold New England sky or anything like that. I had to say something like, "Maryland scored in the middle of the first period after a 70-yard drive, mostly on the ground, and leads 7-0, but here in the second period, after an exchange of punts, Boston University has marched across midfield and down to Maryland's 42, where it is now first and 10. Back to Red Barber in New York.'
"What happened then was that all the other games on the roundup that day turned out flat. Notre Dame beat North Carolina 42-7, or something like that, and the other games were just as one-sided, while the game I was doing was getting better and better. I'd finish a 60-second report and say, 'Now back to Red Barber in New York,' and Red would say, 'Right back to you, Vinny. I think we'll stay with you for awhile up there.' So I was doing more and more play-by-play. Whenever Red took it back for a few minutes I'd go over to the engineer's table and cup my hands around the electric light bulb to get them warm. The game ended with Maryland leading 14-13 and Boston on their eight-yard line, I think. It was really a tremendous game. But, oh, I was cold.
"Yet the cold and everything else turned out to be another lucky break. I didn't say anything to Red during the game about the conditions we were working in. I didn't have time, for one thing, but for another I thought it was routine and that I hadn't known about things like roofs because I was inexperienced. And when I got back to New York I was so excited about having had the chance to do the game that I didn't say anything about it then, either. But the Boston University officials wrote a note to CBS apologizing for not having a booth for us and for having to stick us up on the roof. Well, now, this impressed Red—not so much the fact that the conditions were bad but that I hadn't said anything about it, that I hadn't complained, and that I had gotten the job done. He was very pleased. A couple of weeks later he called me up again and said, 'Want to do another game for us?' I said, 'Yes, sir.' He gave me the Yale-Harvard game.
"That winter Ernie Harwell shifted from the Dodgers to the Giants. Ernie had come up to the Dodgers in the first place when Red had gotten ill suddenly in Pittsburgh during a road trip, and when Red got better there were three of them broadcasting, Red, Ernie and Connie Desmond, who had been with Red for years. When Red came back, Ernie more or less made a job for himself, but when he got the chance to go over to the Giants he took it. Now the Dodgers needed someone to take his place. But they didn't want anyone with a great deal of experience. They wanted someone who could handle commercials and fill in for an inning or two now and then. Red suggested me. The agency that handled the advertising had some doubts, but Red got the ball club to let me go to spring training on a trial basis. Then Red called me and asked me if I'd be interested. Oh, boy! Here I was, 22, single, just out of college, and I'm asked if I'd like to go to spring training with the Dodgers!
"I had to go over and be interviewed by Branch Rickey, who was president of the Dodgers then. I spent three hours with him; I remember that because he had lunch brought in. He did most of the talking. He talked about the pitfalls a young man faced. He asked me, 'You married?' I said, 'No, sir.' He said, 'Engaged?' I said, 'No, sir.' He said, 'Go steady?' I said, 'No, sir.' He said, 'Got a girl?' I said, 'Well, no.' He chewed that cigar of his for a minute and then he snapped, 'Get a girl, go steady, get engaged, get married. Best thing in the world for a young man.' "
Scully worked with Barber and Connie Desmond for four seasons. He says, "I don't think anyone has ever been better than Red when he was doing play-by-play every day. He was so thorough. He taught me to get out to the ball park early, to talk to the players and to the managers, to find out why someone was not starting and why somebody else was, to learn as much as you could about the club and the visiting club so that you weren't surprised at anything when it happened. He sometimes treated me like a little boy—the first day I went into the Ebbets Field press box he announced, kiddingly, that they had hired me to carry the bags—but he certainly was good to me."
A significant turning point in Scully's career came at the end of the 1953 season. The Dodgers had won the pennant and would meet the New York Yankees in the World Series, but Red Barber turned down the job of announcing the Series with Mel Allen because of a disagreement with the sponsors concerning his fee. Connie Desmond, the Dodgers' No. 2 announcer, was ill, and the sponsors went to Walter O'Malley, who had succeeded Rickey as president of the Dodgers, to discuss the situation. O'Malley said, "I have nothing to do with how much you pay whom, but I'll tell you this—there better be a Brooklyn announcer on that Series broadcast." The sponsors turned to the youthful Scully and, as Vin likes to put it, they said, "Hey, kid. You want to get into the game for nuttin'?"
Then, that winter, Barber switched from the Dodgers to the Yankees in a move that startled New Yorkers only slightly less than Leo Durocher's managerial transfer from the Dodgers to the Giants five years earlier. Desmond was ill and in semiretirement, and Scully was de facto the No. 1 Dodger announcer. He was 26 years old.
After the 1957 season came the move to California, the crowds, the transistors, the overwhelming acceptance, the establishment of Scully as a fixture in the Los Angeles scene. "There are some drawbacks," he admits. "The travel is difficult. You're away from home for two and three weeks at a stretch half a dozen times a year. And we have no short trips, except San Francisco, and that's 400 miles away. There are days when I'm sitting in a hotel room in a city 2,000 miles away from my wife and my kids, and I say to myself, what am I doing here? What kind of life is this? I guess everybody does that once in awhile. I've thought of other jobs. I know that I'd enjoy being an MC on a television show, and I think I'd be a good one. But if I did, I'd be in show business, and that's a strange world. You're flying high one year, and the next year you're out in the cold. Baseball is different. For one thing, the people in it are great. And there's a tremendous amount of security for an announcer in baseball."
Scully lives in a house that is a strikingly successful blend of eastern clapboard and California glass, on the side of a hill on a dead-end street ("In Los Angeles we say cul-de-sac," Scully tells his New York friends) in the Brentwood hills. He lives in Brentwood, one of the most attractive sections of Los Angeles, because of another instance of his feeling for luck and opportunity. "When I was in the Navy I was stationed in San Francisco for a time," he says, "and I came down to Los Angeles on liberty to meet a friend of mine who was a marine at Camp Pendleton. We were wandering around Hollywood one Sunday morning when a girl stopped in a car and asked us if we'd like to come to her parents' house for Sunday dinner. We said sure. Can you imagine that? Inviting a couple of strangers off the street for dinner? It was great—nice dinner, nice family, a very nice house. That evening the girl drove us back to Hollywood and dropped us off where she had found us. But I asked her, 'Where were we today? What's it called?' And she said, 'Brentwood.' Well, when we came out here in 1958, Joan and I had been married only a few months. [Scully's wife is a beautiful dark-haired Massachusetts girl who was a model in New York when they met and whose maiden name was Joan Crawford. They have two sons, Mike, 4, and Kevin, who was born last autumn.] We had never had a home. We went to the West Indies on our honeymoon and then on to Vero Beach for spring training. When we reached Los Angeles we started looking for an apartment. The real estate man said, 'Do you have any idea where you want to live?' We looked at each other and then I remembered the Sunday dinner in Brentwood. I said, 'How about Brentwood?' He said fine and he found us a nice apartment and we lived there until Mike came along and then we bought our house. As far as I'm concerned, that's where we're staying from now on. It's only 25 minutes from Dodger Stadium and about the same from the broadcasting studios." He laughed. "We had a pitcher on the Dodgers a few years ago named Danny McDevitt, a little left-hander from New York. He used to shake his head and say, 'Everything in Los Angeles is just 25 minutes away.'
"People from New York ask me if I miss the East. I really don't. I like Los Angeles. When I was in my 20s we moved from Manhattan out to a town in New Jersey, a very pretty town. But the people there sort of resented all the New Yorkers moving out and cluttering up their nice roomy suburb, and I couldn't blame them. Well, that's the way I feel about Los Angeles now. When my New York friends say, 'I don't see how you can live out there,' I nod my head and say, 'You're right, it's terrible, don't move out.' I don't want things to change."