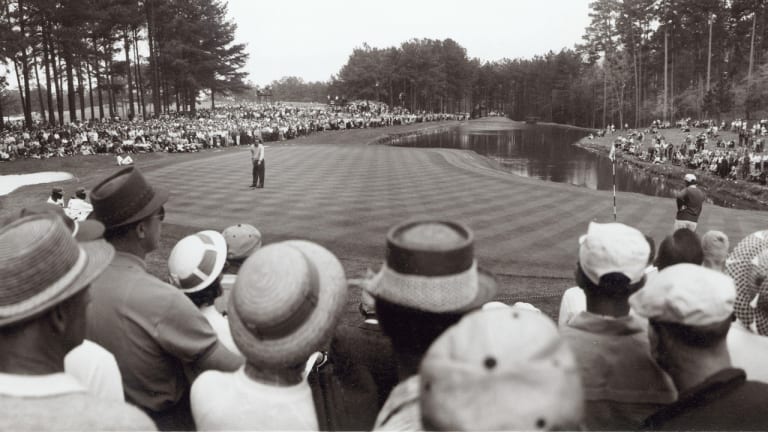 A High Kind of Low Life
The ebullient man at left setting all those celebrities at ease is George Low, an ever-present but still mysterious figure on the pro golf tour who has conquered two of life's sterner challenges—how to survive lavishly without working and how to putt
In professional tournament golf the clubhouse veranda can be a noteworthy blend of rumble seat, wax museum, promenade deck, theater wings and courthouse steps. As the tour moves from one Crystal Rancho Happy Avocado Creek Country Club to another, the verandas undergo some severe botanical changes—for example, palm trees become pines and vice versa—but the human plant life remains practically changeless. Except for the occasional intrusion of a spectator, fully equipped with binoculars, periscope, chair seat, transistor and hot dog, and the almost invariable presence of at least one young girl in Capri pants beneath a large straw bonnet, the regular veranda standers comprise a remarkably homogeneous and identifiable part of golf. They are the in-group, style-casual, up-scale, hanging-in, cooling-it businessmen of the game. And as they spread across the lawn, gazing toward the nearest leader board while a tournament progresses, they are not unlike a cluster of military commanders watching the glow of shellfire from a distant valley.
To almost anyone who knows the difference between a Black Dot and a Titleist, the faces of these fringe personalities look as familiar as casual water, but only the true insider will be able to identify them by name, to know that the stocky, pink-faced man in the dark suit with his hands folded behind him, the one telling Sam Snead stories, is Fred Corcoran, Snead's lifelong agent; to know that the tall, blond fellow talking to Winnie Palmer is Mark McCormack, the Cleveland lawyer and agent for golf's Big Three; to know J. Edwin Carter of the World Series of Golf; Bob Rickey, the Brunswick-MacGregor vice-president; Ernie Sabayrac, the golf equipment distributor; Bob Drum, the freelance promoter; Jim Gaquin, the PGA tournament manager. And it takes an insider, too, to know the name that goes with the most familiar face of them all, the one belonging to a man called Bubble Head, a man who is always there and is never doing anything.
On or off the verandas, the man with the nickname that annoys him is George Low—stand-around champion of two decades, America's guest, comedian, consultant, inventor of the overlapping grip for a beer can and, of foremost importance, a man who has conquered the two hardest things in life—how to putt (better than anyone else ever) and how to live luxuriously without an income.
For nearly 20 years George Low has been the vaguest, most mysterious figure in all of golf. Usually decorated in a plaid jacket, his tall (6 feet 2), heavy (240 pounds) figure and his solemn, deeply tanned, immobile countenance have been seen around tournaments for so long that in those rare instances when he is not present sponsors have a tendency to get unsettled. When the Western Open was held at the Field Club in Pittsburgh in 1959, George did not reveal himself until the final round. A friend on the committee scolded him about being tardy and giving the event a bad name. George said, "Well, you got to understand that a man who don't have to be back to his office for 30 years is sometimes gonna be lax."
The only office that George Low has ever really had is the trunk of someone's automobile, which, if he borrows it for long, begins to look like a rummage sale of golf clubs, clothes and photo albums. For most of his 52 years George's home has been a convertible couch in a friend's living room, a rollaway bed in a friend's hotel room or, when he's "going good," the vacant wing of a friend's mansion. But always these places have been where the sunshine is. If that does not always turn out to be the PGA tour, it quite often will be Palm Springs, Calif., Phoenix, Ariz. or Miami Springs, Fla.
"Wherever," says George, "some rich guy's got a bed and a kind heart. Everybody ain't an if-come," that being a George Low expression, borrowed from the language of the dice tables, to describe someone who rates somewhere between phony and stingy. "I got to be where it's warm." says George, "because I can't afford no overcoat."
If a person is "straight," which is to George a man who manages to hold down a steady, respectable job, it may seem that Low's existence is mostly a matter of survival. But he has never thought of it quite that way. On the contrary, George has always lived comfortably, and often far better than almost any "straight" who rides a commuter train or even purchases clubhouse badges for everyone in his factory.
The main reason why George Low has been able to survive in reasonable splendor is that he has one of those personalities that appeal to gentlemen of means. He has a sense of humor that makes him one of the great put-down artists of his age, an unobtrusive manner for being "around" and not bothering anyone and a crashing basic honesty, all of which can add up to good company. Aside from these things, George knows as much about golf as anyone, and a lot of gentlemen of means like to play golf, apparently while being put down unobtrusively, honestly and without being unduly bothered.
Among the celebrities who have demonstrated that they enjoy George's company, and have therefore been his happy hosts, are, just to touch on four different sports, Jimmy Demaret, Willie Shoemaker ("the best little man who ever played the game"), Horace Stoneham, the owner of the San Francisco Giants, and Del Miller, one of the biggest men in harness racing. George has Novembered with Stoneham near Phoenix, he has Christmased with Demaret in Houston and he has week dayed with Shoemaker, Miller and many other people while wandering off from his "steady job" on the golf tour. Paul Grossinger, of the resort of that name in the Catskills, is the man who nicknamed George "America's guest," and then, of course, provided a "freebie," or free room. Bob Johnson, when he was president of Roosevelt Raceway outside New York City, said it perfectly for all of George's hosts one evening when Low kept asking Johnson for another $100 to buy drinks for everyone at a Palm Springs party. "Just associating with George Low," said Johnson, "is better than having a Dun & Bradstreet rating."
One freebie was especially pleasant for George just last winter. Says George: "Me and Rosburg [Bob] was in at Julie London's in Palm Springs for no." And he adds, "You can't beat that price. Bobby Troup, her husband, is a friend of Rosburg and let him in, and I let myself in."
All of this helps make absolutely clear George's uncomplicated philosophy of life, or rather his blueprint for leading a life of ease. "There ain't no point loafing with a broke, because nothing falls off," he says. "The only time I pick up a check is to hand it to somebody." This, for George, sharply divides the world into two distinct categories of people—those who "come up," or pay, and those who "plead the Fifth" when the tab appears.
Since everyone who knows George knows him well enough to keep his pocketbook either handy or hidden, there are never any surprises or embarrassing situations. If George comes along, you prepare to pay or you prepare to leave. "It's an honor to pick up my check," says George. "How many true celebrities do you know? Anyhow, if you plead the Fifth, I'll go find a live one."
If a man has a reputation for being anything less than a wild spender, George Low will playfully put him down publicly as a "careful student of the dollar," which, for one example, is the way he likes to describe Sam Snead. "When I dine with Mr. Snead he always suggests that I order as if I was expecting to pay for it myself," says George. "There are many great destroyers of money, but Mr. Snead is not one of them."
Standing on a veranda with Low at a tournament is stimulating. If one of the players on the tour strolls by, say Al Besselink, and needles him with something like. "Loan me 50, Bubble," the guttural Low reply will be, "That's like sending lettuce by rabbit." If another player comes along, say Billy Maxwell, and says. "I wish I had your energy," George may say, "I wish I had a rock in each hand so's I could throw 'em at you."
Not all of George's remarks are directed at the players. If the tournament chairman happens along and wonders about the size of the gallery, George will cheer him up by remarking, "I seen more people on the back of a motorcycle." Once when Bing Crosby told Low that he could get him a room at the Del Monte Lodge during the Crosby tournament at a good rate, George said, "Thanks a lot. Can I loan you a dime to mark your golf ball?" Watching the scorecard in front of the Desert Inn at Las Vegas two years ago, George noticed that Arnold Palmer had just shot a 9, a 7 and a 5 on successive holes. He turned quietly to Wilbur Clark, part owner of the Desert Inn, and said, "That's 21, pay him." Outside the Augusta National clubhouse last April during the Masters, Low called over to UPI Columnist Oscar Fraley, with whom he enjoys arguing, and aid, "I hear you didn't start no fight last night. Where'd you stay, in a room full of nuns?" And once when someone asked George how he enjoyed sharing a hotel room with a newspaperman in Philadelphia, Low quipped, "It's O.K. if you don't mind taking a shower with your money in your hand."
George Low may not have been born funny, but he insists that he was born "energetically lazy." That event occurred on July 5, 1912, not 300 yards from the pro shop at Baltusrol Golf Club in Springfield, N.J. ("I like to say I was born in the 19th hole—the only one I ever parred," says George.) He was the son of a famous Scot, George Low Sr., who had been runner-up for the U.S. Open Championship in 1899 and became the resident professional at Baltusrol. As one of those Scots who came to America to teach the game to an intrigued continent, George Low Sr. had among his pupils a couple of White House sheers named William Howard Taft and Warren G. Harding. "There were poor guys all around Baltusrol," says George. "The Toppings and them kind of charity cases. That's where my career got its start. Jimmy Demaret says that I was born retired."
Despite the fact that George was raised beside a first tee, he did not try to learn the game until he was 15. "And that was after the old man retired and took me back to Scotland. What else you gonna do in Scotland besides play golf? Wear a skirt?"
George tried to fight it, but there were two things he came by as naturally as his wit, and they were a natural golf swing and an inborn feeling for the game. These things combined (conspired, probably) to bring George back to the U.S. in the early '30s for a series of jobs as an assistant pro and, finally, onto the burgeoning PGA tournament circuit.
"I'd try to win them tournaments," says George, "but it was too much fun in the old days. Card games all through the night during a tournament. Pitch and bridge, that kind of thing. A lot of characters like Demaret, Jimmy Thomson, Leo Diegel, Craig Wood and that Indian." Which was Ky Laffoon. "Only man ever to beat me outa something on the putting green," George says. It was during the old North and South Open at Pinehurst around 1940. Low and Laffoon forgot the tournament proper, something George did regularly, and got into a putting game. "We went at it all day and into the night." Low remembers. "I should have known I was in trouble when we run outa daylight. Laffoon was a Indian and he could see in the dark. I didn't get put in that box no more."
George also made a feeble attempt to win the British Open in 1939, hoping to redeem himself for the last time he had played on his father's native soil (when he lost 8-7 to a cross-handed player in a British boys' championship in Edinburgh and was so disgusted with himself that he heaved his clubs out of the train window). In '39 George sailed with Johnny Bulla on the Transylvania for England. Always hopelessly sidetracked. George got into a high-stakes game of shuffleboard on the ship, which delayed his arrival for the Open. Says George. "I lost so much money I had to go to Perthshire instead of St. Andrews and bowl on the green. Shuffleboard is some game. My bankroll looked like a elephant slept on it when that earl or count or whatever he was got through with me. It took me three weeks bowling on the green to get even. By that time I didn't have any practice for the British Open. I think I missed the cut—if I showed up at all. I forget. In those days me and Heafner [Clayton] had a bad habit of being withdrew."
If there is one thing that saddens George about the tour today it is the absence of colorful characters. "Know what they got out here today?" George asks. "Authors and haberdashers. All you got to do to write a book is win a tournament. All of a sudden you're telling everybody where the Vs oughta point. Them that don't win—they're haberdashers. They sell a few pairs of pants in the pro shop and win a couple of robins from some members, so right away they're on the tour. Half of 'em couldn't win if they had Dick Tracy for a manager." And George moans, "You think there's any of them that know how to do more with a club in the workshop than bend it until it looks like a boomerang? Not many. I done some work for them, but there's not one that'd give the ducks a drink if they owned Lake Mead. They'll pop for the handshake, but those I got plenty of."
One of George Low's last flings as an active tour player came in 1945, and history relates that he went out beautifully. Among the remarkable facts of golf is that George helped end the unbelievable winning streak of Byron Nelson. It happened in the Memphis Open that summer. Nelson, after winning 11 straight tournaments, finished behind Amateur Freddie Haas Jr. (who shot 270) and George Low (who shot 276). "Haas win the tournament but I get the front money," says George. Shortly after that moment of glory, George retired to the putting greens.
So many legends and half-truths have been written, spoken and whispered about George Low's remarkable putting ability, he probably ought to be a folk song. There are wild tales of George putting with a rake, a shovel, a pool cue or a broom handle and defeating an opponent who was using a legitimate club. There are stories of George kicking a ball with his foot and acing five out of nine holes in one round on the practice green. Other stories hint that George has given putting "secrets" to people like Arnold Palmer, Bing Crosby and Willie Mays that have enabled them at certain moments to display divine touches on the greens. And there are stories that in the old days George took so much money away from the tour champs in friendly putting games after tournaments were over that, as George might say, "I shoulda been given a speeding ticket, I win so fast."
George only smiles when he hears the stories. "They get started because I live good," says George. "I spend $50,000 a year of my friends' money, that's all. Oh, there are some things that I could get into some kind of jackpot by talking about, so I ain't talking. Sure, I can kick the ball with my foot and get it down in two from anywhere. Like at Vegas this year. I'm walking around with Wininger [Bo] in a practice round, and he throws down a ball 75 feet from the cup on 16 and says three cases of beer to two I can't get it down in two. So I bet him. I kicked it two inches from the pin. I can also beat you putting even if I use a wedge. ["Don't ever try him," warns Byron Nelson.] And I shall have to admit in all modesty that I am still probably the greatest putter in the world. At least I'll try anybody for a nominal fee. That's because I've done more of it than anybody. Back in Scotland where we moved to [Carnoustie], there was a 36-hole putting green right outside the house, and I putted for three or four years before I even played golf. I've always been able to do things with my hands. Then when I quit playing the tour, I just putted. I can beat any of these guys on the tour because they have to worry about getting to the green all the time. I'm already there."
While George is a proven master of putting, he prefers to down-play anyone's notion that he has developed any secrets about it, or is the only human who has ever learned how to stroke a ball properly. Still, when Arnold Palmer won his second Masters championship in 1960, George Low's name burst into print as some sort of weird genius of the greens—and all because of a comment Arnold made. That year Palmer sank dramatic birdie putts on the last two holes to win; already he had become a marvel at long putts and fast finishes. At Augusta, Arnold said, "The only thing I did on those last two putts was keep thinking what my friend, George Low, always says: 'Keep your head down and don't move.' " With that exposure, George Low was suddenly more than a mystery man and began being sought out too much by sports-writers around the country.
"Well," George would tell them, "it's like the doctor who sits and smiles at the patient, and then hands him some sugar pills. The guy thinks he's got a miracle drug. If I ever helped Arnold, it was only with his confidence."
Nevertheless, George Low's small but impressive notoriety resulted in a George Low mallet-head putter being introduced on the equipment market—"the putter with the built-in touch"—and one year later, when Gary Player won the 1961 Masters using that brand of putter, it looked as if George could not prevent himself from making some money, no matter how hard he might try to get out of it.
"I was lucky," George says, with more than a trace of his usual sarcasm. "It went so well they [the Sportsman's Golf Corporation of Chicago] fired me." Then he adds, "It's O.K., though. You get money in your pockets, it takes away the challenge of where you gonna sleep."
A George Low putter (there will be another group of models on the market soon, distributed by Ernie Sabayrac Inc.) is one thing, and a George Low putting a golf ball is another. Given a choice, any long-suffering victim of the greens would most likely rather buy George's advice than a putter. "But you ain't in on a hummer," Low says. "You got to pop for something." This translates into, "Bring your wallet."
There is one recent change in the life that George Low leads as he follows the pro golf tour with meaningful side trips to Saratoga, Santa Anita and other recreational habitats—and that is that he is guaranteed 60 places to sleep a year. These overnight havens are available to George through the courtesy of Ramada Inns, Inc., which enlists his services as a sort of goodwill ambassador specifically in charge of guiding the pros, or any roomless veranda standers, to its motels across the land. The motel chain also furnishes George with a Cadillac ("The only Cadillac in the press parking lot, I'll guarantee you," says George) that has become even more cluttered than any he would own.
When the deal was first made three years ago, George was worried how it might affect his life. "It didn't feel right," he says. "Something was missing, the daily challenge that I'd grown used to. The challenge of whether I'd be able to bum Frank Stranahan's car and lose it to some guy in a coin flip, and maybe have to sleep in the park. But it ain't bad. Security grows on you. Besides, there's not always a Ramada Inn handy, and I get chances to call on my natural resources."
George also still gets to call on his natural resources for his clothes and shoes. Fingering a handsome plaid sport coat not long ago, he said, "Why you think I'm friendly with Joe Jemsek, a guy who owns more golf courses than Chicago has room for? He wears my size." Lifting up one foot in a rare explosion of energy and modeling a $65 alligator shoe, he said, "I'm a test pilot for Foot-Joy. I test their shoes to see if standing on them for long periods of time in a bar brings them any serious harm. What affect spilling beer on them has. I ain't bought a shoe in 30 years." Displaying a leather, Western-tooled, monogrammed chair seat, George said, "Bob Goldwater [brother of Barry] came up with this. Ain't no if-come about him."
George, affected by the prosperity of his 60 motel rooms ("automatics"), has even developed the habit of turning down invitations. Not often. But sometimes. When Fred Hawkins asked George if he would like to step into a clubhouse and have lunch recently, the answer was, "Thanks, but I'm saving you for something bigger."
There have even been—sad to relate—times when George has insisted on paying up himself. A year ago in Augusta, as George drank beer ("I can drink more beer and eat more cafeteria vegetables than anybody") in the Bull Bat Lounge, he was interrupted by an old acquaintance. The man identified himself as Madman Morris, a car salesman from Tampa. "Good to see you, Bubble," said Madman. "Where you been? I been all over, Pensacola, Miami and all. How come I didn't see you in Pensacola?"
"Madman," said George, "you either got to shut up or assume the financial obligation. I got my own lies to tell."
Madman kept talking. "Sure good to see you, Georgie. I knew this guy 30 years...."
"Are you gonna sit down and buy something, Madman," George said, "or are you just gonna stand there looking like an unplayable lie?"
By then George Low had forgotten the point of the story he was telling and so, as Madman kept talking, George impulsively paid the check and went to eat vegetables.
There are also occasions when George Low can be persuaded actually to play a round of golf. Naturally, the type of golfing companion George prefers is someone with money and only minor talent for the game. "Give me a multimillionaire with a bad backswing, and I can have a very pleasant afternoon," he says. "Yes sir, very pleasant."
One such afternoon occurred not so many winters ago at the Seminole Golf Course in Palm Beach, Fla. George was playing with the Duke of Windsor and the late Robert R. Young, the railroad magnate. George's putter was kind to him that day, as it usually is when something more than laughs is involved. When the round was over there was a small matter of $50 concerning the Duke and George. But the Duke had not yet "come up." There was an awkward pause around the 18th green, as George shifted his weight and cleared his throat.
"Oh," said Young, discreetly, to George. "I should have mentioned that His Royal Highness never pays money."
"Mr. Young," said George, "you take care of your railroads and I'll take care of my dukes."