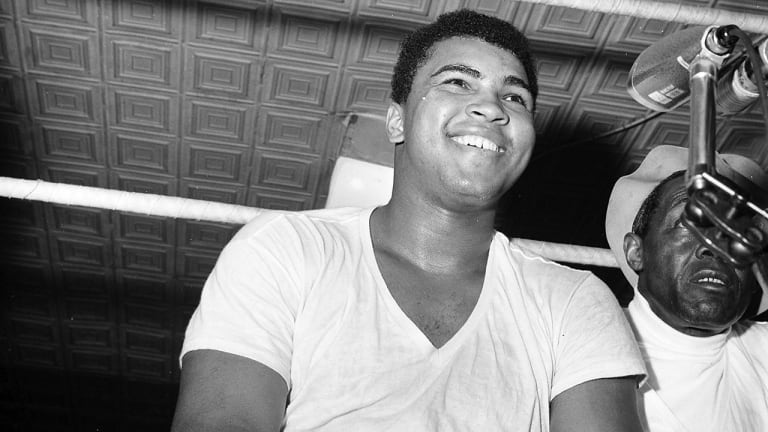 Cassius to Win a Thriller
When Sonny Liston meets Cassius Clay for the heavyweight championship, he will pit one gun—a left hook—against an arsenal, and common sense predicts he will again lose
Some time after the eighth round on the night of May 25, in the small and unlikely town of Lewiston, Me., Cassius Marcellus Clay (who would much rather be called Muhammad Ali) will certify his claim to the heavyweight championship of the world by knocking out challenger Sonny Liston (see cover).
This, of course, is an opinion—and there are other opinions which hold that neither man should be in that ring at all, Clay because of his allegiance to the Black Muslim organization and Liston because of his alleged underworld connections. But no amount of opinion can alter the fact that these two men are the best heavyweights in the world. A year ago in Miami Beach they produced a turbulent and exciting fight, and now another one is in prospect.
Although he is likely to end up a battered and well-beaten fighter, Liston will not quit in his corner this time. But, unfortunately for him, the Clay he meets in Lewiston is a surer, more mature and more expert fighter than the Clay who beat him in Miami Beach; Liston himself is a year older, a trifle slower and, although he has whipped himself into exceptional condition, a bit less certain of his abilities.
"I made a mistake in Miami I ain't going to make again," he said the other day in his training camp. "I got new plans for this fight, but I ain't saying what they are. But I ain't making the same mistake."
In his workouts for the fight, the new plans seemed obvious. In Miami he came after Clay hell for leather in the first round, a tactic made to order for a man with Clay's speed and ability to float like a butterfly. Against his sparring partners this time Liston has moved deliberately, stalking them and waiting for a chance to deliver his best punch—the left hook with which he twice demolished Floyd Patterson. In Willie Richardson and Amos (Big Train) Lincoln he has sparring partners who are far superior to the nondescript crew he worked against in Miami Beach. Both men are quick, and Lincoln is as tall as Clay; they have forced Liston to work hard and often they have made him look clumsy, but he has caught both of them time and again with that vicious, short-arc left hook.
Once Richardson, in a poor imitation of Clay's hands-down style, bounced off the ropes directly into the left hook and dropped as if shot. Richardson is the only sparring partner in either camp who has sparred with both Clay and Liston. After he had been revived he said, "The man here hurt you whenever he hit. And Clay can be hit. You can't go after him swinging all the time, because that what he like. He move around, dance in, hit you pop, pop, pop, dance out, make you miss, hit you pop, pop, pop again and it begin to hurt bad after a while. But I used to wait and wait and look for my shot, and I hit him pretty good. That was three years ago, and they kept me around only four days because I wasn't doing the way they want me to do."
He felt his face gingerly.
"This man can whip Clay," he said, "if he can hit him."
That, of course, is Liston's problem, and it seems doubtful that he will solve it. He has worked earnestly at developing a right-hand punch to the body, but when he throws it it is ponderous. Liston is left flat-footed and spraddle-legged, and this is one of the things Clay counts on.
The other morning, hacking ineptly at a tree in the woods near his training camp in Chicopee Falls, Mass., Clay expounded his fight philosophy.
"I don't usually tell people this, because they don't understand," he said. "I don't really have no fight plan. Angelo [Dundee], he got a fight plan, and I do it when I can. But it would be the worst thing I could do to go in therewith my mind all made up what to do. I been fighting since I was a child, and I do everything on instinct. Sometimes I wonder at myself when I see a big fist coming at my head, and my head move without me thinking and the big fist go by. I wonder how I did it."
He swung his ax awkwardly at the tree, and did small damage.
"One thing gonna be very different this time," he said. "Now, last time I was ducking just to not get hit. Ducking to get away. This time, every move I make, it gonna be to set him up."
Clay's manager, Angelo Dundee, and his other advisers have studied movies of Liston very carefully and discovered some flaws that they feel may be fatal to him.
For instance, when Liston is hit with a jab, his first reaction is to drop both hands to chest level. Then he feints twice with his left before throwing a punch, a tactic known as the Philadelphia feint because Philadelphia-trained fighters are apt to use it.
Clay's riposte to this is a fairly obvious one. When he hits Liston with a jab—which he did often in the first fight—he will follow immediately with a right, hoping to catch Liston with his hands down.
The swinging right hand to the side of the body, which Liston has worked on so assiduously, is no secret to Clay or Dundee. Working with his sparring partners, Clay has learned to counter this move by stepping back quickly to let the punch go by, then moving in with a short, hard right uppercut, a punch he developed before the first Liston fight and one he has since improved.
Clay's personality has changed in the last year. He seems more sober now and less flamboyant. "The boy is gone," says Drew (Bundini) Brown (SI, May 17). Bundini is probably Clay's best friend. "What you see now is the man. And what I got to worry about now is that the man don't go trying too hard to prove that he is a man. The man apt to take too many chances trying to prove that, and he can't afford no chance-taking."
Aside from taking foolish chances—and Clay certainly did not do that in the first fight and most likely will not in this one—the one thing Clay must avoid at all costs is being trapped in a corner where Liston can maul him. He has the speed afoot to stay away from Liston, circling away from Sonny's left hand, and he has worked steadily on this. In training, he occasionally let himself be crowded into the ropes by a sparring partner, and protected himself by bobbing and weaving; a similar move against Liston could lead to disaster.
Clay will be more aggressive in this fight than he was in the last. In the third round in Miami he hit Liston with a lovely combination of punches, knocking him back into the ropes and cutting his eye. Liston was still dangerous then; Clay, instead of moving in and following up his advantage, stayed away and gave Sonny a chance to recuperate.
"We get the same chance in this fight, we move in," Dundee says, in anticipation. "I think if Clay had moved in then he might have taken Sonny out. He won't make the same mistake this time."
Liston and Willie Reddish, his trainer, have evidently studied movies of the toughest fight of Clay's career, a bout with Billy Daniels in which Clay was tagged several times with a looping right hand over a left lead. Liston worked on this punch, too, with his sparring partners, but without notable success. His right hand is thrown awkwardly and slowly at a distance; it is most effective in close, where he uses a short right uppercut to the belly to bring an opponent's hands down and open him up for the left hook to the head.
In anticipation of the looping right, Clay has sparred a good deal of the time with a light heavy named James Ellis, who throws the punch—and much more quickly than Liston. He caught Clay with it several times but, like Daniels, he is a taller man than Liston, with a longer reach. If Liston persists in using this, for him, clumsy punch, it seems likely that it will only leave him vulnerable to countering rights by Clay. Both Richardson and Lincoln, in sparring sessions, hit Liston with short straight right-hands to the face when he threw the looping right. Neither of them was trying to knock Liston out, but Clay will be, and he has the punching power to succeed.
The early stages of the fight will probably be a contest of left jabs, with Clay's left quicker and longer and Liston's stronger. By the third round Clay should begin to open up, and it would not be surprising if he cut Liston some time between the third and sixth rounds.
Although both men are in superb condition, Clay is 23 years old to Liston's 30-odd. By the second half of the fight the younger Clay should be much fresher and stronger, and Liston will probably take a fearful battering until he is either knocked out or the fight is stopped.
While Liston's tactics in this fight will be to wait for an opening before committing himself, instead of chasing Clay as he did in the first fight, he is still a straight-line fighter, moving directly in on an opponent. He does not move well to either side. In training, while trying to develop more lateral movement—the idea is to cut the ring in half on Clay, thus preventing him from slipping sideways as José Torres did so effectively against Willie Pastrano—Liston looked clumsy and unsure of himself. And, oddly enough, he trained in a 15-foot ring, even though the fight will be held in a 20-foot ring. This was done on the dubious theory that the smaller ring would make him quicker; all it actually did was restrict the mobility of his sparring partners, making them easier for Liston to catch.
Clay, on the other hand, trained in a 20-foot ring—and used all of it. When he first went to his training camp in Chicopee Falls, Dundee discovered that a 12-foot ring had been built.
"We want a 20-foot ring," he said. "We gonna fight in a 20-foot ring, aren't we? I want Clay to be used to the size. I don't want him expecting ropes where there ain't gonna be ropes in the fight."
Liston's principal advantage during the training period was in the quality of his sparring partners. Lincoln and Richardson are main-event fighters, and good ones. The third sparring partner was changed several times, and the fact that he was never as good as Lincoln or Richardson did not really matter. In each case the man functioned more as a punching bag than anything else.
Clay used his brother Rudy, Cody Jones, Dave Bailey, and Ellis, the light heavyweight. He seemed reluctant to hit Bailey or Jones; Bailey had a bad back, and Jones had just come out of a hospital for treatment of his eyes. Clay, strangely, reserved his most damaging attacks for his brother, who apparently irritates him in the ring. Several times he staggered the younger Clay and had him on the verge of a knockout, only to ease off.
Refreshingly, neither Clay nor Liston has boasted much before this fight, although Clay could not forebear from predicting a dire but unspecified end for Liston.
"If I told you what was gonna happen, you wouldn't even bother to show up," he said.
Liston, who growled threats like a sleepy bear before the fight in Miami, has been much more cautious this time.
"I took him too light before," he said. "That was one of my mistakes. This time I'm gonna bring my lunch. We may be there a long time."
Liston was in rare good humor while training for this fight. After his workouts in Dedham, Mass., and before moving north to Maine last weekend, he spent the early evenings in a drugstore, listening to interminable repetitions of a song called My Girl, played for him by the teenagers inhabiting the soda fountain, amiably signing autographs and kidding with the youngsters. On his last night in Dedham his new-found friends presented him with a small gift and a card reading: "Win, lose or draw, you will always be our champ."
Unless the left hook comes through, that will be Liston's happiest souvenir from New England.
PHOTO
Trim Clay, skipping rope at Chicopee Falls training site, will come into the ring lighter than when he won the title in Miami a year ago.
PHOTO
Sharpening his most effective weapon, Liston throws his big left hook at a sparring partner. The ex-champ's best chance is to surprise Clay.
PHOTO
Unusually playful Liston romps with young visitor at training camp.
PHOTO
Unusually quiet Clay relaxes beneath color photograph of a glowering Liston which he brought with him from his training base in Miami.