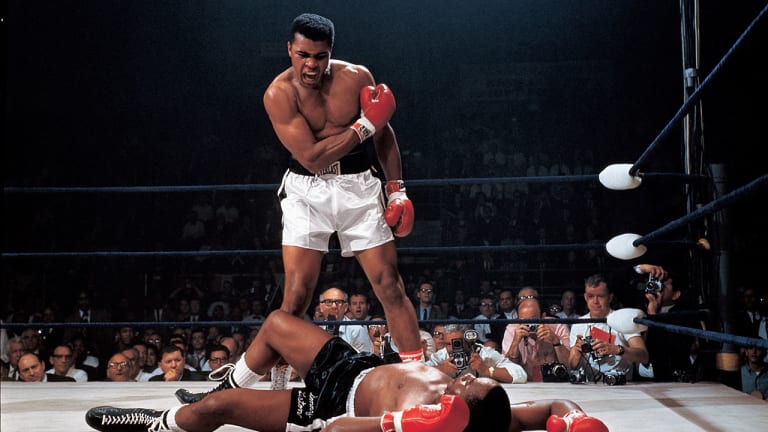 A Quick, Hard Right and a Needless Storm of Protest
Muhammad Ali (Cassius Clay) is a fighter bedeviled by his own excellence. He knocked out big Sonny Liston with a punch so marvelously fast that almost no one believed in it—but it was hard and true
Muhammad Ali, born Cassius Clay, retained the heavyweight championship of the world by knocking out Sonny Liston with a perfectly valid, stunning right-hand punch to the side of the head (page 48), and he won without benefit of a fix.
Although it is impossible ever to discount the possibility of a fix because of boxing's still-too-intimate connection with the underworld, there is no shred of evidence or plausibility to support the suggestion that this was anything but an honest fight, as was the previous Clay-Liston fight in Miami Beach. Today the big money is in television—not betting.
The knockout punch itself was thrown with the amazing speed that differentiates Clay from any other heavyweight. He leaned away from one of Liston's ponderous, pawing left jabs, planted his left foot solidly and whipped his right hand over Liston's left arm and into the side of Liston's jaw. The blow had so much force it lifted Liston's left foot, upon which most of his weight was resting, well off the canvas. It was also powerful enough to drop him instantly—first to his hands and knees and then over on his back. More than 17 seconds elapsed before Liston could flounder to his feet, still only partly conscious. Even some 30 seconds later, when Jersey Joe Walcott, the referee, finally stopped the fight after a wild flurry of inaccurate punches by the almost-hysterical Clay, Liston was staggering drunkenly and had to be led to his corner by Trainer Willie Reddish.
The knockout punch was only the third that the champion landed, but all of his blows were significant ones. He opened the fight by rushing across the ring and banging the surprised Liston with a hard right cross. Then, about 30 seconds before the end, he hit Liston with another strong right (see cover) that may have started Sonny's downfall.
"That shot shivered Liston," said Trainer Chicky Ferrara, who had been placed in Liston's corner by Manager Angelo Dundee to guard against a recurrence of the eye burning that had left Clay semiblind in the fifth round in Miami Beach. "He blinked his eyes three times, like he was trying to clear his head, and I looked at Willie Reddish. I could see Reddish looked sick because he knew his fighter was in trouble."
For the few qualified observers who had a clear view of the knockout punch, there was no doubt about its power. Immediately after it landed, Floyd Patterson, seated at ringside in the most advantageous position to see the blow, said, in answer to a direct question: "It was a perfect right hand." José Torres, the light heavyweight champion, agreed. "A very strong right hand," he said. Indeed, for all those who had a good view of the punch—and, unfortunately, there could not have been more than 1,200—there was never any doubt as to the stunning power of the blow. it was perfectly delivered against an opponent who was moving toward it, so that the effect was of a head-on collision.
The suddenness of Clay's blow plunged everybody—fighters, officials and spectators—into a morass of confusion. Responsibility for this can be laid to an inept timekeeper and a bewildered referee. But primarily it was the fault of Muhammad Ali, who went berserk when he saw Liston on the canvas and heard the chorus of "Fake! Fake!" coming from the fans who had missed the knockout punch.
Instead of retreating to a neutral corner and allowing Referee Joe Walcott to begin his count, the frantic champion stood over Liston shouting: "Get up and fight, sucker!" Walcott repeatedly pushed and shoved Clay away from the fallen challenger, only to have the champion charge back to ring center. Absorbed in this frustrating effort, Walcott never did start a count. Nor was he able to pick one up from the timekeeper, a diminutive man whose head was barely visible above the ring and whose voice was inaudible. Liston finally struggled to his feet and Walcott, thinking the fight was still on, wiped his gloves off.
At that moment Walcott heard shouts from Nat Fleischer, publisher of The Ring Magazine, who was sitting by the timekeeper. The referee turned his back on the fighters to listen to Fleischer. Liston, still dazed but courageous, put his hands up and started toward Clay, who then began his wild attack.
Liston was fighting from instinct, moving his head from side to side to avoid Clay's blows and trying to clinch. Whatever defects he had in this fight—and principal among them were age and its concomitant slowness—Liston was no quitter. No man ever struggled more grimly through the fog of unconsciousness to regain his feet than did Liston during the 17 seconds he was on the floor, and when Walcott at last stepped between the fighters to stop them Liston was still doing his best to fight back.
There was a wonderful irrationality to Walcott's action, which was reflected in everything he said later. He stopped the fight, he admitted, only after he had been informed by Fleischer, who had no official connection with the match, that the count had reached 12. But moments earlier he obviously had been prepared to allow the bout to continue, possibly on the theory that since Clay had not gone to a neutral corner there had not been a count of 10. Immediately after he stopped the bout, however, Walcott told a reporter: "It didn't make any difference if I counted or not. I could have counted to 24. Liston was in a dream world, and the only thing that could have happened was that he'd be seriously hurt."
Watching Liston after the end, it was perfectly clear he had been badly—if not seriously—hurt. He stood vaguely for a moment, then staggered two steps backward as Reddish approached him and led him to his corner. It was about then, with the ring rapidly filling up with uninvited characters, that George Chuvalo, the Canadian heavyweight champion who had hoped to fight Liston if Sonny won, climbed through the ropes and shoved Clay, yelling, "Fix!" He was restrained, but later he said that he had seen Liston's eyes while the challenger was on the floor, and he knew that he was not in bad shape. "His eyes were darting from side to side like this," he said, darting his eyes from side to side. "When a fighter is hurt his eyes roll up."
In fact, Chuvalo was giving unwitting testimony to the power of the blow.
"Chuvalo is wrong," said Dr. Carroll L. Witten, former Kentucky State Boxing Commissioner, who has studied the reactions of knocked-out fighters. "The side-to-side movement of eyes is commonly associated with temporary unconsciousness and is one of the first things you look for. It is called nystagmus."
About half an hour after the fight, sitting on a training table and dressed in blue jeans, a gray sweat shirt and heavy brogans, Liston offered his own testimony.
"I didn't think he could hit that hard," he said, oddly cheerful. "But I couldn't pick up the count. I think," he added, apparently unaware that it was he who first resumed fighting after the knockdown, "I could have continued if I had picked up the count."
Had the fight been permitted to continue, it would have done Liston small good; Clay was in control from the opening surprise punch, and in all likelihood would have scored a second knockout.
Superficially, the fight bore some resemblance to the first meeting in Miami. Clay avoided Liston's crude rushes disdainfully, retreating steadily. But there was a major difference this time, as soon became apparent. Clay fought his own fight, which he did not do in Miami Beach. Then he had followed the instructions of Manager Angelo Dundee to the letter. Dundee's instructions in this fight were almost the same.
The secret plan
"You have got to jab Liston," Dundee had said time and again. "He'll be stalking and jabbing, and you have to get off first with your jab." But, unknown to Dundee, Clay had devised a strategy of his own. He never threw a jab during the whole minute and 57 seconds the fight lasted.
"I was sick," Dundee said later, "when I saw what Clay was doing. Liston hit him with four ineffectual lefts, and the champ was on the defensive most of the time. Liston was doing just what we had expected him to do and doing it better than he had in Miami Beach. Jabbing and stalking."
The tactics Clay actually used came to him in a dream—or so he said three weeks before the fight. "I have had this dream every night for several weeks," he told a reporter at his Massachusetts training camp. "It's awful real. What happens, at the bell I rush across the ring and tag Liston with a good right hand. That's a psychological trick old Archie Moore taught me, and it lets the Bear know right now who is in charge. I don't see in the dream if it knocks him out, but he never recovers and I go on to win in an early knockout."
Few pieces of prophecy have ever been more dramatically confirmed.
Still, it is unfortunate for Clay that the end came so abruptly and amid so much confusion. During the brief time he was in action in this fight, he showed himself a more mature, stronger and smoother fighter than the Clay who had whipped Liston 15 months before. He had none of the boyish pudginess he showed then; his body was lean and hard and powerful. The few blows Liston managed to land reached Clay as he moved easily away, and all their sting was drawn. Clay may be now—and certainly can be in time—the best heavyweight ever.
Clay was not, however, the first man to knock Liston down. In a fight on April 21, 1955 in St. Louis, Marty Marshall dropped Liston with a punch remarkably similar to the one Clay used (SI, Feb. 10, 1964). "In the fifth round," the account goes, "Marshall slipped a Liston jab to the outside and crossed a right to Sonny's jaw, à la Max Schmeling when he knocked Joe Louis down in 1936. The result was the same. Liston went down." He got up, too, with no more intention of quitting than he had against Clay, and he knocked Marshall out a round later.
In the wake of the Lewiston fight there was a somewhat predictable outcry by press and politicians for the abolition of boxing. Bills to ban the sport were planned in several state legislatures, including New York's, where Clay's next fight may take place. Elderly ex-champions, among them Jack Dempsey and Gene Tunney, proclaimed the quick victory a fatal blow to boxing. "I didn't go because I knew what would happen," said Dempsey, rather obscurely.
A promoter in San Antonio apologized to his theater TV customers and, on the basis that they had been defrauded by a "shameful spectacle," donated his take to boys' clubs. The California legislature, in session, received a resolution calling for an investigation by the state attorney general to determine if its closed-circuit televiewers had been fraudulently duped out of their money.
All of this, of course, sounds very much like the reaction after the last Clay-Liston fight, and it is doubtful that much will—or should—come of it. Within a few weeks, the question will not be the future of boxing but the future of Muhammad Ali-Cassius Clay. A week after the fight, this was as confusing as the immediate aftermath of the fight itself, if not more so. A line of willing promoters had already begun to form, each of them with some claim to having been promised the next heavyweight championship bout. Seemingly leading the pack were Harry Markson and Teddy Brenner of Madison Square Garden. "My title belongs to the world," Clay said the day after the bout. "I ain't gonna hide it. I think the next fight got to be in the Big Apple, where everybody can see it. Yankee Stadium might be good."
Chris Dundee, the brother of Angelo, says that Clay has promised him the next match. Also in the picture, although he is relatively unknown, is a Negro fight promoter from Detroit. "With Liston gone, it's Roosevelt all over, a new deal for boxing," said Diamond Jim Riley. Riley decorates himself with a Diamond Jim monogram on each cuff and the pocket of all of his shirts and wears $10,000 worth of diamonds elsewhere. He would have looked perfectly at home in the archaic splendor of the Poland Spring Inn, where Liston trained.
"Everything is flip-flop. We may see new faces all around. The champ told me he'd like to give a Negro promoter a break and I am the man." As part of the deal, Riley says, he has agreed to put Rahaman Ali (Rudy Clay), the champion's brother, on the card and pay him a sizable purse.
Then, of course, there is Intercontinental Promotions, Inc., Bob Nilon, president. "We have had excellent relations with Intercontinental," says attorney Arthur Grafton, the spokesman for the Louisville group that controls Clay. "However, we are open to the best offer. Everybody has a chance."
Clay's opponent will be either Floyd Patterson or Chuvalo, who lost to Patterson on Feb. 1 in Madison Square Garden. If this seems illogical, Clay has his reasons. Although he publicly promised Patterson the next shot at his title after Floyd's victory over Chuvalo, and repeated that promise in the ring at Lewis-ton, there is a strong possibility he will fight the tough, truculent Chuvalo instead.
In the ring Clay had told Patterson, "Floyd, you have the next shot. You are a nice fellow. You're young, too, only 30 years old. You're a fair puncher, and I think you'll make a good opponent." With that he pinned a Muhammad Ali button on the smiling Patterson.
By the next day, though, after another incident with Chuvalo at the Clay victory party, he was beginning to have second thoughts. "Chuvalo may be the best man for my next fight," Clay said. "He's tough and he's crazy. He pushed me twice after the fight, and no man does that unless he's out of his mind. He ain't gonna be so easy to knock out, and people don't like these one-rounders."
Liston has said he is willing to fight anyone to get a return match with Clay, but the myth of the invincible Liston is thoroughly exploded now, and it is doubtful that he will ever again figure in the heavyweight championship picture.
Unnoticed in the uproar following the championship bout, one of Liston's sparring partners, Amos (Big Train) Lincoln, knocked out a nondescript opponent in the first minute of the first round. Before his fight, waiting for the ring to clear so he could enter it, Lincoln was approached by a writer who had seen him work against Liston several times and hit Sonny time and again with a carefully delicate right cross.
"Could you have done what Clay did tonight?" he was asked.
"Any time for the last six weeks," Lincoln said, and climbed into the ring to use the same right hand for a quick knockout.
In Liston's final sparring session before the bout, a carefully coached Lincoln allowed himself to be well-battered, creating a spurious feeling in Liston's mind that he had reached his peak just in time for the battle.
But James Ellis, the very fast light heavyweight with whom Clay sparred, was an interested spectator. Asked at the end of the sparring session what he thought about Liston, he said, "It wouldn't be right for me to make any comment now."
But as he walked out of the room with a companion, he was overheard to say, "There ain't no way Liston can beat the champ. No way at all."
That is true not only of Liston. It is true of Patterson and Chuvalo, too.