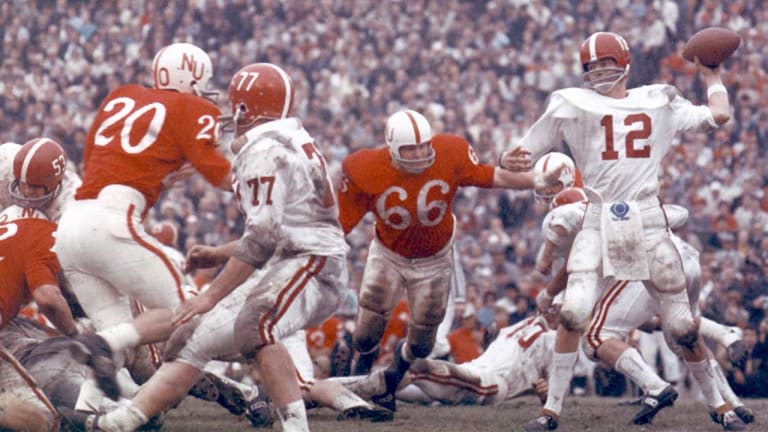 ...AND NEBRASKA HAS THE GUNS
The language and the rules both change this season, but the Cornhuskers will be strong again and should finally 'gore' the others to win the mythical national title
There was a time when all you had to do to be considered an ardent follower of college football was ride around in a jalopy and give an occasional locomotive for Jack Oakie. If you were a real nut, you listened to Bill Stern on the radio, knew what "hike" meant and worried about whether your school's good old 6-2-2-1 could stop the other team's good old single wing in the traditional battle for the Little Oaken Skillet. It was nothing at all like the sophisticated season that now begins with another set of rules, a freshened vocabulary of coaching terms—a dedicated player, for example, will stick you instead of outbutt you—and the promise of more genuinely strong teams than ever to compete for a national nonmythical championship that should exist but does not.
Staying abreast of college football's changing moods and trends is as difficult as keeping up with programs on television: now you see them, now you don't. Take the offenses. Just when you thought you had learned all the deceits of the split T, where the quarterback handed off or faked and ran, it was replaced by the simple power of the wing T, where the quarterback pitched and blocked. Then, as coaches tried to get the jump on one another, along came the shifting T or the I formation, where the quarterback suddenly became a thrower. Now, in 1965, most systems will yield in popularity to something called the I slot.
The I slot is not, as the casual observer might guess, a State Department term for the wastebasket where presidential memos are thrown, but a pretty good combination of the formations immediately preceding it. It has the deception of the early T, it scatters out the defense like the I and it provides running strength as well, for ideally the halfback in the slot (between the end and tackle) will be capable of blocking as splendidly as he can catch. With practically every team committed to a balance of running and passing, the I slot seems perfect—until next year, when there will be wrinkles on another letter of the alphabet.
Although for the majority of spectators defense is the uncomplicated art of chasing people, there is a little more to it. The season will find the "Okie" (for Oklahoma), or 5-4, still in vogue, along with the use of a "monster," or roaming, strength-equalizing linebacker. But it will also find increasing use of a thing called the split six. This is a six-man front with a curious gap in the middle and all linemen slanting in, the gap designed to lure runners smack into alert, nimble linebackers.
Now that you know the formations to be confused by, you have a right to know their precise value. Says Texas' Darrell Royal, who has successfully resisted them all, "Trends are bunk. Only angry people win football games."
Far more beguiling than the techniques of the game is the language. Throwing around terms has become something of a game in itself, especially at cocktail parties where old grads and influential summer-job providers gather. These are the men who help recruit, who get the "studs," the winning athletes, the ones who can only come, as Alabama's Bear Bryant says, "from good mamas and papas."
Nowadays you never hear the hip fan speak of a pep talk. In 1965 a coach puts on a game face. The good passer who once possessed a weapon called the arm now has a cannon. And with it he does not hit the deep pass or the bomb anymore, he hangs one up there for six. Or maybe he can blow it across the alumni stripe. He throws a streak.
The top receiver who can race down-field to catch the ball in the seams (the gaps in a zone defense) has the steps. If he almost never drops a pass he has good clamps, and if he sometimes does he merely has good boards. The broken-field runner who only a short time ago could juke a defender can take it away now.
Linebackers are generally known as "Mike" (middle), "Liz" (left) and "Rip" (right). And while some of them may still red-dog, blitz, storm or shoot, a lot of them simply like to come or go, as in the following conversation:
Coach (at blackboard, worried): Now, Donny, when we're here, Mike likes to come.
Player (confident): 'At's awright, Coacher, Joe Bob'll stick him.
Finally, when you get all of these talented athletes together, the ones who can truly gore and sting and press the button (throw a touchdown pass), then you have a crucial, guts-up game, or what used to be referred to as a sheepshearing but is now something more ferocious: a formal dance.
This season all of the athletes who like to specialize in these character-building pursuits will get to do exactly that. Free substitution has been creeping up for five years—remember the "wild card"?—while the coaches tried to reconcile being in both the entertainment and educational business. The rulesmakers have at last settled on the tiniest compromise possible—and what in essence is two-platoon football. Two players will be permitted to enter the game at any time. Complete units, however, may go in only after the ball has changed hands, generally after a punt. The offensive team will have to know how to tackle and the defensive team will have to know how to block on this one play or there will be a lot of funny punt returns.
While college spectators after 13 pleasant years must again endure seeing 44 players on the field at once when the platoons switch, the new rule will accomplish one wonderful thing. It will abolish last season's idiotic loophole that encouraged coaches to delay the game for 30 seconds and take a penalty in order to get their kicking teams in.
Perhaps the easiest thing of all for the trend-conscious follower this year will be knowing which are the superb teams (see box). All he has had to do lately is memorize Texas, Alabama, Nebraska, USC and Arkansas. These are the teams that stay at the top. Each seems to benefit from spectacular coaching. Over the last three years, for instance, Texas' Darrell Royal (30-2-1), Alabama's Bear Bryant (29-4), Nebraska's Bob Devaney (28-5), USC's John McKay (25-6) and Arkansas' Frank Broyles (25-7) have had the finest records in the land.
Broyles, Royal, McKay and Bryant, in that order, have coached the last four (and only) unbeaten, untied teams in the nation, and Devaney has come dangerously close twice. Every decade manages to produce one coach who somehow rises above the rest. The 1920s had Knute Rockne, the 1930s belonged to Minnesota's Bernie Bierman, the 1940s to Notre Dame's Frank Leahy and the 1950s to Oklahoma's Bud Wilkinson. The man of the 1960s undoubtedly—barring World War III—will be Royal, Bryant, Devaney, McKay or Broyles. Or he may be Ara Parseghian, now that he has Notre Dame to coach.
It does not seem possible for any of these ever to run out of good athletes. Texas annually turns out a stockpile of recruits, enough to keep seven Southwest Conference teams happy and competitive, and Royal takes his choice. Bryant and Broyles have entire states going for them. The southern California area has always been a wonderland of athletes, and McKay's personality lures most of the best to USC. And Notre Dame is still Notre Dame. But Devaney, in rebuilding Nebraska, has profited from an entirely different set of circumstances. Quite apart from the coach's wisdom and talent that will help make Nebraska the best of all in 1965 is the fact that he has benefited from rules weakening the nearby Big Ten. Consider:
Nebraska had a ponderous 109 athletes out for spring training, 68 of whom were from out of state (from 19 different states, in fact) and 43 of those came from Big Ten recruiting areas! Should Nebraska put its best 11 players on the field at any one time this season, no fewer than nine of them would be from Big Ten sectors—three from Ohio, two from Illinois, two from Michigan and one each from Minnesota and Wisconsin. While Devaney is a persuasive recruiter, it cannot be denied that the Big Ten's limit on scholarships (70 per year for all sports) and its rule against red-shirting have helped truck plenty of top performers to nearby Nebraska.
Having the players is one thing, but getting the most out of them is something else, and Bob Devaney does that, too. He has turned Freeman White and Tony Jeter into perhaps the best pair of college ends in the country. Walt Barnes, the center and middle guard, is considered by no less than three pro scouts to be the nation's best player. Bob Churchich and Fred Duda combine to give Nebraska the most reliable quarterbacking depth in college football this year, and Halfback Harry Wilson could well be the finest breakaway runner. And a quick glance at the schedule insists that the Cornhuskers can lose only once (to Missouri) if at all.
Winning a national championship of some kind these days is not really as hard as it may seem. After all, there are a lot of them to go around. Last year, for example, there were three champions. Alabama was voted the best by the Associated Press and United Press International, Arkansas was awarded the Grant-land Rice Trophy from the Football Writers Association of America and the No. 1 prize from the Helms Athletic Foundation. Even Ara Parseghian's exciting Notre Dame team was not left out. After it blew all the top ratings in the final game against USC, the National Football Foundation and the Howard Jones Memorial Award Foundation managed to cough up trophies.
There have been other seasons when three teams were so honored—as in 1926, when Alabama, Stanford and Navy received various awards, and in 1938, when TCU, Tennessee and Notre Dame were chosen. Moreover, in 16 other years over the past 40 the public has been informed that two different teams were national champions. More befuddling still is the fact that in 18 of the 40 years the team with the best record won no recognition.
There is of course a way for the NCAA to satisfy the public: play to a national title. The chart on the preceding page, based on this magazine's scouting reports, illustrates what could happen if there were a playoff. The scores are intended to reflect this year's strengths—and Nebraska is the champion, with its closest call against Texas in the semifinals. The country is divided East and West as accurately as possible for balance, all major areas are included and the first-round games determine regional superiority. For playing sites, it seems needless to point out that there are eight major bowl sponsors who would be pleased to continue their promotions.
Although the NCAA decides national champions in most other sports—for instance, fencing—its main argument against a football playoff centers vaguely around overemphasis. But as long as the administrators fire coaches, sell tickets, recruit athletes, play postseason games and peddle their product to television they are kidding no one.
Anyhow, the sport can use more emphasis. As USC's John McKay says, "There are still over 600 million Chinese who don't care if we win or lose."