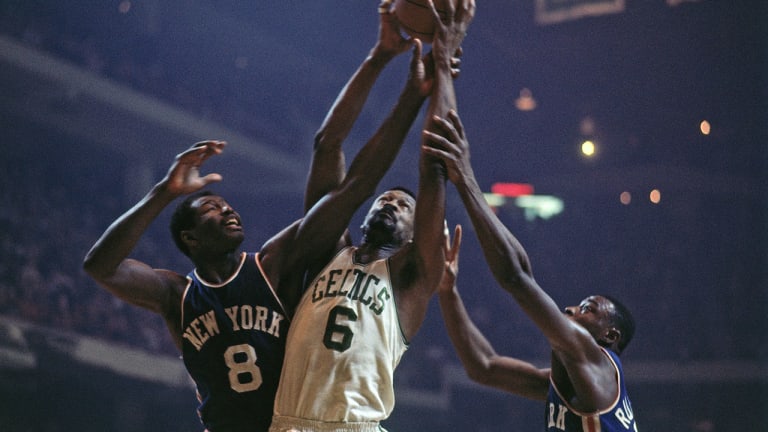 Bill Russell, Star of the Boston Celtics, Wanted—and Got—a New Pair of Shoes
New England industry has been in trouble for a long time, and Rhode Islands Bristol Manufacturing Corp., an old Yankee-owned shoe company, was no exception. For years Bristol had been one of the country's largest makers of inexpensive canvas footwear, but by 1963 Bristol's high-capacity production line was slowed drastically by the growing competition from imports and synthetics.
Rather than surrender, Bristol elected to do battle by adding to its output a high-quality line of athletic and recreation shoes, starting with one for basketball that would, it was hoped, be endorsed by a "name" player. This inevitably led Bristol's management to the game's best player, Kill Russell (of the Boston Celtics).
The first mild surprise was that Russell, who has a reputation for not selling his name casually, agreed to talk it over and also agreed to come to Bristol to do so. Accordingly, on a July day in 1964, a delegation from Bristol, led by William H. Smith, president, and Salvatore V. Gianola, factory manager, met to have lunch with Russell and his business manager at a Bristol restaurant.
"The next surprise." said Gianola, recalling that preliminary meeting, "was that Russell was anything but the sullen introvert I expected from the stories about him, and that he knew exactly what he was doing there. He told us that he had long wanted a chance to put before a manufacturer his thoughts on an important tool of his trade, because it had been a problem with him for a long time.
"He said he hadn't been able to get a shoe that would stand up for more than two or three games, and that the flat-footed landings he made after those great leaps of his in rebounding left his feet burning and his legs and back aching. Then he went on to tell us that this wasn't merely a matter of his putting a name on a product: it had to be a product that he had a hand in developing. Beyond that, he said he would not endorse it until he personally had tested it thoroughly in action and was convinced it could do the job.
"Now, candidly," Gianola said, "this set us back. We assumed we'd come up with something perhaps a little different, all right, but that it would be our thinking going into it—it's our business, after all and that we would be telling Russell what to do. But Bill's message was clear, and it left no doubt in our minds that it would go his way or there wouldn't be any Bill Russell basketball shoe at all."
Russell wanted a shoe, he told them, that would permit him to stop short, start fast and not produce static friction to slow him when running. It must soften his landings on rebounds. It must not hinder his pivots. It must be flexible and light, and at the same time strong and durable.
" 'And when it comes to the trim." Bill said to us." Gianola recalled, citing the details of Russell's ideas. " 'I want it in gold—and remember, gold, not yellow.' About that point, with Bill telling us how to make him one pair of size 14½ shoes that would cost us about $3,000 with no assurance that he'd even endorse them, we were saving to ourselves. 'Why did we have to pick this guy? Why didn't we go for someone we'd mail off a letter to asking for his endorsement and he'd write back and say it was O.K., just send the money? Oh, no, we had to get Russell.' "
The task of translating Russell's requirements into a manufacturable, practical, yet satisfactory-to-Bill shoe fell to Tony Mattos, a 39-year-old Bristolian who has worked his way in 20 years with the firm from helper to product manager.
Essentially, Tony filled the demands by building up the rubber on the sole about 1/16th of an inch at the main points of contact heel, toe and ball of the foot. For traction he developed from a concept proposed by Russell a series of small triangles pointing forward; these were in place of the standard suction cups found on most sneakers. Flexibility was gained by scoring the sole laterally across the arch area. Comfort And shock resistance were gained by building up the innersole and the impact areas with a special product of Bristol's that expands on vulcanization into thousands of tiny air cushions.
The pilot model was delivered to Russell in New Bedford, Mass. before a game on the Celtics' exhibition tour in August of 1965. Russell was not heard from for a few weeks. When he eventually checked in. the report was fine. He said he hail worn the shoes for 21 games and for the practices in between before they had begun to sag. And they were "comfortable as slippers." Oh, yes, there were a couple of changes to recommend (at the cost of $1,000 and two new dies), and these were made. Mattos still has the originals, complete with Russell's markings on them indicating the suggested changes. A production-line run of 25,000 pairs was made, and these sold out quickly. Full-scale production and promotion begins this month.
Bristol is hoping that males of all sizes and ages, not only basketball players, will find the Russell shoe comfortable and lasting. It is made in sizes for boys, youths and men, high-cut and low-cut, black or white—all with gold—not yellow—trim. The cost is $7.95 a pair.
"Bill was even in on the price." Gianola said. "He told us that he didn't want a kid wearing a pair of basketball trunks costing about $1 having to pay about $10 for a pair of shoes with the Russell name on it. So we settled for $7.95," leasing it clear by tone of voice that he felt Bristol could rightfully have charged more and gotten it.
Since Russell has extensive holdings in a rubber plantation in Liberia that soon should be coming into production, there could be a time when his shoe will incorporate not only his stamp and name but also his own main business product.
The Russell shoe is the forerunner of a whole new Bristol line. Now there has been added a crepe-soled tennis shoe called Match Males ($6.95) for men and women, and a track shoe of cam as with rubber sole called Track King ($4.95) for males of all ages. The popularity of this model, with its tapered heel and high arch, for casual wear in some sections of the country confounds Gianola, but he does not tight it.
There is a boating shoe named Sea Legs for men, women and children ($6.95). Much of the designing advice on this model was provided by Maurice C. Smith III, a Bristol vice-president, son of the firm's chairman of the board and a sailor himself. This shoe's gripping surface consists of nearly 200 tiny suction cups, the walls of which are in the form of an inverted V. In this form, each flexing of the sole ejects those unwanted particles of sand and the like that can scrape up the deck of a boat.
One of Bristol's staples has been the Thermoboot, originally developed as a foul-weather shoe by Gianola for the armed forces and subsequently sold by him to Bristol. This has been promoted with considerable success as an all-round hunting and fishing boot.
With its new products to turn out along with the old, Bristol's plant on Buttonwood Street is humming again, two shifts a day. The work force is nearing the pre-1963 high of 1,300, new production devices and methods are being introduced, the sales and advertising forces have been increased. In one sense, Gianola acknowledges, much of the spurt stems from the work with Bill Russell's new basketball shoe.
"The product we came up with, working with Bill, is the leader, the one that set the pace." he said. "There is no kidding about it—we have a lot riding on it. But that's only a part of it, as far as we're concerned, with Bill. I guess the way we feel about him is this: if, after all the work, we had come up with a product he didn't think he could endorse, we still would have considered ourselves lucky, just because we got to know the man."