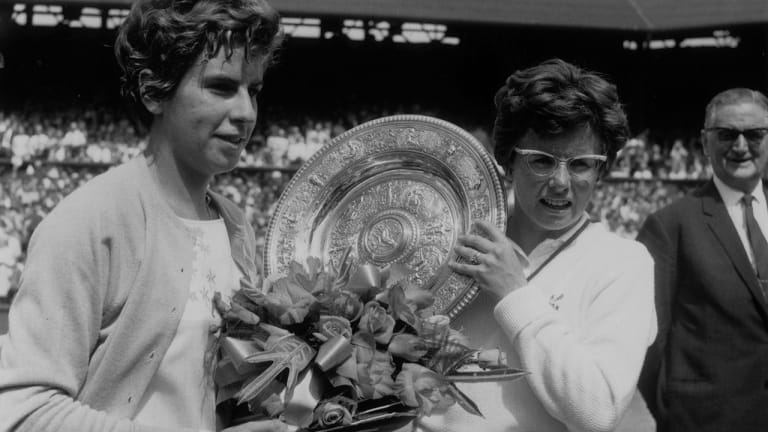 Manolo is king, and a King is queen
At Wimbledon last week, Billie Jean King of California (right) won the singles championships for the first time
Billie Jean King was leaving the court at Wimbledon last week when someone approached her and asked, "Please, Miss Smith, may I have your autograph?" Responded Billie Jean: "Miss Smith? I'm not Smith, I'm King." A few days later Billie Jean proved that she is not only a King but a queen, beating those two former monarchs of ladies' tennis, Margaret Smith and Maria Bueno, in succession to become Wimbledon champion.
The autograph-seeker must have been just in from the country, because the pert, bespectacled Billie Jean has been a familiar face around Wimbledon ever since 1962 when, as Billie Jean Moffitt—or "Jillie Bean"—she gained instant fame by upsetting the top-seeded Miss Smith in the first round. A year later she made it all the way to the finals, where Miss Smith got her revenge. Since then Billie Jean has been, more or less, the leading woman player in the U.S.—ranked at or near the top, a valued member of the Wightman and Federation cup teams—a bouncy little girl who lacks Margaret Smith's power and Maria Bueno's grace but is second to no one as a scrambler and a fighter.
At Wimbledon this year prospects for a Billie Jean victory seemed reasonably good, not only because Wimbledon tends to bring out the best in her but also because both Miss Smith and Miss Bueno, who between them had won five Wimbledon singles titles, were both recovering from injuries. Margaret had hurt her wrist earlier in the year and missed the Federation Cup matches (the female counterpart of the Davis Cup). Maria was having trouble with the cartilage of her left knee.
But at Wimbledon, Miss Smith and Miss Bueno went galloping through early opponents without any signs of ailments or rustiness, winning sets by scores of 6-0 and 6-2 and only occasionally 6-4. Billie Jean, on the other hand, had trouble from the start. Playing a teen-ager named Winnie Shaw in the first round, she won the first set handily but found herself behind 2-5 in the second. Bracing, Mrs. King won 8-6. In the fourth round, against Kathy Krantzcke, a large girl from Australia, she was behind 2-5 in the first set and in fact had a set point against her. Again she steadied to win 9-7, 6-2.
But Billie Jean's worst moment of the tournament came in the quarter-finals, against Annette Van Zyl of South Africa. She lost the first set 1-6 but won the second 6-2 and seemed to be on her way. Not quite. Miss Van Zyl took a 3-0 lead in the deciding set before Billie Jean, switching from an attacking to a lobbing game, caught up and won the set 6-4.
Curiously, she had comparatively little trouble against the two former champions. She tossed off Margaret Smith 6-3, 6-3—"Simple," she said. "Just chip the ball back at her feet"—then beat Maria Bueno 6-3, 3-6, 6-1, looking much the better player, even in her losing set. With that, the 22-year-old Mrs. King stepped forward to receive her trophy and be recognized—presumably by everyone, including the autograph-seeker.
During the early part of the tournament it seemed that there could be only one winner in the men's division—Roy Emerson, Wimbledon champion in 1964 and 1965. During the past year Emerson had played spottily, losing to people he had barely heard of. But at Wimbledon his game was again at its peak, and during the opening rounds he toyed with his opponents. Then came the accident that made it anybody's tournament.
Emerson was playing a fellow Australian, Owen Davidson, in the quarterfinals and was handling him with the cool efficiency usually displayed by bank clerks counting bills. The first set passed, flick! flick! flick! 6-1. Then early in the second set Emerson dashed in for a drop volley and slipped on the wet grass, skidded 15 feet, crashed into the umpire's chair and brought the microphone down on himself.
When Emerson arose he continued playing, but there was, said Davidson, "a look of pain on his face." For the rest of the match Emerson was unable to throw the ball up properly for his service. Strained ligaments were diagnosed in his shoulder, and Davidson, the most self-effacing of players, won a victory that he would rightly take no credit for.
Emerson's unfortunate injury gave everyone a chance. Spain's Manuel Santana looked like the new favorite, but there were also Cliff Drysdale of South Africa, who lost to Santana in the finals at Forest Hills last year, and young Tony Roche of Australia, whose injured ankle was getting stronger with every match. Lastly, there was Dennis Ralston, winner of no major tournaments, semifinalist at Wimbledon and Forest Hills last year, perennial close-but-not-quite. And yet, and yet....
Santana experienced his first major problem in the quarter-finals, when Ken Fletcher, an Australian expatriate now living in Hong Kong, took him to five sets and needed only to hold serve to win. But with a flurry of perfectly executed drop shots and backhand lobs the Spaniard won three straight games for the match.
Santana's next adventure came in the semifinals, when he met Davidson. Interviewed on radio before the match and asked, "Just who is Owen Davidson?" the powerful Australian promptly responded, "Certainly nobody special."
Surprise, because again Santana was taken to five sets by a man who later described his efforts as "the best competitive tennis of my life." The final set sent so powerful a current of excitement around the center court that it could have lit all the lights in Piccadilly Circus. Just when Manolo seemed to have the match wrapped up at 5-1 Davidson, with nothing to lose, started swinging and connecting. He brought the match to 4-5, but fell behind 40-love with Santana serving. Incredibly, Davidson won five straight points to make it 5-5. Then, having already scaled the heights, he fell away quickly 7-5. Thus Santana became the first Spaniard since the '20s to reach the finals at Wimbledon. And who was there to meet him? Ah, of course, Dennis Ralston.
This was the year that the 23-year-old (yes, only 23) hoped to win the world's most coveted tennis title. All winter he had worked on his suspect service. He had traveled to Europe in April to prepare himself, and even when he lost to the U.S.S.R.'s Alexander Metreveli in the French championships he was not discouraged, confiding to a friend, "I'm going to win at Wimbledon this year." Ralston's defeat of Santana in the championships at Queen's Club in London just prior to Wimbledon seemed to suggest that he might be right, although Santana—probably the world's best clay-court player—had only just begun to adapt to grass.
Most important, Dennis seemed composed, his famous temperament kept in check throughout. The presence of his pretty blonde wife, Linda, and the responsibility of being a new father with a 3-month-old daughter apparently helped to keep anger at bay. "I still get just as mad," explained Ralston, "but my wife and daughter have made me realize that there are other things, and I look at tennis differently."
Ralston's path to the final was workmanlike but not calculated to lift the spectators from their seats. Usually grim-faced, he ticked off the victories one by one. Metreveli, his conqueror in Paris, fell in the second round. Then came Diepraam of South Africa, Darmon of France, Hewitt of Australia and, in the semifinals, Drysdale, who beat Ralston at Forest Hills last year. One more victory and Ralston would at last wear the crown for which he had so long seemed destined. But no—Santana would not allow it. Although Ralston served nine double faults, the match was not decided by his mistakes. It was purely that Santana, playing within himself and moving faster around the court, had other stops to pull out when they were needed. Ralston did not have this reserve, or at least could not find it when his chances occurred.
In the first set he had Santana at 15-40 and 3-4. "It's a funny thing," Ralston commented later, as if he could not believe it himself. "If I'd won one of those two points I would have had a real chance." Instead, Santana started to serve better than Ralston had believed possible, catching his opponent and saving his services. He went on to secure the set, causing the crowd, which was eager for his victory, to hold its breath only twice more. The first time was when Ralston led 4-1 in the second set, the second when Santana twisted his back. But he suffered only momentary discomfort and went on to win 6-4, 11-9, 6-4.
For Manolo Santana, who had started his tennis career as a ballboy in a private club, the victory was all the world. He blew an ecstatic kiss to his raven-haired wife, Maria, in the stands, and when Princess Marina presented him with the cup he bent over and kissed her hand. The first Spaniard ever to win the Wimbledon men's singles title, he was greeted later by Princess Margaret with the words, "Muy bueno."
Si, muy bueno for Manolo, and nice going for Billie Jean, too.
PHOTO
PHOTO
SANTANA PROVED HE CAN PLAY ON GRASS