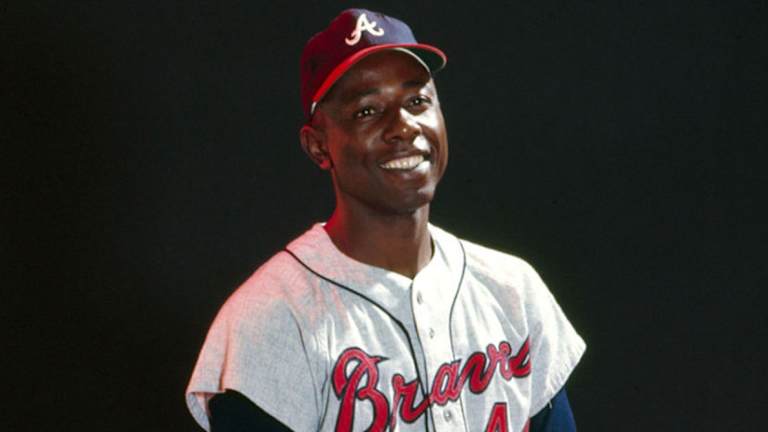 Danger With a Double A
Unhappily for National League pitchers, neither the move to Atlanta nor his 13 years in the league has changed Bad Henry Aaron a bit. He just keeps swinging—and connecting
"I'm this many," said Dorinda Aaron, holding up four fingers, "and I'm going to have a party." She will be 5 years old next February 5, a day when National League pitchers might well raise a cup of cheer, because Dorinda's daddy, Bad Henry, will be 33. Their enemy grows older.
But not so you could notice. "I can serve you a beer," the lady in the sweltering Atlanta airport said to Aaron's companion, "but this young man will have to show me his I.D. card."
"Why, that man is 30 years old," the other lady said.
"Damn," Henry said, flabbergasted and delighted. "Damn. I thought she was putting me on."
"That's what I told you, Henry," said Atlanta Braves President John McHale. "Don't ever get older than 30."
The greatest cross-handed hitter in the history of the Negro American League has ballooned to 180 pounds in the 14 years since the Braves gave him a ticket to Eau Claire, Wis. and orders to keep his right hand on top, but the extra 10 pounds are packed neatly around his chest cavity. In the body of a sophomore halfback Henry Aaron has developed the mind of a computer, and he'll be the next 3,000-hit man unless Willie Mays beats him to it. Or unless he suffers a crippling injury. Don't count on the latter. Aaron has averaged 153 games a season since he broke an ankle in his rookie year, 1954.
"He not only knows what the pitch will be," says Ron Perranoski, the Dodger relief pitcher who has held Bad Henry to an .812 average (13 for 16) in six seasons, "but where it will be. He's hit one home run off me [out of center held in Dodger Stadium], and he went after that pitch as if he'd called for it."
"It was a fast ball, high and away," said Aaron, who can recite the locus and characteristics of each of the 26 pitches he hit for home runs in the first half of the season. "It was the first pitch, and I guess I was looking for it. I figured he'd try to set me up for the sinker."
"Pitchers don't set Henry up," said teammate Gene Oliver. "He sets them up. I honestly believe he intentionally looks bad on a certain pitch just so he'll get it again."
"Well, not too often," Aaron said. "But say it's a breaking pitch that's going to hit on the plate. I might let my tail fly out a little and miss it and look foolish. Then the pitcher might throw that same pitch for a strike some other time—with two on."
This may be Aaron's first 50-homer season, and it might not be the last. When he arrived at the All-Star break with his 26 homers and a batting average near his career low of .280, it was logical to assume he had altered his formula, determined to pull the ball toward instant money. Henry is making more than $75,000, proving that guys who hit .320 lifetime can ride in Buick Rivieras, but he can read and sees six-digit numbers on the sports pages.
"That doesn't bother me," Henry said. "If I'd played in New York, I'd have made a lot more money. There were only those two papers in Milwaukee, and that makes a difference. Anyway, these people have been good to me, and you don't miss what you don't have."
And you like what you have if you rode the bus with the Indianapolis Clowns in the Negro league, playing a doubleheader in Washington and a single in Baltimore the same night, then climbed back on the bus to try to sleep on the way to Buffalo and got 100 bucks every 1st and 15th. (By the time Milwaukee Scout Dewey Griggs offered Aaron $50 a month more than the Giants did, he was leading the Negro AL with a .467 average, having been converted from cross-handed hitting by Clown Owner Syd Pollock. "Not completely," Henry says. "If I got two strikes on me and my back was to the dugout so they couldn't see me, I'd sneak the left hand up on top.")
But why so many home runs this year, and most of them to left field? The stance and the swing haven't changed. "No," Aaron said, "but I don't go up there swinging at what they throw me anymore. I've studied and concentrated, and now I wait until I get my pitch."
"He sure as hell does," said Sandy Koufax. "Did you see him go after that curve I hung for him today? That was a mistake, and you don't get away with a mistake to Bad Henry. He's the last guy I want to see coming up there." There was talk that Roberto Clemente had that distinction. "That was two years ago," Koufax said. "Some guys give me more trouble one year than another. But Aaron is always the same. He's just Bad Henry."
"This game looks easy," says Bad Henry, "but it's—well—not a guessing game, but a thinking game. Too many people think it's simple."
Too many people think Aaron is simple, and relaxed, and insouciant—a nerveless bundle of sinew with mongoose reflexes, doing what comes naturally and not striving very earnestly to do much more. There are long-gone .230 hitters pumping gas somewhere along Route 66 and perpetuating the cliché that Aaron "falls asleep at the plate, but then he hits the pitch right out of the catcher's mitt." Instinct it's got to be—and those wrists. How else could a guy be .320 lifetime (highest among active players with five years or more) with a swing that would get a kid cut from a high school team?
"Most guys couldn't hit the way I do," Aaron says with an objectivity that precludes false modesty. "I'm fortunate that all the things you have to do in baseball come naturally to me. I do have a hitch in my swing, and I hit off the front foot. I've seen the movies. The weight is forward, but you notice the hands are always back. If they throw me a changeup I'm not out in front. I can adjust.
"I know, they think I don't care. I look like I'm running easy to first base, but I'm watching the outfielder, and if he messes up I can accelerate—I have the speed to shift gears."
"There aren't five men faster in baseball, and no better base runner," says Braves Manager Bobby Bragan. "If you need a base, he'll steal it—quietly. If you need a shoestring catch, he'll make it, and his hat won't fly off and he won't fall on his butt. He does it like DiMaggio." Aaron has stolen 31 bases in a season and supposes he could double that if needed. "He could steal 100," Oliver says.
In the eighth inning of a game at Los Angeles, Dodger Right Fielder Lou Johnson galloped to the railing and watched a foul ball land 20 rows in the stands. In the home half of the inning Right Fielder Aaron took three steps and watched a foul ball land seven rows in. "I knew it was in the stands," Henry said. "What would it prove to run over there? That's false hustle. I hustle when I have to."
Like DiMaggio. Sangfroid, and all that? Not quite. "You ever notice," Henry asked, "that sometimes just before I step in the box I take a deep breath? I have to do that to get loose. I don't mean I'm tense, exactly, but I always have something on my mind. I have to study this game all the time, and concentrate. There are things I've learned about pitchers, and I have tried to tell the younger players. But most of them can't see what I see, because they haven't concentrated and studied.
"I always talk to the kids, though, because you can learn from them. Maybe Maury Wills couldn't teach you about base running, just because he knows it so well it's hard for him to convey the idea. But you might hear something from some young player that would be valuable—something you never thought of."
At the Los Angeles airport Henry listened attentively to a lecture from teammate Gary Geiger on sliding. Aaron's takeoff, Geiger suggested, was too late. At 29 Geiger is no longer a kid, but a frustrating succession of injuries and illness have limited his experience. "Well, what kind of slide do you think is best?" Henry asked, and held still for the answer. The computer mind was filing the data for evaluation.
His mind processes a diversity of thoughts. Aaron is acutely aware that he is the father of four young children who have opportunities that he did not have, and the awareness is heightened by the never-forgotten fact that he is a Negro. But when the talk is baseball that's business, and the computer functions on one channel.
The airport discussion of mistakes in baserunning had broadened into a seminar on baseball mistakes in general, when the Braves' players discovered a celebrity in their midst. Phil Rodgers had just arrived from England and was liquidating some of his $1,949 booty from the British Open. He was introduced around, and the talk turned to golf. There may be more golf nuts per capita among baseball players than among any splinter group of American society, and Henry Aaron is one of them. Able to play only a couple of months a year, he has shot a 75. He shook hands with Rodgers and said it was nice to meet him. "But what I mean is..." he said, and resumed the baseball talk.
In the fifth inning that afternoon, with Joe Torre on first base, Mike de la Hoz had singled to center field. Willie Davis, characteristically, had thrown high over the cutoff man's head in an unsuccessful attempt to get Torre at third. "Mike should have taken second," Aaron said. "You have to anticipate that the outfielder will goof up one way or another."
Mike scored anyway, and the Braves won. Otherwise Aaron wouldn't have broached the subject, because he played under the late Ben Garaghty at Jacksonville in 1953. "I had a hell of a year," Henry said, "but one day I stole second three times. Each time I left the bag before the second baseman gave the ball back to the pitcher, and each time I was tagged out. He really chewed me.
"Ben never said anything after we lost, but if we made mistakes in a game we won we'd hear about them. He was the best manager I ever played for." (In 13 big-league seasons Aaron has played for Charlie Grimm, Fred Haney, Charlie Dressen, Birdie Tebbetts and Bragan, who among them managed 10 big-league teams and won five pennants.) "I think Ben should have had the Milwaukee job after Haney," Aaron said. "He handled each guy differently. I believed after Jacksonville played the Red Sox an exhibition game in '53 that I was as good as some of their players, but Ben never told me how good I was—just how good I could be. He taught me to study the game and never to make the same mistake twice. I know how badly he wanted to manage in the big leagues, so I know how much it hurt him when he didn't get the job. Even if they'd made him a coach, it might have helped."
On the plane to the All-Star Game in St. Louis, the passengers had finished their complimentary cocktail and their glass of champagne, and two of them approached Aaron with paper and ballpoint pen. They were longtime admirers of his, and would he please sign this for the kid. "What's his name?" Henry asked, then inscribed best wishes to Danny. The two guys said they were from Tupelo, Miss, and that they hoped Hank would really tear up that American League tomorrow. He said thank you.
"Yeah, I remember Tupelo," Henry said later. "I drove through there a few years ago in a brand-new Oldsmobile." A Negro, and a very dark Negro at that, driving through Tupelo, Miss. in a shiny new Oldsmobile. "A cop got behind me when I crossed the city line, and he rode on my tail all the way to the other city line. I remember Tupelo, all right."
Aaron is aware that in the past decade he has enjoyed the insulation of prominence—but he hasn't enjoyed it. "They don't give me a bad time, because I'm somebody special. But that doesn't help my brothers and sisters, and anything that happens to any member of my race happens to me. I know how it feels, because sometimes people don't know who I am. The South doesn't have any monopoly on prejudice. At least the people in Mississippi have the guts to tell you they don't like you, and you know what to expect. But in the North they do it differently. I went into a restaurant in New York City one afternoon, and they wouldn't serve me. They didn't say they wouldn't, they just left me sitting there."
Aaron was born in Down the Bay, a Negro district of Mobile, Ala. It isn't at all down the bay, and nobody remembers why it was called that. Thus nobody knows exactly why the kids of Down the Bay considered themselves superior to those of Toulminville, an outer district where Henry's father moved his wife and eight children. This was the first discrimination Henry ever knew. "It wasn't white to black," he says. "It was black to black. They just thought they were better than we were. Anyway, it cost me my first chance at a big-league tryout."
Neither Central High School, where Henry went for a while, nor Josephine Allen, the private school where he finished, had a baseball team. The emphasis was on football, so he played halfback and end. "I was pretty good," Henry says, "but I didn't especially like the game." He played on the schools' Softball teams, and by the time he was 15 he was playing infield and hitting cross-handed for the Mobile Bears, a sandlot club. "Sometimes on Sunday I'd make five or six dollars."
The Dodgers held an annual tryout camp in Mobile, one of those cursory ones in which a scout watches each kid pick up a few ground balls before telling him he can go. "When it came my turn," Henry says, "some big kid from Down the Bay pushed me aside, so I never got a chance."
Occasionally the kids from Toulminville would tire of being upstaged, and there would be a gang fight, but young Henry never was involved. "I don't want to brag," he says, "but I've never been in trouble. My mother would tell you I always was a sort of mature kid. I guess it was because I've always been a loner. Even in the big leagues, except when Bill Bruton was my roommate, I've kept pretty much to myself."
Aaron's roommate on a recent road trip was a book on the laws of Georgia real estate, which he was reading in case he ever decides to move to Atlanta permanently. Both Henry and his wife, Barbara, have studied to qualify for real-estate licenses in Wisconsin. The Aaron-Bruton Investment Co. (with Tom Cheeks, a teacher, as a partner) has assembled about $75,000 worth of residential properties near Milwaukee.
When Aaron reached St. Louis a man approached him and asked if, on his next trip in, he would talk to a Negro group, largely kids, and Henry said he would. As strong as his feelings on civil rights are, a membership in the NAACP is the extent of his active participation. "I'm approached all the time," he says, "but I feel that the only effective movements are the nonviolent movements, and I can't guarantee nonviolence. I don't feel nonviolent about it."
A white man found this out one day when he questioned the right of Aaron and several other Negro ballplayers to stand and talk on the sidewalk in front of a Tampa hotel. A Negro teammate found it out in the Braves' dressing room when he tested the theory that it is In for one Negro to apply racial epithets to another. Aaron will testify in no precise details to either incident, but he concedes that in each case his resistance was definitely not passive.
It is unlikely that Henry will ever apply for a Georgia real-estate license, although he has been pleasantly surprised by Atlanta. Life at 519 Lynnhurst Drive, in a comfortable brick ranch house on two rolling, shaded acres of grass, has been as idyllic as air conditioning can make it. Barbara finds food prices high, but racial tensions are uncommonly low in this most cosmopolitan of cities below the Mason-Dixon line. Two-acre plots considerably diminish the significance of racial composition but, for the record, Lynnhurst Drive is a mixed community.
"Yes, I was disturbed last year about the move to Atlanta," Henry says, "but the racial situation was a minor factor. We were happy in Milwaukee. I've never found a better place to bring up kids. There are so many different things to do."
Such as parks and beaches and things for the kids. And for Henry, the kid from Down the Bay who had found a way of life in Milwaukee, there were handball games at the firehouse, golf on the municipal courses until it was time to go hunting and a quick ride to Chicago to catch Sammy Davis Jr. or a musical fresh out of New York. And, most of all, there was the civic embrace of Milwaukee fans in those first few years, the most aggressive acceptance a baseball team has ever known. "The fans here in Atlanta have been great," Aaron says, "especially the way we've been going. They haven't ever booed anybody but the manager. But—I don't care how many people they draw in Los Angeles—there never will be anything like the way they treated us in Milwaukee in the early '50s."
"That's Hankie," Dorinda said, pointing to a picture in the family snapshot album, "and Larry. They go to camp. Gail goes to camp, too." And Dorinda will go to camp. Henry Jr., 9, and Larry, 8, would play baseball all day if their mother didn't call a halt. "But I want them to be interested in other things," Henry said. "I wouldn't mind their being ballplayers, but only under one condition: they have to be good ballplayers. I've seen too many guys go up and down. I think it hurt my brother that his name was the same as mine. People expected things of him that he just couldn't do. I don't want my kids to have to face that kind of pressure." (Tommie Aaron, now 27 and playing for Richmond in the International League, still is an unquestioned artist as a first baseman-outfielder. But in two seasons with the Braves he had a .222 average and was gone.)
Gail, 11, will go to college first. "I want my kids to have the chances I never had," Aaron says. "My father was a welder in a shipyard, and he couldn't do it. He made a living, but he had to make ends meet, week to week, in those days. I think he did pretty well to put three kids through college." Herbert Aaron, now "about 65." did very well, but he has had a little help putting Henry's youngest sister through Florida A&M. After the 1959 season there was a short-lived television production called Home Run Derby, and Henry Aaron hit more balls out of cozy little Wrigley Field in Los Angeles than anybody else—Mays, Jackie Jensen et al. For this he won $13,500, and with this he acquired a grocery store and two houses on Andrews Street in Mobile. His father has been operating the grocery store ever since.
"I'm not laying out any program for my kids," Aaron says. "I want them to be what they want to be. I've seen people decide they want their kid to be a doctor or something. Then the kid changes his mind, and it's like an explosion in his parents' life. I just want them to have the chance."
The chance is further insured by another 50 or 75 acres of property 10 miles outside the Mobile city limit. Most of the real estate Aaron owns is either dormant or in a break-even rental status now, but he believes he will activate it when he's through playing.
"Real estate is the thing I know, outside of baseball," Henry says, "but I'm not thinking about that now. I want to play as long as I can, but I want to quit before I become a burden. I don't want to stay too long. It's a great thing to go out of this game gracefully."
It would be another great thing to make 3,000 hits, joining a select company on a plateau that Rogers Hornsby and Willie Keeler just missed, and Henry will pass 2,400 in late August. "That's my goal," he says. "If I make that, I figure the other things will fall in place." Some home runs will fall in, as 424 had by this year's All-Star break. Babe Ruth's record 714 is remote, but there are those who expect 200 more home runs of Willie Mays, who is 35; it is hardly less realistic to expect 300 more from Aaron, who is 32.
Aaron has hit three homers in a game and 45 in a season, but one stands out in his memory. The score was 2-2 in the 11th inning at Milwaukee on the night of Sept. 23, 1957, and the magic number for Milwaukee's first pennant was 1. Billy Muffett, a curve-baller, was pitching for the Cardinals, and he hadn't served a home run all season. He threw a curve, Bad Henry swung, Wally Moon went back to the 402-foot sign in center field and jumped, and urchins who should have been home in bed scrambled for the ball in front of the cedar trees. Braves General Manager John Quinn and a cast of thousands burst into tears of joy.
For several seconds of Milwaukee's finest hour Henry Aaron wasn't there. Running between second and third base he was back on Edwards Avenue in Mobile, on his way home from school. The day was Oct. 3, 1951. Henry had just heard on somebody's radio that Bobby Thomson had homered to win a pennant, and he ran the rest of the way, giving a little leap every few steps as Thomson did. The cross-handed-hitting Negro sandlotter from Toulminville was Bobby Thomson that day, and he was again that night in Milwaukee, until he rounded third, saw the reception committee and knew it was at least as much fun to be Henry Aaron.
PHOTO
RARELY FOOLED BY A PITCH, AARON MOVES HIS WEIGHT FORWARD BUT KEEPS HIS BAT BACK, COCKED AND READY TO COMMIT
MAYHEMPHOTOAT HOME IN ATLANTA, BARBARA AARON POSES WITH HANK JR., DORINDA AND LARRY