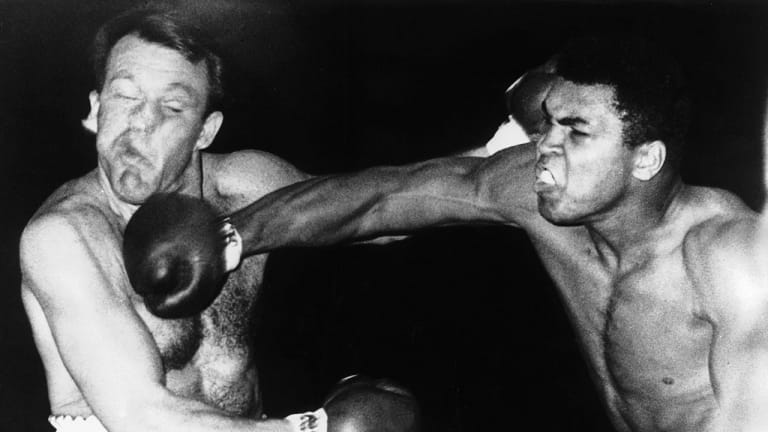 If Cassius Can't Punch, Then London Isn't Down
Brian London talked a better fight than he gave, and Cassius Clay, for a change, gave a better fight than he talked. The bout did prove the champion can punch, no matter what the Blackpool Bulldog said
For a man whose head had just been used as a punching bag, Brian London had an odd way of describing Cassius Clay. "He isn't a puncher," said London. "He just hit me so many times I didn't know where I was." This way please for the champ's next opponent, and mind those combinations.
London's wife, Veronica, a chirpy, buxom blonde, held a somewhat different view of the heavyweight champion's power right from the start. A boxing fan, she not only thinks Clay is a great fighter but said as much before the bout. "I don't mind if he beats my husband," she told a reporter, "as long as he leaves me a little bit."
Lancashire, where they invented a dish called hotpot, and Blackpool, London's home town and the county's rambunctious seaside resort where they boast about the number of colored lights in the streets, are used to such forth-rightness. Assess your chances, natives believe, and come out with it, blunt like. No pussyfooting around the facts.
The facts of the second defense of his world title in England in little over two months by Muhammad Ali Cassius Clay (MACC, as one British sports-writer dubbed him, harking back to Harold Macmillan, who was known snidely as Supermac) were, to quote London, "unique." They added up, judging by prefight predictions, to the neatest grab since England's celebrated train robbery: London's take was estimated at $112,000.
THE GREAT LONDON GOLD RUSH, read a headline over a newspaper article the morning of the fight, and one who skipped on to news about the cricket test match between the West Indies and England or the Commonwealth Games in Jamaica could be forgiven for mistaking the story as just another account in the life of the Blackpool Bulldog, who has never made a secret of his affection for money. The newspaper, as it turned out, was reporting that the price of gold had swept to its highest peak in years on the City bullion market.
Despite a physiognomy that touches on a pugilistic extreme—London's face could hardly be more concave if he lay down on his back and told a man with a jack hammer to go to work on him—he has always claimed a disenchantment with fighting. His father, who ended up as a nightclub bouncer, was the first postwar British heavyweight champion. Virtually forced into following in his parent's footsteps, London started to box professionally in 1955. With an odd, gluttonous appetite for soft, fizzy drinks and a knack for finding trouble, he became the bad boy of the British ring. Regularly he ran afoul of the British Boxing Board of Control and once, letting his wretched temper get the upper hand, he started laying about the head of an opponent's trainer. On another occasion he rendered unconscious a fan who had planned to commiserate with him by butting the man in the face.
To curb his weight, London cut down on his soft drink intake. This seemed to bring about a character transformation, which, if it did nothing to improve London as a fighter, did lead to public statements endearing him to the hearts of Women's Christian Temperance Union members. "I have never drunk a pint of ale," he said recently, "smoked a cigarette, gambled or touched any woman in my life except Veronica. And I met her when she was 15."
London came to his fight with Clay with 48 contests behind him and disadvantages in age (32 to Clay's 24), speed and reach (7 inches less), to name just a few. On the rosy side, which is the kindest way of putting it, London could claim that, though he had been beaten 13 times, only one man had ever put him on the canvas. This worthy was Floyd Patterson, whom London fought in 1959 in a match which he took without the BBBC's permission, in consequence of which he was later suspended and fined. The Patterson fight, coupled with the Clay meeting, gave London an unusual distinction. His challenges for the world title were seven years apart. The results of both drove a knowing student of the noble art in Blighty to conclude, "There are not likely to be any other British aspirants in the foreseeable future."
As recently as May of this year Brian London lost on points to Thad Spencer. Among other notable achievements he could count three defeats at the hands of his country's champion, Henry Cooper, who took the British heavyweight title from him seven years ago. Twice a bloody victim of Clay, Cooper was prompted to remark that if London won his fight at the Earls Court Arena in the British capital, then he would become the world champion, too.
As politely unimpressed by London's lack of finesse as Cooper was the former world light-heavyweight champion, France's Georges Carpentier, who could only describe a workout he witnessed as amusant. But London was impressive in another important way. He provided most of the prefight shenanigans. "London built this fight," Clay himself acknowledged in his dressing room afterward. "I have to respect him for his boldness."
London trained in a holiday camp close to his home. Holiday camps, as understood in Britain, are establishments that appeal to people with an overwhelming nostalgia for barracks life. They are enormously popular, generating the impression that at any moment the inmates will burst cheerily forth in an old wartime favorite, the punch line of which is, "We'll soon have the Hun on the run, run, run." The barracks are only thinly veiled in these years of peace with brightly colored plastics and gaudy lighting. Brian London's sparring ring was set up in the Sunset Cafe of his particular camp, and he was photographed with a troupe of dancers in grass skirts and Carmen Miranda feathered headdresses. His most memorable comment came when he was asked whether Clay's habit of talking to opponents during a fight would upset him. "Clay insult me?" London responded bravely. "I'm too ignorant."
Such talk was difficult for even the loquacious Clay to match. His training establishment was a gym in Hampstead in northwest London. The windows were covered with brown paper to discourage peeping fans and the radiators were turned on to make the place feel like Miami. Clay said he was tired and worried. He even hinted of eventual retirement to a female reporter who literally shook in his presence. The doubts, guessed one writer, were "figments of a well-trained imagination, to give the box office a fillip."
The trouble was that the ticket sales of Promoters Jack Solomons and Lawrie Lewis needed the sort of boost that goes into a Gemini project. On the night of the fight the arena, which could have absorbed 18,000, was barely half full. No amount of persuasion had convinced the English public that London was anything but a pushover for Clay. And on the morning of the fight one daily even carried a report of the bout as if it had already taken place. The story was over-generous to London, saying he would be beaten in 11 rounds.
Clay's own training—or lack of it, as some believed—seemed to a minority of speculators to be London's only chance. Once it was reported in slightly aghast tones that Muhammad Ali had arrived at the gym two hours late. Some members of England's World Cup soccer team, who had waited patiently to see him train, left before he arrived. He sparred 26 rounds, all while in London, the last five almost a week before meeting his challenger. But in those five, according to Trainer Angelo Dundee, he reached his peak. "It is just a matter now," said Dundee, "of keeping him up there."
While Clay feigned lassitude, London was explaining energetically his plan of battle. He based his hopes on the theory that he was a fighter very much like George Chuvalo, the Canadian who went the distance with Clay last spring. "I would never say that Clay was anything but a great boxer," explained London, "but Chuvalo proved that a man can stay with Clay, and Henry Cooper proved that Clay dislikes being hit on the jaw. That is what I shall be going for. I want to crowd him and throw punches all the time. It is my intention to have a thump. Clay may cut me, outbox me, even beat me. But I'll be there at the end thumping."
Henry Cooper, helping the gate, pointed out that London does not bleed much but instead swells and puffs from punches. He conjured up a vision of London, swollen like an enraged toad, cutting down Clay's area for maneuvering with each blow received and finally pinning him with one grand thump before himself exploding.
But on serious analysis London's task seemed hopeless. A boxer who eschews hooks or straight punches, he normally moves forward while throwing arching blows, thus taking the sting out of his punches. At the weigh-in, where he scaled 200½ pounds, nine less than Clay, London commented, "If we win, everybody else will be sick," and he could not have uttered a truer word. From Clay, strangely the more silent player in the masquerade leading up to the fight, there was at last a muted note of menace. "We'll see by the result of the fight," he remarked, "whether I'm ready or not."
The fight will probably rank as the nonfight of the year. Earls Court is also used for exhibitions, like the motor show, so perhaps what happened Saturday night can be excused on that basis. When it was over, London could not have been said to have landed one significant blow. "I wasn't wanting to waste my strength and energy early on," was his story. "I wanted to take my time." He did. He tried stalking Clay in the first round, his shoulders hunched, but the champion, enveloped in gay confidence, was on a carousel. London never could climb on. The wariness which Clay displayed for a time in the second fight with Cooper, watching out for Henry's proven left, had evaporated, and he was leaping in with lefts and rights, even leading with his right.
In the second round London again attempted to go after Clay and tie him up, but it was a futile gesture. "Rough him up, Brian," was the poor advice of an optimistic spectator in the audience. The gulf between the two fighters became quite clear when London moved as if to trap Clay in a corner, London's own corner, where the fight was soon to end. Clay nonchalantly danced out. Then, before the round was over, he hit London with a combination of left- and right-hand punches that left his opponent shaken and clearly doomed.
The rest of the contest, if it can be called that, took place in the London corner with the positions reversed. "It was hard until I caught him," Clay recalled later with a diplomat's flair. He had London trapped, and delivered a devastating series of about a dozen blows to his opponent's head in a little more than a few seconds. First lefts, as if he had a speed bag in front of him. Then left and right hooks and, lastly, two deadly right-hand punches similar to the one that put Liston out in his second fight with Clay. London slumped down on his side and was counted out after 1 minute 40 seconds of the third round.
The only lesson of the fight, apart from the obvious one of human gullibility, was the underscoring of Clay's punching speed and the pulverizing momentum of power that he builds up with them. They were, he explained, "fast and snappy, more of a shock," and in that sense London may have been correct when he said Clay was not a puncher. But only in that sense.
For his fight with London, Clay revealed, he had concentrated on hitting power. "I could have been faster for this fight," he said, "if I'd weighed 201 instead of 210 pounds. I was not just out for a knockout, but I have another fight in five weeks, and a long one now would have taken too much out of me."
No doubt Clay will trim down for his fight with Karl Mildenberger in Frankfurt next month. If not, he should. Unlike London, the German heavyweight has a reputation for running in the ring like "a scared crow." As for Brian London, he would like a return with Cassius Clay, but only, as he told the champion, if he ties "a 56-pound weight" to each leg. Even on these terms the fight would be a one-sided affair.
PHOTO
Beginning his furious, final onslaught in the third round of Saturday's heavyweight title bout in England, Cassius Clay launches a vicious left.
PHOTO
Continuing his attack after several more fast lefts, the champion moves in on the virtually helpless Brian London with a powerful right smash.
PHOTO
Clay's first right started challenger London toward the canvas. Another right an instant later resolved the issue as Clay mercifully backed off.
PHOTO
Down and unable to rise, London is counted out following a barrage of rapid-fire blows that should have convinced him but, curiously, did not.