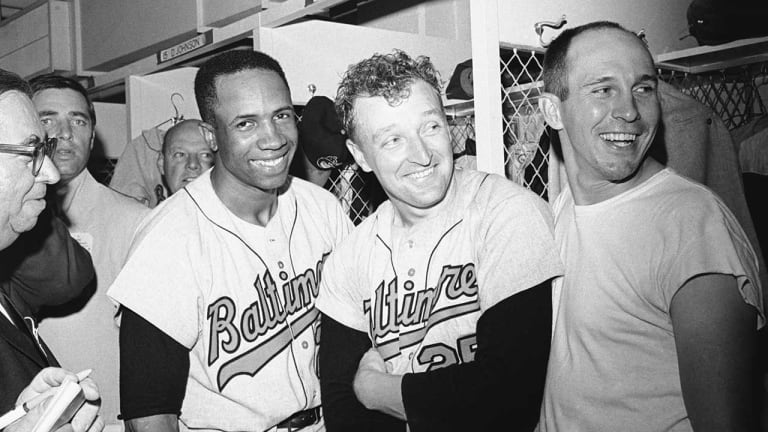 THOSE HAPPY BIRDS!
Underdogs, a team supposedly without solid pitching, the astounding Orioles used their big bats effectively if sparingly, ran out a retread reliever and three youthful starters and smothered the Dodgers four straight
A PRACTICAL DEMONSTRATION OF PALMER'S LAW
GAME 1
Wes Parker, the Los Angeles Dodger first baseman, is a major league ballplayer, a tournament bridge player, smooth, rich, damned good-looking and very bright. He likes to discuss things—even extremely personal things—clinically. In the first game of the 1966 World Series, Parker had struck out ignominiously with the bases loaded, at a time when a base hit might have turned a losing game back to the Dodgers. They had been shoved stunningly on the defensive in the first inning when a wild Don Drysdale gave up successive home runs to Baltimore's Frank and Brooks Robinson. The Oriole starter, Dave McNally, atrociously wild-high and unable to handle his heady 4-0 lead, had in 2 1/3 innings given up a home run, a double, two savagely hit fly outs and five bases on balls, the last three in succession. In came Moe Drabowsky, who was later acclaimed the hero of Baltimore's 5-2 win but who was shaky to the point of disaster in the first inning he pitched (he walked Jim Gilliam on a 3-2 count with the bases loaded to force in one run and went 3 and 2 on John Roseboro and threw nine pitches to him—one a "fourth" ball that was fouled off on a checked swing—before Roseboro finally popped out to end the inning). But Parker was the first batter Drabowsky faced and he had looked silly on a halting sort of three-quarter swing as he struck out. Parker is a reasoning man, and he can accept such humiliation as experience, but first he had to understand what Drabowsky had done to him.
"The first pitch was a hard slider, up and in," Parker said, clinically. "It was a strike. The next pitch was the same, a good one but too far in, a ball. Then the fast ball, low and away, a real good pitch for a strike.
"But that last pitch did something that I don't know," Parker said. "It could have been a curve, but.... If you talk to him, would you please ask him if it was a spitter?"
"No," said Drabowsky, who is the rare breed of cat who would have said yes if that were the answer. Drabowsky was something of a phenom in 1957 when he was a bonus player (they still called them that in those days) with the Cubs. Before arm trouble reduced him to mediocrity he could throw as hard as—well, as hard as he did against the Dodgers, when he gave up one hit in 6 2/3 innings and struck out 11, six of them in a row. It may have been the best relief-pitching job in Series history.
Drabowsky knew the Dodgers were groping for an explanation of why their bats had been shoved down their throats, and he wanted to help them understand. "I've thrown better," he said, "and lately. I struck out those six guys [it was eight guys] against Detroit. That pitch to Parker was a good slider, on the outside, and it moved in on him. It must have looked to him like it jammed, because he didn't get a good cut at all, but you can tell him it wasn't a spitter."
Baltimore's No. 2 starter, Jim Palmer, thought he had found something, too, as he watched Drabowsky put down the Dodgers. Still a few days short of 21, he delivered the penultimate of baseball insults—the ultimate is "choke"—by declaring, "You can beat the Dodgers with a fast ball." Now, even good hitters have trouble with the breaking pitch, but the major-leaguer who cannot hit the fast ball is no hitter at all. Palmer was trying to tell the Dodgers something about themselves. In effect he was saying they were a fraud, and the next day it would be his turn to put his fast ball where his sassy young mouth was.
One thing was certain: you can't get the Robinson boys out with fast balls, or at least not with the hip-high-or-better kind Drysdale served them. Two swings and the Orioles had produced one of the dramatic innings in Series history and had taken away the go-go Dodgers' tools—the bunt, the hit-and-run and all that. Still, after Maury Wills led off the last of the first with a walk, he got a 40-foot jump on the first pitch and stole second laughing.
"Maury had to let us know he was there," Baltimore Manager Hank Bauer said in an understanding way.
GAME 2
Wills made his presence known again after the second game, but in a somewhat different way.
"His fast ball was just straight—it didn't move," the Dodger captain said disparagingly. Smart-aleck Jim Palmer had thrown 115 pitches—maybe 100 of them fast balls—and had smothered the Dodger bats in a four-hit, 6-0 victory. Wills almost never loses his poise, his confidence, his innate sense of superiority, but Palmer's here-it-is hit-it performance left Maury playing pepper with the second baseman and nudged him into his sour-grapes position.
"That's better yet," the victorious Palmer said. "If they can't hit a fast ball that doesn't move, then they are really bad hitters. Which is what I said, didn't I?" Then Palmer, his arrogance justified, added, "But you better believe my fast ball moved today."
Moved better than Sandy Koufax'. Sandy, pitching his third big game in eight days, gave up only one earned run in six innings (and it was "earned" only because official scorers don't give errors when one outfielder spooks another off a fly ball), but it was a weak performance for Koufax, who failed to impress the Baltimore hitters. He looked tired, he was forcing his pitches and he had Willie Davis behind him in the outfield.
Grieve a little for Willie. He gave Baltimore the game when he dropped two fly balls in the fifth inning and threw the second one away after he picked it up. Later he ran Ron Fairly off another fly and ended the day with an unearned run average of 4.00. There never had been a clearer case of one man blowing a World Series game all by himself, and if there had been, it would have been less impressive because the losing pitcher would not have been named Koufax.
Of course, there is the question of whether Willie Davis deserves to be grieved for, because he squanders his gifts. The Orioles' Wally Bunker observed that the Dodgers "don't take the bats off their shoulders." He was accusing them of being beggars, of taking any pitch that might be a ball because they must walk first and then scramble to victory if they are to get there at all. That's the Dodger rule, but Willie, the only member of this wonderfully team kind of team who is not a team player, is an exception to a number of Dodger rules. He does not bunt, and he simply will not take a pitch (he had 624 at bats this past season and only 15 walks) even when a pitcher is obviously wild and tiring, as McNally was in the third inning of the first game (Willie swung on the first pitch and popped up). He would run to Sunset and Figueroa with a bat if he heard that somebody would be throwing a baseball past there sometime this week. Willie would like to swing at it.
Moreover, if a ground ball is needed to move a runner from second to third, Willie shoots for the mountains anyway and hits a fly ball. Once in a while he reaches the mountains and then he wants to do it again, and the hell with that greatest-good-for-the-greatest-number jazz. He overthrows cutoff men with maddening consistency, runs bases carelessly and does these things because he is too stubborn or too something to accept the good advice a player gets in the Dodger organization.
And he's a hot dog, too, even though he says he is not. So why should anyone feel sorry for him? Because, as Mildred Dunnock said of her salesman, a terrible thing has happened to Willie and attention must be paid to him.
When attention was paid, after the game, Willie offered no excuse other than the sun, which confounded Umpire John Rice, too. Rice chickened when Luis Aparicio lobbed the ball to him after the last out in the Dodgers' fourth, minutes before Willie's first muff. Red-faced, Rice watched the potsy toss sail past his face and over his shoulder. "I blew it," the umpire admitted amiably. "That sun was a bitch."
Willie thought so, too, and asked the assembled sportswriters to understand that he could have chickened, covered his face with his hands and let the ball drop. Then the Series audience would have felt sorry for him and there wouldn't have been mass sarcasm in the seventh, when he finally caught a fly ball.
Perhaps, though, the man to feel sorriest for was Koufax. He put the Dodgers in the Series, and if they were still to win it, he would have to win it for them. When, after a night flight from Los Angeles, the Dodgers arrived at their hotel in Baltimore a few hours before dawn on the morning after the disaster, a dutiful eight-piece band waiting in the lobby struck up a welcoming California, Here I Come. Koufax, the realist, suggested they try Melancholy Baby.
GAME 3
Oriole Center Fielder Paul Blair felt sorry for Willie Davis, but he said he would have felt sorrier for Paul Blair, "because I'm supposed to be a gloveman." The glove isn't the only thing Blair has to sell, but it's the main thing. It is the reason his trip down to the minors was round-trip and not one-way last year—he could have won the center-field job in Baltimore if he had been able to hit more than .234. This year Blair hit .277, but he had only six home runs and 33 RBIs. That kind of player has to bring a glove because nobody thinks of him as a hitter. Nobody but Shortstop Luis Aparicio. "Would you believe a home run?" Aparicio asked in the Orioles' dugout as the third game droned scorelessly into the bottom of the fifth and Blair came to bat against left-hander Claude Osteen. Before anybody could say, "I find that hard to believe," the ball was soaring over the auxiliary scoreboard in left field.
"I made a good pitch, low and away," said Osteen. The photo shows he did: Catcher John Roseboro was listing slightly to starboard to catch the low, away fast ball. "It may have seemed inside to Blair," Osteen added, "because he leaned in. The next time I face Blair I'll probably start him off the same—fast ball, low and away. It was the first pitch to him, and I think he was guessing."
"I guessed fast ball," said Blair with a shrug. He knows Palmer's Law: show me a bad hitter and I'll show him my fast ball. So does Wally Bunker, who ran the Dodgers' schneid to 24 innings with his 1-0 victory. He was asked if he had gotten giddy with success and had challenged Wes Parker with a high fast ball on a 1-2 count with the tying run at second in the eighth.
"Hell, no," the 21-year-old Bunker said. "You don't challenge hitters with my kind of fast ball. I don't overpower anybody. In fact, I'm not even a fastball pitcher. But the way these guys are going out on fast balls, I'd be crazy to throw them anything else."
The moving fingers have written that this World Series was a classic of pitching excellence, nor will all Dodger Pitching Coach Lefty Phillips' tears lure it back to cancel half a line, and that's too bad because people who care about baseball ought to understand what was going on. It was a classic, but one of hitting incompetence. It was evident by the middle of the third game that cocky young Palmer was right—the Dodgers are a fraud, they stand naked when the ball stops bouncing the right way for them. They are the delightful mountebanks of baseball, and you must have intellectual admiration for their larcenous capers. But they are exposed when an almost-was like Moe Drabowsky exceeds himself, reaches back into his past and shows his teammates which shell the pea is under.
Howard (Buddy) Jacobson, who leads the league in training winning race horses, and with a frequency that is maddening to his pompous contemporaries, has said this of his trade: "You don't have to be very bright in this game; you just have to pay attention." The same applies to beating the Dodgers. Dave McNally wasn't paying attention in the first game and he was throwing his pitches over everything. So Drabowsky came in and showed how to get the job done: pay attention, and don't let them shake you up. The Dodgers can't beat you unless they scare you, and after Drabowsky the Orioles weren't afraid anymore.
With two outs and an 0-2 count on Lou Johnson in the ninth inning of the third game, the Orioles demonstrated both principles. Catcher Andy Etchebarren always wants to know his pitchers are paying attention, and he started to the mound to discuss the coup de grace—a fast ball, of course—with Bunker. "I wanted to be sure he'd make it low," Andy said. But before Etchebarren got to the mound Aparicio ran in from shortstop, holding his palms out in a cease-and-desist gesture. "Andy likes to go to the mound a lot," Luis said, "and that's good. But I didn't want him to shake the kid up. He was O.K."
Don't be scared, but pay attention. "I got the message through anyway," Etchebarren said. "We have a sign for it." Johnson bounced the low fast ball to short and the third game was over.
Not much later Bunker, the winning pitcher, sat in front of his locker, alone. Where were the truth-seekers? "I don't know," he said. "I guess shutting out the Dodgers isn't news anymore."
GAME 4
"They told me," said Baltimore Oriole Pitcher Dave McNally, "that if I gave one run I'd be the goat of the Series." The winners were telling jokes, even before victory was official. Dave McNally gave no runs, the Orioles scored one, and about the weirdest World Series in history was over.
The Cubs of 1938, the Reds of 1939 and the Phillies of 1950, just to name a few, lay down and died in the crucible of World Series play, but nothing had ever happened like what happened to the Dodgers. They didn't quit; they never got started. Lou Johnson, the fey, blithe spirit, tried to start them in the fifth inning when he took a big turn around first on a routine single, but he slipped and fell and had to scramble back to the base, head-first. Lou first denied he had tried, consciously, to do a Dodgerlike thing, to rekindle the spark that hadn't even flickered since Maury Wills stole second in the first inning of the first game, a dynasty ago.
Then Johnson admitted he had been trying to lead the charge. "Somebody had to do somethin', man," he said. But nobody did nothin'. Nobody but Willie Davis, who had suffered in the sun in the second game and had two reasons to do somethin': one was to redeem the errors of his ways (which he didn't think were as much in error as some of the stories that didn't really tell the people what had happened to him). The other was that somebody had to do somethin', or the party was over.
Willie did it, but the party was over, anyway. In the fourth inning Frank Robinson won the World Series with another home run off Don Drysdale, a tee shot into the left-field stands that would be the only run of the day and the last of a Series in which the Dodgers were out-scored 13 2. It didn't shake the Dodgers as much as the one he had hit in the first inning of the first game, but it shook them. And it gave Willie Davis his chance. Some chance Boog Powell got the medium-thin part of his bat under Drysdale's fast ball and hit what would have been a pop-up to short center for a normal man. But the 240-pound Powell is not a normal man, and Willie Davis turned tail and headed for the fence. Willie knew that pop-up was going out of there, and he was preparing for it. He was more prepared, perhaps, than he had ever been for a quasi-impossible play. Earlier this season Manager Walter Alston had said, "I wish Willie would do what Ron Fairly does on a ball like that. You go to the fence first and feel for it. You can keep your eye on the ball, but once you touch the wall, it's yours. You don't have to worry about it anymore."
Davis ran to the center-field fence, turned and reached behind him for the wire mesh. The ball was coming now, and it was another home run. Willie bent his knees to coil for the spring, the one that carried him to a U.S. national high school broad-jump record not very many years ago. The fence is seven feet high, and Willie's glove was three feet higher than that when he grasped the ball.
More dramatic catches have been made, but none more beautiful. It was the third out, and Willie carried the ball in his hand, like a trophy, until he passed second base, where he flipped it vehemently toward the mound with a gesture that seemed to say, "The hell with you people. I can catch a ball—any ball."
"If I tossed it hard," Davis said, "I didn't know it. I'll tell you what I did think, though. I thought I had done something that would get us started. We were feeling for the ball, instead of swinging at it. That's the same as being a defensive hitter. That's what we were."
And that, despite Willie's catch, is what they continued to be. They had tied a 61-year-old World Series record for consecutive scoreless innings in their previous time at bat. After Willie's catch they broke it, and then added four more to finish with 33 straight innings without a run. They had been shut out in three straight games, the first time that had happened in a Series since 1905. They lost successive 1-0 shutouts, and that had never happened before. As a team they made the fewest hits and scored the fewest runs in Series history.
Baltimore, on the other hand, functioned like a team, like a winner. Its pitching had weak hitting to cope with, but it coped, almost perfectly. The fielding was seldom spectacular (except that Brooks Robinson is always spectacular), but it was impeccable: the Orioles did not make an error, another Series record. Not that Baltimore's batters ripped things apart—the Orioles' .200 batting average was the lowest ever for a Series winner. But Baltimore's hits were dramatic—the back-to-back homers by Frank and Brooks Robinson in the first game, Paul Blair's in the third, Frank Robinson's in this last insult to the Dodger dynasty. And in the final evaluation, Frank Robinson was the difference. He won the pennant for Baltimore. He won the Series.