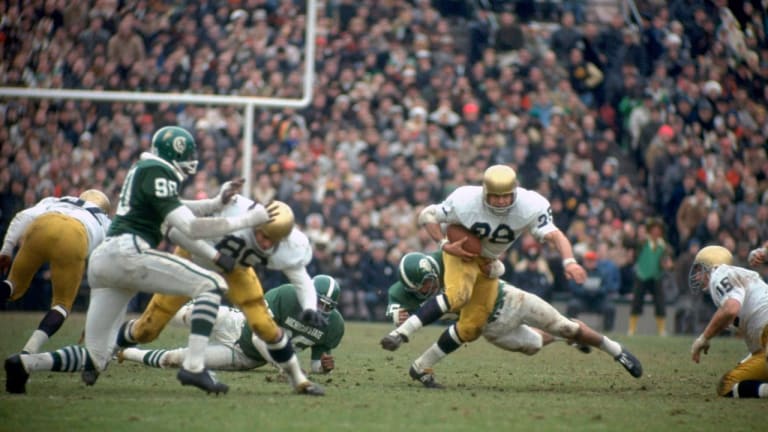 An Upside-Down Game
College football awaited an epic that was supposed to decide the national championship. But it all fell apart when Michigan State faltered after a fast start, and Notre Dame took the easy way out
Old Notre Dame will tie over all. Sing it out, guys. That is not exactly what the march says, of course, but that is how the big game ends every time you replay it. And that is how millions of cranky college football fans will remember it. For 59 minutes in absolutely overwrought East Lansing last week the brutes of Michigan State and Notre Dame pounded each other into enough mistakes to fill Bubba Smith's uniform—enough to settle a dozen games between lesser teams—but the 10-10 tie that destiny seemed to be demanding had a strange, noble quality to it. And then it did not have that anymore. For the people who saw it under the cold, dreary clouds or on national television, suddenly all it had was this enormous emptiness for which the Irish will be forever blamed.
Forget everything that came before, all of that ferocious thudding in the line that was mostly responsible for five fumbles, four interceptions, 25 other incompletions, a total of 20 rushing plays that either lost yardage or gained none, and forget the few good plays—the big passes. Put the No. 1 team, Notre Dame, on its own 30-yard line with time for at least four passing plays to break the tie. A No. 1 team will try something, won't it, to stay that way?
Notre Dame did not. It just let the air out of the ball. For reasons that it will rationalize as being more valid than they perhaps were under the immense circumstances, the Irish rode out the clock (see cover). Even as the Michigan State defenders taunted them and called the time-outs that the Irish should have been calling. Notre Dame ran into the line, the place where the big game was hopelessly played all afternoon. No one really expected a verdict in that last desperate moment. But they wanted someone to try. When the Irish ran into the line, the Spartans considered it a minor surrender.
"We couldn't believe it," said George Webster, State's savage rover back. "When they came up for their first play we kept hollering back and forth, 'Watch the pass, watch the pass.' But they ran. We knew the next one was a pass for sure. But they ran again. We were really stunned. Then it dawned on us. They were settling for the tie."
You could see the Spartans staring at the Irish down there. They had their hands on their hips, thoroughly disdainful by now. On the Michigan State sideline, the Spartans were jeering across the field and waving their arms as if to say, "Get off the field if you've given up." And at the line of scrimmage the Michigan State defenders were talking to the Notre Dame players.
"I was saying, "You're going for the tie, aren't you? You're going for the tie,' " said Webster. "And you know what? They wouldn't even look us in the eyes. They just turned their backs and went back to their huddle." Bubba had hollered, "Come on, you sissies," while other Spartans were yelling at Parseghian.
Notre Dame Coach Ara Parseghian made the decision to end the so-called "game of the century" that way. The players only followed instructions, some of them perhaps reluctantly. "We'd fought hard to come back and tie it up," Ara argued. "After all that, I didn't want to risk giving it to them cheap. They get reckless and it could have cost them the game. I wasn't going to do a jackass thing like that at this point."
Thus ended a game that had been slowly built up for five long weeks into the biggest collegiate spectacle in 20 years. The last game to create such pre-kickoff frenzy was between Notre Dame and Army in 1946 at Yankee Stadium. That battle of the century was as full of as many fluky things as this one. It ended in an unsatisfactory 0-0 tie, with both teams claiming No. 1, and left thousands bewildered by the fact that such folklore characters as Johnny Lujack, Glenn Davis and Doc Blanchard had not performed the one remarkable deed that would have decided it.
So when the 1966 season is over, who will deserve to be No. 1? Duffy Daugherty thought Michigan State should be 1 and Notre Dame only I A. He then said he would even accept a "co-championship," thinking of the Spartans' lesser voting power in the polls. "Last year," he said, "we won on the field and lost at the polls." The reference was to Alabama capturing the AP award after the bowl games and slipping into a tie with the Spartans in the Football Writers' postbowl voting. Ara Parseghian, obviously, believed the Irish could outpoll Michigan State and everyone else, or he would not have been so willing to settle for a tie. Alabama's best chances lie ahead. So do Nebraska's. Both teams could wind up undefeated and, should one beat the other in a bowl game, the winner would have an 11-0 record to glisten against the 9-0-1 of Notre Dame and Michigan State, neither of whose schedules was that much fiercer than Alabama's or Nebraska's. Finally, there is mounting dissatisfaction with Notre Dame's policy of shunning bowls while at the same time gunning for a national championship, and with the irritating Big Ten rule that forbids a team from going to the Rose Bowl two years in a row. So long as Notre Dame and the Big Ten teams keep these policies, they perhaps deserve to be out-polled by an Alabama—as punishment.
Last week's game was decided a dozen punishing times, it seemed, the two national powers heaping heroics onto boners, and vice versa—as Michigan State surged to a 10-0 lead and Notre Dame struggled back to the indecisive tie that was earned but unapplauded.
The game was marked by all of the brutality that you somehow knew it would be when such gladiators were to be present as Michigan State's 6-foot-7, 285-pound Bubba Smith, "the intercontinental ballistic Bubba," a creature whose defensive-end play had long ago encouraged Spartan coeds to wear buttons that said KILL, BUBBA, KILL.
Bubba killed, all right. He killed Notre Dame Quarterback Terry Hanratty early in the first quarter. When Hanratty, a sensational sophomore for eight games, slid off right tackle on a keeper, Bubba Smith whomped him in the left shoulder and separated it. He caught him just right, as they were falling. It looked as if Hanratty had been smacked by a giant swinging green door.
"That didn't help us any," Bubba said later. "It just let them put in that O'Brien who's slippery and faster and gave us more trouble. The other guy just sits there and waits, and that's what we wanted."
That is what Ara Parseghian wanted, too. Hanratty may sit and wait, but he also throws deep better than O'Brien, though Coley O'Brien threw well enough to get the tie. Ara not only would have liked to have had Hanratty but Halfback Nick Eddy and Center George Goeddeke as well. Like Hanratty, Goeddeke was valuable, one of Notre Dame's more accomplished blockers. He went out with a first-quarter ankle injury, also courtesy of Bubba. But Eddy, the best Irish ballcarrier, never even got into the game. The Grand Trunk got Eddy.
The Grand Trunk is not another name for Bubba Smith. It is the railroad train that Notre Dame rode from South Bend to East Lansing on Friday. When the train arrived, Eddy fell off the steps right onto an already injured shoulder, and sophomore Bob Gladieux was quietly told that he would start the biggest game of the 1966 season at left half.
As Notre Dame lives with the tie in the weeks and months ahead, it will never forget these injuries and the alibis they strongly suggest. But the Irish do not exactly substitute with girls from Sweet Briar, and Coley O'Brien and Bob Gladieux—the new Baby Bombers, somebody said—did marvelously well. "Considering everything, I thought they played super," said Parseghian. O'Brien, who must receive two insulin shots a day for diabetes, hit Gladieux with a 34-yard pass on a deep pattern straight to the goalpost. The ball barely cleared a defender's fingertips but brought Notre Dame's touchdown in the second quarter. The score narrowed the Irish deficit to 10-7 at half time.
The combination of Eddy's injury and the pressure of the game made Notre Dame an extraordinarily grim-looking group upon arrival in East Lansing. Usually loose and smiling, the Irish checked into the Jack Tar Hotel beneath a marquee that said WELCOME TO THE BIG ONE, with frozen, dedicated expressions that for some indescribable reason did not spell confidence. End Jim Seymour, the startling pass catcher and outgoing personality of earlier Saturdays, was rigid, deeply concentrating. In the game itself Seymour was double covered so well all day that he was scarcely noticeable. He had one decent chance at a pass but dropped it.
The Irish should have been happy to leave South Bend, even on the Grand Trunk, after the week of attention they got. On Monday there were dozens of reporters and photographers on hand, the number swelling each day. It was the same for the Spartans, of course. Both Parseghian and Daugherty had to hold daily press conferences and play the game over and over ahead of time. They certainly thought the game was an honor and a privilege. Parseghian said it looked like a product of Hollywood since Notre Dame was 8-0 and No. 1 and Michigan State was 9-0 and No. 2. Daugherty said it was a shame that such games come along only every few years in college football; that there could be one every year if the NCAA would only hold a football playoff. They said they were simply going to remind their players that Saturday was going to be one of the greatest days in their lives.
The two teams were so talented and physically imposing, and had beaten their opponents so easily, that it was impossible to foretell how the game would go. It was anticipated that neither could run much but that both could strike in the air if their quarterbacks had a spare second to get the ball away. No one wanted a freak play to decide it; everyone wanted a clear winner. The last thing anyone thought about, especially the coaches, was a tie. No, that was the next to last thing. The last thing was all of the mistakes that occurred.
It seemed the two teams would never settle down and begin to look like Nos. 1 and 2 instead of Nos. 42 and 43. Of the four passes Terry Hanratty threw before he met Bubba Smith, three were atrociously off target, one a simple screen that went into the turf. The runners went nowhere, primarily because of Webster, Linebacker Charlie Thornhill, Guard Jeff Richardson and Bubba. And Notre Dame failed to get off a fourth-down punt because of a poor snapback. Michigan State countered with a fumble, a delay penalty, a clip and a penalty for interfering on a punt catch. It looked like the big intramural game at Columbia.
One interesting thing had happened, though. On an aborted sprintout pass by Spartan Quarterback Jimmy Raye, a flighty junior with a mustache, State had seen something. Split End Gene Washington, one of the surest and fastest receivers in the country, had beaten the Notre Dame deep defenders by 10 yards. Washington, the Big Ten hurdles champion, can outrun most people.
"I can look in a man's eyes and know whether I can beat him," Washington said afterward. "I knew I could beat those guys all day."
Near the end of the first quarter, on first down at his own 27, Raye called the play again. He raced to the right, stopped and fired a bomb. Washington got it for a 42-yard gain. Nine battering ground plays later, with merciless double-team blocking on Notre Dame's fine tackle, Kevin Hardy, State scored. Regis Cavender, who was in for Bob Apisa, crashed over, and it was 7-0.
On its next possession in the second quarter, the Spartans scored again. Raye got away for 30 yards outside right end. And he hit Washington again for 17 yards to reach Notre Dame's 26. A couple more passes failed, however, and the Spartans had to be content with barefoot Place-kicker Dick Kenney's 47-yard field goal.
Michigan State, though it continually appeared as if it might, never got beyond Notre Dame's 47-yard line the rest of the day. John Ray, Notre Dame assistant, felt he knew why. "We weren't getting out of our tracks in the first half," he said. "Maybe we were tight. We told our kids to just start hitting people."
Notre Dame's defense, led by Hardy and Linebackers Jim Lynch and Jim Horney, finished the day with a record of having jammed the talented Spartan runners for either minus-yardage or for no gain on no less than 16 rushing plays. Clinton Jones, of all people, was held to 13 yards on 10 carries, and this is the equivalent of stopping Cassius Clay at mid-punch. Jones and Jim Lynch came together in what may have been the loudest collision of the game. Lynch intercepted a Raye pass and stormed up-field, only to be met by Jones. The halfback hit him at the knees as Lynch tried to hammer into him simultaneously. In the next instant Lynch was turned a perfect flip. He landed on his headgear, fumbled and Jones recovered. The dizzy play, one of many, enabled Michigan State to keep possession and subsequently to get its field goal.
Then, late in the third quarter, Coley O'Brien cranked up a Notre Dame drive that looked like it would surely send the Irish ahead 14-10. With Jim Seymour decoying, he passed to Rocky Bleier for nine yards and to Fullback Larry Conjar, whose blocking was evident all day, for 18 yards right over the center. He passed out in the deep flat to Halfback Dave Haley. Short runs by Haley, Bleier and Conjar moved the ball to the Michigan State 10. With third and three—one of those calls that makes Ara chew his gum like a rabbit—O'Brien tried to pass but did well to scramble to the line of scrimmage. Joe Azzaro then came on to kick the 28-yard field goal that tied the game.
By now, with slow subtlety, the look of things had changed. Michigan State, certainly the better team in the first half, did not seem so sure anymore. Notre Dame had come back. A break or something freaky would decide it now and the wrong team would win. Whoever it was would be wrong. You knew that.
Instantly, the play that should have settled the game did in fact happen. Notre Dame Safety Tom Schoen picked off a wild Jimmy Raye pass—unlike the Irish, the Spartans gambled—and skittered back with it 31 yards to the Spartan 18. Anyone who thought the Irish would pull something besides three straight Larry Conjar plunges and a winning field goal from about the 10- or 15-yard line was in a closed ward somewhere.
Conjar did run on first down. He dug out two yards. But now what's this? Here's Haley going wide to the left on second down, and here's Phil Hoag, completely unmolested, knifing through with Bubba Smith to crack him for an eight-yard loss! The ball isn't on the 16 anymore; it is back on the 24. Now O'Brien fails with a frantic pass and it is fourth down. Joe Azzaro's field-goal try has to be from 42 yards out. It is a couple of feet off to the right, and the swoon of relief in Spartan Stadium makes the structure lean a little.
"That Haley play," said Parseghian, a total wreck in the locker room after the game. "That was just leakage. We leaked a guy through—blew an assignment." He stared down at the floor. "Damn," he said.
And back outside the Notre Dame door, a pretty Michigan State coed going through the tunnel looked blankly at her boy friend. "Damn," she said. "Damn, damn, damn."