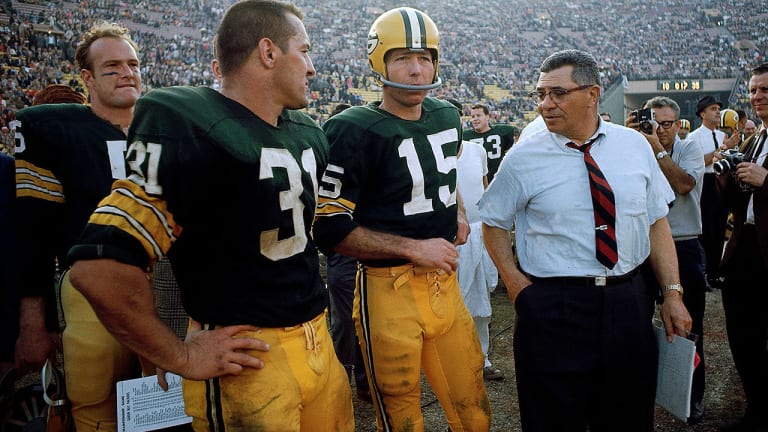 Bread-and-Butter Packers
In the first half the Super Bowl lived up to its billing, but then the ruthless insistence of Green Bay wore down Kansas City and turned the game into a runaway
For two quarters it seemed that the Kansas City Chiefs might turn the Super Bowl into a Super Upset. The AFL champions, 7-year-old babes in the jungle of professional football, had played the merciless machine that is Vince Lombardi's NFL champion Green Bay Packers to a virtual standstill, blunting the famed running attack, harassing the game's best passer, moving the ball down the field to trail only 14–10. Then the superdream came to a nightmarish end. The Packers stormed out of the weeds, where they had been lurking for a half, and suddenly the first game between the two long-feuding leagues became a rout.
The Packers struck savagely and often at the Chiefs' weak spots, and when it was all over they had demonstrated to their own satisfaction—and to the AFL—that they are indeed the finest football team in creation. The score was 35–10, and even Lombardi, the game ball clutched to his breast like a No. 1 draft choice, permitted himself a smile.
The game began slowly. Curious about the Chiefs' capabilities, Green Bay's Bart Starr probed cautiously at first. He had expected to exploit anticipated deficiencies in the Kansas City defense at corner back, but he waited for a while before he began throwing passes to Carroll Dale, Marv Fleming and to the surprising hero of the game, Max McGee. McGee caught the first touchdown pass on a pattern that worked well all during the warm, windless afternoon in the Los Angeles Coliseum. He ran an inside move on Corner Back Willie Mitchell, who dived frantically in an effort to knock the ball away. McGee reached back with one hand, snapped the ball to his chest and went in for a 37-yard touchdown. Although it would take the Packers more than a half to establish their superiority, that one play confirmed Kansas City's fatal weakness at the corners.
The touchdown came eight minutes and 56 seconds into the first quarter, on the second series of offensive plays run by Green Bay, and at the time it did not create noticeable consternation among the Chiefs. Indeed, running and passing surprisingly well against the still-adjusting Green Bay defense, Kansas City tied the score quickly. Quarterback Len Dawson completed several passes to Mike Garrett, the stumpy rookie halfback who proved to be just as good as the Packers had feared, to Chris Burford, the veteran end, and to Otis Taylor, who had been compared favorably by AFL adherents to Dallas' Bob Hayes.
Scrambling constantly, Dawson threw out of Coach Hank Stram's floating pocket and, for the first half, he threw very well. When he got Kansas City its first touchdown with a pass to Curtis McClinton, the surprisingly small crowd of 63,036, most of whom seemed to be pulling for the Chiefs, cheered the seven-yard play with slightly unbelieving exuberance.
But early in the second quarter Starr had pretty well decided what he could do to Kansas City, and it was quite a lot. He took 13 plays to travel 73 yards for Green Bay's second touchdown, and it was during this march that the hopes of the Chiefs must have begun to die.
Early in the drive, Starr suckered the Chief defense with a tactic that he has often used against NFL opponents. The running of Jim Taylor and Elijah Pitts had left the Packers with third down and a yard to go on their own 36-yard line. Many times Starr has faked Taylor into the line and thrown long under these circumstances, and now he did it again. As Taylor made his fake, Fred Williamson, the Kansas City corner back who calls himself The Hammer, came up hard—too hard. Dale went by him wide open and caught Starr's long pass 20 yards in the clear for a touchdown. A penalty called the play back, but it had been clearly established that the Green Bay spread ends and flankers were going to have a productive day.
Starr underlined that fact on the next play by passing to McGee for 10 yards and a first down and, thereafter, he repeatedly jolted the Chiefs with his third-down calls. Later, on third and 10 from the Green Bay 42, he passed to Dale for 15 yards. On third and five from the Kansas City 38 he passed to Fleming for 11 yards. On third and seven from the Kansas City 24 he passed to Pitts for 10 yards and a first down on the Chiefs' 14-yard line.
The second Green Bay touchdown covered those 14 yards on a play that the Packers have all but abandoned against NFL opponents because it has become so familiar. It was the venerable Green Bay power sweep to the left, with Taylor carrying the ball behind the meticulous blocking of Tackle Bob Skoronski, who hooked in the Chief end, and Guards Fuzzy Thurston and Jerry Kramer, who mopped up what was left.
After that the Chiefs drove down to the Green Bay 24 on Dawson's passes out of his moving pocket, and Mike Mercer, who had come to the Coliseum all alone Saturday to practice placekicking, booted a 31-yard field goal. That was to be almost the last sign of any offensive activity by the Chiefs; the half ended 54 seconds later, and in the second half Green Bay, exploratory preliminaries completed, took over the ball game.
The Packers made a few adjustments during the intermission. "We were a little too cautious in the first half," said Team Captain Willie Davis, who redeemed his subpar performance in the NFL championship game against Dallas. "We were concerned with that rolling pocket. It wasn't all that new, because Detroit used it against us some. But we were getting in and then not making tackles, and we weren't blitzing at all."
Like most of the Packers, Willie accepted the victory calmly and he spoke carefully, as he always does. "They were spaced wider than we thought they would be," he said. "If you wanted to get any kind of inside rush you had to line up head up on your man. In the second half we did that and spread the linebackers a little wider to contain Dawson, and we quit being cautious. I figured, forget Kansas City and the Super Bowl and do what you do best."
Early in the second half Dawson had advanced the Chiefs to their own 49-yard line, third and five, when the Packers tried their first blitz, sending the two corner linebackers—Lee Roy Caffey and Dave Robinson—in with the wave of the defensive line. Robinson looped in and tipped Dawson's pass, which wobbled weakly into the air.
The ball was picked off by Green Bay's ubiquitous safety Willie Wood, who had cut in front of Fred Arbanas. Wood ran the interception down to the Kansas City five-yard line, where Mike Garrett caught him, but Pitts scored easily on the next play. "Who tackled me?" Wood asked in the dressing room and shook his head when someone said it was Garrett. "He's a good one."
After Wood's interception the Chiefs seemed to come apart. They never again got beyond the Green Bay 44-yard line. The Packers, under the cool, intelligent marshaling of Starr, moved the ball almost at will.
They scored again late in the third period as their running game began to move more easily against the opened-up Kansas City defense. Starr still used the run sparingly; on a 56-yard drive he hit McGee three times—once for 11 yards, once for 16 yards on third-and-11, and once for 13 yards and a touchdown. All three passes were essentially the same: down-and-in patterns with McGee beating the corner back.
The Packers scored again in the fourth period, doing it with almost contemptuous ease. They started from their 20-yard line, after a Kansas City flurry had aborted following an interception by Willie Mitchell when Starr under-threw McGee slightly on a long pass.
As if to prove to Mitchell that his interception was an accident, Starr's first pass from Green Bay's 20 was for 25 yards to Dale, who left Mitchell spraddle-legged on a square-out pattern. Then Starr passed to McGee for 37 yards, and again Mitchell was the victim. Taylor failed to gain from the Kansas City 18-yard line, but Starr passed to Dale (on Mitchell) for another seven yards. From the 11, Pitts and Taylor ran the ball in, with Pitts going the last yard.
So the Packers did just what they thought they would be able to do after watching Kansas City game movies. "They seem to be deep-conscious, but they are vulnerable on the flanks," Starr had said. "I expect we will attack them with our flanker and spread end." Ultimately, attackers McGee and Dale caught 11 passes for 197 yards and two touchdowns.
Garrett said it from the other side: "They pick out a weak spot and stay with it better than any team I've seen. Which weak spot? Well, they were passing like mad on us and hitting those third-down plays, so there must have been a weakness somewhere. But they make mistakes. They are not superhumans. We just made more mistakes."
If there were any differences in the practice sessions of the two teams, they were mental, not physical. Both Lombardi and Stram decreed secret workouts, not to conceal any new and devastating plays from a large and news-starved pack of reporters but to assure the concentration of the players.
"We'll do about what we have always done," Lombardi said one afternoon at the Santa Barbara Inn, a plush motel on the Pacific 90 miles north of Los Angeles. "Why change? We've been successful with it this far."
Although some NFL coaches had expressed doubt that the Packers could get themselves excited about the game after their Dallas heroics, they seemed, if anything, more intent on doing a job on the Chiefs. "We'll show them," said Willie Wood. "Past scores, movies, heights, sizes, weights—none of that means a thing. The only thing that counts is combat, head to head, for 60 minutes on the field."
"Look," said Tom Brown, the other Green Bay safety, "we have had a great season. We won 12 games, and we only lost two, and we beat Dallas for our second straight championship. You know something? If we lose this game, the season won't mean anything. No one will remember that. You know what they will remember? That the Green Bay Packers were the NFL team that lost to Kansas City in the first game played between the leagues."
Brown was faced with the problem of covering Fred Arbanas, the big Kansas City tight end. Thinking about that, he made a rueful face.
"I have a lot to make up for in this game, and I expect I'll get the chance," he said. "After Kansas City looks at the movies of us against Dallas, they'll be picking on me. I made three real bad plays—the interference down on the goal line that gave them their last chance, the time I fell down when Clarke made the big touchdown, and once down on the goal line early when I had an interception in my hands and dropped it. Just about the only thing a defensive back in my position is asked to do is to stop the big play. That only happens four or five times during a game, and it happens right out in the open. We get paid a lot of money for those few moments, and I busted them in Dallas. I won't again. A loss here would ruin all that Coach Lombardi has built up over the years. That thought haunts him, I'm sure, and it haunts us and drives us, too."
Although the Chiefs felt keenly the responsibility of representing the AFL, they did not seem as aware of their potential place in history as the Packers. In their own motel in Long Beach, 30 miles south of Los Angeles, they appeared more relaxed, despite a healthy respect for their opponents.
"We are just going to have to hang tough in there," said Johnny Robinson, the veteran defensive back. "I don't see how we can stop them from getting maybe four, five yards at a crack, so we'll just have to wait and hope for the breaks and take advantage of them."
Curtis McClinton, the 227-pound fullback, went to bed each night with a Green Bay roster and studied his opponents until he fell asleep. After all this rumination, he arrived at an opinion at some variance with the consensus.
"This idea of making them a two-touchdown favorite is ridiculous," he said. "That is way out of line. The way I see it, they shouldn't be more than a three-point favorite. They get one point for the winning habit, one point because I think they are at the height of their maturity, and one point because they have a strong big-game history."
Buck Buchanan, the 6'7", 287-pound tackle who was faced with Fuzzy Thurston, employed a more esoteric method of preparation. He obtained a copy of Vince Lombardi's book, Run to Daylight, and studied the paragraphs devoted to Thurston. When he had finished, he kept whatever discoveries he had made to himself.
(At Santa Barbara, Thurston said philosophically: "He's about the biggest I ever played against. His big trouble is going to be finding me when we line up against each other. Maybe he'll trip over me.")
The general feeling in the Kansas City camp seemed to be that if the Chiefs lost, at least they would not disgrace themselves. The Packers, on the other hand, never thought of losing.
"We have to show clearly just how big a difference there is between the two teams," Defensive End Lionel Aldridge announced. "How bad should we beat them? I don't know, but one touchdown won't be enough."
The eventual 25-point margin should have been enough even for Aldridge. The only people in the stadium who needed more convincing were, of course, the Chiefs, who licked their wounds and felt that they weren't really that bad.
"We had to stop Green Bay on those third-and-one and third-and-two plays," said Defensive Tackle Jerry Mays. "Then they killed us on third-and-six and third-and-long. The way I see it, we lost our poise after Wood's interception. The Packers themselves beat us in the first half, then the Packers and the Packer myth beat us in the second."
"They don't hit any harder than anyone else," Linebacker Sherrill Headrick said. "The thing is, they never block the wrong man—they're always in your way. And their backs always hit the hole. On their sweeps I was getting blocked by a different guy each time—the tight end, the pulling guard, the back. I don't know where they all came from."
Said Mitchell, who, with Williamson, bore the brunt of the Green Bay passing attack: "Starr was just throwing to open spaces and, when we blitzed, the linebacker was gone and I was in a one-on-one situation. I don't feel he was picking on me. He's a good quarterback. He's every bit as good as the quarterbacks at Buffalo and Oakland."
"I'd like to play them again next year, or next week, or even tomorrow," said Buchanan. Whether or not Buchanan gets his chance, he had a preview of the new look the Packers will have by then. Several of them are considering retirement, including Max McGee. Late in the game Vince Lombardi took a look at his replacements. He had Jim Grabowski at fullback, Donny Anderson at halfback, Gale Gillingham at guard and Bob Brown at defensive end. Receiver Bob Long played intermittently.
The young Packers did not quite match the veterans, but in time they will. Said McGee, who did so well in what might have been his last game, "It's a nice way to go, isn't it? In the Super Bowl I catch seven passes, and that's three more than I caught all season. I had an opportunity to play when Boyd Dowler got hurt, and I made the most of it.
"Of course," he said, "I would come back under one condition. If Vince wants me to come back, I will."
The Packers, as was clearly evident on Sunday, always do just what Vincent Lombardi wants them to do.