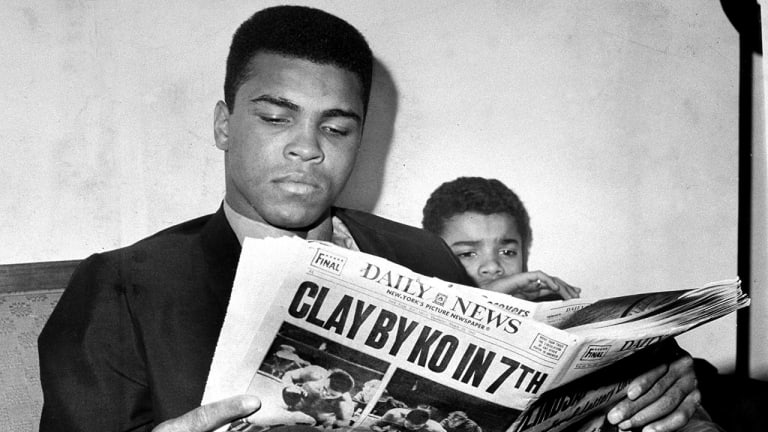 Publish date:
The Once And Future King?
Though lacking the glowering presence of Sonny Liston—who waits to challenge the winner—a tournament of interesting home television matches will determine the No. 1 claimant to All's vacated title
Never have so many owed so much to the absence of one. When the intransigent Muhammad Ali lost a decision to the law of the land and was stripped of his heavyweight championship, he transformed a baker's dozen of potential victims into credible heavyweight contenders. In counting himself out he may have done even more to revive interest in boxing than he did in the three years during which he held the heavyweight championship. At the end of the lively era of his tenure the heavyweight division had degenerated into a modern version of the bum-of-the-month club Joe Louis presided over during the dog days of his distinguished career. No one honestly believed that a Joe Frazier or a Jerry Quarry could give Ali a fight. The only question was how long they could remain standing. Ali towered over the field, and boxing might have perished in the shadow of his excellence.
Now, suddenly, the fight is on again. Among all the pretenders to Ali's throne, no one stands head and shoulders above the rest. The lowliest is capable of giving the best an argument, and the opening skirmish in the battle for control of the heavyweight division was a portent of things to come. In this encounter a young contender knocked a veteran cold as a mackerel. The fight did not take place in the ring. It was a paper battle fought with contracts, and Sports Action, Inc., the youngster with American Broadcasting Company television money in its corner, disposed of the venerable, crafty Madison Square Garden with a knockout punch revealing the strength of what Ernie Terrell calls green power.
Green power, of course, is the power of money. Sports Action, Inc., headed by Mike Malitz, corralled most of the top contenders for Ali's crown by the simple expedient of offering them more money to fight than Madison Square Garden would. Malitz' group could make this offer because ABC will carry the matches in the elimination tournament on the Wide World of Sports, the first two on Saturday afternoon, Aug. 5, from the Astrodome in Houston. The purses for the four fighters in this doubleheader range from $23,000 to $50,000, and to all of them this represents riches. The Garden would not match these guarantees, and no private promoter would, either. They are part of a nut of some $300,000, an unimaginable sum without the contribution of television.
For the man in the living room, Sports Action's victory is a pleasant thing. He will be able to see the whole tournament without forsaking his cold beer and icebox lunch. He may quarrel a bit about some of the people in the tournament, because a few of the likely candidates to replace Ali are not among those present. Sonny Liston, who has lost only three fights in his life and two of those to Ali, will be playing solitaire in Las Vegas, a 220-pound black Hamlet wondering whether he is to be considered as a genuine challenger when the tournament ends. Why he is missing from the eliminations is known only to the promoters. Joe Frazier, the young lion of boxing who has assumed the mantle Ali once wore as a former Olympic champion on his way up, is aligned with the Garden, where he will fight George Chuvalo on July 19. If he survives this test, Frazier, too, will be available to fight the winner of the tournament. Chuvalo, who may very well whip Frazier, was left out of the tournament because he dropped to 10th in rank after losing to Oscar Bonavena, who is in the tournament. Zora Folley, who fought one of the craftiest and most courageous fights against Ali, is absent because he, too, dropped out of sight in the spurious rankings of the World Boxing Association.
As it stands now, eight fighters will be allowed to decide the championship among them. They are, in alphabetical order: Oscar Bonavena, Jimmy Ellis, Leotis Martin, Karl Mildenberger, Floyd Patterson, Jerry Quarry, Thad Spencer and Ernie Terrell. Waiting hopefully in the wings, in addition to Liston, Frazier, Chuvalo and Folley, are a trio of long shots—Eduardo Corletti of Argentina, Manuel Ramos of Mexico and Buster Mathis, erstwhile protégé of Cus D'Amato.
The matches made so far are between Terrell and Spencer and Ellis and Martin in the Astrodome, and between Mildenberger and Bonavena in Offenbach, Germany. Patterson, who fought a draw with Quarry in Los Angeles not long ago, will probably fight him again on Oct. 21 or 28, again in Los Angeles. The semifinal matches between the winners are planned for the Astrodome on Nov. 11 and Dec. 2 and the championship at the same location in late January or early February. The Aug. 5 doubleheader is scheduled to begin in the late afternoon in Houston, which will surely be the first time in boxing's modern era that a fight goes on at tea time.
The tournament represents the final takeover by TV of a major sports field. Football, basketball and baseball all dance to the merry ring of television dollars, but this is an all-TV show and, despite the contrary views of many sportsmen, it is not necessarily a bad thing. Practically speaking, more fight fans will be given an opportunity to watch the action of this tournament than would have if the fights had been promoted individually and sold to theater television. With the wide exposure of national television, interest is likely to build. When the survivors meet for the title in January or February that fight may attract the biggest TV audience in sports history.
This is the creation of an organization made up of the remnants of Main Bout, Inc., which handled the theater television of most of Ali's fights. It includes Malitz, who has been in boxing all his life; Attorney Robert Arum; Former Cleveland Brown Fullback Jim Brown; Fred Hofheinz, son of Judge Roy Hofheinz of the Astrodome; plus the ABC bankroll. It represents, as Harry Markson and Teddy Brenner of Madison Square Garden discovered, an almost unbeatable combination. Hofheinz has the best arena in the world in which to present a boxing program, and he demonstrated in the Cleveland Williams-Ali and the Terrell-Ali matches considerable skill at producing and showcasing fights. The Astrodome itself is a big plus. A visiting English writer, after watching a soccer game in the Astrodome that was attended by some 20,000 fans, said, "You could put on a shin-kicking contest in this remarkable place and draw 20,000 people." And with ABC as a partner, money is no problem.
"Without ABC, we could not go through with the tournament," Malitz says frankly. ABC's participation, in effect, locked out the Garden, which might have come in for a fight or two had it not been for its tie-up with RKO General in a special sports network. "We wanted the Garden to join us," says Malitz. "We were willing to accommodate them. We offered to sit down and work out a deal. But we could not dance to their tune, and they could not dance to ours. It was that simple."
Brenner, the Garden matchmaker, put the problem another way. "They wanted us to hold Saturday afternoon fights in July for the Wide World of Sports" he says. "With that kind of date we wouldn't draw enough to pay for opening the doors. Meanwhile they have given fighters contracts guaranteeing them up to $50,000 apiece. Many of these fighters have never received $20,000 for a fight. That's the worst kind of inflation. We couldn't make money on that deal even if we got $75,000 of the TV revenue."
Despite the absence of a few legitimate contenders, the tournament is a good one. "There aren't any out bets in the whole thing," says Angelo Dundee, the trainer of Ali and of Jimmy Ellis, one of the participants. "The worst odds may be 2 to 1, and most of the fights are even or maybe 7 to 5, and I wouldn't want to lay it either way. It's a breath of fresh air. Boxing has finally reached the point that all the other professional and amateur sports in the country reached a long time ago. These guys are evenly matched."
The Ellis-Martin bout in Houston certainly supports Dundee's theory. They have fought each other twice before, when they were amateur middleweights; Martin won the first decision, Ellis the second. It is not likely that either will win the tournament, although Ellis must be considered a better bet than Martin.
Terrell, who was savaged for 15 rounds by Ali and survived despite a badly damaged eye sustained early in the fight, is probably the best of the lot. At 28, he is mature without having lost anything to age. He is ring-wise enough to handle the youngsters and young enough to outlast the Pattersons, Listens and Folleys. "The only question is how much Ali left him after their fight," says Dundee.
Liston is Ali's own choice, and Ali is in the best position to judge. "He can whip any of the eight in the tournament," Ali says. But there are a few questions about Liston today. Since he lost the second fight with Ali in Lewiston, Me. he has confined his activities to knocking over four nonentities in Sweden, and one of the four, Elmer Rush, rose from the floor five times after Liston had knocked him down. He stayed down after the sixth.
"That's not the Liston who used to be," observes Dundee. "He was a great finisher. If he put you down once you might stagger up, but if he got a clean shot and put you down again you stayed down for good. He's no spring chicken. If he's lost his punch, forget him. But if he's on a par with the Liston of the first championship fight in Miami Beach, he can take anyone but Ali."
In the early matches it seems likely that Mildenberger, Terrell, Ellis and Quarry will move up. Mildenberger gave Ali the toughest fight of his career as champion. "He's a lefty, and most fighters have trouble with lefties," Dundee said. "His hardest fight may be with Bonavena, because Bonavena crowds and left-hooks and that's the way to beat a left-hander. I know, because I handled five left-handers at one time or another. But Mildenberger can fight, and this one is in Germany, and that helps, too. He fights like a madman at home."
Terrell should be a clear favorite over Spencer. He has the best left jab in boxing and the best combination of age and experience. Spencer has not shown a great deal, other than a propensity for conversation second only to Ali's. If there is a 2 to 1 underdog in the opening round of the tournament it is Spencer.
Quite possibly the most interesting and exciting fight will be between Ellis and Martin. Both have grown up from middleweights, retaining their speed while gaining power. But Ellis has two advantages: he is trained by Dundee, one of the smartest men in boxing, and he has spent more time in the ring with Muhammad Ali than any other fighter in the world. He worked with Ali before all of the champion's bouts and performed creditably. In his last three fights Ellis has scored first-round knockouts.
The Quarry-Patterson rematch is a toss-up. Quarry is a very tough young fighter who has moved quickly since he turned pro, not surprising in view of the fact that he had over 100 amateur bouts. He put Patterson down twice in the draw they fought in Los Angeles, then lasted through the best counterattack Patterson could mount. It seems likely that it will be Quarry, not Patterson, who improves during the time before their second match.
Aside from Liston, several fighters on the sidelines would seem to have a chance. Chuvalo's forte for a long time was his indestructibility. Ali and others damaged their hands on his head without disturbing his equilibrium. In the last few months he has developed a rudimentary left jab to go with the heavy body punches that carry his attack, but he is at his best with a fighter who comes straight to him. Movement from side to side—as demonstrated by Ali and Terrell in fights with him—seems to confuse him. Still, he may very well beat Frazier, who tends to move in a straight line.
Frazier is ranked high by the World Boxing Association—No. 2—but not all boxers and few managers agree with that rating. "He won't fight anyone," said Spencer. "His advisers make the old excuse that he's not ready. Scrap Iron Johnson gave him all he wanted and Scrap Iron can't walk from here to the door without falling down. You can knock Frazier out with a hard look."
It is Harry Markson's opinion that when the tournament is over the winner will be left with no one to fight. This appears to be sour grapes. The winner can take his choice among Liston, Frazier, Chuvalo, the tough Mexican, Ramos, and Argentina's Corletti. Finally there is the forgotten man, Zora Folley. "He made one of the best fights against Ali," Dundee says. "He's the only guy who could cut the ring in half, and he hurt Ali with belly jabs. I figure him as good as anyone today."
You have to figure all of them as good as anyone today. Muhammad Ali has vindicated himself as a Muslim holy man by passing a miracle. By not taking that step forward, he made potential champions of also-rans.
PHOTO
Hunched over a card table in Las Vegas, Liston sits out the tournament despite the fact that Ali says Sonny could lick ail eight participants.
ILLUSTRATION
The cover: 1) George Chuvalo, 2) Ernie Terrell, 3) Karl Mildenberger, 4) Joe Frazier.
1
2
3

4FOUR PHOTOSTournament fighters include, from left: Jimmy Ellis (in white trunks), as he prepares to knock out Johnny Persol; Leotis Martin, flooring Amos Johnson; Oscar Bonavena, jabbing Joe Frazier before losing on a split decision; Jerry Quarry (standing) and Floyd Patterson in their draw.