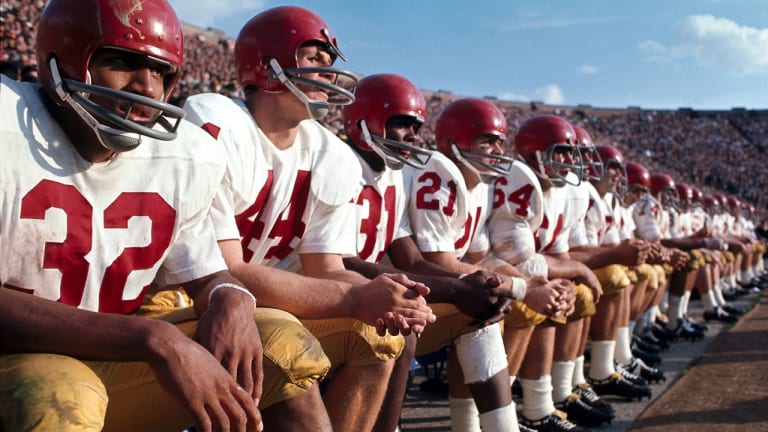 All the Way with O.J.
The game of the year, and very likely the national championship, went to USC when its peerless but sore-footed runner finally outshone UCLA's matchless quarterback and his aching ribs
Here is the way it was in that college football game last week for the championship of the earth, Saturn, Pluto and Los Angeles: UCLA's Gary Beban had a rib cage that looked like an abstract painting in purples and pinks, and USC's O. J. Simpson had a foot that looked like it belonged in a museum of natural history, but they kept getting up from these knockout blows, gasping, coming back, and doing all of their outrageously heroic things. So, do you know what? In the end, the difference in the biggest game of the 1967 season and one of the best since the ears of helmets stopped flapping, was that this guy with a name like a Russian poet, Zenon Andrusyshyn, couldn't place-kick the ball over this other guy with a name like the president of the Van Nuys Jaycees—Bill Hayhoe. And that was the contest. Andrusyshyn would try to side-boot a field goal or extra point for UCLA, and Hayhoe, who happens to be 6'8", would raise up. The ball would go splat, plink or karang. The last time Hayhoe did it, he tipped the leather just enough to make the Bruins fail on a precious conversion, and USC got away with a 21-20 victory in a spectacle that will surely be remembered for ages, or at least as long as German-born, Ukrainian, Canadian-bred soccer-style kickers play the game.
Of course, it is not exactly fair to insinuate that Zenon Andrusyshyn, the German-Ukrainian-Canadian, was the goat of the whole desperate afternoon. Though only a sophomore, he is a splendid kicker who boomed punts into the California heavens all day, and it appears that if the ball is given time to rise, he is capable of place-kicking one more than 60 yards. Rather, it is more accurate to give credit to USC's John McKay for one of those little coaching touches that sometimes supplies a subtle edge. This time it proved to be a subtle edge that gave McKay the most important game of his life.
"We knew he kicked it low, so we just put the tallest guy we had in there on defense," said McKay later, in what may have been the happiest dressing room since showers were invented. "We told the kids it wasn't so important that they bust through and make him rush the kicks as it was just getting to the scrimmage line and raising their arms high."
In his wry, twinkling way, McKay then lit a cigar and said, "I call that brilliant coaching."
Everything about the day was brilliant, of course—as more than 90,000 limp souls in the Los Angeles Memorial Coliseum certainly noted, and as millions of others watching on national television must have, too. Led by those folklore characters, Gary Beban and O. J. Simpson, both teams played extremely well, considering the slightly barbaric circumstances. Not only was the national championship quite probably at stake, but so were a few other odds and ends, such as the Rose Bowl bid, the Pacific Eight title, the Heisman Trophy, some All-America trinkets and a couple of coaching reputations. That both squads and staffs went into the gnawing pressure of this kind of Saturday with such poise was unique enough. But that they also managed to litter the premises with so much brilliant play was downright against the rules for games of the century, era, decade, year (choose one). There can only be one reason why the Trojans and Bruins responded so well to the occasion, and it is that they are, quite simply, the two best teams in the U.S. this season.
Some of the big stakes in the game were indeed decided by that one-point margin, which is growing fatter by the hour. USC's 9-1 record measured against the quality of its schedule makes the Trojans the most deserving team for all the No. 1 cups and saucers. The Trojans are also in the Rose Bowl, where they apparently are going to meet Minnesota and certainly not Purdue, thanks to an idiotic Big Ten rule. Some things obviously were not settled last Saturday, however, like, for instance, the individual duel between UCLA's Beban and USC's Simpson.
Although neither player was 100% perfect physically, both were superb in clutch after clutch. While he practically had to crawl to the sideline no less than five times to regain his breath because of his injured ribs, Beban whirled the Bruins to three touchdowns, passing for more than 300 yards, giving his team a 7-0 lead in the first quarter, a 14-14 tie in the third and a 20-14 lead in the fourth.
Meanwhile, Simpson, his right foot throbbing inside a shoe with a special sponge cover, wearily hobbled away from piles of brutal tacklers and eventually managed to race for a total of 177 yards, including the touchdowns that put the Trojans ahead 14-7 and finally 21-20.
Had the Heisman Trophy award, therefore, really been decided by a couple of young men named Zenon Andrusyshyn and Bill Hayhoe? As Jim Murray of the Los Angeles Times said, 'They should send the Heisman out here with two straws."
There had been an agonizing wait for this game. It began when USC climbed to No. 1 after its third win, and the agony increased when the Bruins eased up to No. 2 for a few weeks. Ironically, big-game lime found Prothro's Bruins in No. 1 and McKay's Trojans two deep breaths below. Oregon State had caught USC sagging under the burden of No. 1, and on a muddy field at a perfect psychological time and—with not too bad a team, of course—had scored a 3-0 upset. All this made last week's pregame rituals of special significance. As unusual as anything else was the fact that UCLA was on top of the polls but USC was a three-point favorite.
McKay and Prothro honed their teams quite differently for the big one. The Bruins worked shorter hours, for one thing. Zip, zip, zip. It was as if Prothro was trying to conserve their energy. On the last warmup day, Friday, his team was out only seven minutes in contrast to USC's hour and a half. Across town, the Trojans ran more. Lots of wind sprints at what McKay calls "party time," which is a sort of postpractice session. The defense especially ran more than normal, and it is worth noting that USC's defense was fresher at the end of the game. All of those Trojans who were chasing, and catching, Gary Beban there at the finish—Ends Tim Rossovich and Jim Gunn, who was in action despite torn ligaments suffered earlier in the day, Tackle Willard Scott, Linebacker Adrian Young and Halfback Pat Cashman—looked capable of playing another two quarters.
It was obviously more necessary for USC to win the game than UCLA. Prothro had beaten McKay the last two years, for one thing. Not only that, a feeling had emerged in the minds of many, much to McKay's anger, that Prothro had won with guile, wisdom and genius rather than athletes.
"Well," said McKay sharply one day, "we pushed 'em all over the field in 1965, but we fumbled on their one, seven and 17. I guess he planned that."
Anyhow, McKay was grim. Uncharacteristically grim. And USC, the team that is normally loose, was grim and quiet, right up to an hour before the start. The Trojans looked tense enough to fumble at least 10 times, but O. J. Simpson argued differently.
"We're just mad," he said.
Nor was UCLA in the emotional frenzy that has been its most commonly displayed trait. The Bruins were quiet, too, concentrating. Gary Beban was told that O. J. said USC was mad, and Gary, Mister Cool, said, "Anger doesn't win football games."
For almost the first 20 minutes it looked as if UCLA was the only team in the Coliseum. The Bruins were a lot quicker in the line, niftier in execution, more confident in their game plan, and more inventive in their attack. Beban had thrown the first of 16 completions to his left end, Dave Nuttall, who would catch seven, and he had gotten 11 big yards on a keeper, and he had led the interference for Greg Jones's blasting 12-yard touchdown run, which put UCLA out front. At the same time, the Trojans had not been able to move. In five possessions they had not scratched out a first down. On his first 10 carries, even behind an occasional and surprising eight-man line that McKay thought would unsettle Prothro, O. J. Simpson had gained only 11 measly yards. He had come no closer to breaking clear than Andy Williams, who was there to sing at half time.
The situation looked normal; Prothro had McKay's number, just as everyone had been saying at The Daisy, The Factory, La Scala and Stefanino's before diverting conversation back to who got which part in what TV series. It was normal except for one thing: USC did not have any yards or first downs, but it had seven points.
On the last play of the first quarter, just as it looked like Beban was cranking up the Bruins again, the UCLA quarterback threw a pass at midfield into the wide left flat. The receiver was open, as Bruin receivers were all day, but the ball hung. It may have hung because Beban's side, injured in the Washington game the previous week, prevented him from slinging the ball hard when he had to. It may have hung because he misjudged the risk of an interception. Whatever the reason, USC's Pat Cashman saw it coming. He darted in front of Greg Jones, leaped and took the ball with nothing but 55 yards of beautiful, unpopulated Coliseum turf before him.
"I called the play," Prothro drawled later on. "It's a new one. He's supposed to roll one direction, turn and throw blind, hoping no defender's there. It's a stupid play. I'll never use it again."
While Pat Cashman's interception perked up the USC rooters—hundreds of whom, like UCLA's, had been in the stands since dawn to get good seats—it did not seem at the time to be all that important; it might hold down the score, maybe. Sure enough, after a wiggly, 42-yard punt return by UCLA's Mark Gustafson, the Bruins were quickly threatening again, with a first down on the 15.
But now a series of strange things happened that changed the game for the rest of the day. In three plays the Bruins got nowhere, and on the third one Beban got the first of the deadly blows in the ribs—this one courtesy of Pat Cashman—which would send him writhing toward the sideline. Andrusyshyn came in and missed a field goal from the 20. The kick was not one of those molested by Bill Hayhoe; Zenon simply side-winded it off to the left. And on USC's first play from its own 20, the game suddenly had another offensive team. Earl the Pearl McCullouch started it by streaking down the sideline off a daring reverse for 52 yards. McCullouch then caught a 13-yard pass. And now Simpson was warmed up. From 13 yards out, O.J. burst over guard for the touchdown—one that was especially vital, for it proved to the USC offense that it could move the ball.
Still, if UCLA was impressed it did not act it. The Bruins took the kickoff amid the most noise since D-day, and Beban promptly threw a 48-yard pass to Nuttall. It was first down on the Trojan 15 again. But, just like the time before, USC's defense got riled. Beban was smacked by everybody but Southern California President Norman Topping, one of nine losses he would suffer, and he had to retreat to the bench again. In came Andrusyshyn for the first of two field-goal tries that Bill Hayhoe would block.
As has been said so many times about Beban, he learns from mistakes. He could hardly wait for the second half to start to take advantage of Pat Cashman, who had intercepted him and who had buried his red USC headgear into Beban's lung. With only two minutes gone in the third quarter, Beban laid a perfect 47-yard pass into the hands of Halfback George Farmer for the tying touchdown.
"Cashman had been waiting for another of those flat passes, so we sent Farmer straight down, right past him," said Gary afterward. "It balanced out. Cashman's interception was really responsible for our second touchdown." Between this score and the one that put UCLA ahead early in the fourth quarter, Prothro's team blew another excellent opportunity. The combination of a poor punt by USC's Rikki Aldridge, who redeemed himself for this and all other misdeeds of a lifetime by ultimately kicking the game-winning conversion, and a Beban pass put UCLA on the Trojan 17. It was here that Hayhoe, a junior from Van Nuys who weighs 254 along with his 6'8", lumbered through to drop Beban for a whopping loss, and two plays later he blocked another field-goal attempt by the Ukrainian.
"Those things somehow weren't as discouraging then as they are now," said Beban later as he wandered around in the USC locker room, sipping a canned Coke, smiling and congratulating the Trojans. "We knew we would score again."
They did. Beban hit four passes in a brisk seven-play drive covering 65 yards, the last one going to Nuttall for 20 yards and the touchdown that made it 20-14 with only 11 minutes remaining. Andrusyshyn missed the point because Hayhoe had gotten a finger on it, and while it occurred to everybody in the Western world that this could be a pretty unfortunate point to miss, UCLA still looked like the better team. The Trojans had not seriously threatened. Junior Steve Sogge had given way to senior Toby Page at quarterback, and it was no Los Angeles secret that John McKay's wife Corky was a better passer than Page. Nor had O.J. really busted loose.
But now it was time for Simpson to get back in the Heisman derby, thanks to a thing called 23-Blast. UCLA's tough tacklers had been kindly helping O.J. back up on his feet all day, a fine sporting gesture with the subtle design of keeping Simpson from resting. And at last it was time for O.J. to knock them down. And out.
It was third down at his own 36 when Toby Page saw UCLA's linebacker move out, anticipating the play Page had called in the huddle. Page checked signals and called another play at the line. It was 23-Blast. As it unfolded, it looked like a five-yard gain. Guard Steve Lehmer and Tackle Mike Taylor cleared O.J. through the hole. Then Simpson veered out toward the left sideline. Oh, well, a 15-yard gain and a first down. But End Ron Drake screened off UCLA's halfback, and the safety sucked over, and, hey, what's this? O.J. angled back to the middle, to his right, and a great glob of daylight became visible. And then he was running like the 9.4 sprinter he is, despite that sore foot and that funny shoe, and there was not anybody down there for the rest of the 64 yards who was about to catch him.
Of the remarkable 1,415 yards Simpson gained this season, those 64 were the most impressive of all, for they came after two hours of the toughest punishment he had endured—and they stretched all the way to Pasadena and Number Onesville.
About an hour and a half after the game, down in the USC dressing room, which had finally emptied and grown as quiet as it had been before the kickoff, a brief scene was enacted that served as a fitting epilogue. Dressed now, blazers on, hair combed, refreshed, Gary Beban and O. J. Simpson met, looking like two young men anticipating a fraternity council meeting.
"Gary, you're the greatest," said O.J. "It's too bad one of us had to lose."
"O.J., you're the best," said Beban. "Go get 'em in the Rose Bowl."
O.J. grinned. Presently, he ambled down the hall, through a door and up a walkway to an exit gate where clusters of USC fans were still gathered. It was roughly, oh, about 64 yards.