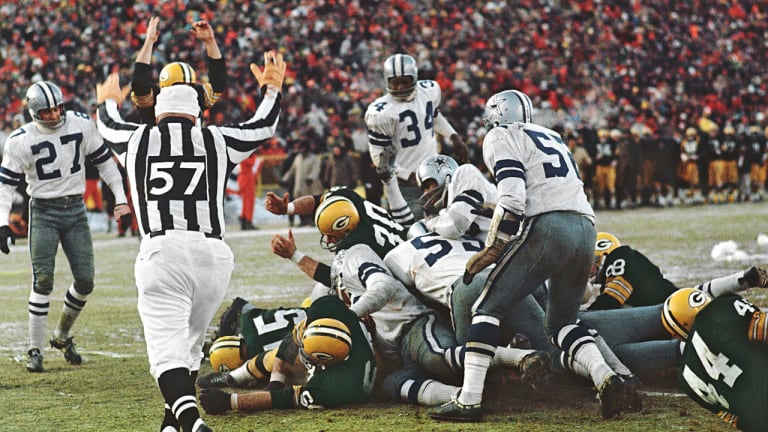 The Old Pro Goes In For Six
On a frigid field and against an ice-hard Dallas Cowboy defense, Bart Starr (No. 15) climaxed a last-minute drive by clawing across for the touchdown that put Green Bay in the Super Bowl
In the gelid confines of Lambeau Field, on the coldest New Year's Eve in the cold history of Green Bay, the Green Bay Packers won the right last Sunday to move south to Miami. There, on January 14, they will meet the Oakland Raiders, easy victors over the Houston Oilers (page 14), for the championship of all football.
Marshaled into something resembling a hot streak by Quarterback Bart Starr, the Packers shook off more than two quarters of almost total ineffectiveness and in the final frozen moments toiled 68 yards in four minutes and 37 seconds to score on the brave Dallas defenders. Thus, with only 13 seconds left to play, Green Bay won 21-17 to take the National Football League championship for the third straight year. No other team has been able to do that since the NFL was split into divisions.
Fuzzy Thurston, who has been around for six Green Bay titles, wiped tears from his eyes and beamed with a bright red, frozen face. "This," he said, "was the hardest one of my six. And the best."
The Packers had started off as though the temperature of 13° below zero was as comfortable for them as the gentle breezes of Miami Beach. They scored the first time they got the ball, marching 82 yards in a typical, methodical drive that took 16 plays. Starr threw six passes, called eight running plays and was helped along by two penalties on the Cowboys, one for interference, the other for holding.
In the second quarter he called a play that has become a Starr trademark. Almost everyone in pro football is aware that when the Packers have a third down and short yardage beyond their own 40-yard line, Starr is likely to go for broke. This time it was third and one on the Dallas 43. Starr faked Fullback Ben Wilson into the line, dropped back and lofted a long pass to Boyd Dowler, who had raced behind Dallas Safety Mel Renfro. For a moment it appeared that Dowler would not be able to reach the pass, but a brisk, 15-mile-an-hour wind hung the ball just long enough for him to pick it up on his fingertips.
The touchdown made the score 14-0; a year before, the Packers had jumped off to a similar 14-0 lead against the Cowboys, only to have Dallas come within two yards of catching up in the last minute and 52 seconds. But that game had been played on a good day. It seemed unlikely that on this frightful one the Cowboys could recover from a two-touchdown deficit. But they did and, as it turned out, almost all of the rest of the game was to belong to them.
They got one touchdown back later in the second quarter when the very quick Dallas line, which punished Starr most of the afternoon—he was dumped eight times while attempting to pass—threw him for a 19-yard loss. End Willie Townes hit Starr and forced a fumble; the other end, George Andrie, picked up the ball and scored with it.
"It wasn't the offensive line breaking down," Starr said after the game. "They did well enough. But the receivers couldn't make their cuts on the icy field, and I couldn't find anyone to throw to. So I was holding the ball too long, and they got to me."
A little later the usually sure-handed Willie Wood dropped a punt on the Green Bay 17 and Phil Clark recovered for Dallas. Danny Villanueva kicked a 21-yard field goal just before the half, and the Cowboys, who had been unable to gain more than three first downs in the first half, nevertheless left the field trailing only 14-10.
Even so, it seemed improbable that Dallas could win the game. While Starr had been throwing well and the Packers' running had been adequate, the Cowboys had been almost helpless against the Green Bay defense. Dallas managed only 42 yards as Quarterback Don Meredith, his hands numbed by the cold, missed his receivers, even when they were in the clear.
"My hands grew colder with each drive," he said later. "When your hands are as cold as mine were, you can't wing the ball, and you have to wing it, you have to spiral the ball in a wind like that."
But the second half was dramatically different. The Cowboys, having analyzed Green Bay's defense, changed a few blocking patterns to destroy the keys. Meredith, to give his passing hand a measure of warmth between plays, cut a hole in his jersey and tucked his hand in next to his belly. The defensive line continued to pressure Starr, and Dallas suddenly took charge.
The first time the Cowboys got the ball, Meredith moved them to the Green Bay 13. There, after a nine-yard run, he fumbled and Green Bay recovered. But on the next Packer series, hit with shocking force by Lee Roy Jordan, Starr lost 16 yards on one play while attempting to pass and the Cowboys came right back. This time Villanueva missed a field goal from the 47-yard line to end the drive.
Again the Dallas defense smeared Green Bay, which seemed to grow more helpless as the game went on. The Cowboys took over on their own 45 after a short punt. On second down Meredith handed off to Dan Reeves, who was a quarterback at South Carolina during his undergraduate days, and Reeves swept wide to his left. Dallas had had some success with this run during the third period.
"I was slow mentally on the play," Bob Jeter, the Green Bay right corner-back, said after the game. "We know-all about Reeves's option pass. They've used it a lot. Usually Willie Wood will tell me that he's going to take Lance Rentzel deep, or I'll tell him that I'll take him, but this time we didn't say anything. Willie moved up to meet the run and I took a step up and when I saw him cock his arm, I said to myself, 'Oh, my Lord, what have I done?' I tried to get back, but when I saw the ball in the air, I knew it was all over."
The pass play, from Reeves to Rentzel, carried 50 yards and put Dallas ahead for the first time, 17-14. It came on the first play of the fourth period, and although the Packers still had plenty of time, with Dallas dominating the game Green Bay's chances of winning seemed as remote now as Dallas's had earlier.
The next two times the Packers got the ball, they gained a total of only 21 yards, with 14 of those coming on an interference penalty. So, when Dallas had to punt with five minutes left to play and the Packers gained possession on their own 31 with 4:50 to go, most of the frozen crowd of more than 50,000 had almost decided to go home, warm up, and drown their sorrows with a sad New Year's Eve celebration.
"We went out for the huddle," Starr said, "and decided that if we were going to do it, it had to be now." Jerry Kramer, who had labored mightily blocking on Dallas's Jethro Pugh, said, "For the first time I had doubts. I thought, well, maybe the time has come for us to lose. But I had a second thought immediately. I thought that if we went, we'd go swinging."
For the next 4½ minutes the Packers burrowed deep into that reservoir of experience and determination that has accumulated in their unequaled three-year reign as champions of the world. The Cowboys had been double-covering the two Packer wide receivers—Dowler and Carroll Dale—so Starr could not go to them. Instead, he threw a short pass to Donny Anderson to open the series. Then Chuck Mercein (see cover) skittered outside right end for seven more yards behind a strong block on Linebacker Chuck Howley.
To remind the Dallas defense that he had not forgotten his wide receivers, Starr hit Dowler over the middle with a 13-yard pass for a first down. Anderson lost nine yards on what was meant to be an option pass, but Starr came right back and tossed him a dinky pass over the head of an onrushing lineman, and Anderson, maneuvering well on the icy turf, gained 12.
"I just dumped the ball to him when I couldn't find my primary receiver open," Starr explained later. "He did the rest by himself. Same thing was true on the next pass. He was the outlet receiver, the guy you go to when you can't go to anyone else." This time the pass to Anderson gained nine yards and a first down on the Dallas 30-yard line. There were two minutes left to play.
For the fourth time in this drive, Starr threw to a back, but now it was Mercein, the fullback Lombardi acquired late in the season when injuries depleted his corps of runners. Mercein had been a New York Giant and Washington Redskin reject, but on this cold, cold day, he contributed a large share to the Green Bay victory. He took Starr's short pass, eluded one tackle, and ran 19 yards, going out of bounds on the Dallas 11.
"This one wasn't a dump pass or an outlet," Starr said. "On this play Mercein is not the primary receiver. But if the linebacker doesn't pick him up immediately when he comes out into his pattern, then I hit him. I saw the linebacker freeze this time, so I hit Chuck quick. He made the rest of it on his own."
From the 11 Starr produced one of the daring calls that make him a great quarterback. It was what some clubs, fittingly, call a sucker play. Gale Gillingham, the young guard who all afternoon had had his hands more than full trying to block All-Pro Defensive Tackle Bob Lilly, pulled out and pulled to his right. Lilly, reading a run to the right, went with him, and Starr handed the ball to Mercein. Mercein shot through the hole left by Gillingham and by the trailing Lilly and struggled to the Dallas three. On the next play Anderson got a first down on the Dallas one.
From the one Starr twice called on Anderson, and both times Anderson was stopped for no gain. After each play, Starr called for time-out. The second time he trotted over to confer with Lombardi. This was Green Bay's last timeout. There were 20 seconds and possibly two downs remaining. A field goal was a near certainty and would have put the game into a sudden-death overtime; a pass would win if completed; it would stop the clock and leave time for another play if not. Lombardi, who has unbounded faith in Starr, elected to gamble with his quarterback. ("I was thinking of the fans," he said later, facetiously. "I couldn't stand to think of them sitting in those cold stands for an overtime period.")
Anderson had slipped taking off on both of his jabs at the line. The field, now in the shadow of the stands, was fast becoming an iced-over pond. "I knew Donny wasn't getting any footing," Starr said after the game. "He almost fell down before I could get the ball to him the second time he carried. I figured I wouldn't have as far to run and I wouldn't have as much chance to fumble, so I called the wedge to Kramer's side." Kramer had been having much better luck blocking Pugh than Gillingham had had with Lilly.
"When he called the play, I knew he would be following me," Kramer explained. "I had been having a hell of a time trying to get footing to drive off and block. I searched around with both feet when I got down and I finally found a little soft spot with my right foot. I got off real good with the ball. Pugh was playing on my inside shoulder—to my left—and I took my best shot at him. That may have been the biggest block I ever made in my life."
The block moved Pugh in and back. Starr came hard behind him and slid into the end zone, and suddenly, for 50,000 people, spring came.
The temperature probably will be 100° higher January 14 when Green Bay meets Oakland in Miami's Super Orange Bowl. But, thawing out in the dressing room, Bob Skoronski, the big tackle whose face was marked and bloody, expressed a sentiment held by most of his teammates.
"This game," he said wearily, "was our mark of distinction."
A distinction so painfully won on the tundra of Green Bay will not melt easily under the warm Florida sun.
PHOTOPHOTODale's two catches led to first touchdown.PHOTODowler beat Renfro to make the scores 14-0.PHOTOAdderley, intercepting Meredith's pass, ran 15 yards to the Dallas 32, but Cowboys held.PHOTOWood's fumble of punt led to Cowboy field goal. Dallas had scored earlier on a Starr fumble.PHOTOReeves's pass to Rentzel in fourth quarter put the Cowboys ahead and Green Bay on the spot.PHOTOMasked, hooded and bundled, the congealed faithful in Green Bay remained true and—uh, blue.