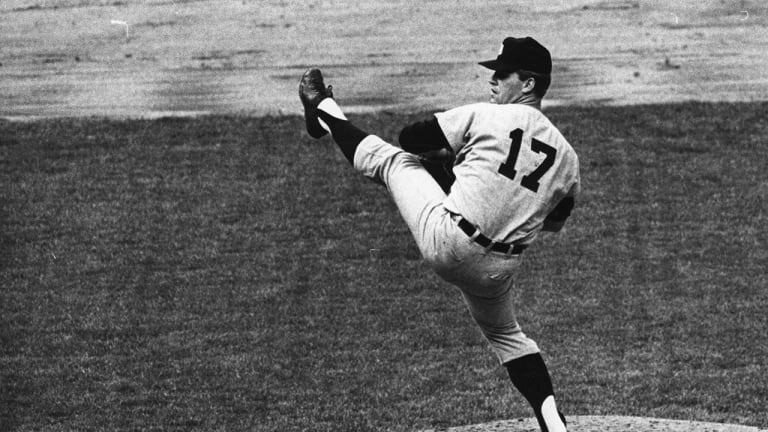 GOLDEN 30 FOR SHOW BIZ DENNY
Until he stepped on the mound, you couldn't tell the man from the celebrities. Then Denny McLain began to pitch, and baseball had its first 30-game winner since 1934, when Diz became an American original
As we all know, there are those awkward moments in life when it seems as if the whole world is staring at you. For instance, when you get your school diploma or you get married or have a massive hangover. Although last week none of those things happened to Denny McLain, the Detroit pitcher felt that way nonetheless. In fact, he usually does. But last week was something special, for McLain pitched and won his 29th and 30th (see cover) games of the 1968 season. True, he was only the 46th pitcher in history to do this, but he was the first since Dizzy Dean in 1934, a year in which they were still looking for the Lindbergh ransom money. Hitler had just become Fuehrer and Clark Gable won the Academy Award for It Happened One Night.
Denny McLain bathed happily in all the front-page fuss. Brash and Irish, he often acts as if it were his world and the rest of the people were just passing through. He is also pure show biz from the top of his square head to the soles of his itchy feet. So it was fitting that he spent the first half of his week winning his 29th game against the California Angels within sight of Disneyland and making occasional strafing runs on Hollywood itself. Back home in more prosaic Detroit, McLain completed his 30th victory with an anything but prosaic six-hit melodrama against the visiting Oakland Athletics in front of coast-to-coast, living-color TV. Beforehand he managed to create a kind of ersatz Hollywood of his own right in his suburban Detroit split-level. From morning to night the place was choked with booking agents in sideburns and mod suits and their miniskirted chicks—all of them shouting at each other and over the long-distance phone while McLain, accompanied by the members of his four-piece combo, was down in the den, shattering neighbors' eardrums with his X-77 Hammond organ as ABC-TV cameras cranked away.
Well, that's Denny McLain for you. He may look like a linebacker after 10 years of NFL combat, and he may have the jumpingest fastball in the American League, but it is the incandescent flame of show biz that burns in Denny's heart. Thirty games? Ho-hum. The Ed Sullivan Show? Yeah, baby.
Last things first. Baseball's 30-game winner-to-be got up last Saturday morning around 10:30 and wolfed down the scrambled eggs and sausage his wife Sharyn had just dished up. The neighbors must have thought he was sick or something, because he only spent a couple of minutes on the organ, banging out a thing called Girl Talk that is on his new Capitol Records album. There was barely time for a few phone calls and just one argument with Frank Scott, his agent in New York. Then his brother drove him to Tiger Stadium in the Caddy convertible that a local dealer has given McLain for a second car.
Waiting in the Detroit clubhouse was a riot of newspaper, magazine, TV and radio reporters, poised with pencil and mike to record McLain's confrontation with immortality. After his first full night's sleep since Monday, he was in full stride—rascally one minute, sincere as a scoutmaster the next. "What did you do last night, Denny?" someone asked.
Sitting on a stool in front of his locker half undressed, McLain shuffled through some mail. He looked up at the reporters and the mikes that were shoved at his face. "Oh, I talked on the phone until about midnight. Then I went to bed and kept dreaming I'd lost my contact lenses. I spend more money on contact lenses than most guys make."
"Are you in the right mood for today?"
"I was until one of you guys started calling me 'McLain.' Look, it's Denny or Dennis or Mr. McLain. Anything but 'McLain.' "
"Is this the biggest game you've pitched all year?"
"No. That was when we came back after losing five of six games and I won over California 6-1."
"Where'll we meet you after you win the game today, Denny?"
"You guys are presuming a lot, aren't you?"
And so out to the field for batting practice, more interviews, the warmup and finally the game. The crowd of 44,087, which surprisingly failed to fill Tiger Stadium on this balmy, climactic afternoon, emptied its throats at the sight of, uh, Denny. They had forgotten he once called them "the world's worst fans." The edgiest man on the premises was white-haired Dizzy Dean, who had come all the way from his home in Mississippi to watch Denny tie the record he made on the last day of the 1934 season to put St. Louis into the World Series. "You got a cigarette, podner?" Dean asked a man in the press dining room. "I'm so nervous I can't eat."
The game began placidly despite all the tension. Denny threw 44 pitches in the first three innings, allowing only a harmless single to Danny Cater in the first. He felt good and he had his stuff. But in the fourth with one man on, Reggie Jackson hit "a good curveball," as Denny later described it, into the lower stands in right field for a home run, and Denny was behind 2-0. Later that inning when he reached first base on a walk, Denny said to Cater, "Tell Jackson to be expecting that same pitch the next time he comes up." Denny considers it an accident if anyone hits one of his good pitches.
Norm Cash hit a three-run homer for the Tigers to give Detroit a one-run lead, but Denny quickly lost it. He walked Dave Duncan, the catcher, and the Athletics worked him around the bases. Reggie Jackson reappeared in the sixth inning, and Denny threw him what he called "my only bad pitch of the game." It was a changeup that just hung there, and Jackson put it in the upper deck.
The score stayed 4-3 for the A's until the Tigers came to bat in the ninth, their last chance. Denny was first up, so Manager Mayo Smith replaced him with Pinch Hitter Al Kaline. Now it would take two Detroit runs to bring Denny his victory. Kaline walked, and Mickey Stanley moved him to third with a single. Frenzy shook Tiger Stadium as Jim Northrup came to bat. He topped a ball halfway to first, which Cater fielded and threw over the catcher's head as Kaline scored to tie the game. Next came Willie Horton, a fireplug of a man with 35 home runs so far. With only one out, the Athletics moved everyone including the outfielders in close to cut off the run from third. Horton drove a 2-2 pitch past the leftfielder for the winning run.
All this while, Denny had been pacing up and down the silent Detroit dugout, hatless and shouting exhortations. "Calm down," Mayo Smith told him. Denny calmed down until Horton's hit, then he rushed on the field like Zsa Zsa Gabor at a party, embracing everyone he saw. His teammates made an awkward attempt to hoist him to their shoulders in reciprocity, for, after all, it was Denny's pitching that had carried them to within sight of Detroit's first pennant in 23 years. Miraculously, Denny would not levitate.
Fittingly, Denny's big week began alongside the Smothers Brothers' swimming pool in Los Angeles, discussing an hour-long Special in which the Smothers wanted to star him. He read the mimeographed "presentation" they gave him and liked it. "I don't want any gimmicks," Denny told his agent later. "If it's going to be a Special, I just want me alone and nobody else. That's what I like about this show."
"Yeah, Denny," the agent said.
After the Smothers stopover, Denny just did get to Anaheim in time to check into the hotel and get to the ball park for the pregame warmup. It is things like that that can make life a drudgery. Denny was not due to pitch again for another 24 hours, so he spent most of the game leaning on the rail in front of the dugout, ostensibly to study the Angels but more realistically to let his mind wander around among some new arrangements for the combo or a weekend booking in Saginaw.
That night Denny and his roommate, Shortstop Ray Oyler, tucked it in right after the game. If there is one thing Denny takes seriously, it is a good night's sleep before he pitches. The next day the long-distance calls from the booking agents began coming in at 10:30 in the morning. The Smothers Brothers called. So did Glen Campbell, the TV personality, to tell Denny he would be at the game that night. Somebody from the Steve Allen Show phoned about an appearance the next day. Between phone calls, Denny and Oyler played a little gin, watched an old Errol Flynn movie on TV and another TV show with Abbott and Costello.
When batting practice was over on Tuesday evening, Denny went back in the clubhouse to wait until it was time to warm up. Who should come in but Ed Sullivan, resplendent in a jacket of dried-blood maroon and fuchsia slacks. The clubhouse of a visiting baseball team is one of the fascinating scenes in all of sport. The players, having nothing better to do, sit silently on the stools in front of their lockers staring vacantly out toward the center of the room, immobile as the statues in a Florentine garden. With Ed Sullivan and retinue surrounding Denny, there was something to look at for a change. Denny finally took Sullivan over to a row of stools and introduced him to a few of the Tigers like, fortuitously, Willie Horton. "It's a great honor," Denny explained, "having those people come into the clubhouse. The players really get a kick out of it."
It was time for Denny to pick up his jacket and head for the field. "Have you any goals?" a reporter asked him as Denny was leaving.
"Yeah," he said. "To be a musician."
This game, No. 29 on Denny's list of victories, looked like a laugher all the way. In the third inning he hit a triple over the centerfielder's head and came puffing into third in a slide. "I didn't need to slide," he said, "but I was out of gas and wanted to sit down." It was Denny's first triple of the year and not something he particularly likes to do. He would much prefer to stop at each base along the way and chat with the players and umpires. By the end of the fourth inning, Denny's teammates had given him a 6-0 lead. It was fortunate, for in the sixth Denny threw home-run balls—his 27th and 28th of the year—to Rick Reichardt and Tom Satriano, costing a local radio station $3,900 in prize money to its listeners, who profit from something called a "Home-run-for-the-money inning." The Angels had little to complain about, however, for Denny had attracted 22,618 into the ball park, which was 13,000 over the recent average. For a community like Orange County, which makes an art of sitting on its wallets, this was a historic splurge.
Settling down after his shaky sixth inning, Denny gave Orange County the victory it came to see. In gratitude, the residents stood and cheered each one of Denny's final pitches as he struck out Pinch Hitter Roger Repoz. Afterward Denny went out for a few drinks with Glen Campbell and the others who came down from Hollywood.
The next morning Denny was up early and down the street to Disneyland to arrange for some bookings after the World Series. "I have agents for everything," he explained, "but when it comes down to it, nobody can make the decisions but the personality himself." Then he was off along the freeway into Hollywood for some publicity stills at Capitol Records. Somebody brought in a copy of Denny's new album and put it on the record player, and Denny listened intently. After the first tune he said, "The more I hear it, the more I dislike it," but he didn't really mean it. "I have the album at home," he went on, "but I think I've only played it a dozen times. It's like pitching. Right after you've done it, you lose interest."
It was time to move down Vine Street for the Steve Allen Show, which was being taped for a later date. Allen chatted with Denny onstage and then sat him down at a Hammond organ. Without so much as a rehearsal, Denny dashed off one of the rhythm numbers that are the strong part of his repertoire. After that, Denny and Allen put on some stray baseball blouses and went out to the sidewalk in front of the theater to play catch with Pat Harrington Jr., one of the fixtures on the show.
It was past one o'clock Friday morning when the Tigers' 727 took off for the night flight to Detroit. And who was sitting up in the check-pilot's seat-for takeoff? Denny McLain, of course. And for the landing, too, at 7:30 that morning. In between, he caught a couple of hours' sleep stretched out on a seat with a blanket over him.
It was all the sleep Denny would get over a stretch of some 40 hours. The bookers and agents and musicians and TV crews were waiting for him at home, where another normal day in the life of Dennis McLain was about to begin. He trusts that if he survives the rest of the season and the World Series and The Ed Sullivan Show and the Smothers Brothers Special and the disapproval of Mayo Smith, who looks like an English vicar when his face hardens at the thought of Denny's extracurricular distractions; if he survives all that and the Las Vegas and Saginaw and other combo bookings he is making for the winter, "We might gross a quarter of a million.
"Isn't that what it's all about?" he asks. "Money?"
PHOTO
HERB SCHARFMAN
"How's it feel?" ask Broadcasters Sandy Koufax and Dizzy Dean, and McLain has all the answers—in test run the day before historic win.
PHOTO
HERB SCHARFMAN
On eve of immortality, McLain records new piece with four-man combo in his suburban den.
PHOTO
HERB SCHARFMAN
In front of Hollywood studio. McLain watches with hippies as Steve Allen shows his stuff.
PHOTO
HERB SCHARFMAN
Ed Sullivan, slumped beneath Tiger cap, talks with Denny before 29th win at Anaheim Park.
PHOTO
HERB SCHARFMAN
In top hat, McLain goes over routine with Smothers Brothers that will be seen on TV this fall.