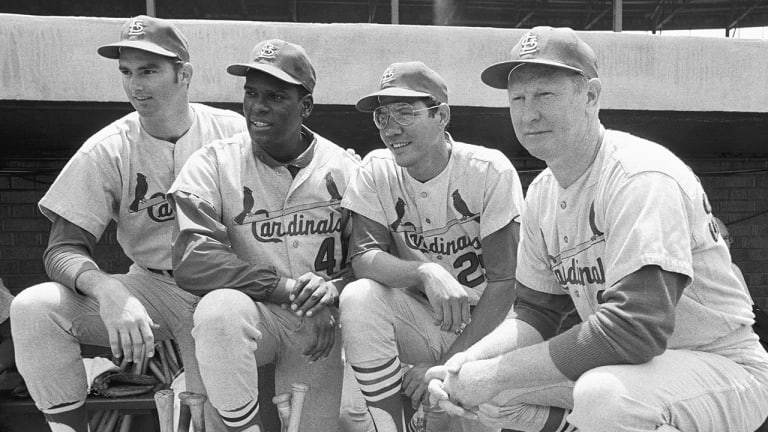 MANAGER OF THE MONEY MEN
Stubborn as a Missouri mule, the St. Louis Cardinals' Red Schoendienst has found the right way to run the world's highest-paid baseball club
The manager of the pennant-bound St. Louis Cardinals sat behind the desk in his private office adjacent to the team clubhouse at Busch Memorial Stadium a few weeks ago, looking like the last of the angry 45-year-old men. Red Schoendienst bears a name which in German means good service, and he had just watched his team play two awful, losing games with the San Francisco Giants before a crowd of 46,000 people. Not only was their performance not good, he had told the Cardinals in so many well-chosen words, it was a service to nobody.
Even in troublous times Albert Fred (Red) Schoendienst does not blister a team in the manner of baseball's more celebrated firebrands. But he let the Cardinals have it this day, and they knew they deserved what they got. As usual the argument was reasonable. If any of them felt that the field was in rotten shape, which it indeed was after being ripped by football and soccer games, why had it been used so well by the Giants? The magic number was down to nine. A combination of Cardinal wins and Giant losses that totaled nine would assure St. Louis of its second straight National League pennant. This, said Schoendienst, was all wrong. Any team that was playing as badly as his should be penalized. The magic number should rise. End of reasonable argument.
As angry as Schoendienst was, it was plain that he regarded his players with a great amount of compassion. When they had all left he looked out at the vacant room and smiled. "They'll be mad at themselves now," he said. He got up from his desk, took a can of Budweiser beer from the cooler and looked at the glossy, black-and-white pictures of the players hanging on the far wall. "Aren't they something?" he asked. "They make a heck of a lot of money, but when they're right they deserve every nickel of it." Wherever the Cardinals go, the subject of their salaries (see cover) always arouses a brisk debate. Some highly placed baseball people believe that by paying so well the Cardinals are undermining the very structure of baseball. "Almost every place I go," says General Manager Bing Devine, "someone will ask me how Dal Maxvill can be making $37,500. It really seems to bother people, but if you have seen the way he has played shortstop this year and how he gets himself involved in the good things we do, his salary won't amaze you."
The Cardinal stars have all come in for a great deal of credit over the past two pennant-winning seasons, but for some reason the work of Red Schoendienst has been either taken for granted or completely overlooked. Should the Cardinals win this Series, however, some sort of recognition is bound to occur. St. Louis will have become the only National League club to defend successfully as world champions since 1922. The man who accomplished that feat was John J. McGraw himself.
Rating major league managers is most often pure folly because owners and general managers work on the principle that when an old bus breaks down the first thing to do is shoot the driver. Purely from the standpoint of longevity, the most successful manager today, if not the best, is Walter Alston of the Los Angeles Dodgers. Only recently he signed his 16th consecutive one-year contract with Walter O'Malley. In that span of time no fewer than 120 major league managers have been hired and fired. Alston has lasted this long because he is as good a manager in 10th place as he is in first. His ways on the field are not flamboyant, but he makes moves during a game that are far more daring than his personality would seem to promise and he has stolen more than one pennant with a team whose abilities were questionable.
It is still too early to place Red Schoendienst in a class with Walter Alston, but the similarities between the two men are marked. Like Alston, Schoendienst has been given only one-year contracts with the Cardinals since signing his first one for the 1965 season. (Even during his four-year tenure almost 50 other managers have come and gone.) He is not glib when handling the press. His personality does not soar in victory as, say, Ralph Houk's of the Yankees, nor does he dive to crude and guttural expletives in defeat, as does the Giants' Herman Franks. Since the Cardinals have not been the kind of team that required tactical maneuvering, it remains to be seen whether Schoendienst could become a manipulator of the Gene Mauch, Eddie Stanky or Alvin Dark stripe. Most likely he could not. Schoendienst's chief managerial theories seem to be these: utilize speed to its best advantage, play the best players most often—and stick with them during hard times—and keep the ones who do not play reasonably happy. Like most managers, he will occasionally build a doghouse, but he always keeps the back door to it open: you got yourself in, now get yourself out.
Not many managers have stayed with the Cardinals for more than four years, and only four unique men—Miller Huggins, Branch Rickey, Eddie Dyer and Billy Southworth—ever made it through five. For Cardinal Owner August A. (Gussie) Busch, picking Schoendienst was something of a gamble. His organization had been embarrassed by the resignation of Johnny Keane immediately after the Cards had won the 1964 World Series, and only a proven man. like Leo Durocher, was likely to allay the criticism—and then only if the appointee did as well as Keane had. Private citizens had put ads in the local papers proposing Schoendienst for the job, but Schoendienst, having steadfastly refused Cardinal offers to manage in the minors, was without experience. His stubbornness—the stubbornness, many think, of a fox—probably got him his job. His holdout was further proof of what many already believed: he has the nerve of five men. He has been that way all his life.
Red Schoendienst was born in Germantown, Ill. to a miner named Joseph and his hard-working Irish wife, Mary, as one of six redheaded sons and a blonde daughter. His first love was baseball and he was so good at it that when he played with other boys his age he was forced to handicap himself by batting left-handed. Any hopes he had in those early days of playing professional ball almost died when he was 16. He had joined the Civilian Conservation Corps, and one day a nail ricocheted into his left eyeball. Doctors thought that Schoendienst would lose the eye, but he refused to let them take it out. Finally he found a doctor who would agree with him. The eye, which has given him considerable trouble since, stayed. Shortly after his discharge from the CCC, he and his lifelong friend, Joe Linneman, heard that the Cardinals were holding tryouts. They hitched a ride to St. Louis, and on the first night of the tryouts Schoendienst, who had only 25¢ in his pocket, slept on a park bench. The next night he moved in with Linneman's aunt. But when the tryouts had ended, out of a crowd of 400, only Linneman and a kid catcher named Joe Garagiola had contracts. Forlornly, Schoendienst went home.
He did not stay there long. No fewer than six scouts present at the workouts had given him excellent marks, but Joe Mathes, the chief scout, had been out of town. When he learned that Schoendienst had not been signed, he was furious. He drove to Germantown and signed Schoendienst the same day for $75 a month. Reporting to Manager Everett Johnson at Union City in the Kitty League, Schoendienst got eight hits in his first eight times at bat. His eye, however, bothered him and he asked Johnson's permission to switch-hit. "I guess he thought I was crazy." Schoendienst recalls, "but I couldn't see a righthander's curve without turning my head. I'll never forget that look on his face."
Schoendienst opened the next season at Lynchburg of the Piedmont League. After getting 17 hits in 36 times at bat, he was told to report to Manager Pepper Martin at Rochester of the International League. The Rochester team was in a horrendous losing streak. Schoendienst arrived at the Rochester clubhouse while Martin was hollering at the team. Timorously, he knocked. Martin opened the door and hollered, "We don't need any bat boys!" and slammed it in Schoendienst's face. Red knocked again. "I said," said Martin, "we don't need any bat boys." Schoendienst said, "I was sent up here from Lynchburg to play." Martin looked at him and said, "You must be that Shown..., Shewn..., whatever your name is. I need men and they're sending me babies." All Schoendienst did for Martin, beside pronounce his name Schaindeenst, was lead the league in assists and putouts as a shortstop and hit .337. At 20 he became the second youngest batting champion in the history of the league. The youngest: Wee Willie Keeler. Martin developed a nickname for Schoendienst: "The Team."
The following May, Schoendienst was hitting .373 when he was called into the Army. Because of the condition of his eye, he was discharged on New Year's Day of 1945 and went to spring training with the Cardinals at Cairo, Ill. as a highly regarded shortstop, a commodity the Cards did not need, since they had a slight, graceful man at the position named Marty Marion. Eventually Schoendienst ended up as the leftfielder and was the team's outstanding rookie.
When Stan Musial, Terry Moore and many other Cardinal heroes returned from service, it was doubted that Schoendienst would be a prominent man in the team's plans. How wrong the doubters were. Schoendienst remained to become one of the finest players of the modern era. He also became St. Louis' second most popular player. First was Stan Musial.
In a game often filled with petty jealousies, the relationship of Musial and Schoendienst was singular for its lack of ill feeling. On the road the two were roommates for 13 years, although as stars each could have roomed alone. If Red didn't drive Stan to the ball park during home stands, then Stan drove Red. When Musial is asked today what it was like, he laughs and says, "I guess we filled that room with hits."
Near the end of the 1947 season Red Schoendienst married Mary Eileen O'Reilly, a girl who attended church in the same St. Louis parish. There are few women with the strength, humor, talent—she has a rich and true singing voice—and forthrightness that Mary Schoendienst possesses.
The same day she married Red, Mary went to see him play, and Manager Dyer put him at third base. Early in the game a line drive almost took Schoendienst's head off. When Dyer congratulated Mary later, she said, "Thank you very much," and then with a smile on her face added, "Please get Red off third base before he gets killed."
In June of 1956 the Schoendiensts bought a house after Red, then 33, had assured his wife that he would continue to play in the majors until he was 40. He did not mention to her the fierce headaches he was suffering because of his bad eye, over which he occasionally was forced to wear a black patch. He also ignored an old shoulder injury that had become so bad that he secretly bought a glove for his right hand. He reasoned, stubbornly, that he could stay in the majors seven more years if he learned to throw left-handed.
Exactly one day after buying the new house and with his wife heavy with her third child, Schoendienst was traded to the New York Giants. He finished the season batting .302, but the next year Schoendienst was traded to Milwaukee, where he led both leagues in hits (200) and was the basic reason why Milwaukee won their first pennant.
The following season Schoendienst was dragging. Although he had hit .300 for the Braves during a losing World Series, he felt as if "someone was holding me back when I tried to get out of the batter's box." On November 3rd Mary had their fourth child, and five days later Schoendienst was admitted to the hospital himself. He had tuberculosis. Everyone in baseball said he would never play again, but they did not know Albert Schoendienst. He put his watch over the bedpost, let it run down and never asked what time it was again. As in any run-of-the-mill fantasy, Schoendienst was cured eventually, returned to baseball, hit .300 and .301 as a pinchhitter during his last two full years and quit at 40 to fulfill his promise.
In the spring of 1962 he became a Cardinal coach under Johnny Keane. Named manager of the world championship team for 1965, Schoendienst was on the spot. Matters were not made any easier by the then general manager, Bob Howsam, whose miserly salary offers had outraged the players. By April 25th the dispirited Cards were in 10th place. On that Sunday morning Schoendienst had to walk to church in Cincinnati because there was a cab strike. Naturally, he had a cold and was caught in a cloudburst. When he got to Crosley Field, he found himself under a leaky roof and drenched again. Later, on a plane to Milwaukee—late, of course—a sliding cup of coffee doused Schoendienst's suit. It has been all uphill since.
In his second year as manager the Cardinals entered a huge rebuilding program. Some of Schoendienst's headaches concerned putting a team together that would open the season in small Busch Stadium (formerly Sportsman's Park) and close it in big Busch Memorial Stadium. He was without a first baseman or a power hitter, and it looked as though the Cardinals were going nowhere but down until they finally got Orlando Cepeda in a trade. In July of that season the team sprang to life and rattled through the National League. If those who watched baseball carefully could not quite understand how the Cardinals were doing it, they at least no longer questioned Schoendienst's ability.
With the addition of Roger Maris in 1967 St. Louis went to spring training as a team with an outside chance to win the pennant. The questions were: Could Schoendienst get the most out of Maris and a shaky pitching staff? What would he do for a third baseman? To answer the last first, Schoendienst went to work converting Mike Shannon, an excellent outfielder. There were days when Shannon's chest was black and blue from the balls that bounced off it and Schoendienst's hands swollen from hitting them to him. But in the end Shannon was a third baseman.
Before leaving St. Petersburg for the opening of the season, Schoendienst wrote down the order in which he expected each team to finish and sealed his prediction in an envelope. He had St. Louis first. With Shannon at third base and Maris doing an excellent job, St. Louis won the pennant even though its best pitcher, Bob Gibson, was out part of the year with a broken leg. This year the Cardinals won again despite sub-par performances from some key individuals. One of the most important factors in the team's success was the pitching of Ray Washburn, who won 10 games in 1967 and improved that to 14 in 1968 including a no-hitter. Washburn is one of the men whom Schoendienst stuck with and showed confidence in when others had all but given up on him. Another is Nelson Briles, a relief pitcher with a terrible 4-15 record three seasons back, who has won 33 games for Schoendienst over the last two years.
When a game in St. Louis is over, Albert Schoendienst returns to his home and pulls open the louvered doors that cover the small, tasteful bar he recently had completed. He will say to his wife Mary, "Mame, would you like a drink?" and Mary may say yes. Schoendienst has often said that he is a very lucky man and that he is really "only here on borrowed time," but as he pours the drinks he will look at a large, oblong Father's Day card placed prominently over the bar. It was given to him by his nine-year-old son Kevin. Mary will tell him that Cathleen and Eileen and Colleen are, as usual, doing fine in school, and that Kevin is out playing baseball or football or basketball and she may remind him that Kevin is still a better name than Fritz. But Schoendienst will be smiling at the card. It says, "Dear Dad, You're a Winner!"
PHOTO
SCHOENDIENST READS A NEWSPAPER INTERVIEW ALOUD TO EILEEN, WIFE MARY, KEVIN, CATHLEEN AND COLLEEN