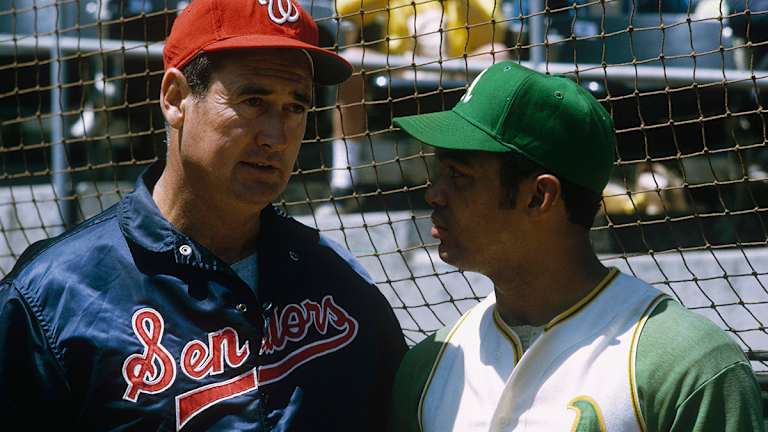 Teaching Them Ted's Way
Outsiders were talking of Unterrible Teddy and insiders were awed by his knowledge. After two serene, skillful and stimulating weeks with his Washington Senators, Mr. Williams was back in baseball for sure
The letter was from a trusted old baseball friend, typewritten front and back on a single sheet of yellow copy paper. It arrived the morning of last week's game with the Yankees, Ted Williams' first game as a manager. Williams sifted it from the stack of mail delivered to his cubbyhole at the ball park in Pompano. He had just girded himself in the peppermint stripes of his new team and was standing up. The belt of his size-38 pants gathered the waistline into clusters of pleats, emphasizing the slimmer, lovelier him that was developing since diet and the puzzling exigencies of managing the Washington Senators (see cover) began reshaping his course short days ago. The letter—friend to friend—instructed Williams on the terrible mistake he was about to make.
Ted was delighted—he had been wondering if he was making a mistake. He read the letter aloud. It offered a complete analysis of the situation: the Washington ball club has the worst organization in the majors, the worst scouting system, the worst minor league talent. The Senators don't draw; their stadium is in a riot area. Managing them will put him in contact with sportswriters. Sportswriters will bring up "the old bull they always bring up." He will have to do public relations. He will be asked a million stupid questions and will develop an ulcer. He will have a strict schedule. No time off. No run away and hide awhile. He will have to wet-nurse 25 ballplayers, not all adults. Losses will be on his record; on his reputation as a champion. He will go into Boston as an enemy, against his old benefactor, Tom Yawkey. He will discover—at age 50—that he can still hit better than any player on the team and will be sorely tempted to pinch-hit.
"The Washington players need years of coaching, not days," Williams read, and laughed. "Frank Howard will kill your sensibilities as a batter. His strikeouts on bad pitches will have you talking to yourself all night." He read on hurriedly, smiled again when he saw: "The Washington boys need to be reborn—not remade." The friend's conclusion, more or less, was that he had "never known a happy manager." He advised Ted to reconsider.
The report that should follow is that the moribund Senators went out that day to win a smashing victory over the Yankees, having had a week or so of exposure and rudimentary lessons in smash from expert (.344 lifetime, Hall of Fame, etc.) Williams. But that was not exactly what happened. The Senators, younger players mostly, with quiet bats—one of them ran up averages of .059, .123 and .053 on three different teams last year—tried so hard to show Ted how much they had learned that they went 8[2/3] innings without a hit, finally got a tidy little single and lost the game. In the field they performed some marvelous juggling acts, and their trembling approach to grounders and fly balls made every play suspenseful.
One would assume, following this, that Williams, after a week of otherwise exemplary behavior, would come in screaming, kick the bench over, throttle a couple of sportswriters and disappear in a rage. Wrong again. Williams came in smiling. "Guess that proves what kind of hitting coach I am," he said. He was still the Unterrible Teddy everybody had grown to love in Pompano. When questions lagged at the postgame press conference, Williams himself asked a few. It was, after all, he said, just the first game of the spring, a time to see the kids, to learn their names. He was pleased to note his batters had gotten 11 walks off Yankee pitching (and five runs out of the walks). It demonstrated they had listened to his counsel about recognizing a good pitch and waiting for one to hit. Now, when one comes along, they will just have to learn to hit it.
Clearly, Williams was enjoying himself last week, though he probably would not admit it. He was the eye of a continuing hurricane of attention; he was always the most applauded, sometimes the only applauded. People stopped him on the street and waited for him at the ball park. On Thursday when the national anthem was played, the younger Yankees stole glances at him across the diamond. As always, he shied from adulation, but this was his homecoming. He was seeing old friends, old teammates, old opponents (Ray Scarborough, Jim Turner, Gerry Coleman, et al.) for' the first time in years, and was pleased to have them drop by.
He returned attention fully to those who gave it. He reminded Jim Turner of the time, circa 1942, when Turner robbed him of a perfect day with a flawless curveball after he had gotten four straight hits off Marius Russo. "Ralphie, baby!" he said as Yankee Manager Ralph Houk approached him before the game. Houk said Johnny Johnson of the Yankees was complaining that Ted was taking all the writers and photographers away from the other camps. They were all in Pompano—Shirley Povich and Arthur Daley and all the superstars of sports journalism—orbiting around Williams. "Listen," Ted laughed, "you can have them all back." The fact was it was the writers themselves who enjoyed him most. Even a couple of Boston's finest came around, and after some awkward preliminaries to straighten out their differences, they chatted amiably. "Burying all hatchets," explained Williams pleasantly.
But it would be a mistake to believe that this is not the real Ted Williams. It's him, all right. He just happens to be nine years older, wiser, a bit more refined and—for this new chapter in his life—infinitely more aware of the responsibilities of his position than when he last made a black headline in Boston. And it would be a bigger mistake to doubt that the "old" Williams is lurking right below the surface. All the intensity that made him a great hitter and allows him to examine himself with such ruthless candor is still there, and refreshingly so. He does not shrink from leveling an opinion. "Nobody knows that little game between the pitcher and the batter better than I do," he says. But neither does he attempt to hide his doubts. "You know what can scare you?" he said one night at the home he rented in Fort Lauderdale so that his wife Dolores and infant son, John, could join him at camp. "The rules. I've been reading this book about problems that have come up over rules. So you think you know baseball? Boy. You wouldn't believe the things you find in here. It can scare you."
The Williams voyage of discovery began with a car ride up from his house on the Florida Keys. Already he had made up his mind he was going to be dead serious about this thing, this business of managing that for years he had belittled. He did not pack a fishing rod; he did not carry a golf club. "I'm going to try," he said, in the car. "I may turn out to be a horsemeat manager, but I'm going to try. I'm going to be the last man out on that field every day if that will help. I'm going to do whatever it takes for this guy who hired me [Senators Owner Bob Short].
"I know my weaknesses," he said. "I don't know infield play, that's my special little bugaboo. I don't know how to run a game, at least I don't feel I do. I never even made a lineup card. It's something I don't know about—when to do certain things, when to make changes. Get too interested watching a pitcher or a batter and you're two moves behind before you know it. But I'll have somebody right beside me helping me with that part of the act. The thing I know about, the most important part of baseball, is that game between the batter and the pitcher. I know I'm going to be able to help those hitters. I am sure of that."
The ingredient that distinguishes Williams in whatever he does—boating a fish, eating a steak—is enthusiasm. In camp it was abundant to start with and grew daily. He went from locker to locker the first day, hefting bats and asking questions: "Do you throw a slider? Why don't you? If the best hitters in baseball say it's the toughest pitch, then you should have a slider." He is an aggressive interrogator.
"How do you pitch to Killebrew?"
"Not very well [laughter]."
"Well, we can't be laughing about it, we've got to get serious about things like this."
He asked questions of everybody. He asked a thousand questions. Joe Coleman, the young light of the pitching staff, had gotten a taste of it when he attended Williams' baseball camp for boys in Massachusetts as a teen-ager. Williams not only told him how to throw a curve but explained why it curved. Coleman learned the practical application but never could repeat the theory and has been living in fear since he got to Pompano that Williams will come up to him and ask him to recite it.
The immediate result in camp has been a unanimous effort to concentrate—the Senators may not play any better this year, but they will be thinking better. For example, Williams to Pitcher Phil Ortega:
"Phil, you've got a wonderful style, I like the way you throw, but you should be so much better. I remember in Arizona in 1960 how they were all talking about you, this good-looking high school pitcher, how good you were going to be, but how many games did you win last year?"
"Five."
"Five. Isn't that awful? How many home runs did you give up?"
"Twelve."
"How many off your curveball?"
"None. Six off my change, but none off my curveball."
"That ought to tell you something. What does that tell you?"
"I know. I've got to throw more breaking stuff."
Williams intends to have the whole Washington staff throwing more breaking stuff, and if a man doesn't have a third pitch in his repertoire he'd better have a reason.
Even the coaches are not safe from the rookie manager's probing interrogations. He often conducts informal postpractice meetings, both to learn and to get his message across. He dearly loves to talk baseball. The other afternoon he went as far as he could go verbally and then grabbed a bat and had Wayne Terwilliger, his third-base coach, follow him back to the batting cage. Terwilliger pitched as Williams demonstrated. The result—one line drive in 13—was not exactly flattering, except to Terwilliger, but Williams knew when he conned himself into it that he had not lifted a bat in anger for too long a time. "I couldn't help myself," he said. "Just give me another four days." He grinned. "Better make that four months."
Williams inherited Terwilliger, Nellie Fox and Sid Hudson for his coaching staff, then added a couple of old friends, 61-year-old George Susce, a former Red Sox coach, and Joe Comacho, who never played in the big leagues but who had been a coach at the Williams boys' camp and was spending his winter as an elementary school principal when he got Ted's call. "I couldn't sleep for two nights I was so excited," he said. Comacho is Williams' designate as the man-beside-me. Susce is the staff's drill instructor. They like to say he can pick an apple off the floor with his teeth without bending his legs. "I get a lot of complaints," Susce says, "so I must work them pretty good. Nobody ever named their kid after me."
But it will not be his coaches that will stamp this team in the next five years, it will be Williams. His grasp of the vital techniques of baseball is unique, and it seems only a shame now that he has been unavailable so long. His advice and admonitions from behind the batting cage are easily the educational highlight of the camp. A step forward here; a little straighter stance there; a lighter bat; a firm word or two here and there: "Bad ball, Eddie, bad ball...all right, quicken up, you've got to think about being quicker...swing at strikes, dammit, strikes. Attaboy, yessir, that's better."
Williams has good field, no-hit Shortstop Eddie Brinkman, who has been with the Senators seven years and never hit over .229, scrambling to get his licks in batting practice. Brinkman chokes up so much it appears he is undecided which end of the bat to use, but he is now hitting line drives. And big Mike Epstein, a moody slugger with large potential, has cocked an ear. "I think I can help Epstein," says Williams.
By the end of the second week, Williams seemed gratified. "The kids are trying. They're really working hard," he said. He ordered a midnight curfew, no serious card playing, no players in the hotel bar, get drunk, get fined. He had Joe McCarthy's "Ten Commandments of Baseball" posted for each player to use for reference, things like, "Nobody ever became a ballplayer by walking after a ball," and "Do not alibi on bad hops, anybody can field the good ones."
He has no illusions, of course, as to his immediate effect on the Senators—Williams could add 10 points to every player's batting average and he might still have the worst team and organization in baseball—but he has established a definite communication on his voyage of discovery, a hope for the future.
No small part of Williams' enthusiasm is due to Short, who is as new to owning the team as Ted is to managing. Each in his way hero-worships the other. Williams thinks he never met a smarter man; Short, in deference to Ted, is getting his blond hair cut shorter and is trying quite hard to quit smoking. Williams doesn't press for much, but whenever Ted says, "We need..." Short says, "Go get."
Short, at 51, is one year older and several million dollars richer than Williams. He is rolling in trucks, hotels and airplanes. He is a Catholic, a father of seven, and a frustrated politician who still gives intimates the impression he would not at all mind being governor of his home state, Minnesota.
It was assumed that Short was the one who got took when he paid $9 million for the Senators. Then he signed Williams and he has been riding a wave of publicity ever since. He had to have a little luck, though. At one point the negotiations to get Williams had hit an 11th-hour snag over a complicated tax problem and the deal seemed off. Short was eating at Paul Young's restaurant in Washington when up to the table came Senator Eugene McCarthy. The difficulty was explained to McCarthy, who made a suggestion that led to a solution. "If I'd known you were offering Ted all that money I'd have applied for the job myself," added McCarthy.
Short is clearly the man to supply Washington baseball with the organization it needs, if for no other reason than that he is a supersound businessman. When the recent player strike ended, Short set up his "office" on a picnic table at the park in Pompano and signed one player after another—five in half an hour, including the usually reluctant pitching star Camilo Pascual. Camilo wasn't reluctant this time because he got $51,000. Before long everybody on the Washington roster was signed—with raises for many—except its biggest number, Frank Howard, the 6'7" home-run king who wanted $110,000 instead of last year's $55,000.
But Howard or no Howard, that dynamic duo, Williams and Short, had Washington on the move. By Sunday the Senators still had not won their first game for Ted, but against Kansas City they got five hits. That's a 400% improvement in only four days.