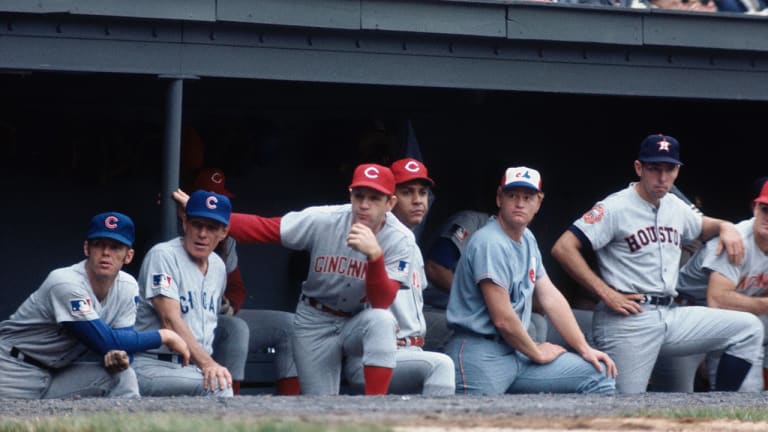 BASEBALL BOOMS AGAIN
The home run has returned and with it the enthusiasm of the fans. Last week's festive All-Star Game proved that there is nothing wrong with the sport that a vigorous new commissioner and a livelier ball can't cure
In Washington President Nixon sits down to dinner and asks his son-in-law, David Eisenhower, for a report on the Senators—the baseball team, not the ABMen. David reminds the President that the Senators have a game that night and he replies, "Fine. Why don't you make some calls and we'll all go out there." In Chicago a lady orders a special hook for her transistor radio in order to listen to broadcasts of Cub games while she tends to her gardening, and a man installs a television set in his Cadillac so he can watch the Cubs at red lights. In Detroit a doctor and a businessman drop their work 15 minutes before each Tiger game, grab their baseball gloves, put on their navy blue hats with the Old English 'D' and then step outside onto the lawn to warm up together for 15 minutes. In Boston an elderly Italian man watches the Red Sox win the first game of a doubleheader, starts for the exit and says to an usher, "That was good. Where can I buy a ticket for the second game?" In Toronto a National Hockey League player from Montreal threatens to withdraw from a charity golf tournament because he does not want to miss that night's Expos game against the New York Mets. And in San Francisco, as many as 8,000 youngsters, rich kids and poor kids, all of them wearing Little League hats and carrying big-league gloves, file into Candlestick Park each day to see the Giants play—free.
All that interest and enthusiasm is only part of major league baseball's stunning 1969 revival. Remember long ago, last winter, when Madison Avenue buried the game deep in Forest Lawn? Well, stop digging, men. After 100 years of play and two decades of decay, baseball appears to be born again. With expansion, attendance totals have increased more than 2,100,000 in the majors, and that does not include all those free admissions that may amount to more than four million for the season. Last month the Mets turned away 8,000 paying spectators one night because 8,000 nonpaying fans happened to appear at the game in response to a free-ticket promotion. Television ratings have stopped their abrupt plummet. Radio surveys, which are the best measure of outside-the-park fan interest, have astounded the advertising industry. Says A. M. Mortenson, president of the radio station that carries the Kansas City Royals' games, "We had a Hooper taken during one game and a full 50% of the people contacted were listening to Royals baseball."
The reasons for the revival are numerous, but all hang on the prime fact that baseball finally admitted that it was suffering from a sick image and had to make changes demanded by modern tastes. The owners agreed to split each league into two divisions, thereby creating two pennant races in each league and potentially doubling the excitement. They also agreed that the pitching tyranny was ruining the sport, that spectators preferred 11-7 games and no longer would pay to see 1-0 games every day. So they lowered the pitcher's mound, a modification that reduced the effectiveness of the curveball and slider, and they decreased the size of the strike zone.
To help the hitters even more, they juiced up the baseball itself. "You can't pitch a shutout anymore," complains Pitcher Bob Gibson of the St. Louis Cardinals. Gibson was baseball's best pitcher in 1968 with a 1.12 earned run average. That average has more than doubled so far in 1969.
All hitting statistics have increased markedly this season, particularly the home-run totals—and home runs, after all, lure spectators. In 1968 only one player, Frank Howard, hit more than 40 home runs. This season Reggie Jackson of Oakland already has hit 39, and present projections suggest that some 16 major-leaguers will hit 40 or more home runs in 1969.
Most important, however, the owners fired their commissioner, General William Eckert, a man the owners never permitted any authority anyway. They tried for two months to elect a new commissioner from their ranks but, typically, never could decide on one man, and finally asked Bowie Kuhn, a Wall Street lawyer who performed some of the National League's legal work, to be their "interim" commissioner. In only six months Kuhn has gained an admiration and respect that no commissioner has enjoyed since Judge Kenesaw Mountain Landis died in 1944. Kuhn is 6'5" tall and weighs 240 pounds. Nobody—not baseball players like Ken Harrelson, not owners like Walter O'Malley, not general managers like Spec Richardson—talks down to Bowie Kuhn. Next week the owners will remove the "interim" designation before "commissioner" and give Kuhn a large increase in salary.
Kuhn exposed baseball's rebirth to the American public last week in Washington at the annual All-Star Game. In an unprecedented move for a baseball commissioner or, for that matter, for any baseball official, Kuhn converted the usually boring All-Star event into a three-day circus, and when the fifth and final home run was hit in Robert F. Kennedy Stadium last Wednesday there was no question that baseball's interment had been canceled.
Kuhn uncovered a theme for the All-Star Game, and he played it for more than it really was worth. The theme was baseball's 100th anniversary, and baseball already had celebrated that in 1939. Baseball apologists tried to explain that the 1939 centennial was in honor of Abner Doubleday inventing the game—which, of course, he did not. The 1969 centennial was in celebration of the 1869 Cincinnati Reds, the first pro team. Conceivably, Kuhn will hold another centennial next year to celebrate the 100th anniversary of the first official defeat in professional baseball history, and still another centennial in 1971 to honor the establishment of the first professional baseball association. Etc.
The circus began last Monday night with the centennial dinner, which featured the announcement of the players selected as the greatest in the history of baseball. Each winner was then announced Oscar-style to the accompaniment of a stirring drum roll.
None of the selections were particularly surprising, except that Willie Mays ended up in right field on the Greatest Living Team—and he has played right only a couple of times in his life. This was an accommodation to get him on the team, since he could not make it in center because of Joe DiMaggio, who won that post and also the honor of being the Greatest Living Player and the Greatest Centerfielder of All Time. DiMaggio was the only postwar player to make that team, just as Mays was the only active player to make the Living Team. Ted Williams, the Greatest Living Leftfielder, asked his wife Dolores to pinch-hit for him. "Ted does not like formal occasions," Mrs. Williams said. "Maybe that's what makes him so great."
The next day there was a special reception in the East Room of the White House for more than 400 baseball people. "We originally had asked the President to present the award to the Greatest Player of All Time," Kuhn said, "but his aides explained that he would be too busy that night. Then one day Mr. Nixon's office called and said that the President wanted to throw a party for baseball. When was the last time that happened?"
Mr. Nixon is a genuine baseball fan, the first one to occupy the White House in many years. The President impressed the assembled journalists—though perhaps baffled the players at the reception—by declaring: "If I could live my life over again I'd want to be a sportswriter." Accordingly, the Baseball Writers' Association voted him an honorary membership and assigned him the task of convincing Ted Williams that his 15-minute locker-room ban on writers after a game was too strict. If he succeeds, that really may be what makes him so great.
Later the President met all his guests. Harry Walker, the garrulous Houston manager, tried to show him how to hit a curve. Banker Casey Stengel, the Greatest Living Manager, wanted to discuss the prime interest rate. Before and after their meeting with Mr. Nixon the baseball people milled through the East Wing. Lefty Grove, with his feet crossed, white socks falling to his ankles and a big cigar in his mouth, looked at home as he sat under President Washington's picture. The players, though, had one complaint: the cocktail glasses, the hors d'oeuvres forks, the ashtrays and the linen all were unmarked. "No little souvenirs from the White House today," one of them said.
The most violent thunderstorm of the Washington summer began as the reception ended. "I wonder if Mrs. Nixon will throw on a few extra TV dinners and ask us to stay," one player said. It was obvious that the game would not be played. Still, Bowie Kuhn held his centennial birthday party for more than 2,000 guests in three tents pitched on the drill field of the armory across the street from Robert F. Kennedy Stadium.
"The whole thing went off so well," Kuhn said, "that I could not even get depressed by the rain and the postponement. There were U.S. Senators standing there in two inches of rain talking about baseball. How could I get depressed?"
The All-Star Game finally was played on Wednesday afternoon. Despite all the Hollywood hoopla, the game itself remained a crucial test for baseball. The previous three All-Star Games were strictly strikeout exhibitions with final scores of 2-1, 2-1 and 1-0. If this game happened to be low-scoring, too, baseball's new image already would need a facelift.
But the boom came back right away. After four innings the National League had hit three home runs and scored nine runs, while the American League had hit two home runs and scored three runs. The pitching was divinely atrocious, just as baseball officials had hoped. Willie McCovey of the Giants hit two of the National League's home runs, while the Reds' Johnny Bench hit the other and lost a second homer when Carl Yastrzemski extracted his fly ball from the bullpen. Frank Howard of the hometown Senators hit the longest and hardest home run—an opposite-field smash against the wall in right center field—and Detroit's Bill Freehan hit the other for the American League. In four innings baseball had produced more hitting and created more spectator enthusiasm than it had in three previous All-Star Games. The National League won 9-3—but the result was incidental. The bat was back. The people were back. And baseball was back, too.
Right now, in fact, there is an encouraging acceleration in the sport's growth pattern after years of inertia. Baseball's attendance had not matched the growth of the country. In 1948, for instance, there were 10 communities represented in the major leagues with a total metropolitan population of 32 million. That season 1,230 games attracted 20.9 million paying spectators, an average of 17,010 per game. In 1968, when there were 16 communities in the majors with a total metropolitan population of more than 46 million people, 1,619 games drew only 23.1 million, an average of 14,270 per game. During those 20 years the total audience potential had increased 43.8%, but the actual attendance increased only 10.5% and the average attendance declined 16.1%. At the same time all other major professional sports increased substantially in attendance and interest.
The changes have, for the most part, produced measurable improvement. In 1968 only one American Leaguer hit better than .300. This year 12 players are over .300. In the National League one team alone—the Cincinnati Reds—starts a lineup of six .300 hitters. It is doubtful if even the undefeated 1869 Reds could boast that. However, since the Reds also have the worst pitching staff of any contender, the opposition invariably hits as well, if not better. This all-out bombardment has helped Cincinnati to increase its home attendance by more than 117,000.
In the midst of all this euphoria it is most sobering to learn that average paid attendance actually is up by only about 20 persons per game from last year's figures. The standoff is misleading, however, since attendance fell off sharply at this point last year as the Cardinals and Tigers waltzed home, while it should rise this year with pennant races in three of the four divisions. The American League also made an egregious error in loading the Western Division with both its expansion teams and two weak, colorless holdovers—Chicago and California. Not surprisingly, this division accounts for most of the loss in attendance.
In a real sense, though, how many are coming to games is less important than who is coming. Community promotion in the past was too often lacking in baseball. Now the teams are not afraid to discount tickets or to give them away in the hope of attracting young fans who will eventually become adult paying customers. Not only will major league teams open their gates this season to those four million nonpaying spectators—most of them young boys—but they also will let another three million people in at reduced rates for giveaways. In Washington there now is even a Batting Glove Day.
Kuhn feels these promotions will help baseball cultivate the young fan who is shut out from pro football games because the tickets are priced too steeply and, for that matter, are usually not even available, residing instead in the grasp of their fathers. Giveaways are a guaranteed attraction. (Maybe someday football will need Shoulder Pad Days and Thigh Pad Days.) Baseball is an impulse game, unlike pro football where all seats are sold out to season ticket-holders 50 years in advance. Fortunately, baseball now realizes this and, except in extreme instances, there always is a seat available for the man who wakes up and decides that he will go to the game that day. The Chicago Cubs could sell out their games for the rest of the season right now. Owner P. K. Wrigley insists, however, that 22,000 seats always be withheld for day-of-game sale.
It is significant, too, that many teams with top attendance ratings this season happen to have stadiums located in the center of mass public transportation systems and happen to play a higher proportion of day games than other teams. The Boston Red Sox, who may draw two million people into their 34,000-seat park this year, the Chicago Cubs, New York Mets and Montreal Expos all play in stadiums that are on rapid-transit subway lines. This makes it much easier for the young boy to attend a game.
The importance of mass public transport to baseball is emphasized also in the negative, for in California, where almost all movement is by private car and the baseball stadiums are built away from city centers, attendance is down across the board. The most serious problems are in the Bay Area, which obviously is not populous enough to support two franchises. The Bay Area has set records for campus demonstrations, bridge jumpings and end-of-the-world earthquake predictions this year, but not for baseball attendance. Although both the Giants and Athletics are contenders, neither will draw 800,000.
In the East, though, some weak franchises have reason for hope. Pittsburgh, Philadelphia and Cincinnati will all move into new stadiums in better neighborhoods very shortly.
Further expansion is also a possibility. Dallas-Fort Worth and Buffalo are prime sites for the next franchises, and there is a likelihood that another team will be placed in Canada—probably Toronto, but perhaps Vancouver. Montreal's amazing success in its first season has convinced Kuhn that baseball is not merely a domestic game.
In all this Kuhn retains a hole card. The evidence still suggests that the fans want interleague play, and that when they get it—when Henry Aaron gets a shot at the left-field wall in Fenway Park, when Denny McLain moves into the Astrodome—previous attendance records will fall. In due course Bowie Kuhn will see to that.
[originallink:10549636:43011]
THREE PHOTOS
With the pitchers cowering for a change, the All-Star sluggers took over. Willie McCovey hit two home runs, Johnny Bench hit two over the fence—though one of them was caught—and Frank Howard slammed the longest of all to give his delighted home-town fans something to cheer about.
TWO PHOTOS
As Commissioner Kuhn listens, Casey Stengel instructs his White House host in banking matters. Two other presidents—Joe Cronin and Warren Giles—watch the outdoor show.
PHOTO
Laughing and without a care, Ted Williams entertains Mets Jerry Koosman and Tom Seaver.
PHOTO
Frowning and without pennant hope, Red Schoendienst and Mayo Smith wait till last year.
PHOTO
Newly wed and without quieting down, The Lip still has some things to explain to Say Hey.