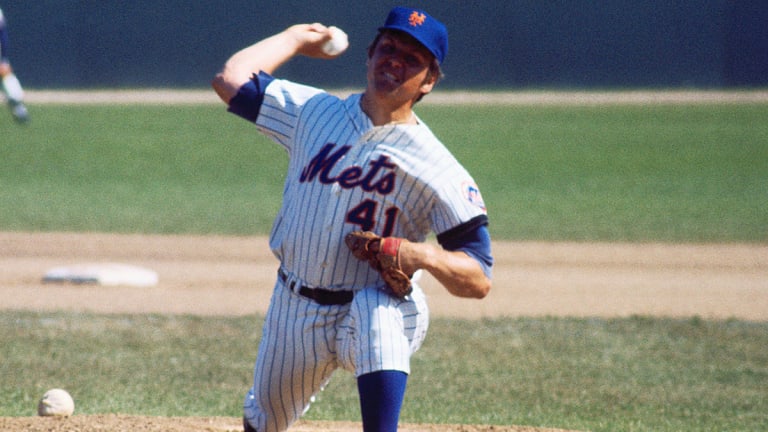 Tom Seaver: 1969 Sportsman of the Year
The Mets, the decade's symbol of ineptitude, ended the '60s as the darlings of baseball—and more. And their stud pitcher Tom Seaver, winner of 25 regular season games, a playof game and a World Series game, was at the center of it all.
During the fall of 1960, which was almost a decade ago, the game of baseball suffered two cruel blows. The New York Yankees took their 70-year-old rubber-faced manager, Casey Stengel, to a press conference at Le Salon Bleu of the Savoy Hilton Hotel and announced that after winning 10 pennants in 12 years he had decided to commence his retirement. And in Boston, Theodore Samuel Williams, after 19 years, 521 home runs, two wars and a lifetime batting average of .344, decided that it was time for him to depart. We were all duly told that "we would not see their like again."
So now it is a cool fall afternoon in 1969; the '60s are just about behind us. Bunting is hanging from box seats in a place called Shea Stadium in Flushing, New York. A team called the New York Mets, which had not even existed in 1960, is one victory removed from winning the baseball championship of the whole astonished universe. Seated on the third-base side of the stadium is Ted Williams. Browned and handsome, he has just completed a spectacular rookie season as, of all things, the manager of the Washington Senators. Casey Stengel sits on the first-base side in a green Tyrolean hat with a feather in it, clapping his hands and chanting, "Let's go, Mets!" For four years after the Yankees retired him Casey had managed the Mets, been their Pied Piper Svengali and one-man band, encouraging what he called "the youth of America" to come and play for the "Amazin' Mets." Eventually young men of talent did arrive, and because of them the game of baseball may live happily ever after—or at least another year or two.
Of all the upsets and improbabilities that highlighted sport in the 1960s, the victory of the Mets is likely to be remembered longer than any. Laughed at, ridiculed and adored during seven years of unequaled incompetence, the Mets became the only expansion team ever to attain a championship in a major sport. What is more, their ultimate victory came at the expense of the Baltimore Orioles, the best American League team of the decade.
The success of the Mets not only inspired a snowfall of ticker tape in New York City—such things are routine in pennant-winning towns, though Manhattan's 1,832.6-tontotal was, litterly, baseball's record—it triggered an unexpected national response. From the Hudson to the hinterlands people turned the Met victory into a national cliché of hope: "If the Mets can win, anything can happen."Thus the Mets, the decade's symbol of ineptitude, ended the '60s as the darlings of baseball—and more.
Who was responsible, in addition to the glorious fates, which so regularly offer up to sport the stimulation of the totally unexpected? Who typifies the deed?
One candidate would be Gil Hodges, who not many years before was standing on first base in a Met uniform watching with bemusement the deeds of his preposterous playmates.Few men have been replaced at first by Marvin Throneberry and then come back to manage a team to the most improbable of championships. Hodges exercised consummate skill in achieving the feat, balancing talent here, desire there,and all the while sitting expressionless in his corner of the dugout as if the victories that piled up one upon the other before his unwavering eyes were exactly what he had expected.
But Hodges is of the old order, and the Mets are not. Their achievement must be attested to by other terms: by youth, by verve, by personality, by conviction, by naiveté and finally by rare talent where it counted most—on the field. That is why George Thomas Seaver, a 25-year-old man-child from Fresno, Calif., is 1969's Sportsman of the Year.
Because of the surprise that attended the Met's championship, the role played by Tom Seaver throughout the season was lost to a degree amid the tearing up of Shea Stadium turf and the squirting of champagne on mayors, celebrities, television announcers and millionaires. A reminder is in order. Seaver won 25 regular-season games, plus one playoff game and one World Series game when he was decidedly not at his sharpest. He became the youngest National League pitcher in 34 years to win as many as 25 games (Dizzy Dean was the last). He won the Cy Young Award as the best pitcher in the National League and had more  victories than anyone through a season that produced 15 pitchers with 20 wins or more.
"If others were lousy, he attempted to break the mood. After a horrendous Met exhibition in Pittsburgh, Seaver looked around the clubhouse and noticed his teammates' discouragement. He rapped for attention, stood on a chair and said, "Gentlemen, after watching that performance I would like to take this opportunity to announce my retirement from the game of baseball." 
During 1969 Seaver ran off winning streaks of eight and 10 games, which helped spare the Mets any long losing sieges, but win or lose he brought some very special characteristics to an unusually young baseball team. He expected to win, and he expected his team to win. Yet he had a way of handling defeat that helped everyone. An icy realist about many things, he had no use for alibis. When he pitched a bad game, he would say he was lousy. If others were lousy, he attempted to break the mood. After a horrendous Met exhibition in Pittsburgh, Seaver looked around the clubhouse and noticed his teammates' discouragement. He rapped for attention, stood on a chair and said, "Gentlemen, after watching that performance I would like to take this opportunity to announce my retirement from the game of baseball." Once when he thought the bench was too quiet during a game he walked along the dugout plucking spiders from the cool walls and throwing them in the laps of the silent. Seaver could get away with this, of course, only because he had earned the respect of the Mets with his talent and attitude—but, having won the respect, he made maximum use of it.
In his three years with the Mets, Seaver has won 59 games, but it must be remembered that in his first two seasons he played on teams that were a symphony of incompetence. He went to New York's spring training camp in St. Petersburg, Fla. in February of 1967 with only one year of professional work behind him. "I had no time limit set for making it to the major leagues," he says, "but I believed that eventually I would get there because I felt I was good enough. There were no self-declarations that if I did not make it in two or three years I would quit and try something else. None of that. At training camp I was ready to be sent back to the minors if the Mets felt I needed the extra work. I was perfectly willing to accept that, because I believed in the absolute integrity of major league baseball. To be honest about it, I had not been overly impressed by myself during my first year in pro ball at Jacksonville. A record which shows you win only as many games as you lose [12-12] is not one you can accept or be happy with."
But following a strong spring training performance the Mets decided Seaver was good enough for them. In his first five big-league starts the Mets won four times. But more important for him and the Mets, Seaver instinctively rejected certain attitude she detected on the team. "When I came to the Mets," he says, "there was an aura of defeatism on the team; a feeling of let's get it over with. I could not accept that. Being brought up in California, I was unaware of the legend of Marvelous Marv Throneberry. That lovable loser stuff was not funny tome. I noticed that the team seemed to play better when I pitched but, dammit,that wasn't right and I said so. I probably got a few people mad, but I went around and told the guys that if they did that for me and not for somebody else it was wrong. People pay money to see professional baseball played well and they put their emotions into it, too."
Seaver's feelings suggested, and rightly, that something in his baseball background was unusual.To the top of the sport, where men are men and pros are pros and all the world knows it, he brought some strange, old-fashioned, all-American boy attitudes.
"When the Mets were formed and baseball expanded from eight teams to 10 I was against it as a traditionalist," he recalls. His favorite team was the Milwaukee Braves and his favorite player was Henry Aaron. "Henry was always first with me, and I don't find it strange at all that a white boy who wanted to become a major league pitcher identified with a black hitter. I thought of Aaron as excellence. He was so much fun to sit and watch because he was consistent, dedicated and yet capable of making the game look so easy to play.Confidence flowed out of him, and I memorized his every move. Aaron has his own way of doing things, totally unlike any other hitter."
Two other players fascinated Seaver—Stan Musial and Sandy Koufax. "Once," he says, "at a game in the old Seals Stadium in San Francisco, I saw Musial have a bad day. Four straight times he grounded out to first, but every time he sprinted down the line as hard as he could go. Now, when I see some guy not hustling it angers me and I think of Musial on that day.
"Koufax was special, too. I sat in the bleachers watching him one day and he got knocked out in the first inning, one of the few times in his life that happened. Walt Alston came out to replace him, and Sandy just walked off, but he showed so much class in the way he did it. He knew he would be back four days later and things would be different. Four days later I went back, and Koufax was just fantastic. Koufax was the pitcher I wanted to be like.
"In my first year with the Mets I finally got a chance to meet Koufax. He was announcing The Game of the Week, and I saw him standing on the other side of the batting cage before the game. I wanted to go over and introduce myself but I couldn't do it.I thought it would be rude to force myself on him. I needed some kind of excuse. Pretty soon a ball rolled near him, and I hurried over and picked it up. 'Sandy,' I said, 'my name is Tom Seaver.' Before I could say anything else,he said, 'Yes, I have heard an awful lot of good things about you.' I am really sorry I never got a chance to pitch against Koufax."
In May of his first season Seaver faced Henry Aaron. This was more testing. "I could not make my mind believe this was reality," he says. "I got Aaron to hit into a double play his first time up and I struck him out the second. The third time he hit a two-run homer to tie the game and we lost it later. I'll never forget that. Damn!"
Seaver's competitive baseball career began as early as it possibly could have. His mother remembers looking out the back window of their home in Fresno when Tom was only 3 years old and seeing him playing phantom ball games with two imaginary friends, George and Charlie. Tom would argue, jump up and down and run bases. Tom's father, Charles Seaver Sr., now a vice-president with the Bonner Packing Company, was a two-handicap golfer at the age of 15 and later played football and basketball at Stanford in addition to golf. In 1930 he came within a hole of making it to the final round of the U.S. Amateur championship and a chance to meet Bobby Jones in Jones' last match before his retirement.Two years later he won the Stanford championship by beating Lawson Little and he was named to the Walker Cup team captained by Francis Ouimet. On weekends Charlie Seaver and his wife would go golfing at the Sunnyside Country Club in Fresno, and Tom, his sisters and his brother would be taken along. "When you are the fourth child in a family," his mother says, "you probably have to be a little tougher to survive."
Of the other three Seavers, Katie was a good volleyball player and swimmer at Stanford;Charles Jr. was a swimmer on the University of California varsity; and Carol majored in physical education at UCLA. This left only one big college in California without a Seaver on its rolls, so Tom went to USC on an athletic grant-in-aid.
"Our family was always competitive," Tom says. "Even when my father was working around the house he wanted perfection, and he tried to instill that striving in us, too. I learned a real respect for the value of work, not as a means—not just for the money it can bring you—but for the pleasure of doing something as well as you can, as near perfectly as you can. I wish today that I could use the same amount of concentration on other things that I put into pitching, but if I could I would not enjoy baseball as much as I do. The thing I appreciate about the game is that it is one of the few places left where a person like myself can show his individuality."
It is, more than anything else, the striving for excellence that Seaver transmitted to his teammates. He became their leader by setting them a rare example. Two small incidents display this aspect of Seaver. He had planned, on winning his 20th game, to celebrate by taking his wife Nancy out for an expensive dinner. But he won No. 20 as the first game of a doubleheader against Philadelphia. The Mets then lost the second game, and Seaver saw no reason to celebrate. He and his wife dined at a hamburger stand.
About a month later, when almost all of the impossible had happened and the Mets had just beaten Atlanta to win the National League championship, there was the usual wild celebration in the dressing room. Seaver stayed a few minutes, but then slipped out to find a television set where he could watch Baltimore beating Minnesota. He thought he might spot a point or two about the Oriole hitters.
This, and the Seaver who says he'll accept almost anything the Mets want to pay him next year because he can't think about pitching if he has to worry about money arguments, and the Seaver who avoids the banquet circuit because he feels too many outside interests hurt ballplayers, and the Seaver who would have gone to spring training on a certain date this year even if there had been a baseball players' strike, and the Seaver who says, "The happiness of baseball is its competitiveness; that is what I love about the game," are all one young pitcher. But so is the Seaver who throws spiders and gets in water fights with the Shea Stadium ground crew—which is why he is the man-child of the Mets.
"When Tom went out to pitch the ninth inning, I did something only a kid is supposed to do," says Bud Harrelson, the Mets' young shortstop and Seaver's roommate. "I turned around to a guy standing next to me and said, 'Hey, I know him. I know Tom Seaver. Tom Seaver is a friend of mine.'"
If perfection is Seaver's goal—and already some consider him a little too perfect to be true—he came close to baseball's version of it on the one night last season that may well have made the Mets. The city of New York had gone without a significant National League baseball game for a dozen years when on July 9 Seaver took the mound to work against the league-leading Chicago Cubs. New York was only four games behind Chicago, and the biggest crowd in the history of Shea Stadium was out to see if the Mets were real. For eight innings that night Seaver did not allow a Cub on base while striking out 11 of them. Three times he received standing ovations at the end of innings, and as he went out to begin the ninth the crowd stood for him once more. "When I got on the mound," he says,"I suddenly felt my arms somehow being lifted upward, just as if I had pressed them against the sides of a doorway for a long period of time."
Seaver got the first out by fielding a bunt by the leadoff hitter, but then gave up a single to rookie Jimmy Quails. Gone was the perfect game, but Seaver's performance in New York's 4-0 win had shown Met fans that the time had finally come to root for their team instead of laughing at it.
That night—Seaver now calls it the night of "my imperfect game"—Bud Harrelson, the Mets' young shortstop and Seaver's roommate, was with his Army Reserve unit at Camp Drum in upstate New York. Harrelson went to a bar in the nearby city of Watertown and, while watching the game and Seaver's performance on television,began to have an unprofessional reaction to what was happening.
"It was like I was being pulled into the set," he says. "I had so much pride in the team and in Tom that I guess I kind of lost my head a little. When he went out to pitch the ninth inning I did something only a kid is supposed to do. I turned around to a guy standing next to me and said, 'Hey, I know him. I know Tom Seaver. Tom Seaver is a friend of mine.' "
By the time the 1969 baseball season was over, a large number of Americans were having the same kind of reaction to both Seaver and his Mets. The Mets excited them. The Mets cheered them. The Mets were friends. The Mets, in fact, were the only possible ending to a decade of wondrous performances, surprises, shocks. Sport—as the following pages show—had never seen anything like the "60s. But what better way to go into the '70s than to be borne there by the Mets?