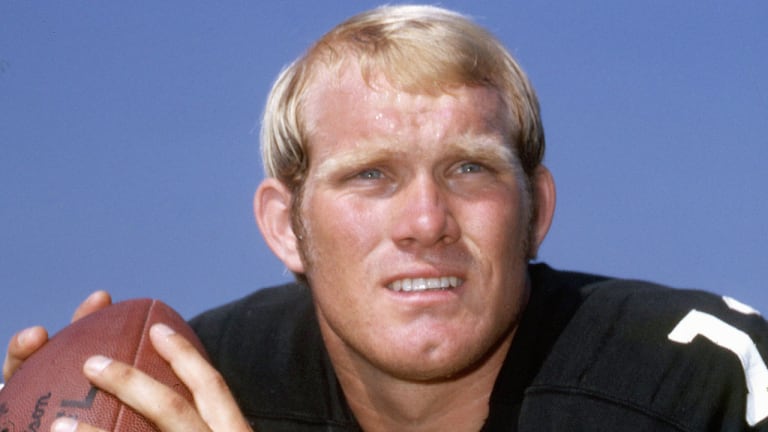 'I Wanted To Go With A Loser'
Terry Bradshaw can't contain his excitement ahead of his first NFL season with the Pittsburgh Steelers
Pittsburgh has never seen the likes of Terry Bradshaw (see cover), the big blond quarterback from Louisiana Polytechnic Institute who was the first to go in last week's pro football draft. But then Terry Bradshaw has never seen the likes of Pittsburgh. In fact, until this year the only big city he had ever seen was New Orleans.
Sitting in the Ruston, La. Holiday Inn restaurant last Friday night, Terry Bradshaw got so excited at the prospect of playing for the Steelers he ordered another cup of coffee. "When they called me and told me they'd drafted me No. 1, I just couldn't believe it," he said. "I mean, all along I wanted to go with a loser. I never wanted to go with L.A. or Minnesota or any good team. I wanted to go someplace like Pittsburgh or Chicago, where if I made it they would make it with me."
At Louisiana Tech, a school of 7,600 located in Ruston, which is 75 miles east of his home town of Shreveport, Bradshaw broke all the passing records and led the country in total offense his junior year. At times, however, he played quarterback like a middle linebacker. When Northeastern Louisiana intercepted five of his passes in one game, he personally dragged down all but one of the culprits by himself, breaking the collarbone of the last. "Football is contact, and I love contact," he says. "So many quarterbacks in pro ball seem so quiet out there, almost passive. They get hit and then just lie there. They don't get mad. If I get hit I get mad. So many times at Tech they'd send messengers in from the bench. Everybody in the stands thought they were bringing in plays, but that wasn't the case at all. They were bringing in orders for me to quit running the ball, or to get out of bounds if I had to run. Well, sometimes it just made me sick, picking up 25 or 30 yards and then having to run out of bounds when one of those little safeties came up. Couple of times, though, I went ahead and rang their bells anyhow."
The pro scouts got an idea just how good Bradshaw was, during the Senior Bowl game in Mobile, Ala. Playing the whole afternoon without a chin strap ("I got so excited I never got around to putting one on"), Bradshaw completed 17 of 31 passes for 267 yards and two touchdowns, and was named the game's most valuable player. "I learned a lot that day, playing for Don Shula of the Colts," he says. "And I'll never forget how embarrassed I was the first time we practiced for the North-South All-Star Game. I took the snap from center, spun around to hand off to [TCU's Norm] Bulaich—and nobody was there. Bulaich had already gone through the hole, and there I was holding the ball. I'd never seen anyone start so fast before, and I could just imagine those coaches thinking, 'Hey, get a load of the kid from the little school.' "
Having grown up in a closely knit Baptist family, Bradshaw spends much of his time speaking at church functions and banquets, and last summer he worked as a youth director for the Methodist Church in Ruston. He laughs about it now, but confesses that no pass rush ever scared him more than the nights he spent in the old house the church put him up in. No less than seven times, usually when he was just drifting off to sleep, somebody would come crashing through a door or a window. One time a drunk shattered the window directly above the bed where Bradshaw was sleeping, showering him with glass. Since the police always arrived too late, Bradshaw went out and bought a white boxer pup, named her Duchess and had her sleep beside him for protection—but Duchess turned out to be as frightened as her master. After Bradshaw tried to take on intruder No. 7—and got a shotgun blast fired over his head—he moved.
Bradshaw can't wait to make his next move. "I just want to bust out and get started in pro ball," he says. "I've seen so much the past few weeks, going to Miami and L.A. and meeting people like Roman Gabriel, Joe Kapp and Carl Eller, well, I can't wait to jump right in. I want to go to Pittsburgh and Chicago and meet the people there, because if there's one thing I learned in Miami and L.A. it's that just because a guy has long hair doesn't mean he's a bad guy."
Come next July, Terry Bradshaw will toss Duchess into the front seat of his new "Burgundy Fire" Thunderbird ("It's elite, but not elite elite"), and squeal off for the Steelers' camp. When he gets to Pittsburgh he might even lower his sideburns.
"I just hope the people up there haven't gotten the wrong idea about me—I mean, about the way I've been talking," he says. "The other night a radio station from up there had me on a hookup where listeners could call in and ask me questions, and the very first guy asked me if I didn't think I'd been belittling the Steeler quarterbacks by saying how I wanted to make Pittsburgh a winner. I said no, I never meant anything like that. What I meant was I'd do anything to help make them a winner, and I would, too—even if it meant sitting there on the bench and giving Terry Hanratty whatever help he thought I could give him."