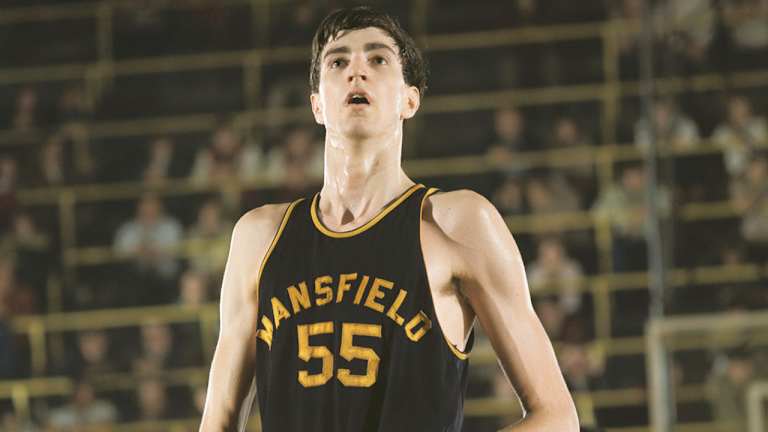 If You Want Tom, Easy Does It
To his mother Tom McMillen is a little boy, to college coaches he is very big, but everybody pursuing the most sought-after schoolboy since Alcindor agrees: approach him gingerly
The view from the large picture window over the kitchen sink in Dr. Jim McMillen's big white house near Mansfield, Pa. is merely ordinary. By country standards, the backyard is neither unusually large nor abundantly gardened. The driveway that loops behind the house shows the scars and buckling of too many deep-frost winters, and the worn wooden basketball backboard is supported by spindly iron posts burnt with rust. Still, although she never cared much for basketball, Margaret McMillen likes the view. For 15 years she stood inside her window cooking dinners and being vaguely amused as her five children chased around the lawn, climbed trees and shot baskets. It was only in the '60s when a series of intense, sometimes overly affable men began to join her in the kitchen that Margaret McMillen realized that something more than the usual children's horseplay was going on out there.
The men were college basketball recruiters, and they came to Mansfield because they thought the McMillens' oldest son Jay had learned to dribble and pass and shoot basketballs so well in the old backyard that he was among the best high school prospects in the country in 1963. They huddled with Jay and his dentist father around the circular kitchen table, listened to Margaret's proud stories of her children's cultural achievements and, as Margaret now recalls, every once in a while found their attentions wandering to the outside where the McMillens' youngest boy Tom (see cover) was playing. A 6-footer, he moved around the basket with almost the skill and polish of Jay. He was in the sixth grade.
In the six years since, Jay has graduated from Maryland, where he was good enough to be drafted by the Los Angeles Lakers at about the time he was beginning to lose one-on-one games to his brother. Tom, a senior at Mansfield High, has grown to 6'11", with all the grace of a forward and the brains to become the doctor he wants to be, and coaches and colleges the country over have almost run amok trying to register him. And that is not a very good thing to do around a McMillen. Pressure any of them just once, talk too much basketball to Margaret, too little academics to Jim, too much of the usual line to Tom, and goodby prospect, and please close the door when you leave. The McMillens are friendly people, but they have ideals, too, and they want to keep them, even if one in their midst is among the most sought-after high-schoolers ever.
Princeton was one of the earlier schools to understand the right approach. It had an administration official who had served formerly as dean of the Harvard Medical School escort Tom around the campus. West Virginia attempted to overwhelm Tom by introducing him to then-President Lyndon Johnson, while Virginia chose seduction, taking Tom and his coach, Rich Miller, to meet a Playmate of the Month. Only Miller was impressed.
But the occasional campus visit is only a small part of college recruiting. The process still relies heavily on letter-writing, telephoning and telegramming and treks to the boy's home. It is here that the recruiters have run head on into the McMillen parents.
"The recruiting has never really stopped," says Margaret. "We became good friends with some of the coaches when they were visiting Jay, and they have continued to come back." In the second half of Tom's sophomore season, when he was already edging up to Wilt Chamberlain, Tom Gola and Maurice Stokes on the way to becoming the state's highest schoolboy scorer, the old friends were joined by many new faces.
Coach Miller, who worried that the attention would distract Tom from his high school games, and the McMillens, who feared the visitors would pull him away from all his other interests, agreed that no one should be permitted to talk to Tom during the basketball season. Visits were carefully limited during the rest of the year. A few coaches have tried, unsuccessfully, to circumvent the rules by telling the McMillens that they just happened to be driving through.
"This is an awfully hard place to be passing through," says Margaret of Mansfield, a town of 3,100 that is isolated in north-central Pennsylvania astride a pair of two-lane highways that pass through places like Trout Run, Button Wood and Blossburg. "But some people think we're silly enough to believe them."
With his parched appearance and dry wit, silliness does not suit Jim McMillen. A former player and his sons' first coach, the dentist knew about recruiting long before either Jay or Tom became involved in it. "I had heard which schools had a reputation for dishonesty, the ones they say are in the underground," he said, sitting in his favorite chair in front of the TV where he watches hours of sports events each weekend. "I knew the ones the NCAA suspended, too. We told Tom not to consider any of them." That scratched off a considerable number of the more than 225 schools that had approached him. Perhaps because Jim looks as honest as American Gothic, the McMillens have received only one shady offer for their son—an illegal junket to this year's Super Bowl in New Orleans. The trip was turned down and the college eliminated from consideration.
"I'm pleased I've had two tall sons," says Jim McMillen, who has traveled all over Pennsylvania to cheer his boys in high school. "It's put more zest in our lives. Life is much less humdrum. I guess the rest of the family has taken it in good stride, but sometimes I feel I might have neglected my other children's interests more than I should have. I always tried to change the subject from basketball at the dinner table, but it was easier to talk about it and we usually did."
The other three McMillen children, John Paul, now working in a bank, Sheila, a sophomore at Penn, and Liz, a tall 8-year-old who may be the only girl her age who can execute a perfect reverse pivot, have not been left to their own resources. "This is my part of the house," says Margaret, waving her hand at the walls lined with books in her library and out toward the living room with its piano, organ and stack of instrument cases lying on the floor. "Up until a few years ago I didn't even know who Bob Cousy was."
Margaret rarely sees a game and, although she can cite a few names and statistics, she does not know the difference between a hook shot and a layup. "I'm satisfied with what Jay got out of basketball. He went to Maryland on an athletic scholarship and he had the opportunity to live in Italy and visit all the museums when he played for Padua's pro team," she says.
Recruiting and the hours Tom has spent replying to coaches' letters and answering their telephone calls prick Margaret's maternal instincts. Aside from Heidi, a 250-pound Saint Bernard who was trained by a state trooper, she is her son's most ardent protector. "I'm the drill sergeant around here," she says. "I guess I've gotten the reputation of an old ogre with a lot of the coaches, but some days I have to take the receiver off the hook to get my housework done and some evenings I wonder when Tom does his homework. They're not giving him enough free time."
Understandably, there are many recruiters who harbor no fondness for Margaret McMillen. She is severely blunt when she does not approve of their approaches and she was the driving force in persuading Tom to cut down his schedule of campus visits this fall.
"A boy can be spoiled by recruiting, his grades can be hurt by it and he can be drawn away from his other interests," says Margaret. "I want to raise a well-rounded young man, not an athletic bum."
Recruiters often simultaneously compare Tom to Lew Alcindor and Bill Bradley. Still growing, they believe, he may help the school he chooses to the same dominance of college basketball that UCLA enjoyed during Alcindor's varsity years. And, like Bradley, McMillen is a thoughtful student of the game and other things as well. He stands at the top of his class academically and is the president of the student council, the first trombonist in the school band, a prize-winning orator and perhaps the world's tallest altar boy.
In backyard games with Jay and in others at summer basketball camps where the competition is much tougher than it is at home in the Tioga County League, McMillen has proved himself agile enough to play away from the basket. He has the ball-handling skill and quick moves required to drive in to score and the deft touch needed to shoot long jump shots. His talents—including his left-handedness—are those of a larger, still unrefined Rick Barry.
McMillen wants to play forward in college, and most coaches agree it may be his best position, even though taking a 7-footer from underneath the basket is almost unheard of even in the pros. His only weaknesses—slight deficiencies in jumping ability and overall strength—could persuade a college coach to switch him from center, although the decision will not be an easy one, simply because McMillen has played so well at the position in high school. At a Christmas tournament in Johnstown, Pa. this season Mansfield played New York City's Power Memorial for the championship. Power, Alcindor's old school, is regarded by many as the best high school team in the country this year, and its center, Len Elmore, a 6'9", 230-pound leaping muscleman, is widely considered the No. 2 tall prospect behind McMillen. With potential college stars at three positions, Power defeated Mansfield by 16 points, but McMillen won his individual battle. Twenty pounds lighter than Elmore but much quicker, he used a few of his forward's tricks to draw his opponent into foul trouble and then outscored him 40-5. Using head fakes, rocking foot fakes and speed, McMillen moved past his defender for easy layups, hooks and scoop shots. It was no surprise that he won the outstanding player award. Unexpected was his 20-7 rebounding edge over the stronger, springier Elmore.
With every possibility open to him, McMillen is not about to pack off to any school without considering all the angles—including politics.
"I want to go to a school that's concerned with the students' problems," he says. "But I wouldn't want to go to a place like Columbia where they have had open violence. I feel an atmosphere like that would detract from my experience as a student and a player.
"Still, I think a school should be interested in getting things done. I read National Review and I think there are some good ideas in there, but I wouldn't want to be called a conservative. I don't want people to think I'm against progress. I can't see having my name associated with a place like Alabama, where they really haven't faced up to-problems, or a school like Georgia in a state where Governor Maddox actually seems to be against progress.
"I hear a lot of older people saying that students shouldn't dissent. They tell me things like: 'We never did; we respected our faculty.' Well, today we have to evaluate our own situation. Times are changing and we shouldn't simply imitate older persons on student unrest and things like that."
Even though he already realizes that pro basketball may prevent him from ever earning his M.D.—a conflict that deeply worries his cheerleading father, who is a medical man first and a basketball nut second—McMillen has decided against more schools for their weak pre-med curricula than because of their suffering basketball programs. Of the dozen or so colleges still under consideration, almost all have medical schools nearly as renowned as their basketball teams, and most of the coaches spend as much time talking up new chemistry labs as they do their latest league championship. The Ivy League is still in contention though his parents would prefer that he attend school on an athletic scholarship. Tom will most likely play in the Atlantic Coast Conference at North Carolina, Duke or Maryland.
McMillen carries his careful thought and articulation over into his school-work. He has one of the three highest academic averages in the history of Mansfield High—he received a B for one marking period in seventh-grade English but nothing lower than an A since—and will certainly become the fourth member of his family named most likely to succeed by his classmates at graduation.
The adults in Mansfield apparently think he already has. Last year the Methodist church invited him to a service to speak on his Catholic faith, and the March of Dimes named him the teenage county co-chairman. The local administrators of the Federal Government's Appalachia program asked McMillen to talk on nutrition, although his diet would hardly qualify him as an expert.
"Sometimes the adults take me too seriously," says McMillen. "My name is in the paper all the time and it makes me wonder what the other kids' parents think when their sons and daughters aren't getting any publicity. If I were them, I don't think I'd care for it."
For their part, his contemporaries are not worried in the least. Crowded around one end of a long table in the Mansfield High cafeteria, three of McMillen's best friends, Frank Rich, Ron West and Tom Cole, the little guard who is the second-best player on the basketball team, talked about McMillen.
"He's a big goof. He's so intelligent and so great at basketball, but he's simple about life. I've never met anyone so gullible," said 5'8" Rich. "Besides, when you play basketball with him, you always end up getting hit on the top of the head by his elbows."
"He's got one big fault. He never goes out with girls," said West.
"He's so straight I don't think he'd kiss a girl," added Cole.
"I don't think it would even cross his mind," Rich concluded.
McMillen, who is not a bit shy about his height—"A guy's got to be proud Tie's tall"—nervously stares at his shoe-tops at the mention of girls. He says girls will always be around, but the opportunity to be a star player and student will not. To which his mother says, "Tom is just a little boy."
McMillen's bedroom is crammed with files full of clippings, pamphlets and note cards on school subjects, exercising, playing techniques and healthy eating. He writes out daily schedules on how much to study, practice, sleep and eat. Fortunately, his meticulousness is occasionally knocked askew by his boyishness.
On a Friday night before the basketball season began, McMillen spent half an hour discussing his eating habits, repeatedly referring to wheat-germ oil, diet supplements and high-energy foods. The next day, after missing his breakfast because he was on the phone with coaches, he marched two miles in a parade and played at a football halftime with the school band. Returning home in the midafternoon, he gulped down a huge wedge of coconut-iced layer cake and half a Boston cream pie, from which he had carefully shaved off the chocolate frosting. Washing it all down with several glasses of milk, he said, "I don't really like cake." He then bolted out the back door for six games of three-on-two in the driveway. That evening he drove with his parents 25 miles for dinner at a Continental restaurant. Barely glancing at the menu, Tom ordered and ate half a dozen snails, a bowl of kangaroo-tail soup, a Chateaubriand for two, several French pastries and, between tastes of his parents' dishes, various rolls and vegetables.
The meal was an obvious release for McMillen, who had grown bone weary of the recruiters. He feared they were beginning to take the edge off his basketball game and his chances to graduate at the head of his class. By Sunday afternoon, thoroughly fatigued, he slumped into a chair when he should have been finishing an English paper on chivalry in Malory. "Oh boy, I'm getting tired," he said. "I'm looking forward to the shelter of the season. When you meet new people, it gets to be a real drag. It's the same spiel every time. They aren't interested in you as a personality, only as a basketball player."
McMillen's experience is similar to the one the Knicks' Bill Bradley was subjected to as a high-schooler some years earlier and which he described recently.
"I didn't sleep at all for a week while I tried to make up my mind," said Bradley of his last-minute switch from Duke to Princeton. "Even my father couldn't convince me to go ahead and do what I wanted. It wasn't until a couple of years later that someone explained to me that the letter of intent wasn't a question of morals. It is just a tool used by coaches to tamper with the minds of teen-age boys. It is simply part of a system that is much larger and very distasteful."
The coaches will have another month of open season on Tom McMillen between the end of Mansfield's schedule and mid-April, when McMillen expects to end the whole business with his signature on somebody's letter of intent. "I'm not looking forward to that month," he says. "I wish it were over."
If McMillen has been sleeping less this year, his grades have not shown it and neither has his scoring. He has averaged 46.2 points a game and shot 77% from the floor. More likely, it is the coaches with fresh memories of Alcindor's three-year domination of college championships who are not resting well. Only one of them can have McMillen. The others should lose a lot of sleep two years from now figuring out ways to stop a 7-foot sophomore with moves so sophisticated that he can train on snails.
PHOTO
IN HIS BACKYARD McMILLEN DWARFS HEIDI, A 250-POUND SAINT BERNARD WHO ZEALOUSLY DEFENDS AGAINST
OUTSIDERSPHOTOKID SISTER LIZ AND TOM RELAX IN "MOTHER'S PART OF HOUSE," THE LIBRARYPHOTOCOACH MILLER TALKS WITH FATHER JIM