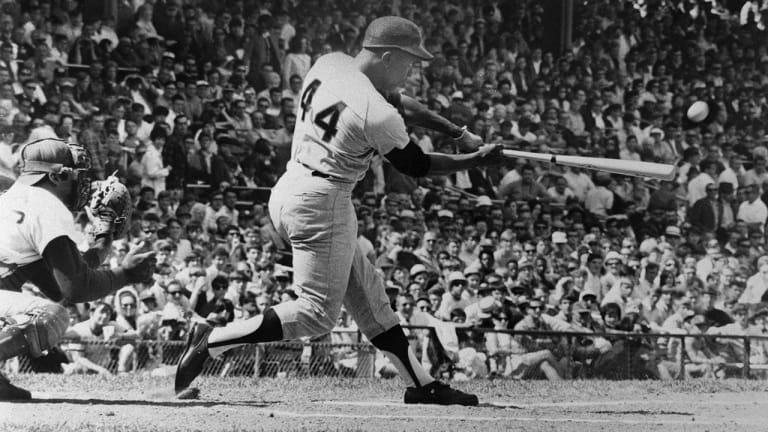 Henry Raps One for History
A single up the middle brought the Atlanta Braves' Henry Aaron his 3,000th hit and a mile-high milestone in a fabulous hitting career that after 16 years does not show the least sign of peaking
It was getting awfully lonely in the club," Stan Musial said last week in Cincinnati, "and when you are the only living member of it, you wait around for somebody to join you so at least there will be somebody to talk to."
In the second game of Sunday's doubleheader between the Reds and the Atlanta Braves in Crosley Field, Henry Aaron beat out an infield single and joined Musial and seven others in baseball history to reach 3,000 hits (see cover). Musial vaulted over the small fence alongside the Braves' dugout and trotted out to first to congratulate Aaron, as the biggest Cincinnati crowd in 23 years gave the game's most under-publicized star a heartfelt standing ovation. Aaron held up the ball that he had hit off rookie Pitcher Wayne Simpson and waved it at the big crowd.
"Congratulations, Henry," said Musial. "Thank you so much for coming over to see me do it," said Aaron. Aaron's single drove in a run for the Braves in their big showdown series with the Reds. Not long after, on his way to downtown Cincinnati in a police car, Musial said, "Sure I remember my 3,001st hit. It was a home run." No sooner were the words out of his mouth than a radio broadcast told the story of No. 3,001 for Aaron. It was a home run over the center-field fence. "Go get 'em, Henry," said Musial.
From the beginning of the week Aaron had been trying to join Cap Anson (1897), Honus Wagner and Nap Lajoie (both 1914), Ty Cobb (1921), Tris Speaker and Eddie Collins (both 1925), Paul Waner (1942) and Musial (1958). Lou Gehrig never reached 3,000 and Babe Ruth retired 127 hits short of it. George Sisler, with a lifetime batting average of .340, did not get 3,000 hits, nor did Ted Williams, Joe DiMaggio, Harry Heilmann, Wee Willie Keeler, Kiki Cuyler, Rogers Hornsby, Mel Ott, Ducky Medwick, Sam Rice, Al Simmons or Heinie Manush. Mickey Mantle never really got close, and Willie Mays is still 43 hits away. Their ages say that Al Kaline, Frank Robinson and Ernie Banks will not get to 3,000, and Pete Rose is not quite halfway. Carl Yastrzemski would need seven consecutive seasons better than the best one of his life to approach what Aaron accomplished last Sunday
Getting 3,000 hits is baseball's finest unsung record, but Aaron approached his goal without fanfare or trumpets from Baseball Commissioner Bowie Kuhn or National League President Charles Feeney. The fans, fortunately, responded to him. Last Saturday evening, after doubling twice to move within one hit of 3,000, Aaron sat in front of his locker in the Braves' clubhouse in Cincinnati and said wistfully, "People have been calling me on the phone and wishing me the best of luck. I appreciate it very much. It's very nice to know that people know you are around."
The Braves are this year's most delicious baseball mystery because two freak accidents took away 18-game winner Ron Reed and top reliever Cecil Upshaw from a pitching staff that was considered questionable even when totally sound. Reed broke a collarbone in the spring, and Upshaw, who won six games and saved 25 in 1969, came close to losing a finger on his pitching hand when he was showing some teammates the elements of a basketball dunk shot. He caught his ring on an overhang while suspended in the air. At one point early this season Atlanta lost nine of 11 games, and it looked like the Cincinnati Reds would bury them deep in the Western Division. The Braves, however, revived and rolled off 11 straight wins, and people asked how.
The question should not have been how but who, and that who was Henry Aaron. Fear of Hank Aaron has been present in baseball for most of the past 16 seasons. Now, in his 17th season, that fear is larger than it has ever been before. On opening night in Atlanta 37,181 fans watched him come to bat in the first inning and pump a home run 503 feet into the upper deck in left field. It was the longest homer ever hit by a Brave in Atlanta. Last week he hit two homers to win two games in five days. In a game in which the Braves were shut out for the first time this season and held to only five hits, "Bad" Henry collected two doubles.
As silly as it might seem, Henry Aaron might just be a better hitter now than he has ever been. By the end of last week he had 16 homers and said, "I've never had a start like this. I've hit for a better average early in a season but I've never got as many homers. Despite the shifts they throw at me, I've hit. If I hit the ball hard, it will go through any shift, and I have been hitting the ball hard."
Last week in Chicago, Aaron got four hits (Nos. 2,992-2,995) in one game and he hit the ball truly hard three times. The first time, he singled through the middle to drive in the first run of the game. The second time, he lined a ball back at Cub Pitcher Joe Decker. The ball hit the rookie on the right forearm, spun him around and landed behind the mound. When Aaron reached first safely he looked at Decker, waited for time to be called and then walked to the mound. "I thought I had broken his wrist," Aaron said. "I want my hits but I don't want to hurt anyone. I was kind of afraid for the kid. It could have all been gone for him right there. But he was O.K. I told him I was sorry."
Aaron's line drive took Decker out of the game, and in the 10th inning he hit a ball hard for the third time. He worked the count his way until it was three balls and no strikes and then waited for a fastball and got it. Aaron's bat came around, his wrists snapped, and Miller Barber cannot hit a three-iron any better than Aaron hit that pitch. The ball flew deep into center field as the Braves won.
"Throwing a fastball by Henry Aaron," Pitcher Curt Simmons once said, "is like trying to sneak the sun past a rooster."
At an age—36—when other ballplayers are beginning to enjoy the twilight of their careers, Aaron is now in the first year of a two-year contract that calls for $125,000 a year. He lacks only a few things that he wants and once had. "There was a fire in my home in Atlanta three years ago," he said last week, "and some of the things I really treasured were lost, like the balls I hit for my 1,000th and 2,000th hits. I wonder if my 3,000th hit is a homer if I'll get it back." (It wasn't and, of course, he did.)
As Aaron moved toward 3,000, some of baseball's biggest names watched him and appreciated the milestone he was approaching. Ernie Banks, who himself last week became only the ninth man in baseball to hit 500 homers, sat on the edge of the Chicago dugout and said, "How do you pitch to a hammer? What does he think about when the count is three and one? Does he feel that he has to carry the team? Does he realize that he makes hitting with two strikes on him look easy while the rest of us normal people tense up? I was impressed when I first saw him hit, and I'm more impressed by Mr. Henry Aaron as the years roll by."
Red Schoendienst, the manager of the St. Louis Cardinals and a teammate o. both Aaron and Musial, as well as one of the 111 others in baseball to collect more than 2,000 hits, says, "Two thousand hits is nothing when you compare it to 3,000. When I played with Henry in Milwaukee I thought he would have a chance to reach 3,000 hits because he had the perfect body that would allow him to play every day. Good hitters just play, and bad hitters become politicians and try to hang on that way. Henry's just like Stan; both natural-born hitters. They began to concentrate when they got to the clubhouse and they would look at the laces when they tied their shoes because they knew that once their shoes were on, they had to play. No distractions. No horsefeathers, just work. That's what makes a real man. That was Stan, and it's Henry."
Roger Maris said of Aaron two weeks ago: "Henry could steal 50 bases a year if he wanted to and seldom get caught, but he knows that he might get hurt, and that would harm his ball club in the long run. In some ways it is unfortunate that Henry's hitting is so outstanding. It tends to overshadow his other talents."
Joe Torre played with Aaron in both Milwaukee and Atlanta and now must play against him as a Cardinal. "Henry," he says, "has the most ferocious swing with the least amount of effort that I have ever seen. He can hit a ball in the infield and judge how much speed to turn on to beat the throw. The old saying applies to Henry. He belongs in a higher league."
So, of course, did the other 3,000-hit men. One of them, Waner, was the team's batting instructor when Aaron was in his fourth year as a Milwaukee Brave, and a bright enough man to leave Aaron's style alone. "We talked about hitting quite a bit," Aaron said last week while lounging in his Cincinnati hotel room in scarlet silk pajamas, "and our theories were almost the same. Waner believed, as I do, that moving the legs or opening and closing your stance is not as important as the upper part on the body. It's the controlling of the bat that is important and being able to snap your wrists at the last instant that allows you to do something with a pitch you might have already been fooled on."
All last week, Waner's widow was listening to the Brave broadcasts in her home in Sarasota, Fla. and rooting hard for Aaron. "Paul once said," Mrs. Waner recalled, "that the one hitter who needed no help at all was a young man named Henry Aaron."
Waner got his 3,000th hit at the age of 39. With 2,999 to his credit, he hit a ground ball that Shortstop Eddie Joost could not field cleanly. It seemed that Waner's 3,000th hit would be a scratch single. When he got to first base, however, Waner motioned with his arms and head "no" to the official scorer. Reluctantly, the scorer called the play an error and Waner later told Joost, "I'm sorry to see you get an error, kid, but I wanted it to be one I could be proud of." Eventually Waner did get his hit—a single through the middle against his old team the Pirates. Although Waner was nearing the end of a career in which his top salary was $18,500, he volunteered to put up $1,000 for a celebration party. But his hard-up employers, the Braves, stepped in and paid.
Musial, who flew to Cincinnati to be there for Aaron's historic hit, had two parties for his 3,000th, the first when he reached 2,998 before the team went to Chicago for a short series. Musial hoped the second would be in St. Louis, too. With one hit to go, he sat out the last Chicago game before returning home. He was sunning himself in the bullpen in the sixth inning when, with the Cardinals behind 3-1, Manager Fred Hutchinson summoned him to pinch-hit for Sad Sam Jones. Musial doubled to drive in a run, and the Cards went on to win.
Following his hit, photographers ran onto the field, the ball was presented to Musial, and Hutchinson took him out of the game for a pinch runner. Musial ran over to the box seats, hugged and kissed his wife, and one of the photographers asked, "Say, Stan, did you know that blonde?"
The Cardinals returned by train to St. Louis—the last train trip in the club's history. In Clinton, Ill. a crowd of about 50 gathered on the station platform and chanted, "We want Musial." At Springfield the crowd had doubled, and people were singing, "For he's a jolly good fellow." When the train pulled into Union Station a spotlight was put on Musial. "I never realized," he told a huge crowd, "that batting a little white ball around would cause so much commotion. I know now how Lindbergh must have felt when he returned to St . Louis."
Aaron's first game in the major leagues was played in Crosley Field, the site of his 3,000th hit. He got no hits in five at bats. Joe Nuxhall was the starting pitcher that day for the Reds, and all he recalls of Aaron at the time is: "In the clubhouse meeting before the game he was thought to be a high-ball hitter." The Braves returned to Milwaukee after their Opening Day loss for an opener against the Cardinals and Aaron's second game in the majors. Vic Raschi, ending his career, was the starting pitcher for St. Louis. "Nobody on our team seemed to know anything about Aaron," Raschi says, "except Eddie Stanley, the manager. He knew that Aaron was a potentially fine player and talked about everything except the way Henry parted his hair." On his first at bat in County Stadium Aaron doubled off the left-field wall. Not long afterward he launched the first homer of his remarkable career—this one off Raschi in St. Louis.
Aaron is the first man ever to combine 3,000 hits and 500 home runs. Assuming that an average Aaron home run travels only 340 feet, he has already hit more than 36½ miles worth. Many people believe that he has a good chance to reach Babe Ruth's alltime record of 714. "This year and the next are the critical ones for me if I am going to catch Ruth," Aaron says. "I would almost have to have a 50 year in one of the two seasons I'm going to just hang on and hit one once in a while. One reason I have gotten off so fast is that Rico Carty and Orlando Cepeda have been hitting behind me. They've been going real good, so I have been getting more pitches to hit. Sure, catching Ruth would be a thrill, but achieving 3,000 hits is more important because it shows consistency I have studied the list of men who reached 3,000, and the most remarkable one is Ty Cobb because he got to 4,191. That is unbelievable to me." If Henry Aaron has a few more seasons like this one, he could become a believer.
PHOTO
2,
992PHOTO2,993PHOTO2,994PHOTO2,995PHOTO2,996PHOTO2,997PHOTO2,998PHOTO2,999PHOTO3,000