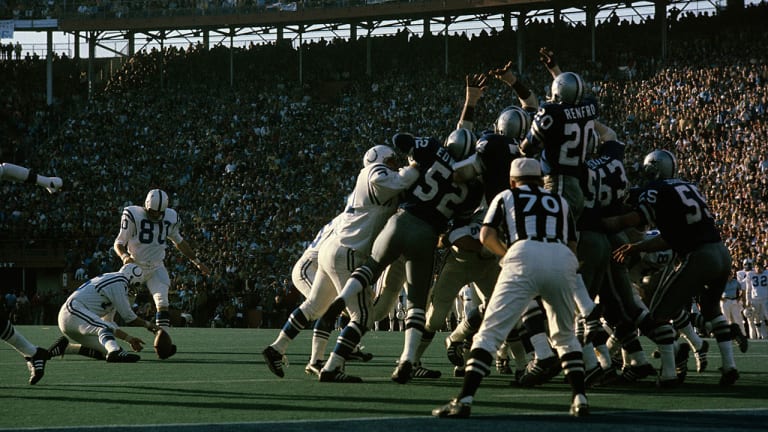 Eleven Big Mistakes
Baltimore had seven turnovers and Dallas only four as both teams bumbled through a laugher of a Super Bowl, but in the end the joke was on the Cowboys, who made the biggest mistake of all—losing
Perhaps the game should be called the Blunder Bowl from now on. The Baltimore Colts are the new world champions, but they won their first Super Bowl by default, not design. They defeated the Dallas Cowboys 16-13 on a field goal by rookie Placekicker Jim O'Brien (see cover) with five seconds remaining, one of the few plays of the day that worked as it was supposed to.
Prior to this ultimate flicker of excellence, the Colts had entertained 80.000 Miami fans and a television audience from the far reaches of West Germany to Japan with five fumbles, four of them recovered by Dallas, three interceptions and a blocked extra point. That ought to be enough to present almost any opponent with a ball game, but Dallas proved it was not just any opponent. Indeed, the Cowboys finally demonstrated that they had an even greater talent for making the big boo-boo. And to think television was worried that situation comedy was dead.
No one has ever accused Craig Morton of being a great quarterback, and after this game it is unlikely that anyone ever will. He completed 12 of his 26 passes—most of them short ones—but he also threw three interceptions and missed open receivers repeatedly, "it was a great challenge," he said sadly after the game. He was accurate there. "I just didn't do it." He was right again, but there is no need for Morton to take more than his share of the blame. Cowboys, Colts, officials and Fates all ganged up to give pro football fans a hilarious—and thrilling—afternoon.
To chronicle events is to catalog catastrophe. To wit: after a spectacularly dull opening five or six minutes, Johnny Unitas set the tone for the day—establishing the game plan, it is sometimes called—by throwing an interception to Dallas Linebacker Chuck Howley, who made a diving, juggling catch of the poorly thrown ball and returned it to the Baltimore 46, where Unitas, of all people, made the tackle.
The Cowboys moved quickly backward to their own 31 and had to punt, giving Ron Gardin, the Baltimore safety, his first serious opportunity. Gardin darted nimbly to his left, leaving the ball behind on his own nine-yard line, where Dallas recovered.
Thanks to this gift, the Cowboys were able to score, but naturally not a touchdown. Morton overthrew Reggie Rucker in the end zone on third down and Dallas had to settle for a field goal that Mike Clark kicked from the 14.
Meanwhile, the Colts were having no success at all trying to run. But on the other hand they were having no success at all trying to pass, either.
Late in the first period, Morton threw one of his few really good passes, down the sideline to Bob Hayes. You are not supposed to complete long passes into the Baltimore zone defense, but Hayes somehow came up with this one as the middle man in a Charlie Stukes-Hayes-Jerry Logan sandwich. The pass went to the Baltimore 12 and the Colts moved it even closer by drawing a penalty for roughing Morton.
Morton quickly managed to back Dallas out of touchdown range by hesitating on a pass until Baltimore Tackle Billy Ray Smith had engulfed him and then throwing the ball at Guard Blaine Nye, who was conveniently nearby but an ineligible receiver. Morton was called for intentionally grounding the ball, which costs 15 yards and a down. So Clark kicked a 30-yard field goal to make it 6-0.
Now came a play that, as John Mackey said later, was definitely not a part of the Baltimore game plan. Unitas, as noted, had been having trouble completing passes against the meticulous Cowboy defense. The rush of the front four was hurrying him, the linebackers were dropping off into his passing lanes and the Cowboy defensive backs clung tenaciously to his receivers. After the Dallas kickoff, Unitas threw two passes, both incomplete, then tried a third. This one was intended for Wide Receiver Eddie Hinton but was far over his head. Hinton jumped high and managed to touch the ball with his fingertips, deflecting it toward Mel Renfro, a Cowboy defensive back, who also seemed to touch it with his fingertips. The ball finally came to rest in the sure hands of a surprised Mackey. who scored to complete a 75-yard touchdown play.
"Somebody touched the ball," Renfro said later. "I don't think I did." If Mel, or perhaps Cornell Green, had not touched the ball, the pass would have been ruled incomplete, since two offensive players cannot handle the ball as receivers unless a lateral is involved.
"I wasn't the primary receiver," Mackey was to admit. "My job was to go deep to clear the zone and Hinton cuts in under me. It's what we call an individual to the flanker." Now it's an individual to the flanker to the tight end.
By any name, it gave the Colts six points, which is all they got since their extra-point attempt was blocked when Tom Nowatzke missed his man, leaving the score tied 6-6.
So, despite its errors, Baltimore was even. But not for long. Unitas, running when his receivers were covered, fumbled as he was hit, Dallas recovering on the Colts' 28.
Morton, under a blitz, hit Dan Reeves with a short pass that Reeves converted into a 17-yard gain. Then Morton threw another short pass, this one to Duane Thomas, who ran it in. The Cowboys were back on top 13-6.
Nor did Baltimore's chances seem to improve when on the next series Unitas, dropping back to pass, was smashed by George Andrie, the ball fluttering into the hands of Renfro for yet another interception. Unitas suffered a hairline fracture of his rib cage on the play and left the game for good. But this set the stage for the redemption of Earl Morrall, the goat of the Colts' Super Bowl debacle against the Jets two years ago.
The first time Morrall handled the ball he threw a lovely pass to Hinton for 26 yards. Then he hit Roy Jefferson on a similar pattern for 21 more. Just like that, Earl Morrall had the Colts on the Dallas two.
Touchdown probably, field goal certainly. But not in the Blunder Bowl. Morrall sent Norm Bulaich into the line three times and wound up right there on the same two-yard line. With 21 seconds left in the half, Morrall called time out and trotted over to the sideline to confer with Head Coach Don McCafferty. Since the Colts were trailing by seven points, a field goal would put them inside touchdown range and was obviously the only call. But McCafferty is a rookie, albeit a good one. And he could not betray the character of the day. So he called for a pass to Tight End Tom Mitchell. It was incomplete and the Colts wound up with nothing for Morrall's heroics but a halftime rest to mull matters over.
"If we had lost, it would have been the worst call I made this year," McCafferty said later. "If it had worked, I would have been a hero."
After the half it could reasonably be expected that these two quite good football teams—the pro game's finest—would settle down to the cool, surgical business the sport has become. But disappoint all those giggling spectators? Dallas kicked off, the AFC's top kick-off return man, Jim Duncan, gathered the ball in—and fumbled it. Dallas recovered at the Baltimore 31.
By now Morton, or rather Coach Tom Landry, had forsaken the forward pass as a weapon, and Morton handed off five times to his running backs, who drove to a first and goal on the Baltimore two. Touchdown? Field goal? Relax. Thomas, the Cowboys' truly gifted rookie, fumbled. Duncan, getting used to bouncing balls, fell on it—and the Colts were still only seven points behind.
"After that," said Landry, "it was all errors for us."
So it was. Renfro, a veteran defensive back who played a marvelous game all afternoon, suffered a strange mental lapse on a Baltimore field-goal attempt a little later. The kick was short, but instead of returning it Renfro let it bounce and the ball died on the Dallas six-inch line.
"I can't second-guess myself," he second-guessed. "I thought it would carry into the end zone. I should have picked it up."
The Colts, holding the Cowboys in their own territory after this play, moved down to the Dallas 15, primarily on a pass to Nowatzke from Morrall that carried 45 yards. But Morrall, under a vicious rush by Andrie, was intercepted by Howley in the end zone just as the last period began.
That was the sixth Baltimore turnover, but the real wowser was yet to come. It happened on a play you might diagram in the dirt during a back lot game of touch. There were about nine minutes left and it was still 13-6 Dallas when Morrall lateraled the ball to Sam Havrilak, a halfback who was once a quarterback for Bucknell. Havrilak was supposed to lateral the ball back to Morrall, who would then throw a pass to Hinton at the flag that marks the corner of the field at the end zone.
Morrall got the ball to Havrilak all right, but Jethro Pugh, the big Cowboy tackle, was between Morrall and Havrilak when Sam was supposed to throw the ball back, so Havrilak, like a good Bucknell quarterback, looked down the field, saw Mackey open and threw the ball at him. Naturally, Hinton cut in front of Mackey and caught it and headed for the goal line—yes, the right goal line.
"I could see the end zone in front of me," he said. "I was trying to work my way there when all of a sudden someone knocked the ball out of my hands from behind. I tried to get to it but someone tackled me and I couldn't reach it."
Green had hooked the ball out of Hinton's grasp and Renfro had tackled him. The ball, meanwhile, was squirting over the goal line, where a bevy of Cowboys and Colts took turns not recovering it until it had trickled beyond the end zone. The officials ruled it a touchback, giving the Cowboys the ball on their own 20-yard line.
That was Baltimore's seventh disaster, and the Colts never tried for an eighth. But Dallas had a few in store. Almost immediately Morton threw a pass intended for Walt Garrison that was tipped by Duncan and intercepted by Safety Rick Volk.
Volk carried the ball down to the Dallas three-yard line. Touchdown? You bet. Two Nowatzke plunges, plus the automatic—automatic?—extra point, tied the game.
Now there were only seven minutes and 35 seconds left and almost everyone in the Orange Bowl knew that whoever made the last mistake would lose. Not that there wasn't time for plenty more by both sides.
For a while Baltimore seemed to have made the super grand final mistake by somehow allowing itself to get penned deep in its own territory. With some three minutes left, Ron Widby of the Cowboys punted to the Colts' five-yard line, which is not what the telecasters would call good field position. Not daring to pass, Morrall handed off three times; when Baltimore punted the Cowboys had the ball on the Colts' 48 with just under two minutes left, plenty of time to maneuver into field-goal range. In fact, they were nearly there already.
Yet even now dark forebodings must have been stirring—and justifiably—in the hearts of Dallas followers. Morton got trapped and thrown for a loss and a Cowboy lineman was caught holding—fruitlessly, it seems—at the same time. The double trouble moved Dallas back to its own 27. Now the Cowboys had lost the edge. Not wanting to settle for a tie in regulation play and face the hazards of sudden-death, Morton tried another pass. The ball bounced off the fingers of Reeves, who might have caught it, and was intercepted by Linebacker Mike Curtis who returned it to the Cowboy 28. Dallas had lost both the edge-and the game.
Blunder Bowl it may have been, but Baltimore was now through with the silly business. Twice Morrall handed off to Bulaich, who ground out three yards to the 25. Meanwhile, on the sidelines, Jim O'Brien, 23 years old and nicknamed Lassie because of his long hair, warmed up his kicking leg. With nine seconds left, Morrall called time-out and O'Brien came on. The ball was spotted on the 32, O'Brien caught it firmly and it stayed inside the right post by a good six feet. And that was it, 16-13 Baltimore.
Esthetically, it wasn't very good football, but it was far from boring. Mistakes create excitement and there were at least 11 big ones in this game. It was the first truly exciting Super Bowl.
Billy Ray Smith, who finished his 13th season and is retiring, summed the game up well. He looked dead tired afterward, sitting before his dressing cubicle in the Baltimore locker room, blood spattered on his pants.
"We figured we could win if our offense didn't put us into too many holes," he said and, as the little circle of reporters around him laughed, he added, "Let me put it this way. They didn't put us into any holes we couldn't get out of."
Unfortunately for Dallas and its fans, the Cowboy defense could not quite say the same.
PHOTO
WALTER
IOOSS JR.; NEIL LEIFER
Reggie Rucker is grabbed by Rick Volk after grabbing a pass, but the real grabber is the official's flag; Dallas was caught interfering.
PHOTO
WALTER IOOSS JR.; NEIL
LEIFER
In the fourth quarter, Chuck Howley's end-zone interception stopped one Baltimore drive and provided at least one chuckle.
FOUR
PHOTOS
WALTER
IOOSS JR.; NEIL
LEIFER
Funnier yet was the madcap chase of Eddie Hinton's fumble, which tumbling Charlie Waters finally turned into a touchback.
PHOTO
WALTER IOOSS JR.; NEIL
LEIFER
Time is running out in the Super Bowl and Cornerback Mel Renfro, who vainly tried to block the winning field goal has run out of hope.