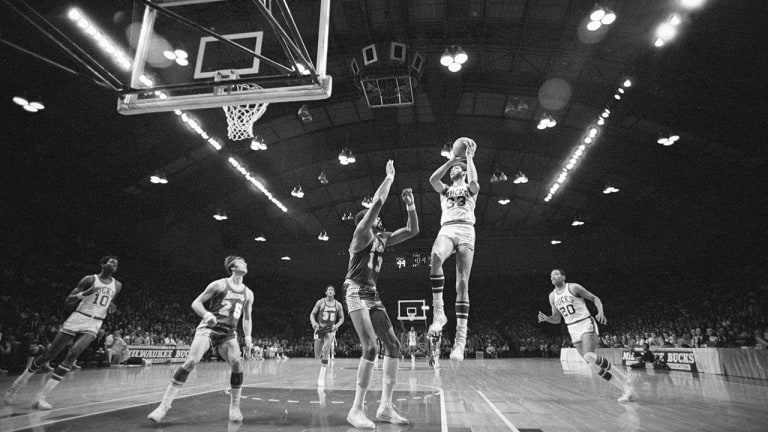 Hey, Look, Ma! Only One Hand
Lew and Oscar made it seem easy, as the Bucks breezed to the NBA title. Who will ever stop them now?
At last the Milwaukee board of directors held its final series of meetings for this fiscal year, a time-consuming, two-week schedule clearly out of tempo with the board's usual brisk efficiency. But that was not the members' fault; they were working under an agenda composed by somebody else. The last four formal sessions were dominated by Mr. Costello, the head of research and development; Mr. Robertson, the experienced director of operations in the field (see cover); and Mr. Alcindor, the group's young chairman. When the members had finished hammering out decisions, there was no doubt that the three-year-old enterprise had ascended to the top of its field and could remain there for years to come. As the board broke for a brief summer vacation, during which its three leaders will safari in Africa lending technical expertise to six underdeveloped nations, Mr. Robertson reflected the overall mood of restrained satisfaction by describing his role in the firm's latest triumphs as "an important phase of my professional career."
Thus did Oscar Robertson, after 11 frustrating seasons in the National Basketball Association, celebrate the world championship won by the Milwaukee Bucks last week. It was certainly not surprising that the Bucks defeated the Baltimore Bullets in the playoff finals nor was it too startling, considering the crippled state of the Bullets, that Milwaukee became the second NBA team—Boston, in 1959, was the other—ever to sweep the championship round in four straight games. In fact, it was no shock to observe that the Bucks, whose strength mounted steadily during the season while most of their rivals teetered along with rosters depleted by expansion and injuries, won their title with more ease than any former champion. Milwaukee lost fewer playoff games (two) and out-scored its opponents by wider margins than any of its predecessors.
Throughout the series and particularly after the Bucks easily won the second game, played in Baltimore, where the Bullets had terrorized the New York Knickerbockers, only one question lingered: would a glimmer of flamboyance or a peep of exuberance escape the Milwaukee machine when it finally won the title? Certainly no team with Robertson and Lew Alcindor can be called faceless, simply because they are two of the best-known athletes in America. But both are players and personalities of a singular type. Each regards his game as a business, a complex occupation to be attacked with the precision and coolness with which an accountant surveys a ledger. Both deal in basketball's essentials only, avoiding waste motion and creating spectacle only by the uncluttered purity of their styles. Despite their divergent personal interests, Robertson and Alcindor are basically alike in that they are unemotional and humorless off the court.
Any team on which Alcindor and Robertson played would surely evolve into an extension of their attitudes, but the Bucks' transformation was nearly immediate. Coach Larry Costello's perspective matches that of his superstars, and the new champions are at least as much a product of Costello's insistent ways as they are a reflection of his two best players.
Costello came to Milwaukee when the franchise was formed three years ago, fresh from 12 seasons as a guard in the NBA. As a player he gained a reputation for toughness and thoroughness which has carried over into his coaching. Buck practices are the hardest, most precisely mapped out in the league, much more like college workouts than those run by other professional teams. The time to be spent on specific drills is allocated in advance, and Milwaukee does not run through its exercises sloppily and at half speed. Costello and his aggressive assistant Tom Nissalke—the Bucks are one of the few NBA teams with a full-time assistant coach who has only minor scouting responsibilities—looked at motion picture films of each of their playoff opponents eight or 10 times to prepare for Milwaukee's run to the championship.
Costello would probably now be uniformly hailed as one of the two or three best coaches in the NBA, which he is, if he had not had the good fortune to get Alcindor. Instead, there are people all around the league who derive considerable pleasure from debunking his role in the Bucks' success. "Anyone could be a winner with the players he's got" is their motto. They ridicule Costello for the yellow legal pad that is always at his side during games and practices and upon which he constantly improvises new tactics for his team. They deplore his lack of color and ostentation, just the opposite of the criticism leveled against Red Auerbach when Boston was champion.
"Larry, Oscar and I have the same ways about us," says Alcindor. "We agree that being as efficient as possible cuts down our chances for errors. Larry has a very professional attitude. There's no nonsense, because he's a man dedicated wholly to basketball. He simply wants to get the job done, which makes it a lot easier for me. I know what he demands and I have no worry about working around any idiosyncrasies he might have."
"If a coach is disorganized he can't expect his players to go by the rules," Costello says of his system. "You're never going to execute unless you execute hard in practice. It's the only way to get your timing down. And I know it works. Last year we won 56 games without Oscar. We had a rookie center, a rookie forward, a second-year forward and an expansion player in our starting lineup."
The emphasis on mechanical skills gave the Bucks the best offense in the NBA this year and, by the close of the season, perhaps its best defense. Milwaukee was 12th in field goals attempted and 16th in free throws tried, yet it finished first in points scored. The Bucks set a record for shooting accuracy, becoming the first team in NBA history to average over 50% for a season as the offense designed by Costello and executed by Robertson, Alcindor and their teammates consistently led to shots close to the basket.
Perhaps because they had forgotten who the Bullets were—the two teams had not played in three months, thanks to the complexities of the league schedule—the Bucks made it known before the opening game that they did not much care for the opposition the NBA had lined up for the finals. Except for Oscar, they said that Baltimore was nice, but they would rather have the Knicks—to grab by the scruff of the neck and drag down Wisconsin Avenue. In a column entitled "Knicks Will Be Missed in Final Playoff," The Milwaukee Journal's Terry Bledsoe wrote: "It is as though Muhammad Ali had stumbled somewhere earlier in his comeback attempt and Joe Frazier had been forced to conduct his fight of the century against Oscar Bonavena."
On the marquee outside the Milwaukee Arena the top billing listed something called "The World Championship Wonago Rodeo." About six feet below that was the notation, "Bucks Basketball Apr. 21." Inside the arena, vendors sold programs that showed Alcindor on the cover shooting over Willis Reed and Dave DeBusschere.
Baltimore Forward Jack Marin took all this in, slumped in a chair outside the Bullet locker room and said sarcastically, "I'm wearing a New York jersey tonight. I don't want to disappoint these people. They paid good money to see the best and I'm gonna give it to 'em."
It looked briefly as if the Bullets would give Buck fans more than they bargained for. During slightly more than two minutes of the first quarter Alcindor committed three fouls and had to leave the game. But his 15-minute absence hardly helped Baltimore. When Lew left, his team led by four points; when he returned to start the second half, his teammates had increased the margin to eight. With Alcindor on the bench Robertson directed the Bucks flawlessly, steadying his younger teammates by scoring Milwaukee's first six points after Lew's departure and finishing with 15 for the half. If Oscar was spurred to his performance by visions of playoff glory and money, he wouldn't admit it after the game. "The championship isn't necessarily what I've been waiting for all these years," he said—and yawned. "If it comes, it comes."
Alcindor returned to dominate the second half, scoring 18 points in the third quarter and finishing with 31 in the 33 minutes he played. It was the only time in the series that Lew scored with consistent ease over Wes Unseld. Bullet Coach Gene Shue took the risk of assigning the 6'7½" Unseld to guard Alcindor unassisted. Only twice in the first game and not much more often subsequently, did Wes receive aid from his teammates. Since nobody, perhaps not even his mother, seems to know exactly how tall Lew is, the disparity between the two centers was guessed at anywhere from seven to 10 inches. When Unseld stood on his toes, he barely seemed able to peer over Alcindor's shoulder. But Unseld had an advantage of his own, since he outweighs Lew by 13 pounds, all of it muscle. Wes danced around Alcindor, overplaying him first on one side, then the other, frequently batting away passes into the post and generally laying a load of weight on Lew's spine. He forced Alcindor to attempt all the shots in his repertoire, from dunks to that majestic hook fired from an absurd yard above the basket, to jump shots outside Lew's best range. Alcindor occasionally responded by backing strongly into Unseld and jostling him slightly, which is equivalent to making the Sphinx flinch, but after the opening game Unseld was able to hold Alcindor six points under his league-leading regular season average of 31.7.
Although he was the Bucks' high scorer, Alcindor's most valuable work was on defense. Bullet Forward Gus Johnson missed two games because of sore knees and was unable to perform with anything near his usual effectiveness on Baltimore's offensive boards when he did play, so Alcindor was free to control the defensive rebounding for Milwaukee and a large part of Baltimore's favorite shooting territory from his zone under the basket. Baltimore shot better than 40% in only one game and scored as many as 30 points in just two of the 16 quarters played. Those were also the only quarters in which the Bullets outscored the Bucks. After the first game, in which he had 26 points, Earl Monroe was eliminated as a significant offensive threat by the strong, head-on defensive play of Robertson, by Alcindor's presence under the basket and, eventually, by a pulled muscle added to his chronically sore knees.
The frustration of facing Alcindor's interior, roving defense spilled over into the crowd during the second game, which Baltimore lost, at home, 102-83. Marvin Cooper, the free-form rock dancer who was the best single performer for Baltimore during the series, stopped tripping lightly after he observed what Alcindor did to his team in the second and third periods, when the Bullets scored only 35 points. Cooper, who began dancing in the aisles during the Philadelphia-Baltimore playoff round, bopped out of the stands near the Bucks' bench in the first quarter. With the fingers of both hands wiggling furiously, he sent his hex—the one that had worked so successfully against the 76ers and the Knicks—flying at the Bucks. Lew, obviously up on his voodoo, shook it off so easily that Cooper's later dances were more like tantrums. Still, Cooper gave Baltimore its only victory in the series. He proved to be much better TV time-out entertainment than Steve Swedish's Polish sausage band, which played during similar breaks in Milwaukee. With the American Broadcasting Company absurdly prolonging the time-outs and halftimes, incidental entertainment became very important for the paying customers.
"They just stopped us from getting the layup," Marin said of the Milwaukee defense. "You look up there and see that Afro up by the rim, and you just don't figure out what to do about it. They gave me a lane to the basket all night. I took it once, I took it again, and then I said forget about it. It's like taking a golf shot through a tree; it's supposed to be 90% air, but you always seem to hit a twig. They figure you can't beat them with 20-foot jumpers and they're right. I'll tell you, it ain't easy out there."
"You've got to give Lew all the credit," added Kevin Loughery. "He may only block one shot here or there, but guys have to change their shots because of him. He's the greatest defensive player I've seen since Bill Russell."
In the third game, which Milwaukee won 107-99, Bob Dandridge scored 29 points and twice Robertson came off the bench in foul trouble to break up Bullet rallies. He scored 30 points in the fourth game, hitting 11 of 15 and, as he did all through the series, he forced his teammates to play harder, not allowing them to relax even when they had long leads.
The Bucks retained their pattern to the end. With 2:54 left to play in the last game and Milwaukee ahead by 17 points, Costello was still diagraming new plays on the yellow pad. In the locker room after the victory Lew sat quietly in a corner for a time, drinking a Coke and chewing his gum. He has now won national titles at all three levels at which he has played—high school, college, the pros. He allowed that winning the NBA championship is "a great honor." Then he added that he was glad it was over and he would like to get some rest. After a few minutes, he got to his feet, took a cup and drank a little of the victory champagne.
While a few of his teammates squirted bubbly around the room Lucius Allen explained the other Bucks' lack of exhilaration. "People expect us to win," he said. "Everything we see in the paper says we'll win. It takes some of the excitement away from us. And I guess if you get right to it, we're not a very emotional bunch."
There is a widely held notion among pro players that this was the last year in which anyone would have a chance to beat the Bucks for a long time. There was even a portentous note in the decorations in the Milwaukee Arena. The Bucks' official colors are forest green, white and red. But there was no red in the bunting during the playoffs, and the green was several shades lighter than the official dark tone. In basketball it is called Celtic green.
PHOTO
Over-the-shoulder dunk was demonstrated by Lew when he got away from Wes Unseld.
PHOTO
Not exactly a midcourt love-in was an almost-fight between Baltimore's Earl Monroe (10) and Milwaukee's Jon McGlocklin, one of several flare-ups in the final playoff game.